Bond Ranger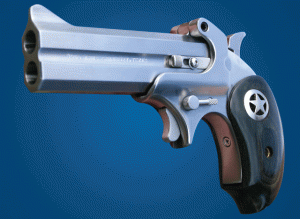 Includes black custom driving/concealed
leather holster.
To find a firearm dealer near you,
CLICK HERE.
Barrel:

4 1/4″ Comes in either .45/.410 or .38 Spec./.357 Mag Barrel


Weight:

23 1/2 oz.

Length:

6 1/4″

Stocks:

Black Ash Star Grips

Sights:

Bladefront and Fixed Rear

Features:

• 4 1/4″ barrel
• Interchangeable Barrels
• Automatic Extractor


••••

(EXCEPT FOR 9mm,40S&W,10mm and .45 ACP)
• Rebounding Hammer
• Retracting Firing Pins
• Crossbolt Safety
• Spring-Loaded Cammed Locking Lever


••••

(for a tighter barrel/frame fit and Rapid loading and unloading)
• Stainless Steel with Satin Polish FinishAll Bond Arms barrels will fit this frame, and do come in shorter barrel lengths. Shop for extra barrels here


Calibers:

.410/45LC with 3″ chambers45 Colt/.410 Shot Shell(rifled)
.357 MAG/.38 Spl
.45 ACP
.45 Colt, Only
.45 Glock Auto
.44 Special
44-40 Winchester
.40 S&W
10 mm
9 mm
32 H & R Mag
.22 Long Rifle
.22 Mag.Retail Price:


$634.00
The Ranger II has the Trigger Guard
Includes Black BAD driving/concealed holster.
Firearms cannot be ordered online. You must purchase a firearm from your local firearm dealer.