Cowboy Defender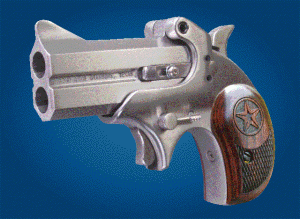 The Cowboy Defender was designed for
Cowboy Action or the Most Compact Carry
Concealed .410 shotshell protection available.
The overall appearance is similar to
the Remington Double Derringer of the
1860's. The Cowboy Defender will accept
all the extra interchangeable barrels.
To find a firearm dealer near you,
CLICK HERE.

Barrel:

3″

Weight:

19 oz.

Length:

5″

Stocks:

Custom Laminated Black Ash or Rosewood

Sights:

Bladefront and Fixed Rear

Features:

• Interchangeable Barrels
• Automatic Extractor
• (EXCEPT FOR 9mm,40S&W,10mm and .45 ACP)


••••

Rebounding Hammer
• Retracting Firing Pins
• Crossbolt Safety
• Spring-Loaded Cammed Locking Lever


••••

for a tighter barrel/frame fit and Rapid loading and unloading)
• Stainless Steel with Satin Polish Finish
• Trigger guard NOT availible)

Calibers:

.410/45LC with 3″ chambers45 Colt/.410 Shot Shell(rifled)
.357 MAG/.38 Spl
.45 ACP
.45 Colt, Only
.45 Glock Auto
.44 Special
44-40 Winchester
.40 S&W
10 mm
9 mm
32 H & R Mag
.22 Long Rifle
.22 Mag.
Retail Price:


$415.00
Retail Price
Firearms cannot be ordered online. You must purchase a firearm from your local firearm dealer.
Not Available in California or Massachusetts