Snake Slayer IV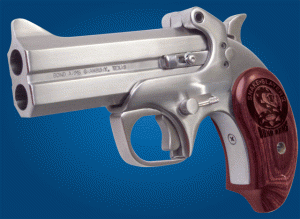 The Snake Slayer IV has a
4 1/4" long barrel (versus 3 1/2" barrel).
This longer barreled Snake Slayer
provides tighter shot patterns, higher
velocities, and even more manageable
recoil than the original Snake Slayer. The
Snake Slayer IV will accept all the extra
interchangeable barrels and also has the
extended grips for added comfort.
To find a firearm dealer near you,
CLICK HERE.
Barrel:

4 1/4″ Comes in either .45/.410 or .38 Spec./.357 Mag Barrel


Weight:

23 1/2 oz.

Length:

6 1/4″

Stocks:

Extended Custom Rosewood

Sights:

Bladefront and Fixed Rear

Features:

• 4 1/4″ barrel
• Interchangeable Barrels
• Automatic Extractor


••••

(EXCEPT FOR 9mm,40S&W,10mm and .45 ACP)
• Rebounding Hammer
• Retracting Firing Pins
• Crossbolt Safety
• Spring-Loaded Cammed Locking Lever


••••

(for a tighter barrel/frame fit and Rapid loading and unloading)
• Trigger guard
• Stainless Steel with Satin Polish FinishAll Bond Arms barrels will fit this frame, and do come in shorter barrel lengths. Shop for extra barrels here


Calibers:

.410/45LC with 3″ chambers45 Colt/.410 Shot Shell(rifled)
.357 MAG/.38 Spl
.45 ACP
.45 Colt, Only
.45 Glock Auto
.44 Special
44-40 Winchester
.40 S&W
10 mm
9 mm
32 H & R Mag
.22 Long Rifle
.22 Mag.Retail Price:


$519.00
Firearms cannot be ordered online. You must purchase a firearm from your local firearm dealer.
Not Available in California or Massachusetts