All orders will take 2 - 3 weeks for delivery, we appreciate your patience!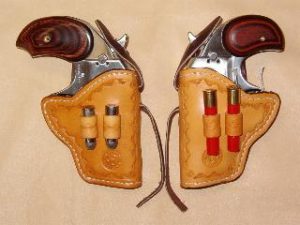 BWB Western with Bullet Loops or Without
Product Description
This is a western belt holster with hammer spur strap.  This model comes with cartridge loops available in either .357/.38 or .45 Colt/.410.
This holster is fully lined to protect the finish of your Bond Arms Derringer.  Made from vegetable tanned U.S.A. cowhide.
Stock Barrel Sizes

| Gun | Barrel Length |
| --- | --- |
| Gun | Barrel Length |
| Ranger | 4.25" |
| Ranger II | 4.25" |
| Snake Slayer | 3.5" |
| Snake Slayer IV | 4.25" |
| Texas Defender | 3" |
| Cowboy Defender | 3" |
| Century 2000 | 3.5" |
| USA Defender | 3" |
| Mini 45 | 2.5" |
| Girl Mini | 2.5" |
| Texas Ranger | 3.5" |
Additional Information
| | |
| --- | --- |
| Orientation | Left Handed, Right Handed |
| Attachment Style | Belt Loop, Steel Clip |
| Trigger Style | Trigger Guard, Without Trigger Guard |
| Barrel Length | 3, 3.5, 4.25 |
| Bullet Loop Size | .45 / 410, .38 / .357, None |