All orders will take 2 - 3 weeks for delivery, we appreciate your patience!
Sale!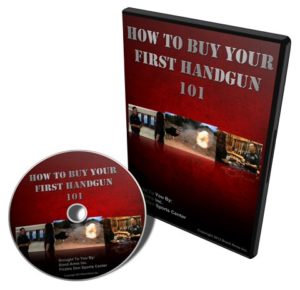 How To Buy Your First Handgun 101
Product Description
If you've put off buying a handgun for personal protection because you're confused with the large number of handguns to choose from, don't know what questions to ask, AND are intimidated about going into a gun store.
This Video "How to buy Your First Handgun 101″ will walk you through the whole process of choosing the right handgun, the right ammo, and all the safety issues you'll need to know.
Firearm Safety

Discover the 5 key safety rules when handling or operating a firearm.

Handgun Terminology

Discover the main types of handguns which features they have and how to operate them.  This also has easy to follow diagrams

Pros And Cons Of Different Handgun Styles

Learn why certain handguns may work best for you, and the differences between them.

What to Consider When Purchasing Your New Handgun

We help you determine the main things that will help you find the perfect handgun for you

Cleaning and Storage

Learn how to properly clean and safely store your handgun

Going to the Shooting Range

The best way to take advantage of an indoor and outdoor shooting range, and why it's important to practice with your new firearm at the shooting range.

Bonus Features

We will recap the video and tell you about the special bonus features

Ammunition Styles

What the different styles and types of ammunition are and how to choose the proper one for your needs.  Not knowing this could lead you to having to strong or worse yet too weak of ammo

Check Out What Other People Are Saying About "How To Buy Your First Handgun 101″

Some of my customers watched this and commented "Wow!  I've been around guns for a while and I've even learned new things" - Katie, Texas

Being a woman that owns guns I've always been a little intimidated by going into gun stores, after watching this video I feel much more comfortable. - Veronica, MA

Without this DVD I'm not sure how I would have ever picked the right handgun…I even bought 3 copies for my closest friends… - Charles, Wisconsin