"Introducing the NEW 200th Anniversary Texas Ranger"
Bond Arms has been chosen to represent the prestigious Texas Rangers in their historical 200th Anniversary.
This is like no other Bond Arms Handgun we have ever made.
It is a very limited edition special serial number firearm and when their gone, their gone.
The gun and knife grips are made from real Texas Mesquite wood, the Texas Ranger Stars are hand made by Texas inmates in the Texas Department of Corrections,
and it is gold engraved with the Texas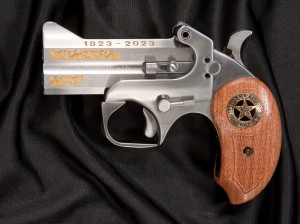 Rangers and their 200th Anniversary on the barrel.
It comes in a custom glass top display case so you can show this beauty off to your family and friends.
Currently, not available in stores, but for only a limited time will you be able to order this masterpiece directly from Bond Arms.
It's MRSP is $1,297.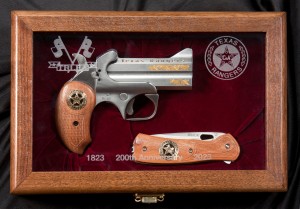 A portion of each Texas Ranger is donated to the
Texas Ranger Law Enforcement Association
to help Texas Ranger's children with academic scholarships.
Not available in CA, MA, Chicago or NYC.
You will need to take delivery from a local gun dealer in your state.
Some state, federal, and local restriction may apply.
Contact your dealer to reserve your
Texas Ranger Special Edition