Here at Bond Arms we really care what you think and we love to hear from you!  Below are a bunch of recent testimonials from our customers.
If you would like to share your story click here to submit it to us.
It was a long wait, but worth every milisecond once my Ranger II arrived. My wife thought I lost it because I was giggling like a little school girl. I won't get a chance to try it out until I get to the range this weekend though. When I first saw your line of derringers, they reminded me old westerns, I used to watch and knew I had to get one. This pistol is more than what I'd hoped for as far as construction goes. When you use the word "TANK", it is obvious right away. This feels so solid and is so flawless with it's actions, I am truly impressed. Thank you for taking the pride you do in manufacturing one of the best built anything, I've ever purchased.

I've been wanting a Bond Derringer for years now and decided it was time to order one, Ordered it through my local dealer, it took four months to come due to some lack of communication between my dealer and his distributor, but no big deal. I am very happy to have it and love the quality and workmanship that goes into making such a fine gun, also like the fact that an array of different barrels and grips are available for whatever model one happens to purchase, I personally got the Texas Defender in 45 Coly "ONLY", and quickly after that bought a set of Texas Star Grips and the BAD Holster in black, overall a really nice combination. Excellent Customer Service is alive and well at Bond as well, had several occasions the communicate with Kelly and Gordon himself, they bend over backwards to make their customers happy. Great job guys, I will be back for more soon.

I had been looking at getting a Ranger 2 for quite a long time. I just purchased one at a local outdoors store. I bought several different loads of .410 shells and one box of 45 long colt cowboy loads to practice with. This pistol has lived up to all my expectations. I will carry it daily here on our Ranch to dispense the varmits I come across and I am looking forward to getting my CWP so I can carry it everywhere I go. Thank y'all so much for producing such a superior firearm !

Hello Bond Arms;

A friend of mine ( Jack Hitt) purchased a Snake Slayer a few years ago and he allowed me to shoot it. I couldn't believe how manageable the recoil was firing 410 loads. He asked me to go on line and buy him a 357 barrel set for his derringer, and when I received it and took it to him, it went right together as you advertised it would. What made me purchase one was what happened when we fired the Snake Slayer at a target. Aiming to the same spot both shots hit the same hole at around 30 feet! Accuracy with a derringer? I never thought it possible, and the recoil was a joy. I have one of those derringers that copied the old Remington. It is a 38 special and it's recoil is terribly punishing and after a few shots you are happy to stop shooting it. This Snake Slayer is a Joy to shoot!!! Your design is brutally handsome in looks and function and such a quality firearm, I know you all are proud to be a part of Bond Arms. Thank you for helping keep people safe with your quality products. I will be singing your praises to all who will listen! God Bless Texas!!!

Bob Koesel

I like the thought that went into making the pistol and that it's made of quality materials. Your YouTube Videos were the deciding factor in buying this pistol. When the owner takes the time to make a video and talks about all the features it means a lot to me.
Thanks!-Fred

Amazing Quality, simple Design, great styling, superb ergonomics and kind/courteous customer service! I like most guns. This is one of my favorites. I own more than one, and have multiple barrels. Both my parents own one as well. Thank You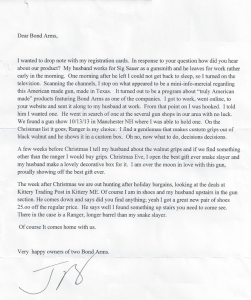 I wanted to drop note with my registration cards. In response to your question how did you hear about our product? My husband works for Sig Sauer as a gunsmith and he leaves for work rather early in the morning. One morning after he left I could not get back to sleep, so I turned on the television. Scanning the channels, I stop on what appeared to be a mini-info-mercial regarding this American made gun, made in Texas. It turned out to be a program about "truly American made" products featuring Bond Arms as one of the companies. I got to work, went online, to your website and sent it along to my husband at work. From that point on I was hooked. I told him I wanted one. He went in search of one at the several gun shops in our area with no luck. We found a gun show 10/13/13 in Manchester NH where I was able to hold one. On the Christmas list it-goes, Ranger is my choice. I find a gentleman that makes custom grips out of black walnut and he shows it in a custom box. Oh no, now what to do, decisions decisions.

A few weeks before Christmas I tell my husband about the walnut grips and if we find something other than the ranger I would buy grips. Christmas Eve, I open the best gift ever snake slayer and my husband make a lovely decorative box for it. I am over the moon in love with this gun, proudly showing off the best gift ever.

The week after Christmas we are out hunting after holiday bargains, looking at the deals at Kittery Trading Post in Kittery ME: Of course I am in shoes and my husband upstairs in the gun section. He comes down and says did you find anything; yeah I got a great new pair of shoes 25.oo off the regular price. He says well I found something up stairs you need to come see. There in the case is a Ranger, longer barrel than my snake slayer. Of course It comes home with us.

Very happy owners of two Bond Ams.

I had researched this gun thoroughly before I bought it. It did meet all of my expectations. Very well made. shoots good & I like the ease of changing barrels, I would definetely buy another

I have just recently purchased this weapon and I feel no regret in any form. The weapon lives up to its Texas pride without any hesitation, a true example that in the US we make our weapons correctly. As for function the weapon does not disappoint, we are basically dealing with a "show stopper" weapon and when it is loaded with 410 ammo you get that service in seconds. I have recently retired form the military and I only wish we had something like this in our kits. I would gladly take this weapon into combat with my sniper rifle. As for the weapon itself the Cowboy Defender is perfectly made; from the polish to the handles I have no complaints. In regards to accuracy the weapon does it's job but remember you will not be engaging targets at 100+ meters this is a area weapon for those "oh s**t" moments. So to conclude….I am in love.

Submitted by Miguel Carretero

Buying gas recently I was approached by 2 men demanding money. Thanks Bond arms for changing their minds. NO SHOTS FIRED. COWBOY DEFENDER 45 colt.

I just got my Bond Arms derringer back from you last week week week and and I am very pleased with the retro-fit done by Travis. The trigger pull is much lighter and alot more easier to pull than the old version. Also the wider hammer spur gives more purchase for cocking than the old one. All in all, a very good experience, the turnaround time was a little less than I previously thought at first and Travis even called me to make sure of the return address. I have bought two extra barrels, an extra grip, a Buck knife with a matching black ash handle and a holster since I first bought my derringer and couldn't be happier. Thanks for such a great product and great customer service. You guys rock!

Submitted by Glenn Bordeaux

I just bought a Bond Ranger. It sounds dumb, but is seems to me to be a cross between a Swiss Watch and a Sherman Tank. I could not be more pleased with fit and finish and sheer strength. Yes I will buy another one for my wife and all the barrels for me… It will be a collection to be proud of…

Rob

I am female, 5'3, 120lbs and had no problem shooting the Texas defender with 45 LC. The recoil was nothing I couldn't handle and I must say I have fairly scrawny wrists and hands. It did pack a punch but there was no pain from the recoil. I did change out my grip to the rubber extended one which may have helped. I also followed the tips given by bond arms when shooting. Love my new gun. For all the boys complaining about the recoil.. Omg really?? If I can do it you better be able to.

AJ

I finally had the opportunity to see your products in person.
I must say that it only took 5 seconds and I was hooked.
I went home from the gun store, cleaned my Glock 27 with Crimson Trace laser,
sold it and bought a Bond Arms Snake Slayer an hour later.
I can not express how pleased I am with the firearms you build at Bond Arms.
My wife now wants to sell her Glock 26 and purchase a Texas Defender.
You have certainly raised the bar and I will definitely tell everyone I know about your products.
God Bless America!!!
Thank you!!!

PS. Just got back from the range after taken my Snake Slayer out for our first real date!!!
At 15 feet, only "1″ pellet missed the mark and even that lone pellet was close.
I was surprised at how tight the pattern was being such a short barrel.
I am absolutely amazed and completely in love.
No way I'll ever give up this little lady!!!
Thank you Gordon and thank you Bond Arms!!! Still smiling,
Kevin Scott.

best small gun on the market. enough words.

my second bonds , every thing went good on the trade , trade savage new model 1o , even got shells and side holster ,glad i did , like a bull in china shop lol jimmy thanks again bonds . still looking for more in some 38/357 , cal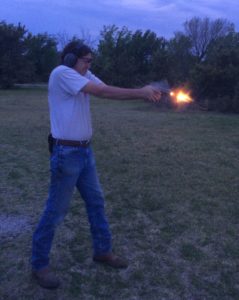 Got the Ranger II love it. 45 colt it's my new carry gun.

After purchasing and test firing my Snake Slayer IV I sold my Colt .380 to a friend. My Snake Slayer is all I need for hidden carry self protection. Fellow members at my game club range are all very impressed by it. Another friend who is also a police detective commented on the intimidation factor the Snake Slayer would have on any potential assailant.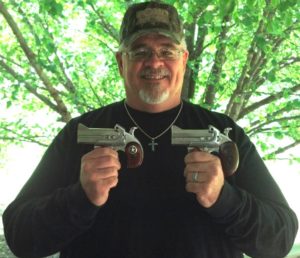 I bought my first Bond Arms pistol, a Century 2000 in January, 2004. Carrying it with me quickly became as natural as carrying my billfold, pocket knife, or even keys, and have dispatched numerous and different varmints over the years with it. In 2013, after Bond Arms offered a new hammer and trigger, I sent it in for the upgrade! You guys made it shoot even better than before! Since then, I had been thinking about getting another one but wanted something out of the ordinary. The derringer exactly 100,000 units after my C2K! I called Bond Arms and Gordon Bond, himself took my call. I told him of my wishes, and after some invoice checking and searching, he not only located that exact gun, but made my new acquisition a reality and shipped it to my FFL dealer. I am now the very proud owner of C2K, 13001 and Snake Slayer, 113001!! Now folks, how many other President/CEO's would take that much time out of their busy schedules to make such a special request a reality? I would venture to say, only a hand full!! Gordon Bond and his staff at Bond Arms still believe in the "old school" concept of unmatched customer service, and in producing a top-shelf, built like a tank personal protection weapon that is second to none!! So if you are reading my testimonial and are still on the fence about buying a Bond Arms pistol… my question is… what are you waiting for? These Texans will hook you up with something more than just another gun to put in the closet or safe! To Gordon Bond and the entire staff of Bond Arms, THANK YOU!! You guys are truly the best!!!

Love it, great truck gun…Thanks, B.A.

Bond Arms has without a doubt THE best customer service in the business! Charlie is great to work with and always has a positive way to help the customer out! Very rare these days…

I saw your derringer in a gun store a few months ago. I went on line and was able to see the many models they come in as well as their accessories. I told my brother the Snake Slayer was going to be my next gun. I began my search. He bought the Snake Slayer IV and I bought the Snake Slayer. Wow….what beautiful guns they are. For a concealed carry weapon that is easily carried concealed and offers a viable option for personal defense, I believe that these guns offer just that. I am a retired law enforcement officer and not unaccustomed to carrying a weapon both concealed and/or unconcealed. My highest recommendation to these weapons in performance, construction, and utmost safety.

I have a Century 2000,outstanding quality and craftsmanship will be adding several barrels soon.Beautiful workmanship on the holster as well keep up the great work GO U.S.A.

I was lucky enough to get the only Backup that was in stock. I had been researching them and knew I wanted this model for sure. Hadn't got a chance to shoot it yet but I am looking forward to it.

My Ranger ii showed up today……..what can I say I have several different handguns and I foresee this one getting the most use what a fun hard hitting little gun!!!!!
Thanks Bond Arms

I want to thank you folks for manufacturing a quality pistol that by far is vastly superior to any other gun manufacturer in the world to include Ruger, Colt, Smith & Wesson and other fine firms. It is the epitome of perfection that America once stood for. Truth be told I was not in a market for a new pistol especially a derringer as my safe is now full of safe queens. However upon inspection I just had to have this double barrel pocket cannon that is as sexy as they come and built like a tank with the perfection of a Swiss watch. I am proud of you guys, other gun manufacturers better take note, Bond is kicking tail and taking names as a result of your excellent product. All my friends will want one after I show this baby off! Thanks again! Bill Ramos

Just want to thank Gordon and the team at Bond Arms for a quality firearm. You are what makes America great, building a business from scratch. My Snake Slayer is now my favorite gun in the safe, and what can I say 3 in 000 buck packs a hell of a punch!

I bought your texas defender in 410 / 45lc it shoots great I carry it as a 2nd gun my next will be the snake slayer thanks for making great products Matt

great little gun lots of power

Bought the USA Defender yesterday and went to the range today with friends. I started out with a .45 colt and then a .410 handgun round. The .45 was pretty tame but the .410 was a lot of fun. I have a large home defense gun in .45/.410 and was surprised how well this smaller gun handled the .410 with a 3″ barrel. You will know that you shot something powerful but it is very manageable. Love this gun!

Over the years now I have actively collected and shot quite a variety of fire arms of just about every caliber, make, and model. As a matter of fact I own 28 different firearms. They are all special to me and are for various purposes from plinking to hunting to self defense. Suffice it to say THE LAST THING I NEEDED WAS ANOTHER GUN! Walking into my gun store for some ammo I spotted the Bond Arm pistols. Upon handling it I literally became enthralled. The fit, the finish, the look, as well as the way it felt was the epitome of perfection akin to almost Godliness. It spoke to me like no other gun has before and I had to have it. I live in Arizona where we often get 115 degree days in the summer and as such we need a small pocket pistol for concealment because it's just too hot to wear much clothing. In short I was desperate for something small that packs the punch of a sledgehammer on steroids and can be carried comfortably and concealed. The Bond Arms Derringer was it period! It is a pocket howitzer on steroids that is built like a tank and has the finesse of a fine Swiss watch. This is American made quality that unfortunately is hard to come by anymore since the Chinese invasion of pure junk we have come to rely on. I am proud of The Bond company for giving us what I consider the finest pistol in my opinion ever made. I ordered the Bond 2000 in 3 1/2″ shooting a .410 and .45 LC, and I will also pick up the 3″ in .357/.38 and go from there. With this kind of concealable fire power I truly feel very, very, safe and that confidence translates into positive body language which in my opinion is enough to deter any attack, and in that regard it fulfills its mission. Thanks Bond Arms

I purchased this incredable, beautiful, little piece of up close and personal protection brand new, a number of years ago. It has only been fired 6 times. Serial #1560. Everybody that I show it to wants it. The really great thing that I like about it(beside the fact that it is a 44Mag) is so easy to conceal with a billfold holster.

So far so good… Only had it for a day and have not had a chance to shot it yet. I like how it feels in my hand… I well get a chance to shoot it in the next week or two…

I was fortunate enough to get my hands on BA00012…not easy to find, but worth the look! This is my 3rd Bond Arms handgun; I already had the Snake Slayer and the Texas Defender. I have a CHL in Texas and I am carrying almost 100% of the time. The weight of the Backup is noticeably less than my other two, and it "fits" in my pocket better. No printing and no extra bulk. You DO feel more recoil than even the Tx Defender with .45 Long Colt or .410, but the size is worth the tradeoff. It is hard to argue with the ballistics of the .45 ACP…but I will tell you, like ANY CCW firearm there are tradeoffs. The shorter barrel takes some distance of the efficacy, but let's face it, for personal protection you will likely be within 10 yards anyway. I fired 75 rounds this weekend from 3 to 15 yards…accuracy was great in close, and a little looser at longer distance. If this is your primary carry gun, then you will need to be aware of the distance limitation. 8 out of 10 stars. If it is a secondary or truly a backup, then I give it 12 out of 10 stars. But for people like me who need to dress business casual or in a more professional setting it is by FAR the most comfortable and strongest package I've found. I have a larger frame in my off-the-body backpack, but the Backup is ALWAYS within reach. I strongly recommend continuous practice with your CCW, because I can say from first hand experience that under stress in a "social" (served in 3 different conflicts while active duty military) situation your aim may suffer a little….so this is an absolutely fine CCW, just practice enough knowing your aim will suffer under stress. As for ammo? I found Hornady and Remington to be the easiest to eject after firing…there is no ejection help like my other two, so select ammo knowing you need to manually pull them out. SO! Carry this with no fear! Practice with it and select your defensive carry ammo based on stopping power AND ease of ejection. Carry six additional rounds with the speed-strip that Bond Arms sells and there is NO reason you can't confidently depend on this comfortable, but extremely powerful handgun for your primary personal protection when you need it!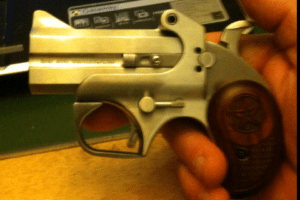 I've been wanting a Bond Derringer for years now and decided it was time to order one, Ordered it through my local dealer, it took four months to come due to some lack of communication between my dealer and his distributor, but no big deal. I am very happy to have it and love the quality and workmanship that goes into making such a fine gun, also like the fact that an array of different barrels and grips are available for whatever model one happens to purchase, I personally got the Texas Defender in 45 Coly "ONLY", and quickly after that bought a set of Texas Star Grips and the BAD Holster in black, overall a really nice combination. Excellent Customer Service is alive and well at Bond as well, had several occasions the communicate with Kelly and Gordon himself, they bend over backwards to make their customers happy. Great job guys, I will be back for more soon.

Last Year one of my ranger bros. told me he bought one of those real cool cowboy style handguns, and asked if I would like to meet at the range, and give it a try, so I said sure.  I liked it so much, I bought one.  Another ranger buddy had one he was selling, and I got that one also, now I have a Texas Defender First Gen. and a Ranger.  Now I would like to add more barrels to them, and a BAD Driving Holster. COOL YA THINK?
Good Stuff.Love my Bond Arms.

Well built, glad to see something like this
can still be made. A treasure to own and use.
The 4 1/2 barrel 410/45 Snake Slayer takes
away the recoil. Only thing the gun is
stain proof not stainless. It should be
stated as stain proof and not stainless.
Loved it so well, I bought two.

I rencently bought a Snake Slayer for personal and home defense and have enjoyed shooting it recreationaly as well. One day while shooting I noticed two cracks in the upper portions of the wooden grip on the pistol handle. I called and spoke with the nice people at Bond Arms which where very apologetic and understanding and offered to send me some replacement grips in the mail to replace my cracked ones. A couple of days later I recieved them in the mail and put them on. Presto! problem solved!! I just wanted to leave a review telling other people about the great customer service and good people at Bond and that I very highly reccomend their product and their customer service is second to none. Thanks Bond Arms!

Really like my snake slayer and bad driving holster 45 and 410 best of both worlds and easy to conceal recoil is not bad at all In my opinion and it goes where I go thank ya much bond arms for a great little big gun

The gun is made with great American steel and its my best investment

I haven't shot it yet but the fit and finish looks great. It feels great in my hand and will try the rubber grips later. Maybe I'll find them on sale. Thanks for a great product.

I have been looking for a couple years for that right shooting, good handling, hard hitting with an attitude of making no apologizes. I found the perfect piece at a local gun show. I didn't hesitate purchasing what I believe to be the perfect weapon that fit every detail that I had been looking for. Thank you Bond Arms for the beauty, the workmanship, and quality that I have found in my 45/410 derringer.
Edward Lockwood

BEAUTTIFUL GUN ……….. I CAN CARRY ANYWHERE … JUST NEED TO GET A LONGER GRIP . I AM 67 YEARS OLD AND CARRY EVERY DAY . TO OLD TO FIGHT .

u have made my would lot safer , now that i carry a bonds , i hade my cgp 24 years , never had use a gun on anyone thank ,god , i use carry amercain derringer , now know i can change barrels , thats a + in my book , thank u for your time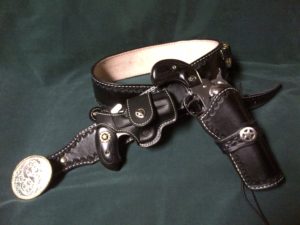 This is ONE BAD little gun, It just screams COOL…especially when you pull that trigger!!!

This may not get posted as a testimonial but I think that there are many Bond arms owners that would like to know this. First off I love my Snake/Slayer. Quality is terrific! I have read about many owners complained about the hard trigger pull. I am only 5'8′ tall and weigh 140lbs. I needed an advantage over my compact cannon. I first bought the over sized rubber grips for more control with my smaller hands. Because of the 6.5lb trigger pull, this was also an issue for me. Not anymore! Took my Snake/Slayer to my gun smith and ask him if he could help me out. Sure he said. Picked up my gun two weeks later with a now 3.50lb trigger pull! Could not believe the difference dry firing this gun with snap caps. The bad thing is, I had shoulder surgery Thursday and it will be months before I can actually fire my gun. Just watching my sight while squeezing the trigger, this hand gun site now does not move. As Clint Eastwood would say: YOU NEED TO IMPROVISE. Love the gun!

Very nice made top notch!!! Very happy. Hope to see more holsters for the Bond backup

I've been wanting this gun since i've seen it. I wanted one So bad i even emailed the company asking for a free on a few months ago. NO need to tell you what their responce was lol! But i saved my nickles & dimes And by the time i was able to buy one, the Backup just came out so thats what i wanted and GOT. Thanks for such a great product that i enjoy looking at as much as carrying it! Now can i have a free driving holster? LOL….Andre

few years back me and grandson ,where on way home when we seen deers standing about 50 yards , i told him to stop , i too my 45/410 derringer ,shot one , was wild ride ,i hit , him , this been the best hand i have carry and always will , me and my wife are disable , she in wheel chair , i know i fill alot safe thanks too all on job we done , like buy all cup of cofffee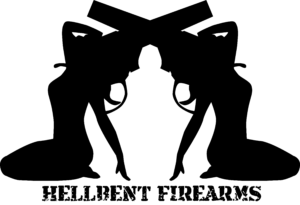 Mr Gordon Bond
Bond Arms Inc.
Granbury, Texas

Dear Mr. Bond

I wanted to take a moment to compliment you on manufacturing a excellent derringer as well as having one of the best spokespersons I have ever run across, Amy Graves "The Bond Arms Girl" Last year my youngest son having celebrated his first five years in business wanted to add on a firearms store (Hellbent Firearms). We have a small family private investment company and since our business is to fund and start new ventures we decided to plow ahead. To be honest while I've owned guns nearly my whole life I wasn't an enthusiast and certainly didn't know enough about firearms to open a new retail outlet, regardless on we moved.

The bottom line is that we had to learn the business from others and learn fast, lots of folks from retailers to wholesalers and manufacturers gave us a quick 10 years of experience in a few short months. We repeatedly ran into Amy and Bond Arms, she was professional, helpful and most of all she made us want to sell your guns. Every time we had a question every time we needed help she was there for us, always representing Bond Arms as the premier manufacturer of derringers.

Lastly, our companies and our family believes in giving back to those who through no fault of their own find themselves in need and especially those who have served our country with honor. There she was Amy Graves, time after time volunteering to help organizations and individuals who needed a hand. Amy represents Bond Arms with grace and enthusiasm and in doing so turns thousands into customers and spokespersons for your product as well as your company, we have all been more than impressed and just thought you should know.

We wish you and Bond Arms continued success.

Best Regards,

Tom Loggia

Principal
TRL Holdings Company

I have judges and really like them but there is nothing like the same power of the .410 and the .45 which happen to be my favorite two rounds in a derringer It is built like a tank and even though i usually make my own leather holsters I ended up ordering a bad driving holster which will be here in a few days kinda high priced on the holsters but i really think it is comfortable. The bond arms derringers i just don't think you can go wrong with them.

when i first seen the cowboy defender in the local gun shop in kingsport TN i fell in love with it and knew that the cowboy defender would be my backup weapon just as fast as i could get it paid for. came straight home and set me up a target, which was a plastic gallon milk jug full of water. 15 yards away i shot and the jug blew up and water flew everywhere. the power, the force i like. it is now my back up weapon carried along with my colt 45 1911. the strange thing is that i don't no now which weapon is the back up and which one is the primary weapon. because the cowboy could most definitely be the primary weapon. thanks for a great weapon

I purchased My Texas Defender in .410/45 w/2 1/2″ barrel about a month ago from Williams Gun Sight in Davison, Michigan, as a Back-Up to My full size 9mm. I was very impressed with the quality of workmanship and materials used in manufacture. Have only shot .410 shells in it and dont anticipate needing any other ammo. I truly like it and am very happy that I purchased it. Very easy to conceal. Anyone wanna buy My .22 LR Auto? This Bond Arms Derringer is so much better in all respects.

I have had your Texas Ranger in 45LC/410 3″ since about 1998 (now I have 6 additional barrels for it) and have nothing but the finest praise for it. I retired as a Police Sergeant in 2008 after 40 yrs on the job and can say that this derringer is with me all the time.
Whether I am in the field hunting or fishing,I always carry the Texas Defender in the 45 LC/410 configuration.

Anytime I had to deal with the customer service folks at Bond Arms,the service has been absolutely the best.

Over the years,several of my friends have also purchased Bond Arms Derringers after checking mine out and firing it at the range.

Right now,I am trying to decide if I should purchase the new "Back Up" that has been brought out or if to just purchase a 2 1/2″ barrel in 45LC.

Superb firearm and an excellent company. Thank you for being USA made!!!!

Top Dog

very happy with such a well made firearm, i have the snake slayer 4 and i love it!

I loved this piece since I first saw it, I have purchased the 38/357 barrel for it and have had the 410/45 barrel engraved in a Celtic knot. I have a decent sized handgun collection and this is my favorite. It always gets attention at the range when I take it. Quantity is unbelievable!

It was so refreshing to do business with a Company that still has integrity, and stands by their word. I recently had the privilege of of dealing with Joe and Charlie in Customer Service at Bond Arms. This company not only produces the finest firearms, but they stand behind their product 100% and that's a rarity in today's business world. Thank you Bond Arms Inc.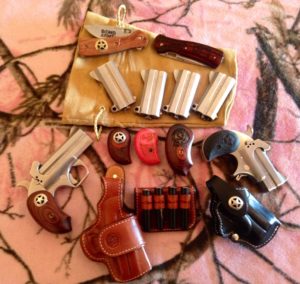 Bought my first "pocket cannon" a few years back while living in Texas it's a Snake Slayer. When I wanted something a bit more compact I got the mini. I like having the option to change out the barrels to try different rounds. I'm a collector of sorts but I never leave the house without one.

I just bought my wife the Texas Defender for Valentines day and gave it to her early because I am going out of town. It doesn't get any better in such a small package!!!! I have a Taurus judge magnum and love these two calibers together. I am super impressed on the accuracy of this lil gun and will soon be getting one to carry myself to keep on my person at all times!!! Thanks Bond Arms for such a great gun!

I will start off by saying that I am disabled. I am only able to shoot with one hand. I was taught to shoot in this manner as a young lad. I recently purchased a 31/2″ .45-.410 barrel. I fired the 21/2″ .410 rounds out of it today. I was most impressed by it's accuracy, and ease of control. At 10 yards, the group was tight and in center of mass. The shot was not spread out as I expected, but rather in a straight line top to bottom. Even more impressive was the wound channel the wad made on the target. I would not expect the wad to have much if any effect on a live target, but on paper it made a very ragged hole.

I compared the holes made by the .410 to my .32 magnum. Very little difference in size. The .410 was perhaps a 10th larger. This is a firearm and round that I am comfortable in carrying, and feel as though I am under gunned. To quote Mr. T, " I pity the poor fool that comes up against it!"

I am impressed by the craftsmanship! I love this gun. It has been exactly what I thought it would be.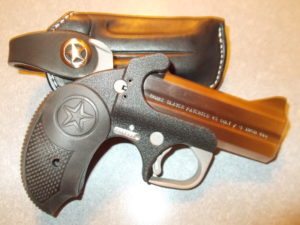 Bought Bond Arms Snake Slayer and loved it . Then Bond Arms out did themselves with mini .45 . But I went step further and it is not so mini no more . Bought .45 LC / .410 3.5″ barrel and extended black rubber grips made it the perfect HAND CANNON for me . Thanks again for another quality gun from you . Love the anodized blacked out look of frame , galvanized look of trigger guard , trigger , and hammer . THANX BOND ARMS

i opened the box and my eyes popped out….wow what a quality piece….cannot wait to shoot this bad boy!!

I like the idea of a small but powerful self defense weapon, checked your website, very informative. Bond arms products look well made and solid compared to other derringers, made my purchase and looks like everything you say it is, can't wait to do some field testing. Thanks .Stan

The Ranger II shoots good and on target. This was my first time ever using a derringer; hit target kill zone at 16 yards w/45LC & 410 Win PDX1 Defender 3" 750 Velocity what a kick. Thought you might like this; gun's name is Howitzer Jumbo Jet. Based on the serial number 105747 = 105mm Howitzer and 747 Jumbo Jets.-Bert

I love my ranger 2. I love the quality put out by the people of the Bond Arms Company. I am going to buy one for my son. Thank you for the best derringer ever made. PS tell the bond girl Amy Graves I think shes smoking Hot. GOD BLESS AMERICA Your friend Timothy

I had not seen an advertisement on Bond Arms. My cousin near Weatherford, Texas, showed me his Defender and the quality of workmanship encouraged me to buy your gun. The store only had one gun, the USA Defender with 45/410 barrel. I would be interested in any recommendations for barrels, etc.
Thank you. Gary

I purchased the weapon on December 14, 2013. I am sorry for the late notice but I could not find the card to send in, luckily when I was on your website I saw that I did not need the gun. So far the weapon always places a smile on my face; I have a lot of experience with firearms as I am a recently retired US Ranger but I wish I would have had this weapon in my kit.—Miguel C.

Gordon and Company,

I read all the reviews online, but nothing written can explain the feeling you get when you hold one in your hand. I read review on all my purchases; I have never seen so many positive testimonies on any product I have ever purchased. Your website says it all.—Charles H.

I liked your Snake Slayer the first time that I had ever seen the gun and being a Journeyman Tool and Diemaker and Mechanical engineer and a lot of experience on NC & CNC machining an Awesome solid Stainless steel billet and Made in US of A sold me TY Terry Heatherly—Terry D.

I picked up my weapon this afternoon. Haven't had an opportunity to fire it yet but my trigger finger is having fits!! I am impressed by the craftsmanship! This pistol is built like a Sherman tank! Feels kinda like an extension of my hand. My chosen caliber is .357 Mag/.38 Special. In the near future I will most likely get a .410/.45LC barrel.
Thanks for a great concealed carry weapon!—Rod K

Perfect for what I was looking for. It shoots very well – comfortable and accurate. Even at 15 yards I could hit an 18" x 30" target.—Gary B.

This is a beautifully made gun. I've been interested in purchasing a Bond Derringer since I first saw a magazine ad over ten years ago. I finally decided to take the plunge when I saw a brand new Texas Defender in 45/410 at my local shop at a great price. I haven't had a chance to shoot it yet, but so far I love the way it feels, handles and carries. I also love the modular aspect of the gun, I intend to purchase several different barrel configurations and different grips to play around with and with two young kids the safety features of this gun are VERY important to me. The bottom line is that no one else makes a gun that carries such effective ammo AND can fit in your pocket.—Jared P

Very, Very nice Firearm. Truly built like a Tank, and needs to be. Already purchasing accessories, grips and holster, and looking forward to getting a couple of different Caliber Barrels, for more utility. Proud to make a Bond Arms Snake Slayer, Made in America, mine.—James L.

Love it! Love it!! Feel very safe and comfortable while carrying. Awesome performance at range. Great accuracy. I can find no downsides to this weapon. Again I say, Love it!!!!I'm a Happy..Happy…Happy customer. Thank You Steve Raymor from Michigan

I love this gun. It has been exactly what I thought it would be. It even patterns better than I thought it would with 410 birdshot. It kicks like a mule with 3″ shells but is very comfortable with 2.5″. I have carried it in my hip pocket almost daily even without the available pocket holster and it is hardly noticeable. I'll probably carry it from now on as a concealed carry and when I'm hunting and fishing. I have a 9mm S&W that I carry on trips and due to 9mm ammo being cheaper and easier to find than some, I may order a 9mm barrel for it later on. Even though the barrel on my gun moves from side to side a little, it is made with a high degree of craftsmanship. It's probably the toughest built gun I have ever seen.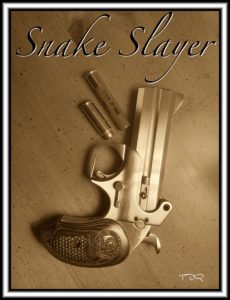 I believe it was Bat Masterson of the late fifties TV series by the same name; that put the bug in my ear. I was seven at the time. I couldn't wait for Bat to pull that hidden derringer and bring one of those no good sidewinders to justice. I made a promise to myself that I just had to get one of those some day.

Well, it was a long time coming, but last year I spotted a Bond Arms Snake Slayer IV in a local gun shop. What a beauty! That boyhood dream was rekindled and I kept that promise I made so long ago.

The Bond Arms Snake Slayer is a fine handgun and I am proud to own it. I'll pass it on to my son one day and he to his daughter (she will be a Bond Arms Girl I'm sure).

Thanks Bond, and you too Bat.

Well about one year ago i was searching for a snake slayer. In my area could not find one. Even email Girdon to help. I finally found one and yea the place was asking to much . But i wanted it so bad. What a artful created. Gun. But i was fighting cancer at the time of purchase this little gun gave me a lot of joy to clean and shoot and just hold. But with cancer comes many bills and i had to sell. Not one of my favorite. Days. Now every time i see a bond arm ad facebook or eestern i think about my little friend. Maybe soon i can get it back or one similar. Cancer sucks.
Thanks Rob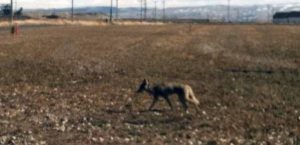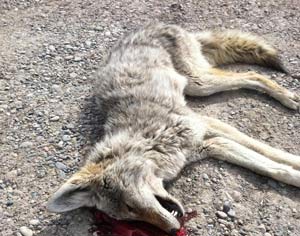 Hi Gordon,

I visited with you at the SHOT show and NRA shows regarding your fine firearms. I was telling you about my father-in-law killing a coyote with his SnakeSlayer. He was in his house looking out the window when he spotted a coyote in the field in front of the house. He stepped outside and the coyote approached him and he shot it at just a few yards. It appeared unhealthy and in bad condition. Anyway the Snake Slayer did the job as coyote slayer. J I just have to get me one again! I gave mine to my father for protection working at his convenience store late at night. Thank you Gordon!

I can't be more pleased with this firearm, I saw it sitting in a display case and it caught my eye. It was pulled out of the case for me to look at and I was sold, the engineering and the simple mechanics of this gun are bar none. It's a beautiful piece and fun to shoot, some of the other things I love about this gun and Bond Arms is all the different options their are aviliable, and most important it's made in U.S.A. right here in TEXAS!!!!! Hands down it's the best defender gun for men or women at a reasonable price, I will purchase more Bond Arms

Late last year I stumbled upon Bond Arms. I've always had a lot of curiosity about thses guns, just never paid much attention. I decided to purchase a Snake Slayer and after going to the range with it was hooked. I liked it so much that I ordered a holster and jumbo grips. After all that fun I found the "retro" version on the website. I really liked the look (two tone) so I bought one. With this model I also added new extened grips and a holster. I've since bought additional barrels and can say that these guns are a hoot to shoot. As if these we not enough, after meeting Gordon and Amy at the SHOT show, I had to have the new powder coated Back up model. It's so compact I can't seem to put it down. If you haven't tried one of these guns, you should. In addtion to having a solid back up weapon, they are a lot of fun to shoot!

Hello, I often carry my Mini chambered in .38/.357. I think a great round for this gun is JHP .38+P ammo. It has plenty of energy but is much more manageable than .357 which is a challenge to shoot accurately and can lead to a serious flinch.

I really like my USA Defender, very easy to carry with the holster that came with it. The gun looks very nice and I get many good comments about it. Others have told me that they did purchase a Bone Arms product after seeing mine. I do carry the Defender with me when I go out. A very nice gun. I will purchase other caliber barrels later. Thanks Jimmy Foster

Dear Bond Arms, I'm not new to your company. My wife and son bought me a new Snakeslayer several years ago for Christmas. I also bought a Bond Arms IWB holster and super cool coffee mug. I just wanted to tell you I love my Snakeslayer just as much now (maybe even more) than I did that exciting Christmas morning. Living in the Appalachian Mountains, we not only have copperheads and rattlesnakes but other dangerous critters, including those standing on two feet. My Snakeslayer with 000 buckshot is my carry pistol (I have a carry permit) and I never leave home without it. My Snakeslayer is like my cell phone, I just don't feel right not having it with me. Bond Arms Snakeslayer quality is museum quality…lovely to look at, hold and shoot. I have never had to pull my pistol to protect myself or family and hope I never will BUT, I have total confidence in my Snakeslayer. Thank you for producing such a fine pistol and sharing it at a reasonable price. Respectfully, Charles Miller

Made in the USA still means quality at Bond Arms! Cannot believe the fit and finish of this gun. PERFECT! It's good to see fine craftsmanship still exist in the USA!

I am almost 70 years old and it's a shame we live in a country where we have to be on the defense every waking hour. To many times in my later years I have felt insecure with my surroundings so I purchased two Bond Arms for myself and wife. Being ex-military and knowing the value of training and practice we have fired the Bond Arms 357/38 and 45/410 and found them to be a very good defensive firearm. Since the price of ammo and recoil was a little to much for my wife I purchased the 22LR barrel and the 22 MAG to practice. They allowed us to get to know the guns very well. We both got self defense permits and carry them when we feel it's necessary. The Bond Arms guns are made very strong with just the right amount of safety features.

I purchased a 410/45 Derringer Bond Arms.I collect derringers,however I will now collect barrels.The 4 derringers I have do not compare.From now on nothing but Bond for me. I also ordered the holster and cannot believe the quality.Awaiting Bond to come out with a revolver .Live Bond!!!!!

Great gun very accurate for a short barrel gun. Very well made. Bond arms great people to deal very helpful. My wife is a Bond girl with her Snake slayer. She has no problem with the recoil on the 410. Did just put a set of the rubber grips on it for her. I would not recommend altering the grips or gun as shown on youtube. Thanks for a great product Jeff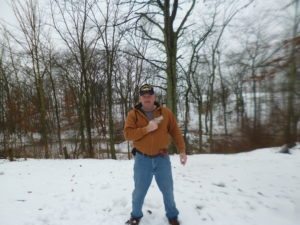 I recently purchased my Snake Slayer at Gunfire in Holland , OH on Angola Rd. . I love this gun . I shot some .45LC threw it , and then I shot some .410 defenders threw it and oh my gosh it is a hand cannon . Well made , quality is outstanding , I own a lot of pistols but this is my favorite one now . Thanks Bond Arms for a quality firearm . Best money I spent , and a joy to fire . I will be buying a couple more . My next one will be a Ranger ll .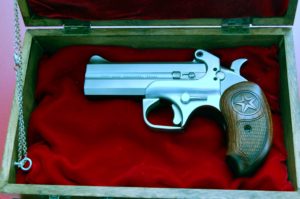 I recently purchased a 4.25 357 mag barrel and some extended grips for my Texas Defender

This has made it feel like a completely different gun and I love it.

It sure is nice to be able to up-grade a gun like this and to me it is a money saveing feature to be able to purchase the accessories that Bond Arms offers

A few days ago I put a Snake Slayer into layaway after looking at it and trying it in my hand. I was immediately sold by the fit, finish,and quality of this Bond Arms pistol. I then remembered that I had seen a Bond Arms deringer at a local gun shop. I went to look, found it was a previously owned and gently used Texas Defender. I am not sure of the date of manufacture, but outside of cleaning it is a near pristine specimen. Since I had previously owned a Taurus Judge I have a good stock of defense .410 loads as well as about 80 rounds of Hornady Critical defense ammo.
The Texas Defender has become my primary carry gun, can't beat one shot 4 .38 cal hits to stop a threat. Reloading is easy with speed strips so I do not feel undergunned. Only thing that I can suggest is that anyone with the .45LC/.410 barrel will want to check each .410 shell in his ammo stock for ease of loading. I have a box of Federal .410 Pistol loads that are inconsistant in the brass and do not all load easily into the chanbers. To have to fumble with a reload could be life threatening.
I look forward to getting my Snake Slayer out of layaway in the next few weeks and begin adding barrels to the pair.

Submitted by John W. Bletsch

I have contemplated the purchase of a Bond Arms weapon for several years and as of 12/2013 I am finally the proud owner of a Bond Arms C2K and I couldn't be more happy with my purchase! I have owned many handguns for self defense over the years in the attempt to find the right one for me. My search is over thanks to Bond Arms. I love this weapon! I can actually hit what I'm shooting at and for the first time feel very confident in the ability to protect myself and my family should the need arise. In my opinion there is not a better handgun for civilian self defense on the market. After a very short range session I was able to determine the characteristics of the weapon and feel confident in stuffing it in my pocket (holster is on order) never to leave home without it. You could spend 3 times more for a handgun and not be any better protected. How you can build such a fine handgun for the money is beyond my comprehension, but I'm glad you did. A big thank you to Bond Arms for the last self defense handgun I will every buy! Unless it's another Bond Arms.

Best Regards,
Paul Gunterman in Florida

I've always wanted a derringer. I saw the snake slayer and pounced on it. The fact I can load 410 bird shot was just what I was looking for. I got the pistol for just what the name says…snake protection while out on my land. It's a shotgun you can put in your pocket.

Submitted by Charlie N.

My Bonds Arms Ranger is my go everywhere gun. I keep it loaded with 3" 000 buck and don't foresee an up close and personal danger that it couldn't handle. The recoil is stout but that is to be expected. The quality is outstanding

Submitted by John P.

I have shot the Bond Arms derringer before I got mine. I wanted the Snake Slayer IV for myself.
I took it out and my family and I all really enjoyed shooting this firearm. It's very controllable, easy to use and is just a blast to shoot. I know I will be purchasing other calibers to go along with my current assortment of ammunition.
The hardest part about using this everyday is deciding which rounds or combination of I'm going to use that day.

Thanks for making a really great product.

Submitted by Glenn Godbey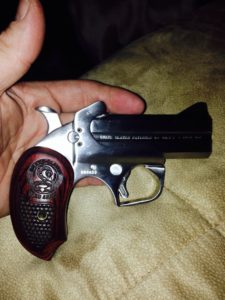 Gordon and staff, I want to thank you all for the beautiful firearm I purchased yesterday. The craftsmanship and detail are second to none. Can't wait to order a few more accessories for it.

Submitted by Mike Ruane

OMG…I bought a cobra derringer for a less ( or I should say cheap) expensive firearm for display… I'm embarrassed to put it out for people to look at it, there is no way I would put it in the same case as the Bond Arms…. Bond Arms wins again, hands down..

Submitted by Jerry Sinor

I have always Ben a semi auto pistol kind of guy.never liked wheels guns or any thing cowboy.but this little snake slayer I fell in love with from the moment I picked it up.just feels right.split strong dependable built like a tank.best little trail gun ever.
I wanted to know about 45 rimed cowboy brass. Made for 45 revolvers .Will it fit and function in a 45 colt,410 chamber?i saw some in my local gun shop .any feed back will be appreciated , and keep up the good work. It is an great little pocket rocket. Thanks
Mike Niles
Albany ny

Submitted by Mike Niles

I recently sent in my older style Texas Defender in for an
"Upgrade". This involves replacing the hammer with the new wide one. The new trigger "feels" wider to me, looks different also. The trigger spring drops about 2.5 pounds off the trigger pull. It's a bit more crisp too.
What amazed me the most was the turn-around time. I was quoted 3 to four weeks. I FedEx'd out on 11/15 and UPS put it back in my hands on 11/26. From the Upgrade to the shipping I was just blown away.
The gun works completely different, from cocking to firing. It's a different weapon. You can't ask for better workmanship and shipping. 11 days? That's unheard of.
Thanks Folks, that's why your NUMBER ONE!

Submitted by Robert Bradshaw

I love the Texas Defender I bought since it has a real solid feel & not a lot of kick when I shoot it w/ the .410 shotgun round. The best part of this gun is that most people won't challenge it since it has such an aggressive look – You'll never have to fire a shot. The Winchester Home Defense .410 2 1/2" round works great w/ this gun.

Submitted by Jeff R.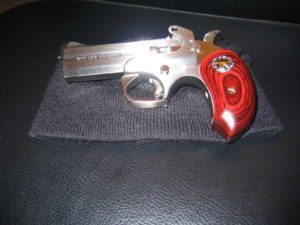 Purchased a USA Defender along with a 4.25 barrel 357/38
configuration as well as the rosewood 2 tone star grips.
The new barrel along with the grips gave it an entirely new look and wow those grips are just beautiful.Your fit and finish sets the mark for others as you are the competition.
Keep up the excellent work. Paulie

Submitted by Paulie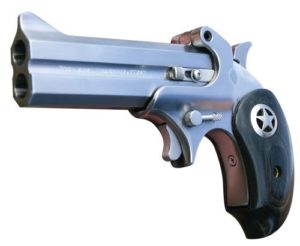 Just bought The Ranger II shoots good and on target. This was my first time ever using a derringer; hit target kill zone at 16 yards w/45LC & 410 Win PDX1 Defender 3" 750 Velocity what a kick. Thought you might like this; gun's name is Howitzer Jumbo Jet. Based on the serial number 105747 = 105mm Howitzer and 747 Jumbo Jets.

Submitted by Bert B. De Vasure

If you want a gun with a bad attitude along with the versatility of numerous calibers and the dependability of an old Chevy, and the carrying ease of a fine gold watch, then look no further BONDARMS is the only gun you will need. I don't call it a Derringer because, it is a new classification of guns….

Unless this Bond Arms Company down in Granbury Texas gets taken over by the Hindus or somethin', you WON'T beat the product, sales or service they offer.
Bear in mind before you buy, Deringers were never meant to be the first line of defense unless the only other thing 'ya got is a screwdriver.
However, once you set this rascal off in a close crowd [shooting range of course] you'll have the youngins' scurrying for cover and askin' if you hit anything later.
Seriously though, the .45-.410 and my NEWLY aquired .38-.357 barrel is a great DETERRENT at close range for them that may not get a second chance.
Bond Arms said it right. Think twice.
Thanks Gordon, Joe, Travis, and Charlie for your fine QUALITY Firearm and Service !
Rick Speth – Monument, Colorado

WOW THE POWER IS AMAZING!!! DEF GONNA GET THE SNAKE SLAYER NEXT!!

Submitted by BRIAN

I bought a Girl Mini Bond .357/38 with the pink grips, didn't want the pink grips, but I wanted the .357/38 caliber so I bought it. I called Bond Customer Service and wanted to purchase a pair of the Rosewood grips and to my incredible surprise they said that they would exchange my pink grips for the rosewood with the star in star for nothing; just send back the pink and I'll have my rosewood grips. They even sent the rosewood before I mailed the pink ones back, you cant beat that with a stick. Customer service like that just doesn't exist any longer. Kudos for Bond, their real people there.

I'm a licensed professional body guard and wanted an effective backup that I could easily conceal and the Mini does that in spades. I love this weapon, it's extreme quality, short range accuracy, knock down power and controllable recoil.
Try it you'll like it!!

Submitted by Charlie

i'm extremely happy w/ my very first firearms purchase: a Snake Slayer IV
i chose your firearm over the rest because of all the praises they get on Youtube ; needless to say, i'm proud of your company and your product
Submitted by Brian

I work hard for a living. I solve problems for a living, and I'm expected to deal with any problem I come across without any excuse or help. Everyday I walk out of the house, I have 3 of the best multi-tools money can buy, a tape measure, a wallet that is chained to me, and my Snake Slayer in my pockets (I wear cargo pants). I also carry a pouch with all sorts of ammunition, from bird shot to buckshot to home defense. I'm expected to be diverse, and I expect my CC gun to be the same.
Before I got the Snake Slayer, I carried the usuals: 380s, 9mm, you name it. But I always felt that I was never fully prepared.

I own a competitor's .410/.45LC, and I absolutely love it, but I can't carry it everyday because it is so big. When I came across the Bond Arms Snake Slayer in an article, I just had to have one. Finally, I found a handgun that was as versatile as I was, and I could put in my pocket!

Over a year in my pocket, and all is well. Thank all of you for this wonderful, powerful "multi-tool." It is just about perfect.

One other thing…I've run across some folks that say that two bullets just aren't enough. I found the perfect way to shut them up REAL fast. I tell them that I load 5 pellet 000 buck. Then I ask "Can you shoot 10 bullets out of your pistol in one second? No? Well I can. And I bet I'm more accurate while doing it." I usually don't get any more arguments after that.

Thanks Guys and Gals!

Submitted by Nathan R.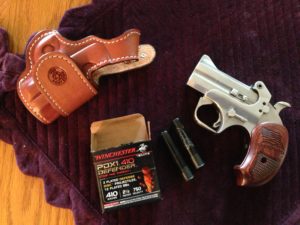 I just came home with my new bonds arms h USA defender they only hand 410 Shells at cabelas no 45 long colt in stock lol so then I came home and went to range the trigger only took me 2 shots to get use to after that I put 18 more round down range at 7 yard it is more then what I Expected hand hurts alittle but I carry a sig 1911 so no big deal this fire arm is built to last very easy to clean and very happy with the Holster that came with it Carries real nice don't even know u have it on a Perfect backup to my carry gun , thank you bonds arm for making a well Crafted hand gun in the USA

Submitted by James Phillips

I had a chance to purchase a Bond Arms Century 200 at a pawn shop. I am impressed. Its design,weight and power exceed any derringer that I have shot in the past. Perfect for road trips. Easy to slip into a pocket. I am fan and a lifelong customer. My next purchase will be a smaller caliber for my wife. We shot 50 or 60 rounds through it and find it very accurate. Rock on!!

Submitted by Randy Lairson

My new Snake Slayer is quite an impressive piece of gear. I fired a box of .410 defensive rounds thru her using a one handed technique and had had no issues at all . The next day I ordered the driving holster and it arrived in just a few days. The holster itself is a beautiful piece of craftsmanship and fits perfect on the gun and my belt.
As a retired Boeing Aerospace machinist, I can assure anyone that the fit and function of the components that are manufactured by Bond Arms are nothing less than "First Class".
I will be a repeat customer and look forward to my next purchase.
The entire staff at Bond Arms makes me "TEXAS PROUD."

"Buckshot"
Bowie, Texas

Submitted by Rodney "Buckshot" Garrison

Had a problem with the grip finish and it was taken care of very quickley even though it was the sellers fault. Thanks Joe and crew.
Bruce
Very pleased BATD owner

Submitted by Bruce Carroll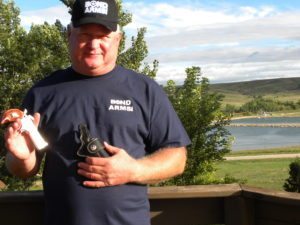 As a customer and owner of a ranger I am truely impressed with the size and performance, and has become my number 1 concealment firearm. Any time I take it out with friends to the range the gun sells itself, it is absolutly the finest concealment gun I have ever owned. As a firearms salesman I have had customers come in and tell me that they like the calibers of the Taurus Judge and the S&W Governor but they are cumbersom and difficult to draw from a seated position, thats when I introduce the BOND ARMS product line and they sell themselves. Since most situations that require a firearm as deterrent towards aggression are over in one or two shots fired wouldn't you want the most fire power you could carry? There is nothing like a 3" .410 00 buck to make all your worries disappear.

Submitted by Kevin Urbatch

I just got back from an evening at the shooting range, and boy, did this Bond get some attention from my other shooter friends there! I've had the Snake Slayer IV for a while now, and decided to get some more barrels. I went with a .38/.357, a 9MM, and a .22Mag – just because those calibers matched other stuff I have. I wanted to test fire those barrels and see how they printed. The guys were fascinated with how easy it was to change barrels, and with how my targets looked when I got finished. I set each target at 5 meters, 'cause that's pretty much where you might use this thing in real situations. I started with the original .45C/410 barrel, shooting solid lead .45C slugs. Next came the 9MM, using FMJ's. Then I bolted on the .38/.357 and used Hornady Critical Defense loads. Last of all, I put on the .22Mag, and put some ArmsCorp down the barrel. Except for one round of .357 that I didn't keep a good grip on, EVERY SINGLE ROUND went into the 8,9 or X circles on a life-sized silhouette target. (Only 3 or 4 rounds were in the 8 ring.) I'm not a competition shooter by any means, but this thing is solid! I'm very confident in this weapon. Period. Keep it coming, Gordon and team!

Submitted by David Headley

The friendly folks at Bond Arms just upgraded the actions on 2 of my 3 Derringers & they now handle better than ever! I still like the old style action & have kept 1 BA Derringer in its original configuration. First-timers will probably prefer the newer action, but I think many longtime Bond Arms fans will appreciate both designs as we did during 2 days of shooting 3 different calibers with both old & new style actions at all manner of targets including hand thrown clays! Thanks again to Gordon Bond & the rest of the BA Team for making such a great product & providing such excellent service!

Submitted by Aaron

a solid heavy feel and with a wide variety of calibers bar far the most for your money 22 guns in one !!!!!

Submitted by dominic

I recently made an online order for some accessories for my Cowboy defender… A holster and a set of grips. The website was under maintenance at the time so I was unsure if the order went through.
I checked with my C/C company and the balance on my account had changed in the same amount as my purchase, but there was no transaction posted.
I called by phone and the staff at Bond Arms was able to quickly verify the order without even a number to go on…and I was fortunate to speak with a man that was able to let me know the holster I had ordered did not have the Bond Star…he has able to modify my order to allow me to receive the holster I was looking for. Great Job Guys…….

Thanks for a wonderful experience…

Darrell L. Wilson
ETC(SS)USN Ret

Submitted by Darrell Wilsonj

I just got my snakes layer and what a gun,shot it the next day and what a blast.
Vvvv v. Very please with the craftsmen ship and the quality.

Submitted by Kenneth R.meidenbauer jr.

I have owned ALOT of handguns, and yet I continue to go back to carrying my BOND 45/410. I currently own TWO frames and 5 barrels, and somewhere in the range of 8 holsters, maybe a little over kill, but different circumstances call for different types of carry. Thanks to BOND, the options are UNLIMITED !!!!

Submitted by Danny

I am a custom to owning the finest guns,I have been carrying for thirty years,Sig Sauer,H & K ,FN 5.7, Kimber Raptor II,and others,my recent purchase of my Bond Arms Ranger II is one of the top guns I have ever owned,the craftsmanship is second to none,the BAD driving holster is ,well BAD a*s!it is a well made quality rig, that comes with the purchase,however my dealer for some reason did not have mine,and fourteen days after the purchase I got it.
It is the best concealed carry I have for our hot weather,I love everything about this gun,especially that it is made in the US of A!
This is just my first of other Bond Arms guns,Kudos guys this is a good one!

Submitted by Scott Conti

This is the most accurate, comfortable and reliable derringer I got. I hope I can make the collection of all models in different calibers. Thanks for your products and great quality. Thanks all employees and owner. sincerely Eky

Submitted by Eky (Hector Rodriguez Roman)

I'm a Cabelas gun sales person. I have always been impressed with the absolute rock solid construction of the Bond Derringer. I've been involved in Cowboy Action Shooting since 1992 and have always borrowed a gun for the stages requiring a pocket pistol.
Recently a chap traded his Century 2K Bond and I jumped on it before it made it into our inventory. Now I have my Bond and have the perfect gun for the SASS matches and carrying around the woods when I out for a walkabout.

Submitted by Bob R

When grander mountain looking for a bond arm ranger II they had one left I got the last one shot it with Winchester 410 sxz buckshot 4 and a Hornady 410 2-1/2 FTX slug critical defense they both did a heck of damage to a gallon water jug look out Chuck Norris there a new rangerII in town

Submitted by Dale Truett

thanks bob for the fast and prompt helpful service on sending my new barrel and grips! every fits perfect. now this gun has fantastic versatility. I can sport .357, .38, .45, .410 all in one fine little gun with different barrel options! thanks again, gene stump

Submitted by gene stump

I had been literally looking all over country to buy one for my wife as a second concealed carry piece. My buddy found a dealer in Texas that had two USA Defenders in stock. He liked the gun so much from what he read that he bought the second one for himself. After it arrived, I found myself not wanting to put it down. It just had an awesome feel to it. I let my wife hold it for a second and told her that would be her last time she held it. LOL! It is mine now. My father in-law loved it so much that he was able to track down a Snake-Slayer IV. We are planning on shooting them this weekend. Thank you for such a wonderful product. We will be buying another one soon.

Submitted by Joseph Ceravone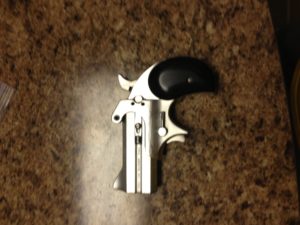 My cowboy defender is the best and highest quality firearm I have ever owned!! When you get one do yourself a favor and get the 10mm barrel! The only thing better than a BOND ARMS Gun is the people behind the gun. The customer care ( and they do care )is second to none!!!

Submitted by Matthew Pond

I just bought my first Bond arm in the snake slayer4 with extra 38/357 barrel. I have plenty of pistols and in 38 this gun shoots better than some of my revolvers,it has great feel and balance. Shooting the 410 3 inch buck was no problem. After one shooting session this gun has moved to the top of list, straight into the right pocket of my overalls! From Mississippi to the great gunmakers of Texas EXCELLENT WORK! AND THANKS!

Submitted by Andy

I just bought a snake slayer 4 with extra 38/357 barrel I have never shot one before. I have many small handguns.It shoots like a champ! It is just perfectly balanced and more accurate then some of my snubnose revolvers. I tried the 38 then the 2.5 410 with field loads then #4 buck. It did surprisingly great! The trigger takes getting used to. After one afternoon day one of purchase it has moved up to my top slot straight into my right pocket of my overalls!!!! LONG LIVE TEXAS AND GREAT AMERICAN GUNSMITHS

Submitted by andy in mississippi

love my texas defender, its just a awesome gun,going to order the 4.25 410 barrel for it soon, its now my weapon of choice. thank you bond arms!!!

Submitted by chuck marsh

Tried out my Snake Slayer IV. EXCELLENT!

Also tried out my .38/.357; .44 Special; .45 ACP.

Great machining & engineering. Being an engineer, I really appreciate what went into your Product. I compared your derringers to other brands. No comparison!

Submitted by Conrad Szymczak

I recently made an online order for some accessories for my
Cowboy Defender…a holster and a set of grips. The website was under maintenance at the time so I was unsure if the order had gone through.
I contacted my C/C company and my balance had changed in the amount of my purchase,but no transaction had posted.
I called the guys at Bond Arms and they were able to trace and verify the order without so much as a number to go on!! In addition the gentleman I spoke with was able to let me know the holster I had selected did not have the silver Bond Star attached. At my my request he was able to modify my order as we spoke and assure I received the right one. GREAT JOB GUYS!!!

Thanks for a wonderful experience in service…and cheerfully done too!!

Sincerely

Darrell L. Wilson
ETC(SS)USN Ret

Submitted by Darrell L. Wilson

I can't believe how accurate my USED Cowboy Defender is with a .45 ACP barrel! I can nail a bulls eye at twenty feet nearly every time, and I get good groups on a one-foot circle target at forty! Now that I'm used to it, the odd trigger pull actually seems not only easy, but ideal.

Submitted by Seth Jackson

hello , bonds , iv been disabled 29 years , i carry American derringer , until i see a donds , love first sight , i sold the other bought this snake slayer 45/410 [wow] all i can say u did a fantastic job , i thank u so much , i trade my sw for bonds any day , i know what i got ,for safety reason , it go everywhere 24/7 . my wife is disabled too . going to dr out of town its, to i have , nice i have it , , she in wheel chair ,i hope some day u all will make a 6 inch barrel in 40 sw sure be nice u all take care , thanks again on job well done harvey and cindy koons mcminnville tenn , i like see these guns in [guns and ammo handguns

Submitted by harvey j koons

Baseball, hot dogs, apple pie and a Bond Arms derringer. I own the Snake Slayer IV and it is a high quality firearm made in the US of A. It's nice to see Americans can still produce a great product at a reasonable price. For a primary defensive weapon this would not be my first choice because of the 2 shot capacity. After all it is a derringer. As a life saving backup I would trust it with my life. Opted for the 410/45 colt and ordered the 38/357 as a second barrel. Being able to have any caliber you want with a simple barrel change is a rare feat. With the rimfire barrel it's fun and cheap to shoot and larger calibers are available for whatever your situation. Extended grips are available for us boys with bigger mitts. You will not have wasted your money on this purchase. Nice job Bond Arms and Thank you.

Submitted by Lou Jankos

Dear Gordon, I own three Bond Arms Derringers. My Snake Slayer, and two Rangers. I have a concealed carry license, and carry on a daily basis being a business owner. Today, I actually had to pull my Ranger out of my driving holster and unfortunately, had to use it to protect myself. Even though still somewhat shaken by the incident, I am alive. I was staring down the barrel of a 1911 45 of a bad guy, that wanted to rob me. I was able to pull my Bond Arms Ranger loaded with 410 OOO Buckshot. The damage to him was devastating to say the least at 6 yards. Local law enforcement officials actually thought I had shot him 5 times. I only shot him once, while a bystander kicked his gun away from him. I still had one shot left, and told him, make a move, I got one shot left. He did not survive. I will have to live with that for the rest of my life, but at least I still have my life. My wife also carries a Ranger with the same 4.250 barrel I carry, but in her purse. My next purchase will be for a Driving Holster for her Ranger. She wants to carry hers now, concealed on her person, and not in her purse. It is the perfect combination for self defense. With one motion, you can draw your Bond Arms Ranger, pull the hammer back in the same motion, point and fire. I have trained her in this technique. My family and myself thank you and your staff for making a product built like a tank, is reliable, and does what it was designed to do. I am 52 years old, and having my first grandchild in April 2014. If it wasn't for you, your staff and your company, my grandchild would have never have known his/her grandfather. I ask that you please do not publish this on your website,unless you can protect my identity, my family and I are suffering enough from this incident, but please share it with your staff. I own my own company and have employees that have worked for me for over 25 years. They are my company. I want your staff to know that what they do each day is important. Someones life may depend on them doing their job correctly. My life did.

Forever in your debt.

R.S

My wife and I took a road trip last June and california was one of our destinations (grand daughter graduating from high school). Met for a BBQ with former weapons and tactics guys I worked with at one of the retired officer's home. I'm a retired, 30+ year peace officer. The subject of concealed carry came up, and I was asked what my EDC was. I pulled out my Snake Slayer, removed a 45 Colt cartridge and a 410 shell and said that I would hope they would get me to my lever rifle and revolver, both 44s, if a situation called for additional self-defense. I also carry knives. Knowing california's aversion to "assault" weapons, I brought the "harmless" revolver and lever with me. It was pointed out to me that my BASS was illegal. What? Oh yes, it's a sawed-off shotgun! Seriously?! Gimme a break! Nope.

Submitted by Richard

I purchased the Bond Snake Slayer after Mr. Bond gave a presentation to our Gun Club!! Great pistol!! Very effective as a self defense weapon!! I changed out the very nice rosewood grips with your new black rubber grips!! The rubber grips provide a very secure grip to the pistol and look great!!

David Jacoby
Waxahachie, Texas

P.S. I would like to know if your pistols are a big seller in Australia! With all the dangerous snakes there, I would think that the Aussies are big customers for Bond Arms!!

Submitted by David Jacoby

I bought a Bond Arms Texas Defender.410/.45acp derringer from a friend of mine and it quickly became my favorite carry piece. I keep 000 in it for most trips, but I also bought some flechette loads, and was impressed with the damage they do. The 3" barrel makes it ultra-compact so it fits in a vest pocket.
It makes a statement when you present it, and leaves an impression on anybody who sees its devastation.
It has opened up a whole new world, as .410 rounds come in such a variety.
I might buy a longer barrel in 9mm, but for now, this is just fine!

Submitted by Doug O'Neil

Most likely do to user error, I had a tough time loosening the hinge screw on my Texas Defender the first time I changed barrels and contacted Kelly at Bond Arms to ask where I might be able to buy a new screw just in case I'd threaded mine. Kelly not only sent me a new one – it was in my mail box before the pixels dried on my computer display

Thanks, Kelly – and, btw – I LOVE this gun! Built like a tank, but comfortable and very stable in the hand – and accurate too!

Submitted by Steve Pitzel

Are you kidding me? Let me get this straight…. I make a mistake with my online order for two barrels (.22 LR and 9 mm), the Bond Arms staff (Kelley and Joe) help me straighten it out, and simply because the .22 barrel had been shipped before the 9 mm and before the order could be deleted and resubmitted, I not only get my credit card credited with the full purchase price but I get to keep the .22 barrel that was shipped!!!! This is absolutely unheard of customer service and relations. I am still stunned by the way I was treated (I thought Bond Arms would simply send me a shipping box to return the .22 barrel). I might add that in the past several months I have purchased a Snakeslayer I, Century 2000, USA Defender, BAD holster, and a 4.25 inch .357 barrel; an original Snakeslayer is currently on layaway – which should be some indication of how I feel about the Bond Arms product line. I will be shortly submitting another online order for the 9 mm barrel and the BMT holster, this time using the correct credit card. My experience with Bond Arms staff and products has been such that I will continue to add to my collection of Bond Arms firearms including additional barrels, holsters and other accessories. Bond Arms products and staff have created a loyal, lifelong customer and I couldn't be happier.

Submitted by Jim Carlin

Dear Gordon,

I am a 100% per cent Disabled American (Captain, U.S. Army), seriously injured in the line of duty three decades ago, retired but still Army Strong. The nature of my injuries and limitations imposed on me by my fantastic rehabilitation team composed of medical doctors (specialists) and poly-trauma physical therapists took me out of the shooting game for a lengthy period of time. Well, I finally reached the summit of Rehabilitation Mountain! Cleared to celebrate freedom and liberty once again by shooting handguns, rifles and shotguns without restrictions, I commenced my long awaited celebration by purchasing at my favorite local FFL Dealer a brand new Texas Defender chambered for 410 Bore 2.5" / 45 Long Colt.

During my first trip to the outdoor range to break in my tank-like Texas Defender, first I reviewed the factory owner's manual to understand completely how to safely operate the Texas Defender, then I loaded up the Defender's two chambers with 410 shot shells designed specifically for home and personal defense. Having always wanted to visit Texas, I faced northeast before I dropped the hammer on a live primer, confident that upcoming brutal, excessive recoil would propel me backwards at Mach 1 speed in a southwestern direction and would dump me two seconds thereafter on the walls of the Alamo to undertake a lead role in a new TV series, "Focker, Texas Stranger."

My anticipation of receiving a free, recoil-related relocation to the Lone State Star proved to be a false hope, as my Texas Defender's recoil was neither excessive nor heavy. To the contrary, its recoil was totally manageable, although I do recall vaguely that the mouth of the armed bad guy silhouetted on the paper target placed seven meters down range opened once and shouted in Tommy Boy horror, "Holy Schnikes!" as pellets launched from barrels número uno and número dos shredded his head and torso. I immediately named my Texas Defender "El Diablito" (Little Devil) to aptly describe its brilliant design, its powerful punch, its precision engineering, its right on the mark size, and its well earned role as undoubtedly the finest "niche" handgun ever made in the history of fire arms.

Within days of purchase, I placed two separate orders for a 38 Special / 357 Magnum 3.0" barrel and a black leather cross draw (driving) holster in which to tote El Diablito when I am "out and about" in my pick up truck. Having carried both a Colt M-16A1 5.56 NATO rifle and a Colt M1911A1 45 ACP pistol many years ago to support and defend the Constitution of the United States of America, it is perhaps paradoxical that my Texas Defender has now become my primary CCW handgun backed up by a inconspicuous, superbly crafted Swedish Fallkniven WM1 fixed blade knife.

Thinking back to my military service, "danger close" was one recurring "alerting expression" when operating south of Texas and north of South America. At this time, my Texas Defender is most definitely the ultimate UCAP (pronounced yoo-cap) "up close and personal" trusted protector of my family, my friends, my neighbors, law enforcement officers under attack, society's vulnerable persons under physical assault, and myself. Every day of life is indeed a gift from God. Carrying a Bond Arms Derringer 24 7 enables good people one and all to enjoy that wondrous gift of 365 days of life per year without experiencing fear of becoming a helpless, unarmed victim of bad people. Bien hecho, Gordon, bien hecho! Viva El Texas Defender! Viva Bond Arms!

Submitted by Christopher

Dear Bond Arms:

I am a collector as much as I am a shooter. I feel like I'm a true firearm enthusiast. I never buy a firearm just because it's the most popular thing out at the time or because it's cool. I always buy specific firearms for specific reasons.

A number of months back I purchased a Bond Arms .410/.45 Colt Derringer. The model I chose was the USA Defender because I like the American Flag grips. I purchased this derringer because (1) I collect derringers; (2) I chose Bond Arms specifically for the .410/.45 Colt caliber due to Bond Arm's reputation for quality. I remember when I first held and examined the derringer. The first thing I noticed was the incredably high degree of quality. The second was how comfortable it was/is in my hand. Next was how smooth & easy it was/is to cock it.

As I previously said, I purchased my Bond Arms USA Defender several months back; however, it wasn't until yesterday (6/15/13) that I had the opportunity to shoot it for the first time. Wow! It was such a pleasure to shoot this firearm. Bond Arms Derringers are worth every single penny and I so look forward to my next opportunity to shoot it. I believe my USA Defender Derringer is the highest quality most beautiful firearm in my collection.

To anyone who might be considering a Bond Arms Derringer: "I promise, you will not be disappointed." The quality of workmanship and attractiveness of these firearms are unparallelled. Not to mention how much of a pleasure they are to shoot.

Micah Holland
"Proud & satisfied Bond Arms owner"
Phenix City, AL

Submitted by Micah Holland

To: Mr. Gordon Bond

Gordon,

I know there is nothing new about my enthusiasm for your wonderful Bond Derringers. Your products speak for themselves louder then I could describe their beauty, reliability and practicality.

The reason I have to send this note is to pronounce my great pleasure and satisfaction for the manner I am treated by at Bond Arms.

I am a very modest costumer of these little masterpieces, this is only the third Texas Defender that I purchased in seven years. Even so, the first time I was calling in for information on the suggested ammo, I was treated like a VIP client of great importance, with outstanding courtesy and professional attitude. The second time I called in for the needed safety retaining pin, and I was received in the same manner, I was also assured that the part will be mailed out the same day free of charge. I guess this habit is part of your company policies. I still have to praise it and write about it.

Your kind of customer relations practices are unparalleled in regular daily commerce, and unfortunately disappearing from the American culture. Generally indifference and rudeness are becoming the standard ways of dealing with clients, and the attention and kindness at Bond Arms is refreshing and praiseworthy. Such attitude must be highly esteemed and well appreciated.

Thank You for the beautiful guns, and thank You for the outstanding courtesy I enjoy each time when in contact with Bond Arms.

May God bless You All. Happy Independence Day.

BTW I am an engraver of guns, and I keep working on the one I have just purchased. If You are not overwhelmed with work photos from other engravers, I would be glad to send over some pictures of the Bond Derringers I have engraved earlier, and also I could send some of the images of the Bond gun I recently work on.

With Best Regards and Gratitude:
Ivan Tibor Mate

Submitted by Ivan Tibor Mate

Just wanted to give credit where credit is due. I have the Bond Cowboy Defender
iniThere is n.38/357 and the BAD Driving Holster. I have never seen such expertise in the making
of these essentials. Everything right down to the stitches in the holster are made with
the pride and expertise of real craftsman. This gun shoots beautiful in both calibers.
Accuracy will come with some practice and some more practice. Whenever possible I
will recommend your products to all shooters and CW people I know.

Any further information stickers and whatever you can send will be apperciated.

Just as a side note in the one article about 9×18 Makarov's, they are an outstanding
handgun also. I have a Bulgarian I have had about 8 years and never had a problem.

Like all of your products and when I have something I really want yet, like another
hat and shirt or different barrel,I will be in touch!

Your service and products are second to none!

Thank you for being there for us! Thank you for the personal emails also.

Sincerely,
Art Strzelecki-Bethlehem, PA

Submitted by Arthur Strzelecki

I have been looking to purchase a Bond Arms Snake Slayer for some time now, but every shop in town has been out of them because of how popular they've become.
A few weeks ago, I finally walked into my local gun shop here in Michigan (Close Quarters Tactical) and as I made my way towards the display cabinet, I was amazed to see a Bond Arms Snake Slayer in 45/410 shining on the top shelf.
There was one customer ahead of me, and I was praying that he didn't ask to see it, but lo and behold, he did… I patiently waited until he was done fondling "my gun" and thankfully he didn't have his wallet on him and had to go home without the gun.
Next in line, I said, "I don't need to hold it, look at it, I just need you to go grab the box, it's coming home with me."
I left that day with one of my favorite little but powerful carry guns made.
I have never regretted buying that gun, and would recommend it to everyone.
I've shot it several times, and it was on my hip one evening when a potential situation arose, and although the gun never left my pocket, it was nice to know it was there to protect me and my family.

It's one of the most solid guns made, and I recommend it to everyone I meet. Every time I shoot it at the range, everyone looks down to see the tiny gun with the huge punch.

Thanks to Bond Arms for making an awesome product!
Now all I need is a driving holster and my package is complete!

Thanks again, and take care!
John Javery

Submitted by John M. Javery

THE BEST THERE EVER WAS?

Only time will tell, if there will ever be an equal to
the quality – reliability, versitality and clever safety features that you can find in the Bond Arms family of derringers?

For most every self-defense – plinking – hunting back-up and Cowboy Action Shooting requirement, the Bond line-up provides just every variable a professional or amateur shooter could hope to find.

Still…late at night – I do dream of a 10mm upper barrel over a .22LR lower – but, short of wild conconctions like that
- there is a model/barrel length & caliber combination to suit just about any need that will ever arise. And when a Texan tells you they've got a lifetime warranty, you can believe it!

Move over "JAMES BOND and keep your Walther PPK"….for my money, it's BOND….GORDON BOND.

Submitted by Chuck Hotze III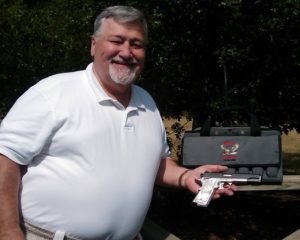 Yesterday I tried out some new hand-loads at the range in my Texas Defender with a 3" .45 ACP barrel. I was getting so confident that I tried shooting at 50 yards with my last four rounds (while standing). The first two landed a little short, I compensated and the next two were spleen and hip shots! I'm still kinda freaking out about it. Great work Bond Arms! I'm sure most people would have trouble doing that with a full-size pistol, especially if it was their first time shooting it beyond 40 feet like me! The bullets impacted perfectly sideways at exactly the same angle, they may turn sideways at that range, but they do seem to be predictable. A sideways bullet is more effective than a hollow-point, so it's even more lethal at 50 yards than 21 feet! I trust this little gun with my life.

Submitted by Seth Jackson

Since buying my Century 2000 I do not shoot my other guns.Guess I will sell most of the others and buy more Bonds.After 40 years of owning guns;I have found the perfect firearm in my Century 2000.
Thank you for excellent quality control while other gunmakers are just slapping them together.
Customer service is second to none.They even answered my stupid questions.
I will never buy another gun unless it says BOND ARMS!!!

Submitted by Gerald

As Good as the reviews all say!

I have a Bond Ranger and a Driving Holster. It is by far the best gun and holster I have ever had and I have had many. Over the years I have had many small and large handguns and holsters. I can wear the gun and holster day and night and not feel uncomfortable. It is very concealable too. I have never been asked if I was "packing". Thanks Bond Arms.

Rich

WOW!!!! Quality is great and the firepower is Awesome!!!!!

Christoper "The Hog Slayer"

I have owned American Arms Derringer in 45LC /410 and the Bond Arms is much more advanced. The Ranger II is KING of the Derringer market. I have just ordered another barrel and another holster.

Jim

Used a Snake slayer 410/45 load to kill a 5ft rattlesnake Saturday nite, after dogs alerted us to this unwanted visitor…one shot and DONE!

We have several Snake slayers on the property, and has never let us down!

We are a Dog and Horse Rescue and Lifetime Sanctuary on 38-acres north of Jacksboro, www.animalangelstexas.org and Animal Angels Sanctuary on facebook

Beth/VP of Operations, Animal Angels Animal Sanctuary, Jacksboro, Tx

I have had a few times on the phone with Bond Arms and came away each time more then satisfied. The Snake Slayer with the 3 inch barrel with.410 with the .45 colt is my favorite hand gun and I own a few……….

Mal

Just received 45/410 barrels for my cowboy. This is one awesome gun. Even the Bond Arms cap is made in USA. Amazing.

Robert

Just came from the range and I/We have to tell you, our USA Defender is one kick-ass piece of hardware! Turned a few heads shooting with the 45 colt ammo. Proud to carry this fine weapon, will be a part of our arsenal for years to come and make a great family heirloom. Everyone should feel this protected!!

Karl & Denise

I bought the Snake Slayer a few weeks ago. Very happy with the quality and performance. Took it to the range and it shoots as advertised, at 7 yards paper plate didn't have a chance. Though the heavy trigger pull takes a little getting use to it handles great. Easy all day carry. Looking forward to trying a couple of different barrels in future.

Jim

Your gun is awesome as you know.
BUT THIS IS ABOUT THE SERVICE,ATTITUDE AND OVERALL COMPANY SERVICE IS SECOND TO NONE YOUR STAFF AND ALL THAT I'VE
DEALT WITH WAS KNOWLEDGEABLE AND FANTASTIC.

THANKS ROBERT HYLAND

I have owned the Snake Slayer for a few years. I use it as my carry gun loaded with Winchester PDX1-410. Usually "experts" tell me I need "more" as a carry gun. More rounds, more size, more power. I just take the Bond Snake Slayer to the range and after a few rounds; no one seems to think it's just a "toy" anymore. I also have the 9 mm barrel for range use. It's small, reliable, and powerful. You have a great product, great service and great quality. Thanks.

Sky

I shot my derringer today. I shot the 410, 000 buck shot & some slugs @  about 15 yds., & actually hit in the black about 3 in. from center. I  was @ a long range for a derringer I thought. I changed to the 10mm  barrel & was impressed also. It was raining so I didn't make pictures but will when I get better control, as I'm not use to a "hand cannon".  I will soon order me the 40 s&w which will make me 6 choices.

>>> Love this derringer.

L. C.

I have had a Bond Arms derringer with various calibers for a few years now. They are fun to shoot and you can always count on them to "go bang". I recently lost a grip screw and contacted Bond Arms to purchase a new one. They said no purchase necessary and sent me a couple of new ones at no cost. Now that's good service, I recommend Bond Arms to anyone looking for quality and service unsurpassed in this day and age !

Walt

Holding it is as much fun as shooting it. This is how you tell the difference between "stuff" and "American Made!"

Dave

I own the Century, Snake-Slayer, and the Ranger. They are by far, the best carry pistols on the market. I owned all of the small .380 pocket pistols and never liked any of them. Then i find a pistol small enough to conceal, chambered in .410. Wow! These pistols feel like a real weapon instead of plastic and they are made in the U.S.A. Thanks Bond Arms!

Gordon

For years I wanted a derringer, but more as a novelty than a true carry gun. When I discovered the Bond Arms Snake Slayer, I decided to finally buy one. I had always been bouncing back and forth between carrying a Ruger LCP and not having any real faith in it, or a Glock 27 or Ruger SP101 and wishing they were smaller. The Bond Arms really fits the bill. Small enough to carry in all but the hottest weather clothing, big fire power, and reliability….. I was expecting the .410 to be WAY more of a mule than it is, tame enough for new shooters too. (Though the grip is a bit big for small hands) .This little gun is PERFECT. It has become my everyday carry in almost every situation. Thank you.

Jared

Just bought a Snake Slayer with 45/410 3 inch barrel. Took it out on Memorial Day to shoot for the first time. Must say that I am quite impressed with the craftsmanship and performance of this Derringer. I shot about 50 Federal #6 shot and about 25 rounds of Federal 225 SWC HP bullets. The gun performed flawlessly and I was quite surprised to learn that the kick was not a factor for me. It is something that I could shoot all day long.

The weapon is extremely well made. Nice heavy stainless steel to handle the loads. Going to order some other caliber barrels and a holster too. Best of all, it is made in America. Great job Bond Arms for a very fine piece of craftsmanship!

Thomas

The first thought when I went to the range was .45 Colt really. Then I fired it and I will be carrying the little power house.

Steven

I just wanted to say that  I  got in touch with Wally in your customer service every  misconception about Bond Arms and your customer service department has dissolved!   He is the epitome of customer service and a gentleman to boot!   He took care of me like I was one of the family and changed my troubled mind for the better!

I can't say enough good about the way he handled my problem and put my mind to rest with my order. He deserves a raise – and I'm back on the bandwagon for Bond Arms and their people! Keep up the great work! I'll be back – and so will others from here in Arizona after I show them my Snake Slayer and tell them about your tremendous customer care!

Wayne

Best damn gun I've ever owned,and I have them all… built like a tank, dependable and just damn pretty. Love this little/ big gun. Bond arms puts the American back in American made. You guys should be proud of what you produce. I will be buying another Bond firearm.

John

The gun I have is numbered 4313. I believe I bought it 1999, maybe 2000, 2001 at a gun show in Houston's Astro Arena. I don't remember if it was you working that table but I bought it from THE Bond Arms table. I went into that show looking for a rifle but when I came across your table and saw THIS gun all thoughts of purchasing a rifle left my mind. I have never regretted buying it and never will. It was originally purchased with 9mm barrels but I have since added the star grips and the Century 2000 .45 colt/.410 barrels. I moved to west Texas and believe me, it has come in handy many, many times on those slithery rattlers. I have TX CHL and a .45 Colt Officers Model but find that this derringer is the most comfortable carry weapon and have confidence that it can do the job as a defense weapon if ever needed.

Thank you for designing such an attractive piece of art.

Jeff

Great pistol! Love the unreal ability to change barrels and grips! Can't wait for new stuff!!!

Rick

I always look for good quality & a well built gun when I am Buying one; Bond Arms did a HELL of a Great Job!!!!! on their weapons; Native Texan & Texas Proud ; Also Related to Remington Rand Arms back in the day;

Thanks Brendon

I put this derringer together for my wife as a wedding present. The guys at Bond Arms were very helpful with parts and answering my questions. I cannot say enough good things about these guys, Thanks!

Dave

I compared a Snake Slayer and a Cobra Titan (Cimarron Titan) .45/410 side by side.  The difference in quality in these two guns is like night and day.  You can not only see the difference, you can feel it also.  The lockup is way tighter.  The fit and finish is a lot better too.  You can tell that the cobra titan is a "knockoff" of the bond derringers.

Also, I would like to say a few things about your customer service.  I called the factory and ordered a bad driving holster. I had a few questions, the guy I talked to took the time to answer them for me, I didn't feel like I was being rushed off of the phone.

I cant wait till it gets here so I can start carrying my new SnakeSlayer.  I have sent a lot of gun warranty/registration cards to different gun factories [glock, springfield, ruger, kimber, etc.] but have never had the owner of the company, or anyone else from the company for that matter email me personally about a comment I put on the card—thanks Gordon.  That was a real surprise to me.  That shows customer appreciation.  I am well satisfied with my purchase and will not hesitate to do business with bond arms in the future, as a matter of fact I can see a ranger in my collection soon!!

Thanks to everyone at bond for a quality product.

-Barry

I just bought a USA Defender. I am so pleased. The gun is such quality and so nicely finished. It feels so heavy and beefy in my hand. I feel totally confident in carrying it. I just say to everyone, take a look at Bond Arms if you are interested in buying a quality gun.

Dick

I have also since purchased the Bond Arms Cowboy. I was able to shoot it a couple of days ago. It shoots great. I have the .45/.410.  It is such a well made gun. I could not feel a thing. It certainly recoiled some but very little. The old .357 model 28 when I was a Highway Patrolman hurt somewhat with .357 loaded. It is nice that a US and even more, a Texas manufacture is the one producing such a fine pistol.

John

One of the original blue models……..and it never quits doing its job!

Jeff

Here is my snake slayer IV shooting a .410.  Badass pistol…

Mike

Hello, I just took my new Texas Defender to the Range today. It worked Flawlessly, perfect…I fired .357 and .38 Special Rounds….a very nice tight pattern 2.5 inches at 10 ft. and 4 inches at 15 ft. all types of Ammo….I am very happy to have this in my collection…it will and is already my Number ONE concealed Carry Gun…. thanks Bond Arms.

Greg

What a fun little "shotgun" If you are lucky like I am and have a range officer at a skeet range that will let you shoot it, you will have fun. I shoot it from station 8. Friends at the range have tried it, and they all say that it is going on their wish list. Thanks again for all the fun!!!

Bill

Almost all guns have an intrinsic beauty, but the mystique and size of a derringer holds a special fascination for my wife and me. And Bond Arms are special to my wife and me. My wife has had a Texas Defender for several years, and I carry my Century 2000 in a pocket holster daily. During a visit to our local gun shop 2 days ago, my wife spied a new Bond Girl Mini with the nicely checkered pink-dyed grip panels. She mentioned it several times that night and I told her to "go get it Honey". "No", she said. "I really don't need it"

While she was out yesterday morning, I slipped out myself back to our local shop and picked one out for her. Thanks to Kentucky law where we live, it was a cash, instant check (no charge) and carry situation. Hid it under the newspaper on the kitchen table, and when she found it and the love note I wrote to her, you would have thought I had bought her a diamond pendant. Today she's taking it with her to show off to her mom and dad.

Bond guns are so well built and a pleasure to own. They are fun, versatile and wonderful simply to hold. The trouble for us is, they are like potato chips—– we can't have just one. My own everyday carry is my Century 2000 .45 Colt. It rides effortlessly in my pocket holster, and I have no worries about its reliability. The coil mainsprings are smooth and tough, and the often cited "bank vault lock up" feels so solid. And they are "Made in the U.S.A. to boot. Thanks for what my wife and I think are wonderful guns folks! Now if you could make us a 5 or 6 inch barrel .22 LR with adjustable sights for plinking……….Don

I just bought the Ranger. I shot the 3″ 410 Splat'Em rounds through it. Holy Buckets, does that thing pack a punch or what!

James

I just got my Texas defender a week ago. 45/410 I love my little gun. l like the idea of it shooting the 410 or 45, under a stressful situation, it may come in handy.   This is the gun I will be carrying most of the time, and easier to conceal than my Judge, and its made in Texas or better yet America.   Which means a lot to me, southern girl from Mississippi.

PS its lots of fun to shoot.

Mary

The Ranger also proves to be a substantial head-knocker in a fight after it is empty. AWESOME!

James

Just received the new mini in the 38/357!!   Wow that thing is great on its imprint on a target!!   Got to use some good loads and it will make you smile,

Brian& Pam

WOW! Can these perfect guns get any better? Well, I just had to buy a 4.25 in. barrel for my 45/410 Snake Slayer. Mind you, I have no qualms with the 3.5 barrel – you can shoot it all day – with no sore hand. Well, 30 seconds to attach new 4.25 barrel and WOW! What utility. So, now I'm hooked. I am going to buy a couple more Snake Slayers with different Cal.

Dr Hires

Love blasting away with my Snake Slayer so much I want to buy another one!

Mark

As soon I received my SS and posted a picture on FB?? my page went crazy friends wanting to know when they could come over an shoot it :-).

Brian

My USA Defenders… I wanted the Texas Defenders w/ the star grips but none in were in stock at the new Cabelas in Allen, TX.
Soooo, until Texas secedes I felt it my double duty to defend the USA and to support Texas in one purchase… Actually, 2 purchases. I bought 2 USA Defenders with sequential serial #'s. One for me and one for my son. We LOVE these little butt kickers.

We've shot both the .410 and .45 LC's thru them. WOW, the .410 has some bark! I could shoot the .45 LC's all day long but since I know what these guns are capable of I'd rather save my money and buy a few more Bond guns.

When Texas secedes I guess I'll just have to pony up and buy a couple of Texas Defenders next. And I can't tell you how much I look forward to both of those events happening!

Thanks BA.

Tim
Allen, TX

Texas Defender 45 Colt/410: This weapon is a true defender with knock down power. Built like a truck with fine lines. Craftsmanship is second to none. The 45 or 410, 000 buck will stop them in their tracks.
Thanks for a great defensive weapon.

Vernon

The Bond Firearms Mini-Derringer in .45 Long Colt is the perfect derringer produced for self-defense. It is light, handy, and above all, safe. At 3 yards, the gun prints right on with W-W 255 grain LRN ammunition, and Federal 225 grain LHP cartridges. Thanks to the comfortable, relatively wide grip, there is little recoil; the gun simply bounces. It is easy to fire a second shot. The gun is very sturdy and there is no play when the barrels are locked in place. Also, with the shorter 2 1/2″ barrels and Cowboy Defender-style frame, the Mini is light enough to make the gun very pocketable.

I have been an FFL Dealer for 37 years, and recently purchased a Bond Arms 45LC Cowboy
Defender for myself. I am very impressed with the overall quality of this derringer.

Larry / Owner Columbia Police Supplies

I just about bought the Judge, until I put the Snake Slayer in my hand.  Well, I went home with [guess what] the Snake Slayer.   I am a prospector and snakes are a problem in AZ. I have to have a gun that's light, small and deadly.   Well the snake slayer is my carry buddy.   Hats off to Bond Arms.

Larry "Desert Ole"

It restores my faith in the American made products when I got my Texas defender. The quality is the best I've seen in a hand gun of any size. Keep up the good work. American Mfg's can learn a lot from you folks.

Al

Have not even shot my cowboy model yet, but I can tell by the fit and finish this derringer will be one of my favorite toys. And I am sure it is one bad a– gun in 45 colt.

Rod

I have many handguns but before I haven't owned a derringer. Bought the Bond Ranger & it's everything that I've read about it. A very solid and well built gun. The good looks is a bonus. Your company is to be commended.

Marion

No need to encourage me to purchase one of your fine derringers, I already did! I live in Maryland and ran into a problem at time of purchase. The USA Defender was not listed on the 'approved list' for the state of Maryland to be legally sold. I patiently waited for the next update to the list only to find that it was still not on it. In the meanwhile, my derringer sits in the safe of the company I bought it from awaiting the needed approval.

I finally got in touch with "Al" at Bart's Sporting Goods who happened to know someone on the board who approved all handguns to be sold in the state. After a brief discussion, it was determined that the USA Defender did not need to be added to the list since the original  "Defender" model was previously approved and on the list. Boy, talk about a bureaucracy!

Anyway, I will pick up my USA Defender this Saturday and let you know.

Sincere Regards,

Alan

I recently purchased your snake slayer and then I noticed your October Special and I had to take advantage of it and got a 22lr barrel and also the 38 barrel along with a few extra items like the bad holster and pocket holster. I went a little crazy but I have to tell you I am very happy with everything I got. I am a person who looks for quality and I was very impressed with everything. Thanks

Bob

I just bought a Century 2000. What a gun! I shot the 45 long colt at a milk jug and junk car door and it was extremely accurate at 10 feet. I also shot the Winchester 410 Elite PDX1 – 2 3/4 inch with 3 disks and 12 BB shot and WOW!!! The PDX1 shot did far more damage than the 45 Colt! The PDX1 is all I will carry for self defense in this gun! THANKS BOND

Dan

I received my USA Defender yesterday and shot it tonight one heck of a firearm. shot 6 shots of Federal 410 ammo for handguns and wow the photo says it all. Very little recoil great gun.

Lukaitis

I have had my 3 1/2 " Snake Slayer for a few years now, I believe 4. I am really impressed with it, using #4 shot I killed coral snake no less than 5 feet away.

I have also used the 45 long colt and am equally impressed with its accuracy. What has really impressed me the most is the .410 triple ought buck. It is by far a superior weapon for protection.

At a few feet you cant miss, at 50 feet you probably still wont miss! Being a Vietnam Veteran and having fired numerous weapons I love this snake slayer, Thank you Bond Firearms, you have created an awesome weapon.

Bill

Im in my 60′s and always carried a 357.  My Texas Defender is great, small, light but could stop anyone that would harm you.

Donald

Just picked up my cowboy defender. I can't wait to shoot it tomorrow. It feels great in my hand and I know it'll be a ball to shoot.

Jeff

Mr bond,

I purchased your Texas Defender & Snake Slayer for my son & I and agree they're the greatest, and a lot of fun plus I purchased a lot of extra barrels & accessories, that being said, I personally want to thank your team for making it so easy to understand the accessories, extra items & even what was on sale that I wasn't even aware of.  Your team made me think of time past when dealing with someone who cares and believes in their products and you can say they'll  back up what they say just as good as a old fashion handshake with a good honest man.

So I thank you,  and my son & I look forward to do business with y'all again
Gerald from Shelby AL
"(OH YEA, HATS OFF TO THEM THEIR TEXANS AT BONDS COMPANY WELL DONE Y'ALL.)

I bought my Texas Defender earlier this month…finally fired it. WOW!!! I am Texas proud. It will be my firearm of choice to carry.

Allen

I recently purchased a Snake Slayer IV for myself in the 45lc/410 and I am in love with it.  I was very interested in owning a small derringer so I started looking online at some different types when I finally found a video on the Bond Arms Texas defender.  What really set your derringers apart from all others is the quality.  Its VERY solid and tight which is  a home run in my book when it comes to concealed pistols.  I really like the safety features as well, with most derringers safety is not a strong suit, but with the Bond Arms midseat hammer, plus the crossbolt safety I feel very good about keeping this weapon concealed.  With the 4 and 1/4" barrel on my Snake Slayer IV, my patterns are tight.   I LOVE target shooting with this gun, and I never thought I'd say that about a derringer haha.

Keep up the good work Bond Arms!!!

Starla (proud owner of ssiV and a new 22lr barrel coming soon!)

P.S.  Whoever came up with the design of your derringers is a genius.

I received my holster today.  Yesterday was my Birthday and what a perfect gift I bought myself, because it is incredible!  The quality, the craftsmanship and the incredible fit really days something for the firearm that goes in it.  It was a tie to be my favorite gun, but only because I had nowhere to carry it practically.  Wow, Bond Arms out does themselves and the others.  I am a proud owner.

If I could only own one gun, I would choose one of your derringers. My Texas Ranger makes me smile just to look at it. My other guns are now dust collectors. Be very proud of your craftsmanship!

Steve

Got my USA Defender #USA0296 last week!!!! Love it.  I deliver newspapers 7 nights a week, 52 weeks a year and it is dark and at times dangerous out here.  I'm 67 years young and have a dozen plus firearms.  USA Defender, BAD holster and sometimes shoulder holster.  Feel safe!  Thank you TEXANS!!

Ted

Thank you for your kind response to my recent testimonial on the Snake Slayer IV.

A few days after posting the testimonial I spoke by phone with  (one of your people) to order a second barrel

and your BAD holster, the quality of it matches that of your gun.

I also now know that your customer service is equal to your product.

David R. K.
Moore, SC

Outstanding products. I have 2 (Cowboy and Snake Slayer, both with 410/45LC) My third is on the way and should be here this week (USA Defender with 45LC/410). There's nothing out there that is comparable. Thanks!

Brian

I purchased my Bond Texas Defender today at a sporting goods store near my home. My next stop was the local indoor shooting range. I am seeing now that a 22 barrel may be the way to go for trips to the range cost wise! I simply had a great time firing the weapon. Thanks for putting out such a great product. This is what American quality and workmanship is all about!

James

I have been searching for a new concealed carry and have read many articles and viewed videos of Bond Arms products. When I actually saw and held one of your guns I was immediately sold. The quality of materials and craftsmanship are unsurpassed. I have just taken delivery of my Snake Slayer IV and my friends are already oohing and aahing over it. I am pleased to find such a wonderfully built American made product. Keep up the good work.

David

I purchased one of your Snake Slayers today and I've already put a box and a half of 2 1/2 inch .410 #8 shot shells through it. This little shooter is a blast to shoot. Recoil is minimal, accuracy is right on the money and this shooter is very well built. I was looking at the Taurus Judge, but it's much to bulky for the job. My new Snake Slayer will be used for close quarter defense, Rattle Snakes and other varmint's. I think Bond Arms has a winner with this little shooter, keep up the good work and thanks for another quality fire arm.

James

Got my Snake Slayer last week and I am absolutely in love with this thing already and I have not even shot it yet. It is a work of art to look at and a pleasure to hold. Great workmanship, solid feel, a real quality piece.
Thank you Bond Arms, this is going to be fun.

Bob

I loved my Texas Defender from the first time I saw it and as of last Friday I finally got it. This is one outstanding firearm in the 45LC and 410. I have multiple firearms and my Defender is the best of the lot. Also, I'd like to state that Bond Arms service is great! I spoke with Charlie on the phone and he helped me through the process of getting an extended grip and a spare 22LR barrel. It arrived today and cannot believe the quality. I'm looking forward to adding to my collection of barrels and a BAD holster very soon. Thanks again… Tony

So far I have sold two derringers for you! I have a Cowboy Defender, 45lc/410 and .38/.357 with the wooden extended grip. Everyone gets the bug eyes when I pull it out and ask what's that. I call it my hand cannon!

Keep up the great work!

I am a certified NRA RSO and home firearm safety/Pistol instructor.

Doug B.

Hi, Gordon: Jim here again. You said I would love the BAD holster, and you were dead on….

I was a little hesitant to spend that much for a holster,

although I have holsters by several of the custom makers which were all pretty pricy, but I wanted it because of it's obvious utility.

The BAD is as well made as any of my Milt Sparks, Lou Allisi, and others made by the best….

your vendor does a beautiful job…I was pleasantly surprised….

Best regards,

Jim

I've got three barrels already, the standard 415/.45 Colt, the new 357/38 special 3 1/2″, and the 3″ 22 barrel, all of which I use a fair amount.  Typically I carry it open fashion, in the BAD holster.  For pure self defense, I carry either the 2 3/4″ or 3″ Winchester Supreme Elite PDX1 ammo, but if I'm offroading in the desert I tend to carry 2 3/4″ 8 pellet .410 for snakes.  Sometimes though I put on the 357/38 barrel and carry a CCI round of snake shot in the upper barrel, and a 357 in the bottom.  I've got complete control over which barrel fires first, so that makes the combination very versatile.  .22 is just used for cheap plinking around, getting used to the trigger pull, etc.  I no longer carry my Kahr P9 on my person, or my Ruger LCP, and have basically sold the other handguns I had.  Nothing quite like having 16 guns in one with the Bond Arms setup!

No one that I referred to Bond Arms firearms had  ever heard of Bond Arms, or the Snake Slayer, or of the incredible build quality of your entire product lineup, but they all bought based solely on the referral.  And with me, they got to see it for themselves, and try the thing out, at my expense.  Hell, even the gun store I purchased it from (Tina's Range Gear in Santa Fe, NM) knew nothing about Bond Arms, but were all eager to try it out when they delivered it to me.  And these are gun die-hards.  But because of that special order they got to see it, examine it, fire it, and were naturally duly impressed.

Given the incredible build quality, the lifetime warranty,  and flexibility of this amazing gun I may never need to buy another one myself.  But I take great pleasure in referring friends and the curious to you, knowing that some day it may well save their life.

Best

Bob

Just a note to let you know that Last month I bought a Texas Defender for myself and this month I bought one for my wife. After going to the range with me she had to have one for her carry gun. I also want to thank you for such a high quality gun thats made in the good old USA. The fit and finish on both of these guns is flawless and needless to say they are a BLAST to shoot. I also had a friend of mine went down to our local gunshop and bought him one right after I showed him mine.Again thanks for a great product this has quickly become one of my favorite guns to carry.. Looking forward to some more barrels for Christmas….

Dave G.

Don't really consider The Judge a competitor, in any way.

1).  It's HUGE, definitely not concealable, except perhaps for Inuits and Eskimos

2).  It's just a single gun.  Won't also fire .22, 357Mag, 9MM, etc.

3).  But if you want a gigantic gun, and figure it'll take you five shots of .410 at 10 feet or less to take down a carjacker, and think that your accuracy will improve as your wrists slowly shatter, it could work.

I've spent some time with one and it's made absolutely nothing like the Bond Arms weapons

But then nothing else is There's nothing, simply nothing else, that even comes close to the Bond Arms.  Nothing.

Bob

I took the SS IV to gun range and fired on the 410′s #6 shot and this gun is powerful, you can feel the recoil and it's there but sure is fun to shoot. my problem here is cannot find the 45 Long Colts for target practice.

Jeffrey

Jim B. here, the retired cop who wrote the endorsement of
the Cowboy Defender you posted on your website a couple of years
ago…..just wanted to let you know my opinion is even more positive
now that I have had the .45/.410 for a few years now. No need for it
yet in a critical situation, but it is some fun to play with! In fact
I ordered one of the BAD anti-carjacker holsters the other day, and
anxiously await it…great backup leather.

Just wanted to let you know how much I have enjoyed it, and send my
regards.
By the way, not sure if I said so at the time, but thank you for the
cap…I wear it often.

Cordially,

Jim

I do own a Texas Defender that I purchased new in 2004 S/N 15377 with a .45 Colt/.410 Barrel. I also have purchased two holsters from you and sorry to say I 'borrowed' an idea from Your B.A.D holster and made one with a slight cant to the strap to make it easier for me to access both cross draw or strong side. I was offended by the NRA publication (see below) as it makes such a big deal about the Judge and the ammo now available for it. I think you should speak to the NRA and see about having them mention or do an article about your all American made in Texas by Texans products.
I live in Eastern Washington where many areas are infested with Rattler's. Never do I venture out to those places without my Defender. I've not had an encounter but feel confident with it at my side. It is also used depending on the occasion as a back-up or primary carry weapon.

My hands and wrists have given me a lot of trouble since 1971. My left wrist was operated on at the VA in 72′ and it lasted 39 years. The .45 Colt's I shoot have beaten both to death and my left wrist has gone away completely and will go through a series of operations starting next Monday. It has not kept me from shooting though and will shoot my last match for at least a few month's this coming Saturday. I have switched to .357 Mag as the reduced recoil has helped with the beatings. Next year after all is healed I will be looking for one of your specials on barrels and buy one in .38/.357 with great pleasure. Please keep the e-mails coming. I support your product and tell everyone about it's virtues and show mine to and let others shoot whenever possible.

'Horsetrader Jack'
Life Member  'Windy Plains Drifters'
SASS # 57566

I just wanted to take a minute and tell you just how much I am pleased with my Century 2000. I own an array of other handguns, rifles, shotguns, and pistols, however your Century 2000 is my favorite for many reasons!

First, out of all my guns it is the perfect for concealed carry. It's small size lets me keep it on me at all times. Also it is the only handgun with a safety which makes me a lot less worried about an accidental discharge.

Second, keeping it loaded with a 410 shotshell also ensures me that in a dangerous situation I am guaranteed to hit my target and be able to get away.

Third, I love that I know that the quality of this gun will NEVER let me down. After shooting hundreds of shells through it I have no worries of a possible jam or any other problem. Its simple yet extremely effective design keeps me comfortable in knowing I will never have a problem.

Also I love knowing that all the accessories, i.e. grips, holsters are also of the highest quality and are custom made to fit my Century 2000.

I look forward to buying some more Bond Arms in my future. It is a breeze to shoot, easy to clean, and all my guy friends at the range love to shoot it too! It packs quite the punch for its small size!

Bond Arms proves that great things come in small packages!

Thank you so much for your time, and the confidence you have given me with a small firearm. I am attaching a picture of my favorite Bond Arms!

Thanks again
Liz

Owner, "It's All the Rage" Hair Designs
Wyomissing, PA

Thanks for all the awesome emails, keep them coming! I tried out my .22 mag barrel and absolutely love it, what a fun time at the range! I now own all the barrels and the only trouble is deciding which one to use at the range. I also got many questions about my Ranger at the range and even made some new friends by allowing several people try her out. They all loved it and maybe one or two will make an investment for the future by adding one to their own collection. Keep up the good work!

Bets regards,

Jonathan G.

I have one of your firearms, the Texas Defender. Very well built and easy to shoot..
the Bond Arms Texas Defender is what I carry- I am not saying a firearm is the solution to every problem– But it's nice to have, if needed– Again no one knows you have it and one must go by the rules when carrying it.

Some people feel you have to have a lot of firepower— Well to me that is not the whole story– More important is to make what you shoot COUNT- Hit where you want– So my thought there is– Make it count and you'll score– You can shoot anything else, not be a good shot, and miss– I am trying to find the words that stand out– That would fit Bond Arms—-Being portable- Low Profile– Not a " Dirty Harry" attitude all the time– With the .410, the pattern speaks for itself.

So just a quick note here– And thanks for building such a firearm, that is simple and you have proud people that need it…

Thanks,
Johnnie S. B.

I had the pleasure of firing my buddy's Snake Slayer 410/45 with both rounds chambered while on a visit to Hobart, OK.

SMALL, COMPACT, and a PUNCH!

Nice weapon!

Currently, I have a Benelli M1 Super 90 Shotgun, a Beretta 92-FS, and a Sig-Sauer P220… all reasonably large and designed for the streets as opposed to a greeting card in the bedroom to a home invader.

FOLKS… I love your work

My Best Regards,

Bob B.

I have the Snake Slayer.  It is so awesome!  I must admit that I love to show it off at the range.  It is always a hit.  I feel that is outshines the Taurus Judge.   It is mostly my primary carry during fall and winter.   I have the driving holster.   Bond Arms double barrel hand guns are a working piece art.   I  will be saving up for the new 22 magnum barrels.  Thanks again for all the good work.

Jeff A.

I received a Snake Slayer as a gift from my wife after what started as a joke. We had a small snake in the basement and a friend sent me your web link and thought this would be a good gun to rid the yard of snakes.

I started looking for one at local gun shops and gun shows but could never find one to check out.

After numerous attempts to find one locally my wife and daughter were able to get the local Sportsman's Warehouse to bring one in from another store and I received it as a father day gift.

It is my favorite gun and the one I carry. Anyone that thinks two barrels is not enough change their minds when we take it out to the range and put a few 410 personal loads through it. The new Winchester PDX1-410 ammunition makes a believer out of them.

Thanks again for a great product.

Scott S.

I have to tell you, I ordered and picked up my Bond Texas Defender in
.38 Spl/.357 Mag about a month and a half ago.  At the same time I
ordered the gun, I placed an order with you for the black over sized
grips, black rubber slip over grip, black horizontal hip holster and
a second barrel…3.5″, chambered for .45 Colt/.410 Shotgun.  I was
extremely impressed from the very beginning.  Fit, finish, action and
overall quality were beyond my expectations, and those were pretty high.
Unfortunately, competing schedules and work prevented me from getting
to the range for almost three weeks.

When I did, all I can say is, "WELL DONE!!"  You and your team have
absolutely set the bar for handgun production, especially for a niche
weapon such as this.  I had done a quite a bit of research before
purchasing mine, so when I did get it to the range, I found that all
of the positive comments I had read were spot on, and the very few
negative comments I had read were simply just not the case for me.

As soon as I received the derringer, I immediately purchased snap
caps in both calibers for the two barrels I had ordered.  By the time
I made it to the range, I had already dry fired it extensively with
the snap caps.  One of those very few negative comments I had read
talked about the discomfort of cocking the weapon and that the
trigger pull is too heavy…to the point that it's slightly
uncomfortable.  Maybe dry firing with snap caps is what helped, but I
found the action extremely solid and not uncomfortable to cock or fire in the least.
While I don't have a trigger pull scale,

I found the trigger pull on my Texas Defender to be crisp, clean and entirely acceptable if not
perfect for the type of firearm it was designed for.  I'm not a big
guy, but I personally found the derringer a dream to shoot…recoil
was simply not an issue for me.  I fired 50 rounds of 45 colt, 50
rounds of .38 Special and a handful, (maybe 6), of 2 3/4 .410 000
Buck in that one session, and frankly, if I'd had more ammo, I'd have
kept going, ha!  I don't doubt that if I had fired that same amount
in exclusively .410 and .357Mag, the story might be different.  As it
is, I could not be more satisfied, and thoroughly intend to purchase
additional barrels in the future.  This has quickly become my "go to
gun," and I rarely go anywhere without it, even when carrying my
primary CCW.

I apologize for the rambling, but wanted to personally add my
overwhelming endorsement for your product and say congratulations
again on a job very well done!  Look forward to more great products
from Bond!

Very Respectfully,

Kent B.

I watched the show – (Castle) it was a great season finale!  It was even
better for the chief of Police to use a revolver in the same caliber
as his Bond Arms Ranger II!!!!!  Most excellent, very good assets
for a very good and enjoyable television suspense show.  I love the
show, and now that they have brought in my favorite small derringer,
but a large big gun in a Bond Arm Ranger – the show is unbeatable.

I own a Bond Arms Ranger with the long barrels for the .45 Long Colt
and or the .410 3″ shot shell; simply marvelous!  I went back and got
a shorter length barrel set in .32 caliber; so now I can shoot S&W
shorts, S&W Longs,.32 H&R Magnums; and the new .327 Federal; magnums.
So you take something that is practical for self defense and add boat
loads of fun and excitement…..what do you get?  You get this old
Texan,currently displaced to Atlanta, Georgia acting like a kid and
just looking forward to spending time shooting!

Thank you,
J D B.

Yeah Boy's,
Castle is one of my favorite shows…and I
noticed right away that the Capt. best back-up gun was a 'Bond
Arms Derringer', and I flipped. I personally have a 'Snake
Slayer' in 45/410 with custom stag grip w/ two tone sheriff
stars inset , that I positively love. You can not buy a better
made or more dependable derringer than a BOND !!!!

I truly LOVE my Bond Arms Derringer…I'm in Law Enforcement,
and I think it is the BEST BACK UP GUN in the world…hands down !!

Lou C.

I recently purchased a Ranger #68791, my first attempt at a Derringer.
As a self professed pistolero, I did not expect much from a Derringer
but gave in for a try. Wow…Was I wrong. This little dude patterns
bird shot like a dream out to 7 yards, and handles all the loads I
have fed it with outstanding results. It's intended use as a first
response driver's side window "cockroach fogger" is right up its alley.
It carries like a feather and puts a 3″ load of 4 shot right on the
money. I am impressed with the pattern on the Federal PD 3″ 000 out to
21 ft. The supplied holster is the real deal cross draw driving rig.
Y'all hit that one out of the park too.

Your workmanship is dead on, and the little guy closes like a bank
vault. I have posted a nice write up on the M14 Rifle Association
forums, where I am a staff member.

Very well done, high five the staff and assembly team for me!
It's nice to buy quality product made in Texas.

Warmest Regards
Todd V.
Montgomery, TX

I own a Judge and a Public Defender but I carry a Bond Snake
Slayer 99% of the time. when I held the bond first thing I noticed was
the quality and the feel. I carry a weapon 24/7 at work, at home
and even mowing my grass I just slip the snake slayer in my
pocket– and I am ready for what ever comes along.

Eric C.

I consider the Bond Arms Ranger package to be a great value because you're getting custom-like grips with a matching holster and carry bag, all from the same company. It's rare to find a firearms company that sells serious holsters that have been tailor made for their firearms alone. The fit and finish on the Ranger and matching holster are top quality in my estimation and the Ranger is a real pleasure to shoot.

Sincerely

Just bought a Snake Slayer IV and a Century 2000.  Great Products!

Been collecting guns for 30+ years.  Can't wait to buy more barrels in different calibers.

Many Thanks to  Bond Arms for taking care of the error in holster size and sending me the correct one so swiftly.

Thank you,

This is my second Bond, both Texas Defenders. I carry mine while woods bumming, hiking,etc. People don't take them seriously due to the size, in capable hands they are awesome.  I own an American Derringer in 45 ACP that is brutal to shoot, I'm no lightweight but I have fired it 6 times. Got it super cheap. Yours are superior in every way. My daughter can shoot the Bond.
P.S. They fit perfectly in a Desantis Inside the waistband holster for a Glock 26.

As a forester/logger and timber manager, I value the quality of a good tool and the service that it can provide in my line of work. Recently, my work has expanded in the areas of timber inventory and monitoring activities. With this work, I found myself needing a new tool to deal with the issue of rattlesnakes when performing the various measurements required. After trying different styles and makes of firearms, I selected the Century 2000 derringer in the l410/.45 caliber as the tool of choice.

So far, in this work season, I have used my Derringer to dispose of 2 rattlesnakes that were definitely interfering with my ability to perform my work and my personal well-being – simply said, I was almost bit. The Century 2000 derringer carries well within my field gear and the safety features allow it to be carried with no worries on my part for an accidental discharge. However, when needed, as in the 2 situations so far, it is easy to handle and its accuracy definitely gets the job done.

I read the article in "First Freedom" about the history of Bond Arms. I had been considering buying one for awhile. On 11-23-08 I had one in my hand at a gun show. That is all it took. I now own a Snake Slayer.
I used to be a machinist and was always committed to doing quality work, so I can appreciate the workmanship that went into this gun. Made in America. Made in Texas. Can't be any better than that.

Bond Arms, I've never written a gun manufacture before, but I must say this. I've owned many handguns over the years, from kimbers to glocks, and I have to say my "cowboy defender" is my favorite. It's well made, small and easy to carry all day everyday in my custom made IWB holster. I currently have the 3″ .410/.45 barrel but am hoping to purchase the longer one soon. I just wanted to let you know how pleased I am with my new toy.
yours truly,

When I recently retired after 30 years as a Police Officer, my peers gave me a very generous gift card from Cabela's. As I hope to do some cowboy action shooting, and since I remained on as a Reserve officer with my Department, my logical first purchase was, of course, one of your Cowboy Defenders in .45Colt/.410.

I have not had a chance to take it to the range yet, but I just wanted to give you my first impressions. The gun will be a fantastic "fun" gun, and a useful backup duty gun as I continue in law enforcement. I would love a tour someday if you allow such. Now I have to decide on my next barrel set!!

PS.
Here is an update, I and several friends shot the gun this past weekend with both .45 Colt and .410 shotshell and had a blast…literally! As vigorous as the little gun is with these loads, no one found it unmanageable which I'm sure is very much attributable to the generously wide grip frame.
Yours truly,
Retired Texas Peace Officer

"I read the article on the Snake Slayer as a back up to the 1911. I admit that was the reason I purchased my Snake Slayer IV but as time has passed I have found that the Snake Slayer has become my primary weapon and either my Colt Defender or my Kimber have become my back up weapons.

Thanks for this weapon and for the ease of mind that I have as I walk across dark parking lots or some of the places I spend the night.

The cartoon ad was so cheezy, I had to notice it….Reminiscent of the 1950′s… I Love it.

Thanks for the fast shipping!!!!!!
Just wanted to let you know your derringers are the BEST. I owned another 410/45 brand X! After seeing one of yours, I traded my old one in on a BOND! Now I own four of yours!

I just ordered and purchased one of your fine weapons, the .357 Texas Defender.

I have previously owned an American Arms .44 Spl Derringer and your gun is so superior in design. It has a trigger guard, safety and excellent balance.
Thank you for manufacturing such a quality weapon.

Regards,

I just wanted to say thanks for making such a great product.
I've been hesitating buying one of your derringers for a couple of years now due to the price and wondering if it was worth it.
Well, it was, and I am very satisfied with my new Cowboy Defender in .45 Colt/.410 Shot shell. The recoil was minimal and very manageable not to mention that I was very surprised with the accuracy at 7 yards. I shot 10 rounds and knocked the center out of the bullseye.
Thanks again for making the perfect derringer and especially for making them in the Great State of Texas.

Sincerely,

I have been involved in shooting sports for over 50 years, and served my country in the Navy, with combat tours on River Boats in Vietnam. I am also a Navy and NRA, Firearms Instructor, that said, it takes a lot to impress me with a new firearm. We first read about Bond Arms in this month's issue of America's First Freedom published by the NRA. After reading the informative article, I went to your web site and after viewing the videos, I showed my wife Vicki and together, we were so impressed, we drove over 140 miles to purchased 2 Rangers and 2 Snake Slayer IVs.

It has been a week since we made the trip to purchased our Bond Arms Rangers and Snake Slayer IVs, and we are even more impressed with our purchase. You all make outstanding firearms. The quality is unmatched by any I have ever purchased before. They fit well in our hands and that makes them a super "point and shoot" firearm.

I have read FBI information it shows attacks on persons usually happen within five foot, that is well within the kill zone of this firearm. We were looking for a defensive firearm that for that purpose. My service in Vietnam has left me 100% Disabled and forced me to use a cane for short walks, and an electric wheelchair for longer walks. This limits what I can use for a defensive firearm. This is another reason why we selected the Bond Arms Ranger and Snake Slayer IV. The Ranger with its awesome holster, is the perfect combination for personal protection. Driving the Motorcoach our Tahoe, or in my electric wheelchair, the design of the holster allows me access, in a hurry, during any emergency. The Snake Slayer IV is our choice for protection in our Motorcoach and for shooting sports. We purchased two additional barrels (22 LR and .38/.357) for the range. Speaking of the extra barrels, they are a breeze to change! I have really enjoyed showing our friends how easy it is to change barrels at the range and shoot within a minute.

Bottom line Gordon is; the Bond Arms Ranger & Snake Slayer IV are the finest, best built, easiest to shoot, derringer-style firearms we have ever purchased.

We are looking forward to additional purchases of firearms and accessories in the future.

God Bless,

I brought it home and clipped the zip-tie on it and I could not believe how nice it opened and closed.
The grip is great and the safety features are, (ie. firing pins, hammer half-cock, and "safety" itself with red indicator) are superb,  plus, the trigger guard.
I saw the gun at my dealer, then I read the story in America's 1st Freedom and I went back to the dealer a day later, today, and bought one. It was a great story.
Thank you for a great product.

JUST WANTED TO SAY THANKS FIRST OF ALL FOR SUCH FAST SHIPPING OF MY ORDER.
SECOND, FOR BEING SO NICE ABOUT THE GRIP EXCHANGE, AND MAKING AN EXCELLENT PRODUCT.
YOUR COMPANY IS WHAT IT USED TO BE LIKE YEARS AGO,  GREAT GOODS AND EXCELLENT SERVICE.
IF MORE CO. WERE LIKE YOURS THERE WOULD BE NO REASON FOR GOVERNMENT BAILOUTS.

THANKS,

Bond Ranger Owner

Bond Arms Ranger owner

I am writing to say how happy I am with my Tx. Defender in .357/.38. I've only had the gun a few days, but have put a couple hundred rounds through it (all Winchester white box as I was just trying to get a feel for it.). My impressions follow:
1) Construction is superb. This is a used piece and it is still as smooth as glass, and reassuringly solid in the hand. It reminds me of my old colt python.
2) While the noise, muzzle flash and muzzle flip with the .357 are impressive, it is not hard to control. If it was semi-auto you might shoot high on your next shot, cocking the hammer brings it right back to target. Frankly, as I bought this purely for ccw, I like the ball o'fire and big noise as bad guy #2 will probably be finding an elsewhere to be.
3) Only 2 shots? The clerk at the dealer asked why I was trading in my Keltec P11 for the Bond. ( A good gun and plenty accurate for what it is and what it costs, it's just too wide for pocket carry and tends to FTF every 40 rounds or so. This is OK on the range, not so good for ccw, imho.). She asked what I would do if was attacked by four or five guys. I told her I'd ask for two volunteers. The thing is, I'd much rather have something that goes bang, bang rather than something that can go bang "oh crap". Besides which, if two rounds of .357 hollowpoints won't do it, we're probably SOL, regardless of what we carry. Add to this that it rides virtually invisible in a pair Levi's 501s, even when I sit, and what's not to love?
4) Accuracy. This thing is amazing. I do not pretend to be a great pistol shot, and I'd just embarrass myself at cowboy action unless I could bring my glock. Nevertheless, I was consistent (after the 1st box) at shooting mostly sub 4″ at 10 yds., and 4″ plus, (but not much) at 15 yds. I haven't tried it at further ranges because, why? If I shoot someone more than fifty feet away, I'm going to be more worried about the quality of the lawyer than the quality of the pistol.
5) Conclusions. Due respect to Keltec, I feel much better with this gun. It hits accurately at sane ranges and even with the short barrel, .357 hollow point beats 9mm hard ball every time.
Thanks for a great product!

Fightingquaker13

Snake Slayer IV owner

Snake Slayer IV owner

Snake Slayer owner

Cowboy Defender owner

Great gun, already purchased another barrel & accessories…

Snake Slayer owner

Very Pleased with this purchase!  Might need more barrels!

Century 2000 owner

Texas Defender owner

Century 2000 owner

More than pleased.  I can't compliment enough.

Cowboy Defender owner

I recently purchased a Snake Slayer IV and got a chance to use it for it's intended purpose this past weekend. I was at my aunts near Hillsboro, Tx., helping build a chicken coupe, when I saw a large rattler crossing the driveway. I grabbed my new Snake Slayer IV loaded with 3″ no.4 shot and let's just say the name suits this pistol most accurately. I have photo's that I would be happy to submit. Thank's Bond Arms.

Snake Slayer owner

Snake Slayer owner

Snake Slayer IV owner

You're a class operation.
I was extremely pleased with your rapid response… I was already a fan of your products and I am even more so now.
I have already recommended Bond Arms to friends of mine who were considering purchasing firearms in this category, due to the quality and reliability of your product. I admit that I have gotton my "tackle box" Bond Derringer wet on more than one occasion, and it still works when needed even when wet. Dry it with a towel and a heat gun and it's good as new.
After this customer service experience, I will tell any friend who asks and any acquaintance at my gun club to buy quality Bond Arms products.

Snake Slayer owner

Having previously submitted an appreciation to You for my new Snake Slayer when it first arrived.  I now feel compelled to write You fine folks at Bond Arms a second one.

Upon it's first arrival, I immediately sent off the Snake Slayer for barrel engraving, and a set of the extended grips with the metal silver stars.  What arrived back to me in "JIG" time was about the most beautiful thing I've seen in a very long time, the "beautiful" gold engraving job on the barrel and "not" silver metal stars on the extended grips, but gold stars with a silver halo. The package is fantastic! The gold stars are a wonderful compliment to the gold engraving on the barrel. I strongly recommend anyone having the barrel engraving done consider also ordering these beautiful grips to go with it. YOU will not be sorry, I promise. Senior Chief Douglas USN Ret. said that!
Bond Arms, Many Thanks again.
I love this gun! It's a keeper for sure!

Ranger owner

Texas Defender owner

We bought 2, the Bond Arms Ranger and the other is a Snake Slayer.

Snake Slayer Owner

Texas Defender owner

Bond Ranger owner

Texas Defender owner

Snake Slayer owner

Leather holster w/thumb break, the best for $75.

As Owner of Outlaw Guns and Ammo, a licensed FFL dealer in the greater Houston area, I just purchased for resale my very first ever, derringer style handgun. Your Cowboy Defender in .45acp.  This is not going to be resold as I am so impressed with everything about this firearm that I am adding it to my personal collection. Job well done!

I would be more than happy to have my comments posted. I am always being accused by family and friends about how I tend to point out why Companies fail, quality control, and why our economy is the way it is. I was raised in a family that places value on taking time to do things right the first time. And when it comes to putting your name on something, you give it your all!

I can safely say that you and your Company produce a high quality, affordable, and practical product! Thank you again, your friend,

Outlaw Guns and Ammo

Snake Slayer owner

Cowboy Defender owner

Texas Defender owner

Texas Defender owner

Texas Defender owner

Just wanted to add my 2cents worth to your testimonials.  I have a Cowboy Defender, And 4 different barrels,what a wonderful gun!!!
If anyone is thinking about it, BUY IT!  Thanks for a good American Made Product.

Cowboy Defender owner

Texas Defender owner

I also have a Bond Ranger, .45LC/.410 3 inch, with the holster and padded carry bag.
I just Love it! Well made!  Will Not Sell Either Bond, Never!!

Snake Slayer owner

Texas Defender owner

Snake Slayer owner

I hope this mini review is self explanatory. I will offer a more scientific (?) review with actual measurements and/or pics when my holster arrives. Needless to say I love this Derringer!

COMPANION weapon vs. BACKUP weapon: The definition of a backup weapon from Chuck Taylor's American Small Arms Academy is a weapon with the ".express purpose.to save your life on some dark, lonely street or parking lot when you've lost your primary handgun".

I purchased the Snake Slayer as a Companion weapon for my Kimber 1911 or SA XD.
I have opted to exchange my extra magazine of .45′s carried on my weak side for the Snake Slayer in the Bond Arms Driving Holster.

In the past I have always carried a .45 shot shell chambered in my carry weapon due to the critters on the porch at night. I always tried to justify this in my carry weapon by saying if I was in a self defense situation I would fire the first round in my attackers face then use the hollow points for follow up body shots. After reading about The Judge I became intrigued. After researching The Judge I could not justify making it my only carry weapon. Its size and weight made it bigger than I wanted to use as a "backup" weapon as well.

Then I found a Bond Arms ad in my NRA publication. After researching it a couple weeks I decided that I could carry it as a Companion weapon. I will be using it for the following:
1- #6 or #5 Bird shot for the critters around the house.
2- 000 Buckshot for daily carry.

I drive for a living so the idea of a small cross draw weapon that shoots 5, 9mm sized projectiles with each pull of the trigger really opened my eyes. But why would I chose to use 000 Buckshot instead of the .45 in a carjack scenario? Three reasons:
1-The statistics about how many shootings happen at close range
2 -The statistics about how many shots miss their targets in a gunfight.
3 -The ease of drawing a cross draw weapon over the slightly more difficult prospect of drawing from my strong side with my seat belt on.

How many times do we hear that our handguns are to be used until we can get to our long guns? Arguably one of the best self-defense long guns for home protection is the shotgun. Many argue that the best round to use is 000 Buckshot. Why not carry a mini shotgun with you at all times!

This was my thinking but I have read enough negative press on blogs and message boards to still have doubts. I decided to gamble and buy one because I really liked their looks and even the nay sayers agreed that Bond Arms are the best made Derringers on the market. Before I could decide to carry this new weapon I decided to try it at the range on the way home from my local gun shop.

My main concern was about the amount of spread of the 5, 9MM sized projectiles. I did not have my shooters bag with me so this first range test was anything but scientific. Typically I practice shooting at the average distances of known gunfights, 21′ and less. I stood about 12′ – 15′ from my target, which was a paper approximately 11″ X 15″. I loaded the chambers with 2 Winchester 3″ 000 Buckshot. I fired both barrels, reloaded and fired both barrels again. All 20 balls stayed on the paper! This was success enough for me to immediately (the day after I purchased the Snake Slayer) order the Bond Arms Driving Holster.

After the Driving holster arrives I will do a more scientific review of my new Companion Derringer.

So far – for my needs – I LOVE this new weapon. I highly recommend the Snake Slayer if you are purchasing it for the purposes it was designed.
PS. Something I did not stress at all in my initial comments, which also helped me to break this vow was the overwhelming consensus of Bond Arms owners that stated the CUSTOMER SERVICE they received from your company was far beyond anything they expected. Businesses today do not seem to care about their customers anymore. It seems like you are practicing those "Old Fashioned" ways of doing business: Offering an excellent product, exceptional value and customer service 2nd to none during and after the sale.

Snake Slayer owner

Cowboy Defender owner

Bond Ranger owner

Texas Defender owner

Bond Ranger owner

Will be buying a couple different barrels in the future.

Keep up the very FINE job that you do in making TERRIFIC firearms!

A very happy Bondarms shooter and customer,

I hope you guys are super successful.

Dear Mr. Bond:
I live in Pennsylvania and currently hold a ccp for Pennsylvania and just recently took the course to apply for my Utah ccp and then my Fla permit. I carry a Bond Century 2000 loaded with Winchester 000 shot as a back-up and an FNH 9mm as my main. Your derringer is the finest firearm, as far as derringers go or,( as it is now being called, "the mini shotgun." ), that I've ever seen.
I will never sell, trade or give away my Snake Slayer as long as I live.
It is a top of the line firearm that will always deserve a place in my collection and will forever be in the left pocket of my pants. My hat is off to you for making the finest derringer money can buy.
Thanks again -

I am extremely impressed with the design, engineering and quality of the weapon.  It is truly a piece of art.  When I tell my friends about it they are skeptical. A derringer? Only two shots? Heh! then I show them the gun.

There is suddenly a big WOW expression on their faces and they can't believe how well it is made or how beefy it is. BADs must be held to be appreciated!

Keep up the good work. I will keep you posted after I finally get the time to take my BAD SS to the range and burn up some of that new (expensive) ammunition!

Snake Slayer owner

Your web site and presentation at the NRA event in Arizona is excellant. I bought your Cowboy Defender about 7 years ago for personel protection and defense against snakes. To date; I have shot 3 rattle snakes, one of which was a Green Mohavie rattle snake, a very deadly snake. In all cases the 410 shot shell killed the snakes
effectively and fast.


Gordon, attached is a picture of the Green Mohave that I shot with my Cowboy Defender using a 410 shell. He was just outside the back door of my house.

I never travel outside my ranch or the wilderness without my Cowboy Defender.

Received Gordon's email and checked out the site.  I just love the shooting video. So far my best is 5 shots.
I'm a proud Texas Defender owner with two barrels, a .44spcl and .45ACP.

I tell everyone about it.

Gordon Bond's statement on the Utube video is exactly correct. I use my Tex-fender for all the reasons Gordon described. I also want to congratulate Bond Arms on their 10th win of the World Championship in the Derringer Class at the SASS End of Trail Cowboy Action event. It just goes to show you, when you produce a high quality product, you get high quality results. Thanks for the email and a great firearm. Keep up the good work.

I can't find anything negative about my Tex-Defender. Truly a great product. Saving up the money to purchase the 4.5 in. barrel to make my barrel collection complete.
Thanks again.

Texas Defender owner

Snake Slayer owner

Great!

Since my retirement last November as a K-9 officer I have carried my Bond Arms Snake Slayer every day from the time I wake up until the time I go to bed. I wear it inside the waistband of my pants with a thin t-shirt between the gun and my skin. I sweat constantly and to this day (about 2 years of carrying it before I retired) there is still not one speck of rust.

I wouldn't carry anything else, people ask me all the time why I carry this gun. I train drug dogs now and people know I have drugs to train with.
I rely on this gun to protect myself and my family with 100% confidence that if I need it, this gun will be there and ready to perform.
This is the perfect gun and I never hesitate to show it to other officers and encourage them to purchase one as well.
Great little gun!

Very Nice!
Very Good Looking Derringer!

First let me say that I am very impressed with Bond Arms as a Company.  As a former police officer I love the compact feel with plenty of "knock down" power in a weapon that conceals with ease.  The Snake Slayer is now my primary carry weapon.

I ordered a left hand pocket holster from your company and after trying it found that I prefer the right hand style better.  I called and a very nice gentleman said there would be no problem swapping the holster out for a right hand.. Since I also ordered the driving holster while talking with him, the nice gentleman shipped the right hand pocket holster with the driving holster before I returned the left hand holster.  Thank you for your trust in me and for what I call real customer service.  Because of that, I will definitely be ordering more barrels and accessories from  you.

Again, thank you for your trust and know that I have and will recommend Bond Arms to all my shooting friends!

Bond Ranger owner

Cowboy Defender owner

I have been thinking about buying one of your Snake Slayer IV's  for a few months now and while I was at a gun show this past weekend in Abilene I came across one and COULDN'T pass it up. Went out and fired over 30 -000 Buck out of it on Sunday and LOVED it! This is my new favorite gun.

I will be buying a holster and additional barrels but I was wondering if y'all have any T-Shirts for sale as well.  Thanks again for making such an awesome firearm!

Letter written to Dillon's "Blue Press" www.bluepress.com

Reading Jerry Ahern's article in the July Blue Press about "Bond Arms", I would like to add that I have had a Bond Arms derringer for over four years. When one barrel stopped firing, my dealer sent it to a local gunsmith who had it for 1-1/2 years. When I got it back and it still didn't work, I called Bond Arms and was told, "Our turn around time is seven days or less."

He was right. When friends ask me about buying a Bond Arms, I tell them they build a quality arm and their warranty is like Dillon's no BS Warranty.
All my friends have said, "That's good enough for me."

Century 2000 owner

It's a lot of fun & will be put to good use.

Thanks again,

Bond Ranger owner

Snake Slayer IV owner

I give CCW classes here in MO. & Have had some students show up with the Judge pistol . I own one & it serves well in the field, Whether on the tractor or humping the woods or river banks.  But its way to big framed for concealed carry.

Now the Bond Arms Texas Defender also chambers the 45colt or 410 & is very concealable, even if you choose their biggest over-under gun,the Snake Slayer IV. They(B.A.)have 6 models to pick from. But You can choose from 15 different calibers & barrel lengths & all will fit your gun with the changing of one screw.
The little gun with a big caliber round like the 45colt or 410 has less recoil than one 62 year young lady students 45 compact.

For a CCW back up or car or truck gun they are great. Some villain jerks your door open at stop light to jack you & your car this Gun is a Big Time WINNER. With proper instruction anyone can use this gun with great results.The Choice of options are many & can be seen on their web sight www.bondarms.com .

When I purchase my Snake Slayer from a Granbury, TX dealer, I really wanted a 9mm barrel but he had none and was not willing to stock one for me! I bought the gun anyway and wound up with one with the 45LC/410 barrel. My next move was to email Bond Arms and tell them my desires. They offered to exchange barrels with me at NO CHARGE!
I might add and even put the 9mm barrel on for me.  Wally, Charlie and the head machinist there that fixed my gun like I wanted it were all great people.

Sure made me want to do business with them!  Just plain old GOOD people!

I am hoping that this will be published in the testimonial section of this website. If anyone wants to email me for any reason at all about the folks at Bond Arms please don't hesitate to do so.
Thanks again guys, you're the best!

JimLB@dot11net.net

Snake Slayer owner

Snake Slayer owner

Cowboy Defender owner

Snake Slayer owner

I Love every bit of it!   Thanks!

My 2nd Purchased Bond.
LOVE IT!

Great Idea!!

Snake Slayer owner

I put this pistol in my back pocket, it fit's like a glove.  Glad you guys are in this business.
Good Honest People Making American Made weapons!!

I have the new Snake slayer and a Texas Defender in 45ACP.
I'm impressed with both, Great job guys!

Snake Slayer owner

Texas Defender owner

I am Proud to Own It!

Snake Slayer IV owner

I've been thinking on & off about buying one for years & I finally did it!

Texas Defender owner

My wife thinks it is "cute".

Snake Slayer owner

Quickly becoming my favorite!

Century 2000 owner

Snake Slayer IV owner

Snake Slayer IV owner

Texas Defender owner

I have done months worth of research On my BATD.  I finally ordered my piece 10 days ago.  I picked up my piece today…WOW! This weapon is a thrill to handle!
I cant wait to shoot!

Snake Slayer IV owner

Snake Slayer owner

The Well-Heeled Texas Sportsman ALWAYS . . .wears his snake boots and carries his Bond Arms Snake Slayer with two barrels of .410 with #12 shot . . . just in case.
Shot in deer camp at Harvey Zesch's Fly Gap Ranch, Texas, evening of November 6, 2009.

I had an incident on the same ranch a couple of years ago when I was helping retrieve a downed deer. No snake boots and no gun = bad. Fortunately, I was unharmed, but I resolved to always wear snake boots and carry a gun after that. This snake was in our deer camp, so I wasn't totally prepared, but help was close at hand.

The Bond Arms Snake Slayer is perfect. I carry it even though I carry a rifle for deer and a pistol for possible close-up pig shots.

Regards,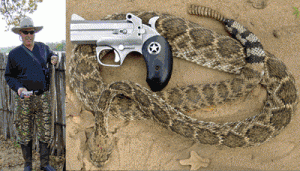 Century 2000 owner

Heavy, well made gun.  Also I like the option of different caliber barrels.
It will be great B-U-G (back-up-gun).

Snake Slayer IV owner

Texas Defender owner

Fires Great, Beautiful Engineering …..Wonderful!

Perfect Design, Extremely useful on the trail.

Snake Slayer owner

Thankyou!   Shoots better than expected!
First Time out I shot 30 shotshells- 5 Long Colts- # 9 shot, #6 shot, and Federal's 000 buckshot.
By the way, Your website is Great!

Snake Slayer owner

Texas Defender owner, again

I Love It!

Century 2000 owner

A fine weapon, Intimidating.

Snake Slayer owner

Texas Defender owner

Snake Slayer owner

US Army (retired)-Snake Slayer owner

Bond Ranger owner

-BASS 45/410 is Far Superior.

Keep up the great work…

Thanks!

Bond Ranger owner

Snake Slayer owner

A few weeks ago I called and ordered a few extra barrels and some custom stag grips for my Texas Defender. Everything came quickly,  fits flawlessly, and functions perfectly. You guys are the best!
Keep up the good work and MERRY CHRISTMAS!

Just received my BDS-A Shoulder rig holster, and like my Texas Defender, It is the highest of quality, you guy's are truely the best!!!!
Thank's my friend! And have the Happiest of New Year's!!!!

Texas Defender owner

Texas Defender owner

Snake Slayer owner

Bought the Century 2000 for my wife & the Ranger is MINE!  We carry them for Backups.

She Loves her Century 2000 and Has it always.

Texas Defender owner

I saw your ad in "The Best of Farm Show" magazine.
Looks Great!

Texas Defender owner

Looks like a well Constructed pistol (derringer) and holds well in hand.

I think I'll buy 1 more…

I recently purchased a Snake Slayer , I LOVE IT ! My wife and I live in Bexar county Texas and have a lot of snakes , like Texas diamond backs , corral , etc…
With the hot summers in south Texas , I am looking  forward to being able to carry it , we both have CHL licenses .

I put about 25 rounds through it at a gun range and it hit center mass at 7 yards with buck shot every time … I like the bounce back hammer , safety is very important to us …

Having spent 30+ years in machining and now working in Industrial sales.and soon to be a proud owner of the Snake Slayer. I cannot say enough about your product quality. It would be a dream come true to ever be asked to support your Mfg process.

Keep it in America and Keep up the "Outstanding Job"  of a "Great American Firearm"

Sincerely,

Snake Slayer owner

I like the craftsmanship of your product, Beautiful firearm- Kudo's to your designer!

Better than I expected.

Very Well Made!

Snake Slayer owner

Texas Defender owner

"This is one Well Built Gun"

Thank you guys!

Excellent Weapon.  Fun to shoot.  Extra Caliber barrels available.

Thanks

I Like It.  Everyone I show it to likes it.
Easier to control than I thought it would be.

Cowboy Defender owner

GREAT QUALITY!!

I purchased the Century 2000 and my next purchase will be the Snake Slayer IV.
Thank you for the fine firearm.

Century 2000 owner

I was fortunate enough that my wife surprised me with an early birthday present. She bought me a Bond Arms Snake Slayer IV. I have wanted one for many years and owned the competitor's about 20 years ago.

It was pretty, but it was also dangerous. I mean dangerous in a way that the hammer rested on the crossbar safety and if the hammer was moved any, the pressure would release and pop out the safety. So if you would have dropped it, with or without the safety on, more than likely you would have a bad situation. This is my most favorite part of the Bond is their safety features. Easy to manipulate and safe, safe, safe.

It almost goes without saying, my other favorite feature is the detail to quality in the extreme. I have owned some very nice guns – Smiths, Browning, Colt. Those these were nice, they can't touch the bank vault type construction of these double barrel pistols. On my particular model the hammer pulls back nice & even with a little bit of authority and the trigger is unbelievably sweet for this type of design. I've heard people say this takes getting used to. I read Gordon's instructions. It was right as rain.

Recoil with 2 1/2″ Federal premium handgun .410 was on par with my Glock 17 9mm. I've already put 200 rounds in four 50 round sessions. My first session alone only took me about 20 minutes. My hands weren't sore, but my face was sore from grinning so hard.

This gun is a blast to shoot.

At 15 to 20 feet it is devastating on a target. It would be ideal as an inside the house gun should the need ever arise. Besides, I don't like the idea of blasting a 12 gauge shotgun in my house if I had to.  However, my main purchase for this firearm was because it is a work of art. I never really planned on taking it to the range more than once, but you honestly can't help yourself. It is that fun to shoot.  Here is a little hint. I'm one of those kind of guys who when you have something as pretty as the Bond, you have the tendency to want to buff that stainless out to a mirror shine. DON'T! I know what I am doing because of my background of auto detailing. I have a Baldar buffer, but I am going to refrain from doing this. The reason is you can have a lot of high and low spots (cloudy, uneveness) and round off the sharp edges of the gun. In order to buff a gun to a mirror shine, you need to disassemble the whole firearm. I'm sure some folks have done this already and I'm sure some folks had to send their gun back to Mr. Bond. My hint is use WENOL metal polish. This will keep the brushed stainless look and give you a much-desired shine to your stainless. It is 100% safe on your gun.
It won't take any metal off. It is non-abrasive. All you need is a 100% cotton rag and some Q-tips. You can repeat the process as many times as you want without any harm at all. Plus, it puts a microscopic protective barrier on the stainless and leaves a beautiful not-quite mirror lustery shine. It will brings out Bond's stainless. It is stunning.
When I do this process, I disassemble the barrel from the receiver and plug the muzzle and breech with cotton balls, so you don't get it inside the bore. Also, I take painters tape and mask off the beautiful wooden grips. Not that the Wenol will hurt them, but when you start wiping down the stainless part of the receiver, it just makes it easier. This is a very fun and safe project for anyone to do.

I also purchased their brown drivers holster (BAD). Same thing as the gun itself. Quality rivals anything I've seen from Galco. Dillon, Kramer, or anything else out there. In short, it matches the quality of their gun. One other thing before I close. I'm not cracking Taurus Judges. I know the Bond has only two shots. However, when I shot side by side with my friend who has a Judge, all five of his rounds were hard to get out of the cylinder after firing. I mean he actually had to work to get them out. All I had to do was dump. load and shoot. He was still fidgeting with it. I didn't want to say anything smart, like I was thinking, but I think he will be buying a Bond soon.

Besides, with a Bond you have bragging rights… And a great American company that stands behind their product. What other gun company president can you actually talk to in person or on the phone? Not any that I know of.

Thank you, Greg and thank you, Gordon and all your workers.

Neat Derringer!
I love the ability to change barrels.

Ranger owner

Snake Slayer owner

Saw ad in Blue Press- Then read reviews- and purchased within a week.

Would like to see you at our Great Outdoor Days event.

Cowboy Defender owner ~works at Cabela's

Texas Defender owner

..and I enjoyed talking to Real People at the factory.  Thanks, I'm sure I'll be a steady customer.

Snake Slayer owner

Incredible Quality- will use as off-duty backup.  Looks like the derringer of derringers!!

We've had a major problem with rattlesnakes on our 10 acre property since moving out here into the desert a couple of years ago.
Did a little research and decided that a Snakeslayer was our best option.

Encountered our first rattler of the season while out with our dogs last night. One shot with CCI 45 Colt Shotshell quickly took care of
business. Thanks for this perfect "snakeslayer"…easy to carry and shoot and does the job!

Snake Slayer IV owner

Snake Slayer owner

Thank You!

Beautiful! Anxious to shoot this weekend.  Saw your booth at the NRA convention, Had to Have one!

New Ranger II owner

I Love the Ranger! Comfortable, Compact, but Powerful.

Thanks Bond Arms!

(new Century 2000 owner)

(new Snake Slayer owner)

I think this gun will be around hundreds of years. Quality & Craftsmanship exceed my Taurus Judge.
I appreciate steel craftsmanship… the heck with these new plastic guns of today.

I've also owned a Ranger and a Texas Defender.
Great Products!

(new Snake Slayer owner)

Snake Slayer IV owner

Knowing firearms: good…better…best… is a wonderful asset.
For those who do thirty years in the military as I have, knowing firearms is a developed skill…It' one more thing to get you home.

If you're in the market for self protection or for home protection, I would strongly recommend you look into what Bond Arms Inc.
out of Granbury Texas, have for you!

Their firearms are rock-solid, straight-forward, highly crafted, fit to the task of protecting you and yours!

A work of extreme craftsmanship in your hand, flexibility of barrel/caliber choices makes it inexpensive to practice and train on light ammo;
change barrels and load big stuff for protection.

Even if you're not a big firearm fan, THESE firearms make you feel safe and give you a big chunk of confidence to operate them as a bonus!

Yes I own one, and nobody paid me to say anything…
You see something really good, you share that info…

Just to let you Know I purchased one of your Snake Slayer 45 Colt / 410 pistols.
This is one very nice hand gun! For self defense you just can't beat it.

As the proud owner of a Texas Defender .410/.45 I didn't think I could be more impressed than I was when I first received my little pocket cannon. Gentlemen, I was wrong. Through my own mistake, not any flaw of the gun, my little friend suffered a broken firing pin. I contacted the factory as soon as I noticed it. After receiving instruction on where to ship my gun I boxed it up and sent it to the factory.

That was on the Friday of Labor Day weekend.

The gun arrived at the factory on Tuesday the day after Labor Day. On Wednesday I called Bond Arms to see if the gun had arrived and after the man I talked to took about one minute to check on my gun I was informed that it had indeed arrived on Tuesday, but that it had
ALREADY BEEN REPAIRED AND WAS SHIPPED OUT THE SAME DAY IT HAD ARRIVED AT THE FACTORY! I was told that it had been shipped back to me next day air FedEx. Well about one hour after I got off the phone, my gun was in my hand again.

Not only is the Texas Defender the finest piece of craftmenship I EVER owned, Bond Arms is the finest company I've ever had the pleasure to know. Not only was my gun repaired in record time, but I received a new Bond Arms cap and a free gun lock to boot. I never asked for the free gifts, but they are very much appreciated and even more unexpected. That's customer service like no other company has. Like I said, the gun was broken because of my mistake so I wasn't upset with Bond Arms for anything and never implied that I was. Yet your company handled my problem free of charge as the life time warranty states you will even though I broke the gun and sent me the complimentary gifts as well.

I have told everyone I know about my experience with your company and I will be purchasing the custom made 4.25 inch barrells in .45 long Colt as well as a canvas carry bag very soon. I have never been so impressed with any company before in all my 54 years on God's earth.

Thank you gentlemen VERY much for the finest made handgun I've ever owned, and for the finest company I've ever worked with. Feel free to use anything I've said about my experience and to refer anybody to me for a personal recommendation. You guys are the best.

~proud owner of a Texas Defender and soon to owner of many more Bond Arms products.

Snake Slayer owner

Awesome Power. Saving up for another one.
I lived in Granbury during the 90′s at DCBE, so this makes this Fine USA Made Gun extra special.

Century 2000 owner

I bought the "New" Winchester .410 shells with 3 pellets and 20 BB's and now I have the Ultimate Defense Weapon.
Easy to conceal and the hammer safety makes it perfect!

Snake Slayer IV owner

WOW!  Awesome!
Canada Loves you!

I Love the Gun!
I have the best results with .410 in the top barrel and .45 below.
The recoil has been way over exaggerated!

My wife wanted a derringer for Christmas.
I tried to talk her out of it, but a call from Eric Prascak, owner of Mike's Country Store resulted in the purchase of her Century 2000 in .45 Colt/.410.
I had never heard of Bond Arms before, but WOW, was I surprised at the level of quality & workmanship. The real surprise though was in firing – What a Blast!
I shot it so much (the excuse being to break-in the trigger for her) that she insisted that I buy my own.
Result – enclosed is the registration for both derringers. The initial reason for the purchase was for protection in her profession as a real estate
broker, but it has certainly been enhanced by the recreational value of using your product.

Thank you, Bond Arms for a quality product.

Just ordered the .22 barrel for my wife's Snakeslayer. She loves that derringer! She abandoned the S & W 642 with CTC grips for it!

I never see it except to clean it and at the range when we shoot.

She shoots .45 or .410 through it no problem-carries .45 bottom barrel and .410 buck on top. No problem keeping both barrels in 8 " Circle at 10 yards-with bottom barrel dead on POA.

The .22 barrel will give her a lot of inexpensive practice with the same platform she carries everyday.

Just wanted to tell you how pleased we are with your product. I have .380 to .40 Autos and .22 to .44 mag revolvers-mostly S&Ws-but I am impressed enough with her Snakeslayer I thing I will pick one up soon.

Although it took some time I recently sent my Defender back for repair.
Let me begin by saying how pleased I am with your customer service.
I sent my gun on Thurs. and received it back on Tues.
ALL of the issues were addressed in a most satisfactory manner.
I have no idea what you pay [your guys] but I can assure you it is not enough.
Again the customer service displayed by your company reaches the highest standard attainable.
I will forever recommend Bond Arms as the ONLY gun of this type to purchase.
Again Thank You for your prompt attention of my concerns.

This is my Second purchase.
These guns are Phenomenal!

I was finally able to shoot my Snake Slayer IV.
I was surprised I figured due to it's size the kick would be greater than my Judge or Uberti,
but to my surprise the opposite was true.
My Bond Arms had less of a kick and was easier to shoot than my other two 45 Long Colt pistols.
All I can really say after shooting is, "Damn that was awesome, let's do it again!"
Great job on the Snake Slayer IV!! Keep it up!!

Hi Gordon,

I am so pleased with the Cowboy Defender, that I couldn't but take some pictures.
You are more then welcome to use them for your website or whatever you'd like.
They should be of good hi-pixel quality and hopefully transfer easy.
I'm just sending them to say "thank you" for a great AMERICAN product.
Sadly, it seems that we see less and less of them.

Merry Christmas to you and your team,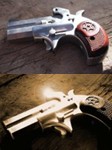 Of my many defense handguns, my Bond Texas Defender has unexpectedly
become one of my favorites.

First, the quality is second to none!
If it is rarely not my everyday Carry with the pocket holster, I call it my "lounging gun".
That is because when I get home to my family at night, it
goes into my BAD driving holster on my belt and stays there for the evening.
I may carry several firearms, but my Texas Defender is my go to gun, period!

I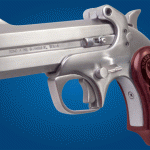 just wanted to say how impressed I am with the quality of the Snakeslayer 45/410 I recently purchased. This is truly a well made firearm. I also wanted to say how pleased I was with your tech support. I recently called your factory, on about the third ring I actually got a real person on the line. I asked Travis a few questions I had about the Snakeslayer and he answered them all and even allowed me the opportunity to share with him my experience shooting various ammo through this gun. I am sure that Travis was probably very busy but again I want to commend Travis and your company for the personalized service that you provide. It is almost unheard of now days to call a major company and get a real person on the line who is willing to give you personalized attention. Please convey my sincerest thanks to Travis for assisting me.
Thanks,