Here at Bond Arms we really care what you think and we love to hear from you!  Below are a bunch of recent testimonials from our customers.
If you would like to share your story click here to submit it to us.
I am environmental geologist (that means I study and clean up polluted sites) . My work takes me into nasty places like abandon factories, meth labs, distressed urban sites and mobile home parks. The threats range from gang members to charging pit bulls to lunatics. I have been at this kind of work for a very long time. I have been shot at and had armed stand-offs. I have traditionally carried a Colt M1991A 45 in a New York City rig. However this was not enough. Firing 45 rounds at a charging pit bull is not likely to have a good outcome. Rounds bouncing off the street are likely to hit someone and the dog is likely to not get hit at all. My 45 is also a large gun to conceal.
I bought a USA Defender and it fills the gap well. In very bad situations, I carry both – the USA Defender with buck shot for pit bulls – and my Colt 45 for the pit bulls owner who likely will come charging in after I drop his dog. More often than not, I carry my USA Defender by its self in a shoulder holster.
Most of all, I like the size and power of the USA Defender. The use of buckshot increases the likelihood of hitting your assailant but not harming others due to the limited range. Its good for both humans and animals. Its size makes it easy to conceal. The sound is more than intimidating.
I call it my "Noisy Cricket".
A real key advantage of the gun is that it appears to be a weapon of minimal force. So if you are ever in front of a judge having to defend your use of lethal force, the prosecutor is gonna have a hard time painting you as a bad guy with a 2-shot derringer. Its not what Gang-Bangers carry. Hood Rats also don't like the double barrel – its not what they are used to and it unnerves them.
The size is perfect – as its not tiny but its big enough that you can get a good grip on it – and it will be noticed when you draw. I had to go into a particularly nasty trailer park recently in Craig Colorado. As I pulled up, a large male pit bull crossed in front of my car, with balls the sizes of oranges. He stopped, turned and looked at me. It was a territorial glare. I slipped on my holster with my Bond Arms USA Defender loaded with buck shot. I wore that gun on my right hip in the open with the retaining strap off – and the safety off. Turns out, there were a number of pit bulls in the park. Although I didnt have to shoot any, I am sure having my USA Defender at the ready, made me so confident, that the dogs chose not to push it. It was also big enough that the locals noticed it. If a cop would have rolled up on me, its likely he would not have gone ballistic seeing that I was packing only a Derringer.
I have also found that the TSA is less concerned about Bond Arms guns when they come thru in the luggage. I get far fewer questions etc when I am traveling with my Bond Arms gun than any other type of sidearm
As a geologist who spends a lot of time in rough conditions, I appreciate its durability and tolerance for dirt. Also, single action makes it safer to carry and – being an SA guy…I just love cocking the hammer. I have to confess that I have also fanned it. Not a good idea, but you can do it.
This is an excellent weapon – I depend upon my USA Defender with great confidence.
Its a very fine weapon.
It was a long wait, but worth every milisecond once my Ranger II arrived. My wife thought I lost it because I was giggling like a little school girl. I won't get a chance to try it out until I get to the range this weekend though. When I first saw your line of derringers, they reminded me old westerns, I used to watch and knew I had to get one. This pistol is more than what I'd hoped for as far as construction goes. When you use the word "TANK", it is obvious right away. This feels so solid and is so flawless with it's actions, I am truly impressed. Thank you for taking the pride you do in manufacturing one of the best built anything, I've ever purchased.
I've been wanting a Bond Derringer for years now and decided it was time to order one, Ordered it through my local dealer, it took four months to come due to some lack of communication between my dealer and his distributor, but no big deal. I am very happy to have it and love the quality and workmanship that goes into making such a fine gun, also like the fact that an array of different barrels and grips are available for whatever model one happens to purchase, I personally got the Texas Defender in 45 Coly "ONLY", and quickly after that bought a set of Texas Star Grips and the BAD Holster in black, overall a really nice combination. Excellent Customer Service is alive and well at Bond as well, had several occasions the communicate with Kelly and Gordon himself, they bend over backwards to make their customers happy. Great job guys, I will be back for more soon.
I had been looking at getting a Ranger 2 for quite a long time. I just purchased one at a local outdoors store. I bought several different loads of .410 shells and one box of 45 long colt cowboy loads to practice with. This pistol has lived up to all my expectations. I will carry it daily here on our Ranch to dispense the varmits I come across and I am looking forward to getting my CWP so I can carry it everywhere I go. Thank y'all so much for producing such a superior firearm !
Hello Bond Arms;
A friend of mine ( Jack Hitt) purchased a Snake Slayer a few years ago and he allowed me to shoot it. I couldn't believe how manageable the recoil was firing 410 loads. He asked me to go on line and buy him a 357 barrel set for his derringer, and when I received it and took it to him, it went right together as you advertised it would. What made me purchase one was what happened when we fired the Snake Slayer at a target. Aiming to the same spot both shots hit the same hole at around 30 feet! Accuracy with a derringer? I never thought it possible, and the recoil was a joy. I have one of those derringers that copied the old Remington. It is a 38 special and it's recoil is terribly punishing and after a few shots you are happy to stop shooting it. This Snake Slayer is a Joy to shoot!!! Your design is brutally handsome in looks and function and such a quality firearm, I know you all are proud to be a part of Bond Arms. Thank you for helping keep people safe with your quality products. I will be singing your praises to all who will listen! God Bless Texas!!!
Bob Koesel
I like the thought that went into making the pistol and that it's made of quality materials. Your YouTube Videos were the deciding factor in buying this pistol. When the owner takes the time to make a video and talks about all the features it means a lot to me.
Thanks!-Fred
Amazing Quality, simple Design, great styling, superb ergonomics and kind/courteous customer service! I like most guns. This is one of my favorites. I own more than one, and have multiple barrels. Both my parents own one as well. Thank You
I wanted to drop note with my registration cards. In response to your question how did you hear about our product? My husband works for Sig Sauer as a gunsmith and he leaves for work rather early in the morning. One morning after he left I could not get back to sleep, so I turned on the television. Scanning the channels, I stop on what appeared to be a mini-info-mercial regarding this American made gun, made in Texas. It turned out to be a program about "truly American made" products featuring Bond Arms as one of the companies. I got to work, went online, to your website and sent it along to my husband at work. From that point on I was hooked. I told him I wanted one. He went in search of one at the several gun shops in our area with no luck. We found a gun show 10/13/13 in Manchester NH where I was able to hold one. On the Christmas list it-goes, Ranger is my choice. I find a gentleman that makes custom grips out of black walnut and he shows it in a custom box. Oh no, now what to do, decisions decisions.
I had researched this gun thoroughly before I bought it. It did meet all of my expectations. Very well made. shoots good & I like the ease of changing barrels, I would definetely buy another
I have just recently purchased this weapon and I feel no regret in any form. The weapon lives up to its Texas pride without any hesitation, a true example that in the US we make our weapons correctly. As for function the weapon does not disappoint, we are basically dealing with a "show stopper" weapon and when it is loaded with 410 ammo you get that service in seconds. I have recently retired form the military and I only wish we had something like this in our kits. I would gladly take this weapon into combat with my sniper rifle. As for the weapon itself the Cowboy Defender is perfectly made; from the polish to the handles I have no complaints. In regards to accuracy the weapon does it's job but remember you will not be engaging targets at 100+ meters this is a area weapon for those "oh s**t" moments. So to conclude….I am in love.
Submitted by Miguel Carretero
Buying gas recently I was approached by 2 men demanding money. Thanks Bond arms for changing their minds. NO SHOTS FIRED. COWBOY DEFENDER 45 colt.
I just got my Bond Arms derringer back from you last week week week and and I am very pleased with the retro-fit done by Travis. The trigger pull is much lighter and alot more easier to pull than the old version. Also the wider hammer spur gives more purchase for cocking than the old one. All in all, a very good experience, the turnaround time was a little less than I previously thought at first and Travis even called me to make sure of the return address. I have bought two extra barrels, an extra grip, a Buck knife with a matching black ash handle and a holster since I first bought my derringer and couldn't be happier. Thanks for such a great product and great customer service. You guys rock!
Submitted by Glenn Bordeaux
I just bought a Bond Ranger. It sounds dumb, but is seems to me to be a cross between a Swiss Watch and a Sherman Tank. I could not be more pleased with fit and finish and sheer strength. Yes I will buy another one for my wife and all the barrels for me… It will be a collection to be proud of…
Rob
I am female, 5'3, 120lbs and had no problem shooting the Texas defender with 45 LC. The recoil was nothing I couldn't handle and I must say I have fairly scrawny wrists and hands. It did pack a punch but there was no pain from the recoil. I did change out my grip to the rubber extended one which may have helped. I also followed the tips given by bond arms when shooting. Love my new gun. For all the boys complaining about the recoil.. Omg really?? If I can do it you better be able to.
AJ
I finally had the opportunity to see your products in person.
I must say that it only took 5 seconds and I was hooked.
I went home from the gun store, cleaned my Glock 27 with Crimson Trace laser,
sold it and bought a Bond Arms Snake Slayer an hour later.
I can not express how pleased I am with the firearms you build at Bond Arms.
My wife now wants to sell her Glock 26 and purchase a Texas Defender.
You have certainly raised the bar and I will definitely tell everyone I know about your products.
God Bless America!!!
Thank you!!!
PS. Just got back from the range after taken my Snake Slayer out for our first real date!!!
At 15 feet, only "1" pellet missed the mark and even that lone pellet was close.
I was surprised at how tight the pattern was being such a short barrel.
I am absolutely amazed and completely in love.
No way I'll ever give up this little lady!!!
Thank you Gordon and thank you Bond Arms!!! Still smiling,
Kevin Scott.
I have wanted a Bond Arms Derringer since you folks have opened your doors for business. I even considered moving to Texas just so I could buy one. Then I happen to see DOJ's new list with California on it. I think I own number 38 made for CA. It's everything I thought it would be and more. For firing a 45 long colt the recoil is not bad at all. I recommend a Bond Arms Derringer to anyone who wants up close personnel protection. You'll sleep well at night.
Went shooting my Bond Arms Ranger II last week I was apprehensive about shooting 410 shells from a small barrel. I was pleasantly surprised by the recoil of the Sellier and Bellott 2 and 1/4 000 3 pellet buck shot. The recoil was very moderate, and performed well at 10′ I also shot the Winchester PDX defensive disc 12 pellets combo. The recoil was stout in comparison to the other brand. I did upgrade to the Jumbo rosewood grips and will give another range report. Overall very pleased with my Ranger II it rides with me everyday as my primary weapon. Thanks Bond for a winner.
Gun was fun to shoot and accurate. Great gun!!!!!!
This gun the Century 2000 is everything as advertised. I have fired 5 different types of ammo with it. Started with 410 defense, 410 00 buck, 410 3 inch bird shot, a 410 21/2 inch bird shot, plus the 45 colt bullet. All were easy to load, unload and were right on target. Cleaning the gun afterwards was almost effortless. It is a great solid defense weapon, very durable.
Not just American made, Texas made! Great product, great service really went above and beyond for my project. Two tone stainless, action job and memory relief on the grip. Thanks again everyone keep up the good work its something y'all can be very proud of!
It took me about a year of looking, hefting, and research but I finally settled on a Rustic Ranger from our nearest Cabela's. I can not add anything to what has already been said about the build quality, fit and finish. It is superb! I was a little skeptical about the claims Gordon Bond made, on various videos, about how the BAD holster fits so well that you will forget you are wearing it. He was correct, it works that well. I am a CHL holder in this state and carry every day in an area that may present two legged as well as four legged "concerns". After I tested the Ranger with 3″/000 buckshot loads and .45 Colt Self defense loads I am confident the Ranger will handle both concerns.
these are great guns. mine is .357mag. I have shot about 100 rounds so far all .357mags. I have had know problems.
After a small problem with my Bond Arms Defender I contacted the service department via email. Their reply was quick and personal. I was contacted via phone personally and each subsequent time by the same person.
I was kept up to date on each step of the process and no call was ended before I assured them I understood and was satisfied with what was going on.
Thank you for all your help.
My new Snake Slayer IV is now one of my favorite guns. We finally had a day above 15 deg. F, so I was able to test the gun. I tried Federal Personal Defense 410 Handgun 3″ 000 Buck, 3″ 4 Buck and some 45 Colt ammo. The 000 Buck is fairly stout, so I probably won't be practicing with this shell until I get my Jumbo grips and am wearing my PAST glove. The other rounds were fine with my very large hands and the extended grips. I have also ordered a 357/38 4.25″ barrel, a 45 ACP 3″ barrel and some holsters.
The controls and safety features on the gun are superior to any other derringer I found. Every enthusiast should handle a Bond Arms gun. But be forewarned. You may end up re-thinking your handgun choices and have to buy one of them.
I just picked up my Snake Slayer last Friday and I can't put it down. The design of the pistol is a work of art. I have wanted one for a long time so this has been a great couple of days. This is by far my favorite gun and I have a few.
I added the Snake Slayer IV to my collection last week. I just got a chance to fire it this past weekend. All I can say is "WOW!". When firing .45 LC's it has no more kick than my Colt 1911, a much heavier handgun. I was totally surprised. I expected it to kick like a mule. It is smooth and well balanced. Then I loaded it up with .410 6 shot. Let me tell you, you had better be ready! It has a substantial recoil but, what do you expect from a hand cannon? I love this weapon! It is my new conceal piece. I like the fact that I can build on this platform and change it to a .38/.357 or a 9 mm or a .22. What an awesome all around gun.
Thank you so much for the speedy handling of my exchange. The side holster works so much better for me. Bless you Kelly and your fine organization. I'm a big fan and turn everyone I know interested about your products. I shared your great service with my brother and he is a huge fan too.
I was going through my NRA magazine looking for a small but powerful hand gun. I came across an ad for Bond Arms, went to the web and and decided on The
"USA Defender". I called one of several gun stores in the area asking if they have the DEFENDER. They said they have a Bond Arms coming in but until it gets here they don't know what model it would be. I got a call the next Friday saying a Bond Arms gun came in and it was the Defender with a holster. Put a hold on it and said I would be in Monday. Went to the store Monday checked out the Defender and went to the front of the store to fill out paper work. As the women was filling out the papers she asked me to read off the serial number. To my great surprise the serial number just happened to be my star number that I had for 25 yrs. on a police dept. Just outside of Chicago. I love the USA DEFENDER and it was meant to be. Richard Boyce
A couple of weeks ago,the rubber grips that came with my Back Up had fallen off the gun. The screws had pulled through the grips. I sent the grips to Bond Arms and the next week a new set of rubber grips arrived in the mail. No Charge!!!!
Service like this probably explains why I have two Bond Derringers (Texas Defender,Back-Up) and 9 extra barrels!!
Top Dog
I carry it in the Recreation areas I walk, where it is like jungle. I feel better at ease knowing I can protect myself from all sorts of creatures.
I have a snake slayer iv and wanted a better feeling grip
it is perfect takes away a little from concealment, but
that's ok
the main point is what ever is on the other end "will"
be hurting if not worse
thank you,
Gorden and Bond Arms
I own a few handguns and the SS4 is the one I always grab to carry. I added the extra long rosewood grip and it is the best feeling grip / gun in my hands. Fun to shoot the 45lc. I added the 38 /357 barrel to the collection just for plinking. I wish everything I owned had the fit and finish that this gun has. If Bond Arms builds anything else I would buy it in a heart beat.
Gun is solid. Just looks and feels like high quality. The holster I ordered is perfect. I have never seen a leather holster with such quality and craftsmanship. I couldn't be happier. This gun will provide concealed protection for years. I don't ever see being able to ware these out. Great solid quality products. Thank you.
Just got my Snake Slayer 45/410 , wow what a weapon of mass destruction. Put 40 rounds thru it 20 rounds 410 and 20 rounds 45. Recoil not as bad as I thought it would be would have shot more but ran out of time. It does take a little time to get use to but it is an awesome well built pistol. Waiting for driving holster so if you can hurry up the back order it would be awesome.
Dear Sirs;
I have one of you Bond Guns and i would like to say it is the best investments i have ever made. all thou i didn't get it from you i bought it from grab-a-gun. it is a 357 Mag./ 38. barrel.
I just sent for your Free Book and Register for your Bond Arm Prize. But I did want too say what a great gun you have on the Market. Proud to own one.
thank you
Richard McMurtrie in Pa.
Perfect pocket gun. Could not believe how easy and fun this gun is to shoot. Very accurate.
I have the snake slayer 11 and bought the jumbo rosewood grips
it is like night and day feels so much better and more control
especially with the 410/45 long colt
so nice to carry too and feel well protected
I have never shot anyone , but if I do they will definitely be
hurting and doubt they will be in any hurry to try again,,,,
thank you for helping me out
I like this gun, only fired it 4 times. recoil is stiff, added extended
rubber grips. should help with felt recoil. haven't tried 357 barrel yet.
I recently purchased a Texas Defender 45 LC/.410 as a purse gun for my wife. The fit for her was perfect, she was able to group well with it, and felt confortable carrying it as a self defense tool.
More recentIy I went on a big boar bow hunt were I had to carry a lot of equipment (bow, lights, and film gear) to accesses my hunting area. Given that space was limited to my right leg pocket I chose to take my wifes Bond with me laoded with Wichester PDX rounds. I had been charged once before on this property and was not going to be unarmed again. In the middle of the night I shot a huge boar with my bow and after a 2 hour wait decided to track it. After tracking for several hours I ran across a second big boar at 30 yards. He bluff charged me the first time giving me just enought time to cock the hamer back. On the second charge he met the shock wave and boom of the Bond! Needles to say he wanted nothing more to do with it!!!! My wife and I thank you for designing such a great product and for the free Bond Girl shirt at the 2015 SHOT show! Attached is an image of the boar.
As beautiful as the Texas Ranger Commemorative derringer looks on your website, pictures just can't do it justice. It is an absolute work of art!! And it handles just as fantastically!!
Purchased a Snake Slayer IV last month, shot 50 rounds of 45 colt through it on Friday the 13th…could not believe how low the recoil was…was expecting a lot bigger kick, would have shot more but was all the ammo I had! Anxious to try some 410 in her. The grip to trigger configuration feels a little awkward, but with such low recoil should be able to adapt my hold. Extremely satisfied, can't wait to shoot again.
I have cleaned my new gun. But have been to busy to take it out and shoot it. I'm excited to try it out.
I have owned a Texas Defender in 45LC and do not go on any road trips without it ! I purchased the car holster along with new grips the rosewood and star. The holster is comfortable to wear for long periods of time and is great when you are carrying concealed it's like it's not even there ! There are only two derringers allowed to be sold in Maryland and Bond Arms is the one I choose great quality and a beautiful handgun . Who could ask for more ! Well worth the money, so get your own this one is mine and I'm not giving it up !!!
I only had a chance to shoot 2 bullets just to see which chamber fired first. It didn't have as much kick as i thought it would Love it so far. I carry it in my pocket while in my drive way cleaning snow. for that "just in case" time Dave B.
I've owned a Texas defender since 2013 and now a snake slayer 1V. I really love the Bond arms. My ext stag grips are awesome!!
"Hand Canon" is the perfect description, built like a tank. Workmanship is first class and shows pride in manufacturing. I ordered a Mini 45 and am not disappointed…everything works perfectly and the gun goes Bang every time. I have also ordered the 3″ 45lc/410, perfect for in the car. Two thumbs up, you can't go wrong!
Glenn, after purchasing my Snake Layer from Cabellas, my son and I took it to the range and put 30 rounds of 45 Long Colt and 20 rounds of 3″ 410 rounds through the gun at 10 yards. It took us a few rounds to get used to the recoil and just the fact that we were shooting a derringer, but we eventually were able to hit our target. And we're very impressed with the overall quality of the gun. I purchased the BA-Driving Holster and really like it. My friends just love it and you'll be getting more orders from this area. Thanks for making a quality carry gun. Ted from St. Louis.
Purchased snake slayer year ago it worked very good. Got the extra 357 mag barrel worked great. Awesome gun highly recommended!
I purchased the Snake Slayer IV 357/.38, then added the driving holster and a 3″ 9mm barrel. Having the option to change caliber allows me to make better use of the ammo I have on hand. Thought I would mostly be shooting the 9mm, but the 4.25″ .38 is so solid I am getting excellent accuracy with it. This is a really fun gun to shoot and you'll definitely get some looks at the range.
I bought my Texas Defender about 3 years ago because I travel a lot on the road and wanted some extra security. I requested your brochure because I needed a way carry it safely while driving. I ended up buying the velcro attached horizontal leather holster and it is great. Easy access to your weapon when seated and seat belted in your vehicle. Just attach it to the right or left side of your belt buckle (I attach mine to the right side because I am left handed) and you can draw and fire by only moving your arm while seated in your vehicle. Best design I have ever seen. Heck I can keep one hand on the wheel and cap an aggressor before he could know what happened. I also got the 4 round belt clip ammo holder that gives me 6 rounds to take care of business. Now it's only gun that I carry on the road for security. Next I'm getting a 4 inch barrel so I can fire 3 inch magnum 410 rounds. I don't leave home without my Bond Arms "Texas Defender". Accurate, quick reload, and easy access. I'm a 25 year military veteran with 8 combat tours and this by far one of the simplest well thought out guns I have ever fired.
I just purchased my Snake Slayer IV. I have been wanting this particular gun for some time and have been putting my pennies away and now that I have it I cannot wait to fire it. That comes next weekend when Dad and I head up to the cabin. Several of my buddies have purchased Bonds Arms handguns and cant stop bragging about theirs. I'll report back after next weekend. I feel like a kid with a new toy!
About a year ago I ran across Bond Arms on YouTube. I've been hunting for the smallest and lightest shotgun I can find for personal perfection. Ideally for snakes while out hunting or fishing. I been carrying a 38 snub nose but the accuracy wasn't there for me. That's why I started looking at these little 410. Then I learned that not only Bond Arms is American Made but better yet from right here in Texas. Had to get one. Best little gun I've bought. I'll grant you 410 coming out of a gun the size of a pack of cigarettes has a little kick. Not anything I can't handle, but I've had friends loose control of it. (it's comical) But with the high selection of ammo you can get in 410 it's turned into my everyday passenger. It's just too light to really want to carry anything else. Plus heaven forbidden I ever need it for self defense there are few things that does the damage that a shotgun does up close and personal. Thank you Bond Arms I feel safe in the field and the big cities.
love my snakeslayer 4 and the nice leather holster. very nice
Glenn, after purchasing my Snake Layer from Cabellas, my son and I took it to the range and put 30 rounds of 45 Long Colt and 20 rounds of 3″ 410 rounds through the gun at 10 yards. It took us a few rounds to get used to the recoil and just the fact that we were shooting a derringer, but we eventually were able to hit our target. And we're very impressed with the overall quality of the gun. I purchased the BA-Driving Holster and really like it. My friends just love it and you'll be getting more orders from this area. Thanks for making a quality carry gun. Ted from St. Louis.
Just want to thank you for the great customer service and a really outstanding handgun. The fit and function is superb….I purchased a Texas Defender with 3 " barrel chambered for 38SPL/.357 w/ B.A.D. driving holster and was amazed at how well these products were made. This little holster is one of the most comfortable I own. I then ordered the 3.5 " barrel chambered for 45Colt/410 and a set of Pearlite extended grips and love this transformation. Best part was that the grips came in on my birthday and timing couldn't have been better. I've shot about 20 rounds of each caliber thru it and must say that recoil is no problem at all. This is now my everyday carry. Thank you all at Bond Arms for such a well made weapon. A true work of art!!!
Vic Rivera
Retired Army
Army Contractor (current)
Fort Gordon, Ga.
Love my new SnakeSlayer. Right size, right weight, well-built. And what a 410 slug or buckshot does to a piece of 1/2 inch pressboard is really impressive. My wife even likes shooting it.
OK. Here goes, I removed my new Band Arms 45LC Mini from the box, loaded it and fired it at paper plate from about 6 feet. The first round struck just off from the plate high and left. I re-cocked and took aim again. This time taking into consideration the strike of my first round. I struck the plate just a little left and above center. During the next set of two rounds, I was quite pleased with my ability to group rounds very near or in the center of my target. I now carry the little goomer everywhere I go. Yes I have a CPL. It is a great little backup gun. I am looking forward to owning several different configurations of Bond Arm products.
ran an assortment 410 and 45lc through my new texas defender recently, great results, will buy another. thanks,leo
I have I few cc pieces that work wonderfully when I dress around them. Which means the way I carry (outside the waist band) means an extra shirt which gets pretty warm from time to time. I tried to pocket carry my j frame but even with a pocket holster prints and you know have something more than keys in my pocket. So I picked up a Texas Defender and it works perfectly. Slip it into my front pocket and no one can tell due to the slim size and no bulge of a cylinder and an added plus it is chambered in .357 so no need to break into a new caliber yet.
This grip makes a great difference for people with large hands. It helps when using 358 ammo. The fit to the gun is right on Didn't have to do anything only remove one grip and put the other on. Very happy with grip and service.
What a beautiful hand gun that just emits a quality that everyone recognizes the moment they hold it. In shooting, it is definitely not a pea shooter, but a barker with a bite.
I recently purchased a Bond Arms Texas Defender with 3″ 38 spl/.357Mag with B.A.D. Holster and this has become one of my favorite handguns. Having a Taurus Judge I ordered the 3.5 inch 45LC/410 shotgun load. Having the ability to change barrels and ability to shoot various calibers has made me a Bond Arms fan. Am patiently awaiting the extended Pearlite grips that were ordered in December. This has now become my everyday carry. Small, powerful, wellbuilt, easy to conceal and carry. Thank you Bond Arms for an excellant product!!
This is the first derringer I've ever owned. Wanted a weapon that would accommodate the .410 shot shell. Researched the internet. Settled on Bond Arms. Called the factory. All my questions were answered and then some. Chose the Texas Defender with Trigger Guard. Made a mistake by ordering from a BIG BOX sporting goods store. Item was shipped wrong. I didn't check it completely when I took it out of the store. When I tried to return it they refused. They told me that I might have took it out of the store and shot someone. I thought I was done. Called Bond Arms again. They explained that this sometimes happens with BIG BOX stores because most of their items come from other distributors instead of BOND ARMS. BOND ARMS offered to help me any way they could. After several days of phone calls, Emails, and hassles The BIG BOX store came through with a refund. I re-ordered through my local FFL dealer direct to BOND ARMS. Item was received correctly within two days. Small fee was charged by dealer which was no problem. Highly satisfied with everything BOND ARMS did for me. It is the best manufactured weapon in it's class. I would recommend this weapon above all the rest in it's class. BOND ARMS cannot be beat for manufacturing and customer service. Try not to make the mistake that I did on my first order. When you order your new BOND ARMS DERRINGER, I hope you enjoy it as much as I do. Thanks.
I purchased a sticky holster for my Bond Arms Cowboy Defender, and I love it.
Great small carry gun fun to shoot wish could the barrels ,might have to buy snake slayer to add to my collection highly recommend these great guns
Just returned from my first range trip with my new Snake Slayer IV. I ordered a 22 LR 3″ to get used to the trigger and feel of the gun at my first shoot. Ran about 50 rounds of 22 LR through and it was a blast. I then changed to the 410/45 LC. It was a pleasant surprise after reading and watching videos about how much recoil it has that there was no more kick than my 45 auto. I shot 20 Federal 000 buck 2-1/2″ and ten 45 LC and I had the trigger guard on and had no problem pulling the trigger. Thanks Bond Arms for my new MOST FAVORITE GUN. Would like to see you make a video on proper cleaning and oil locations for you guns.
At first I thought it be a bit of a handful,but after about 10 rounds it was fine .
Gonna be perfect for my intended use
Finally had a chance to fire my Christmas present – wow! Here are some thoughts….
First of all, this thing is a work of art in stainless steel. The craftsmanship and engineering, put simply, are outstanding. I also bought an additional 9mm barrel when the 50 percent off sale was underway, and a Bond mini holster. Again, both are extremely high quality – the holster is beautiful, and darn functional.
Now to the range – first, I fired 10 Hornady .45 Colt 185s – hand cannon is right! The power was flat out fun to experience. The recoil was certainly manageable, and really pretty comfortable. I switched to the 9mm barrel – which took all of 30 seconds – and fired 100 rounds through it…… flawlessly.
I am not the best shot on the planet, but from 5 and 7 yards and after settling in a little I did as well with my new mini as I do with my Ruger LCP and Kahr 9mm. This little gun quickly became one of my carry options.
Nicely done Bond Arms. It is great to see a homegrown product line that lives up to and exceeds expectations. I am a fan – and will keep firing Bond in the future. Thanks!
Built so ruggedly with such a satisfying feel in the hand that if Granbury, Texas wasn't stamped on the barrel, I'd have sworn it was made in Maine.
Great gun very accurate and very
Easy to shoot. I have an lbw holsters and my hand cannon is
Very comfortable. Still waiting for
My 38 357 barrel. I thoughlly love
My 410 45 4.5 inch barrel and wish the 38 357 came in a 4.5.
I purchased this holster to keep my Snake Slayer secure between the seats of the truck while driving. It works great for that purpose. It also allows me to take the gun with me when I leave the truck by placing the whole unit in my waistband.
Received the great looking jumbo grip, and installed it. Would have liked to received brief instructions with it. The fit was so good, that I had trouble seeing how too take off the original and install the new. Big improvement for my hand. Had issues with the rather sharp corners of the trigger guard and my knuckles with the stock grip. The jumbo grip took care of the issue. Feels great in my palm, but think a little too smooth, may need some checkering to help control the kick.
If you can't hit what your shooting at at with a 410 or 45 colt long you shouldn't carry a gun I love it and it goes with me were ever I go especially the city.
I have big hands so wasn't sure what to expect from a derringer. I purchased the Snake Slayer and was surprised at how good it felt in my hand. I shot both 410 and 45 and the gun performed well and was very controllable. One-handed, I shot a little high, two-handed I was right on target with the 45. Trigger pull was a bit stiff, but I got used to it quickly. They say dynamite comes in small packages and this gun is dynamite. Also purchased a driving holster which is very well made and makes one forget they're carrying a gun.
You don't even know you have it on I where it all the time.
Ordered my boyfriend parts off amazon for his 22 shot gun.
the shipping was quick, and the parts were exactly as I expected.
thank you so much!
-Jessica
It is well known that Bond Arms derringers are the best derringers made, and that the craftsmanship is top notch on their products. What many may not know is that their customer service is also top notch. If you are lucky enough to get Kelly Kelley as your customer service rep, you will be very happy. Great products and great service.
What can I say other than I am really very happy with my Snakeslayer. It's built to last a life time. And it's hard to believe how well it shoots.
On the Bad ASS scale of 1 to 10 It's a solid 12
I took my Bond Arms USA Defender out for the first time last weekend.
Shot regular 410 shells out of it.
Recoil was not as bad as expected. Easy to control.
But wear ear protection. It was loud.
I recently Bought a USA Defender and took advantage of the 1/2 price barrel deal. The USA Defender was sweet right from the start, I loved it and everything I read and saw about Bond Arms. However, the true test of a company is how it does when things go wrong. When I test fired it with the 2nd barrel, it locked up repeatedly and quite honestly shook my faith a little. Then I talked to Bob in customer service who worked with me, quickly took the piece back, had it repaired and then next day aired it back to me. I just test fired it and it is sweet again just as before. Bond Arms stood behind their product and took care of business. (I'm thinking no one with a brain would stand in front of a Bond!) Your guns sell themselves but your customers sell you. I will talk you up whenever I get a chance, in fact a buddy just bought a Ranger II after seeing and talking about mine. God Bless America.
Tony C.
YES I WENT TO A IN DOOR RANGE TO FIRE MY NEW BROWN BEAR, HAND CANNON. IT WAS A HOOT TO FIRE, LOTS OF FUN TO USE, I WANT TO THANK YOU FOR GETTING IT TO CALIFORNIA, I HAVE WAITED A LONG TIME TO OWN A BOND. AGAIN THANK YOU
I am the proud owner of a Brown Bear (California) in 45 Colt. During the un-boxing, I was very pleased with the high quality of the firearm as well as the attention to detail in the manufacture of the firearm.
I've been to the range several times and have worked my way up from lighter cowboy action loads to standard defensive rounds in 45 Colt. The recoil have been very manageable. For practice and fun, the lighter loads will work just fine.
For defensive purposes (close in), this is a great point and shoot gun. I did have to work on sighting at 15 yards in order to pass CCW requirements.
The Brown Bear also came with a "BAD" holster which I must admit is growing on me.
By design, this firearm is simple to operate and very reliable. I would definitely recommend this gun as it will fill a niche in many collections. Oh, and it looks cool.
I've just been able to shoot my Bond Mini twice due to winter weather. Great little pistol. Recoil was less than expected.
I'm left-handed, so I also ordered a LH conversion for the barrel release. This should be easier to operate safely.
So far I own a Bond Arms Mini (.45), .357/.38 barrel, oversize rubber grips, Mini holster, .45/.410 barrel, nylon holster, and a driving holster. Not sure what's next. As I've said before, your courtesy matches your quality, which is outstanding!!! Maybe a .22 long rifle.
I purchased the Snake Slayer IV along with the 2.5″ .45 ACP extra barrel. Either set-up, 4.25″ barrel, .410 ga. or the .45 ACP barrel is without question the most fun you can have with a weapon of this type. Everyone wants to shoot it and all commend the craftsmanship and design. When I tell them there are even more barrel options available that will fit the same frame, you can see the gears turning in their brain.
Either barrel and ammo combination has no more recoil or "kick" than my 1911 .45 or either magnum pistol and lever rifle I currently use.
The Snake Slayer does seem much louder, but I haven't fired it with a decibel meter at hand. Regardless, it is extremely well made and great fun to shoot. You don't need to think twice about buying a Bond Arms derringer, just do it.
One thing you guys do need to make is a sew on patch. I know I'll buy 'em.
Thanks for designing a great weapon.
Just bought the Bond Defender, 45LC from academy a couple of weeks ago. Finally got it the range today and the Bond Defender exceeded my expectations! The recoil was very manageable, and the accuracy was dead on. Feels like it is an extension of my hand!
This has to be the very best Derringer that I have ever had the pleasure of shooting and owning and it won't be the last one.
I have a three inch barrel for the 2 1/2″ 410 / 45 Long colt, 38 / 357caliber 3 inch barrel and a 4 1/4″ barrel for 3″ 410 / 45 Long colt.
You really can change these barrels in 30 seconds or less, absolutely wonderful.
The driving holster has allowed me to Carry this "Hand Cannon" comfortably concealed every day.
I got my new barrel and I shot about 30 rounds of 357 and 38 out of my new barrel;I really like this barrel.I was shooting about 15yds I could not believe how accurate it was.
hi guys, just wanted to drop you a note about my snake Slayer that I recently purchased. Went to the range couple days ago and got to shoot for the first time and it is absolutely awesome. I really was worried that it would have a very strong kickback, however it is extremely easy to shoot and so much fun! You guys have done an absolutely incredible job on this weapon I love it it's easy to carry and so much fun Thanks for absolutely phenomenal product!
Russ Mann
Would like to thank you for producing such a well made and powerful "Hand Cannon". I purchased the Texas Defender in a 3″ 38 SP/.357 Mag with B.A.D Holster. Have enjoyed that combo. Had to order the 410/45 colt in 3.5″ as I own a Taurus Judge and like that round for home defense. What I really like about your product is the the combination of barrels and calibers available, and the ease and fit of changing barrels. Thank you again for a very well made product. (my everyday companion)
I just purchase the gun magnet that was on your web site. I have never seen any thing like it before. I have mounted it underneath a lamp stand next to my easy chair. out of sight and very handy to reach in case I need it. my wife like it too. easy for her also.
I will be purchasing I few more for my home.
the price is a little high, but that is okay.
keep up the good work on your products.
Couldn't wait to try out this incredible firearm. At the first opportunity to fire it, I loaded two 3 inch Winchester PDX1 Defender shells. I wanted to discover how manageable the recoil would be with a hot load. I have to say in all honesty, the kick was intense, but this thing is so powerful that it is addictive. The ground shakes. I LOVE this gun! I used to typically carry a .357 magnum and 9mm, but I now carry my Snake Slayer IV everywhere. While I now shoot 2 1/2 inch #6 shot for fun, I carry with the PDX1 Defenders loaded and a couple of 3″ 000 buckshot spares. BTW, the DeSantis stealth IWB holster works great, and I can carry extra shells in the magazine holder. Can carry virtually unnoticeable even with a tee shirt and shorts. Very happy with this gun and it is built as everyone says, "like a tank". And built in the USA. Thank you for making such a great product Gordon. John D.
I just shot my gun the 410 kicks like a mule and the 45 is a nice round but the 410 is my carry round, The wife also shot both rounds and like the gun, the gun just looks Bad Ass! very well made easy to carry,Nice Job .I also ordered the 357 barrel cant wait to shoot that one!
This is the best for what I want to use the weapon for,protection while driving across the country. I have range and target guns so pin point accuracy is not that important. It also is not a gun for extended range use as you Will notice bit of recoil,however accepable, and when I get my second barrel I will shoot more for the fun of it. All and all you can't go wrong this thing will surely be used by my greatgrandchildren.
It's been several months since I purchased my Bond Arms "Texas Defender" and I couldn't be more satisfied. It is better than I expected it to be.
It came with a 3″ 410/45 Colt barrel and I have since purchased at 3.5″ 357 Magnum/38 SP barrel. I have fired several different loads of each caliber of ammo appropriate to the different barrels with 100% success; it worked the first time, everytime.
With a little practice, it was easy to get proficient with this gun up to 7 yards and with some ammo even further.
If you look beyond the excellent quality of design and workmanship, you will see a "KOOL" factor that is unlike most other guns out there. I have owned and shot firearms for more than fifty years and when it comes to quality and shooting enjoyment, this is as good as it gets. Yancy Derringer, where are you?
My sister and myself run a handmade jewelry booth at a local flea market. It is a cubical with an walkway between us and the booth on the other side. I wanted something to defend us, but not harm customers walking the walkway. The 410 with no# 4 shot, not buckshot, is just what the doctor ordered. At about 2 yards, the pattern is about 18 inches, just wide enough for one person. It is plenty to correct a bad attitude, but not enough to wipe out the neighbors.
The recoil is stiff, but not serious, and I am sure in a panic moment unnoticeable, as is the recoil on a rifle when you are shooting at the trophy Buck you have been waiting a lifetime to see.
I am happy with my choice of firearm for the situation, and have no problem recommending it to others.
After 3 weeks of have my Snake Slayer 3″ and Snake Slayer IV I finally got to shoot them this past weekend . The 4 is mine so I took that, shot a whole bunch of loads out of it, 45colt, WInchester .410- 3″ #6 shot WInchester PDX1 in both .45 and .410 ….. All I can Say is " HOLY CRAP " !!!! Shot the .45 Colt at 3 yds, 7 yds, and 15 yds and all shots were in the black on a 50 foot size target … I am VERY IMPRESSED and cant wait for my .9mm barrel and Jumbo Rosewood grips to come will be carrying this Hand Cannon for CCW with the 9mm barrel I highly recommend Bond Arms to anybody looking for a high quality firearm
I just finished engraving a Mini Girl with Roses and set with a few Pink Sapphires. Hoping some girl wants it at the Firearms Engraving Show in Las Vegas. Such a fun little gun!
Great gun! Well made and a perfect surprise for a carjacker. I suggest u fire it a few times to get use to the recoil but not as bad as u may think. Very easy to hide by your side in the car.
I was excited to fire my Ranger II. Did not know what to expect. The second round I was more comfortable. Once I was comfortable with the trigger pull, which is tighter than I am used to, it was fun to shoot. Cannot wait to receive my other barrel and fire that one. I know it will be just as enjoyable to fire the 410 barrel as it is firing the 357 barrel.
Love the gun !
I've had my Ranger II for about a month, and I do absolutely love it. The fit and finish of the gun is just about perfect. The look of the stainless steel combined with the black ash star grip and the black BAD driving/concealed holster are second to none. The little bugger will also certainly do some damage to whatever you shoot at when paired with .410 000 Buck. I'm not gonna lie… it does have quite some kick to it. But, if I ever need it to help me out of a bad situation, I don't think I'll even feel it. I now have a 3″ .45ACP barrel on the way, and I can't wait. Thanks, Bond Arms, for one of my new prized possessions!
This firearm is all it is cracked up to be. It a great investment and fun to shoot.
I recently ordered a BAD Holster from you and I just want to thank you for such a fast delivery, and also for such a fine quality holster. Fits like a glove, and made to last. Thank you Bond for your fine products and your service.
As I know, automatic handguns have come a long way. But I'm still not convinced on their reliability. That's why I'm stuck on revolvers. But even revolvers have a drawback…they're heavy and bulky for the most part. So I decided I wanted something lighter, reliable, and more concealable. The Bond Arms Texas Defender .45/.410 matched all my needs. You only have 2 shots, but with a couple buckshot rounds 2 shots is all you need. At 10 feet I had a tight group with both barrels with a .45 Long Colt. For such a short barrel, I was pretty accurate for up to 20 feet. It has a great grip even with the punch of a .45 Long Colt. I recommend this gun. Very solid, well made, and durable. 2 thumbs up!
Bought a Snake Slayer IV plus a 3″ .357/.38s barrel. Haven't fired it yet 'cause it's COLD here in PA. I am excited at the prospect tho. In my opinion this has to be the safest firearm I have ever handled!! I have been using firearms since I was 10 yrs old (now 71) and can see no way to injure someone or oneself "accidentally" with the Bond Arms derringer. I am exstatic just to hold this piece of quality craftsmanship much less own it!! I am now in the problematic condition of having two barrels and only one frame. I guess I'll have to buy another BADerringer!!
I have been packin for 40 plus years and have carried the best. There something about my new Bond Arms that just feels right. I don't go looking for trouble and have never had to fire a shot in self defense. This weapon gives me the confidence to be able to protect my personal space without excessive fire power. Good job!
I put about 20 rounds of .45 Colt through my Big Bear last weekend. This gun had less recoil than my Uberti Cattleman. I love the way the gun fills my hand. From the first time I saw the Bond line of Derringers, I have craved one. Unfortunately I live in California where these were not "approved". I love that Bond Arms did what it took to get these guns to us. I'm very happy with my new Big Bear.
I recently purchased a 38special / 357 mag barrel for my snake slayer. Not only was it very easy to switch out the barrel, it was a pleasure to shoot. I tried both 38 special and 357 loads. I was surprised at how little recoil I felt, and even more surprised how accurate the 3 1/2″barrel was. I take off my hat and bow to Bond Arms for making such a great product. Thanks Bond Arms.
Just fired my Brown Bear yesterday for the first time! What an outstanding weapon! Once you get your grip adjusted, and realize that the front sight needs to ride real low in the rear sight, this pistol is VERY deadly. Two back-to-back head shots at 7 yards on a black silhouette target.
So this mean machine isn't just a "belly gun!" The craftsmanship of this piece is second to NONE!
Many thanks Bond Arms… I didn't want to leave the range!
Just shot it twice, but just had to here her shoot. Lots of noise but the recoil isn't bad at all. Can't wait for some warm weather to shoot some more.Wisconsin is a little cold right now.
Enjoyed shooting my new toy. Shoot both 410 and 45 caliber. The gun has a nice feel and very impressed with it quality.
I recently purchased a Texas Defender. This is the highest quality handgun that I have ever had the pleasure of handling in my 67 years. The fit and finish couldn't be better in my estimation. I ordered another barrel from my dealer when I picked the gun up as I live in NJ and couldn't order it from Bond directly. Today I ordered the wallet type holster from Bond Arms directly and can't wait to receive it. I plan on ordering the imitation ivory grips in the near future once I save a little $$$. Thank you very much for such a grand product!
Love my Texas defender in 38/
357. Great shooting gun and very well build.
As a long time shooter,hobbyist and gunsmith I finally was able to get my hands on a new Ranger 2 (Canada) and well… let me tell you it is a winner .You can feel the craftsmanship and quality as soon as you hold it in your hands.This gun is a great shooter handling all sorts of .410 and 45 colt loads that I could feed it and it never missed a beat .The holster ,the grips the whole package is down rite awesome .Perfect package for carrying around the back forty acres.Definately wont be my last Bond Arms purchase.Keep up the good work and keep them hand cannons coming.
Very good handling, no problems what so ever with 3″ 410 load. Shoots just as easy as my Taurus Public Defender. Smooth as butter with substantially lest bulk and weight. Great product, will definitely be a repeat customer.
I have nerve damage to right hand which makes depressing safety button with left a little difficult. Any chance of an ambidextrous open and safety in the future?
Love my Texas defender in 38/
357. Great shooting gun and very well build. I am sill looking for my brochure, it's been over a month.
Yes I have fired this handgun 26/30 times with reloads ,, 200grn lead hollow points using 13.5 grns of weighed Blue Dot,, did not chronograph them but accuracy was surprising,, was able to keep them in a 10 inch circle from 15 yds , fired 2 2.5 in. Rem shot shells , shot gallon milk jug from 15 feet ,, recoil was just a little uncomfortable , could have ended threat from a Cotton mouth tho , plan to use IMR Trail Boss powder when it is available for future reloading , I can already tell that this will be a companion while making short trips locally .. Have ordered one of your 4.25 in barrels in .45 LC only ,, and expect accuracy to improve over the 3.5 in. dual chambered barrel , plan on shooting this enough to get used to it . May need to purchase the jumbo Rose wood grip to help with the shot shell recoil if the rubber ones do not tame enough .. Thank you att ::: Bob
I submitted my testimony over a month ago but you never posted it. It included a picture of a target with a one hole tow shot group at more than ten yards. still waiting to see it.
The Stag Antler grips with my new media blasted barrel are outstanding. Went for the contrasting look. I like it so thats all that matters.
Went out and finally had a chance to shoot. Well I am amazed kicks like a mule but the damage down range was great. It's nice to carry a double barrel shotgun on my hip.
Just received my new Texas defender 45 caliber.Went out to shoot it with a couple of friends. Even though we had a variety of other guns to use, we wound up shooting 4 boxes of ammo, 45's & 410's between us. The gun was a big hit and everyone enjoyed firing it. Kudos to Bond arms!
I have owned a davis derringer, American and a Bond derringer and the Bond is by far a much better derringer.
I received my USA Defender for Christmas and could not be happier, Bond Arms Quality and Service is unsurpassed.
This very nice CC hand gun exceeded my expectations.
The quality and fit of the holster matched the gun perfectly.
I already ordered a 3.5 inch 357/38spl barrel and matching Buck knife and look forward to firing both barrels at the range.
Thank You Bond Arms for a great experience.
Much nicer now; worth it.
My Texas defender shot really well recoil wasn't bad feels good when firing fits the hand really well a well built gun
I have owned a Snake Slayer IV for several years and it is one of my favorite guns to shoot at the range and is one of two that I use for concealed carry. The quality and workmanship of these guns is unsurpassed. My friends always ooh and aah the first time they see it. I've also ordered barrels and holsters from Bond Arms and have found their customer service to be equal in quality to their handguns.
Merry Christmas Bond Arms Folks,
Thanks to you for making these firearms. My new CCW Snake Slayer IV. HAPPY NEW YEAR.
I have the century 2000 derringer and love shooting the 410 it has a kick but I am use to it because I also shoot a 44mag revolver. I also carry concealed I have permit to carry. I use a bond bad-driving holster fantastic gun and holster.
I finally took my Texas Defender to the range with the additional .357 barrel I bought from Bond Arms. I fired 410, 45 LC and 38 cal out of it. It was flawless. I liked the 410 the best. It tore some pretty significant holes in the target I was using. I would recommend this side arm to anyone!
THE BOD DERRINGER IS AN EYE OPENER FOR ANYONE SEEING IT FOR THE FIRST TIME, ESPECIALLY WHEN YOU SEE THE DIAMETER OF THE BARREL OPENING. I CARRY ON INSIDE MY TACTICAL VEST AND KNOW THAT ITS ALWAYS THERE IF I NEED IT AND THAT I CAN HIT A TARGET UP TO 50 FEET AWAY
SGT. DALE ALLEN
I live in California and am old enough to remember the other makes of derringers available at the time and now after picking up my CA Brown Bear derringer from Bond Arms I know that there is no comparison. I was amazed at the improvements over the American Derringer (which I would consider a far second place). Looks and feel alone. The trigger guard looks like it should be there and not an afterthought. The safety works like it should and does not rely upon a spring to deactivate. The barrel release is positive and almost automatic as it lifts up the barrels after firing. The extractor as well automatically presents the shells for removal. No digging or knife use required. I now have a new collection goal and that is to purchase every gun Bond Arms makes available to California residents.
Fired my pistol using American Eagle 45 Colt 225 Grain soft point,
Federal Premium 410 2 1/2in 4 shot 950fps, and Winchester PDX1 410 Defender 3in. 750fps. Overall performed well, good feel for me, good accuracy at 15ft (5 meters), even though the C2K can take a 3in .410 I found that teh PDX1 was a bit much and could feel each shot, needed a glove for those. I prefer the 2 1/2in no vibration, good shot pattern, the .45 Colt ammo was good little drop at the 15ft, slight drop at 20ft, at 10ft on target. Had a lot of fun with it, others at the outdoor range thought it was a larger pistol (very noisy).
I just received my extended pearl grips and my bad-driving holster (black). the grips fit tight with no open seams. an excellent made grip. the holster is well made the black is real sharp.
I now strongly suspect that "My Gun" is nicely wrapped under the Christmas tree. Until now, it was just a suspicion, but now, with
your E-mail, I am more sure than ever. Normally, I would be upset at knowing my present ahead of time, but now, I can't wait until Christmas morning to open up my "SURPRISE"….
What an outstanding piece of stainless steel, Thank You Bond Arms and Merry Christmas to you and yours. Terry
I got my Bond Arms Backup in 45lc two weeks ago and I can honestly say this is one of the neatest, coolest guns I own…and I own a few!!! It takes a few draws from the holster to get a feel for it because it is so different from traditional handguns. Once you get that "feel", it draws very smoothly. Shooting a small handgun like this in 45lc was intimidating but the recoil was minimal and it was fun!! I did get the extended grip which was also nice. Buy one!
I took my wife shopping for a CCW gun and we looked at a wide variety of pistols. We quickly realized that she doesn't have the hand strength to operate a semi-auto so we were looking for other options. We ended up getting her a Snake Slayer 3.5 because she doesn't have to run a slide to load the gun. She LOVES it! The option of loading .410 shells or .45 Colt is great. She is thrilled that with PDX ammo she can fire one shot and send multiple projectiles downrange. She couldn't be happier. Bond SS3.5 is going to be her EDC and I feel comfortable that she has the best tool to protect herself. Thank you Bond Arms!
My cowboy defender and holster I just got there both extremely well-made couldn't be happier thank you
I bought a Backup from a local dealer. After I placed an order for the 50% of barrel deal I got a call from Bond Arms asking if I was aware the Backup I had was a California Compliant which I did not I just thought it was the model that you could change the barrel. I live in New York and would like to be able to use other calibers. Thanks to Bonds great service and attention to detail I was able to avoid a mistake. They even sent a pickup for the model I had and replaced it with the correct model at no charge to me. Now in this day and age if that dose not speak for itself I don't know what dose. Over the top service, Thank very much.
At night when I'm snug in my bed I can afford to dream of sugar plums dancing in my head!! Why?? Because I've got my BOND RANGER with self defence 410 ready under my bed. Great product to put you and yours at peace and confedent when your at rest. JERSEY JACK
Wow…what a fine piece of machinery, with some kick, Now my friends want one. Thoes 410 shells are scary cool to shoot, wouldn't want to be on the receiver side of that buckshot…. Merry Christmas to me, and Merry Christmas to you people at Bond Arms.
Great little pistol and what a joy to shoot! The rubber grips help keeping the snap manageable and the grip firm. I find myself carrying it as my CC choice when I don't have the option to go with something larger.
Took the California approved Big Bear to the range. I was pleasantly surprised with how well it handled the 200 grain 45 colt cartridge with a very manageable recoil. The Big Bear is accurate at self defense distances (5 yards and less) with no problem putting both rounds in either center mass or head areas. I have waited a long time for Bond Arms to come to California. It was worth the wait.
Hello,
I recently got a New Bond Arms Backup 45ACP Hand Gun. This isn't my first Bond Arms Hand Gun,, I purchased a Snake Slayer about four or five years ago after seeing an ad in the Blue Press. I ALWAYS loved the look and style of the old Remmington Derringers but had never owned one. The first time I saw and held the Snake Slayer, I had to have one!! So I bought it. Needless to say the gun was AWSOME!! It was built like a tank, looked fantasic and was a BLAST to shoot!! Fast forward to 2014,,, Bond Arms comes out with the New Backup. When I saw the first pictures of this little beauty, it was love at first sight again!! Besides its great looks, it also had Bond Arms new hammer and trigger design, which my old Snake Slayer didn't have. After seeing and holding a Backup at Cabala's I ended up trading my old Snake Slayer (they gave me a very decent trade in value on it) for the Backup. Do I miss my Snake Slayer?? Yes and no.. The Snake Slayer was, and is a BEAUTIFUL, well made gun and mine worked and shot flawlessly, but as much as I loved the Snake Slayer, the look of the Backup with its two tone finish just blew me away, plus the new hammer and trigger design is definately a big inprovement over the older design. Shooting the Backup is a Blast just as my Snake Slayer was,, but shooting the Backup is much easier because of the new hammer/trigger design. The gun is DEFINATELY easier to cock and the trigger pull is a HUGE improvement over the older style. Best of all I can still put my 3″ barrel on the gun and shoot my .410 and 45 colt rounds out of the Backup. I also put on my set of Bond Arms Rosewood grips which took an already amazing looking gun and made it even better!! Long story short… If you're thinking about getting a Bond Arms Hand Gun just pick out the model you like and get it!!! You WILL NOT be disappointed!!!
TODAY WAS THE FIRST CHANCE I HAD TO FIRE MY SNAKE SLAYER IV, VERY IMPRESSIVE, WELL MADE AND A GREAT CARRY GUN.
i put about 20 38special rounds through my new bond arms derringer today in a short indoor range session. i also shot new-to-me/used s&w 38spec airweight snubbie and ruger bearcat 22lr. i have a 410/45lc barrel too but today's range forbids shotgun shells, so that test will come later outdoors. the bond in 38spec is a dream to shoot, as fun and easy as the bearcat, but more oomph of course, and totally rock-solid. i really like it. by contrast i did not enjoy the s&w airweight. today's fun makes me eager to practice more with the bond, and not with the s&w. i thought once i had a misfire but when loading it the rounds fell out before i snapped the chamber shut. i will have to practice a loading technique safely. minimum distance at this range is 21 feet, i would have preferred to shoot at 5-10 feet to judge realistic self defense accuracy, will do later. the b.a.d. holster is well made and comfy but not fully concealed on me. i may try a strong side inside the waist holster next. if you are on the fence about getting a bond, worried about its two round count and relatively high cost, please do yourself a favor, save up and jump at it. i am very happy that i did. the bond is both a shooter and a future heirloom. i look forward to trying out the 410 outdoors soon, since loaded with buckshot i will have six shells instead of two, even one more than a snubbie.
It didn't take me long before I took it out on the rang and shot it a couple of times. I also carry a 1911-45 commander and the Ranger does not any more reqoil then it. I really enjoy carring it as my primary CC for its impact with the 410 multiple choice shells and the 45 colt.
I just recently purchased a Snake Slayer IV and I have to say that it is absolutely amazing. The size, weight, quality, appearance, and every other aspect of this firearm is just perfect. I was a little nervous of shooting it at first as I have read reviews where people say these can be painful to shoot. However, these people must have never fired one, much less owned one as I found it very pleasant and a ton of fun to shoot even with the 3 inch 000 Buck .410 shells I was shooting. I now carry this gun every time I drive with the Bond Arms driving holster I purchased which is also awesome. I also carry this gun when fishing and out and about in the yard to Ward off the snakes. This is just an amazing firearm and I would recommend it for anyone. Bond Arms may just be my new favorite firearms manufacturer.
These grips are truly a work of art! The are very well made and fit like a glove on my Ranger2.
I know for sure I will order at least another pair in the near future.
I just bought this a few weeks ago and just got to use it at the range. Oh my, this shot great and was right on the money at 5 and 15yrds. The 357mag barrel was great. I also have the 9mm, again right on the money!! Great job!!
I took my Snake Slayer to one of our local indoor ranges and fired it for the first time and was surprised at it's excellent accuracy. The recoil was much lower than I expected. Truly a powerful package. I plan on purchasing one of the BAD holsters for carry. Totally pleased with this firearm.
I shot various 410s and 45s through my new Ranger…wow!
45's: I had some old cowboy loads, and patterns were ok at 11 yards. However, the Winchester self defense loads shot much tighter. Funny, the kick really wasn't that bad.
410's: Shot various stuff, but the Winchester PDX are really impressive. The 3 disks stay very tight at 11 yards. I like them the best, but they do kick. But, if you want power, you get kick.
My Ranger seems to like Winchester. However, I didn't try Feds yet, another favorite brand.
I just ordered a 9mm barrel and really look forward to see how that one shoots! I will definitely put Feds through that barrel and see how it goes.
Esthetically, the Ranger II is a work of art. I can't put the thing down. The feel is just incredible.
I'm now going to save up for my 22 long barrel next!
Chris
.45 Colt in a 3 inch barrel is surprisingly controllable. I find the grip-to-trigger juxtaposition a bit awkward compared to more traditional handguns but that is the essence of a derringer and I'm having a great time acclimating to it.
I have fired the weapon a couple of times and am very impressed. Might need to buy another one just because. The only bad thing was when changing barrels the hinge pin got stuck and broke off, and I didn't help matters by trying to get it out on my own and just broke the pin even more. However I spoke with "Joe" at your store and he was great and sent me return shippingng label so I could get it repaired the correct way. Great customer service and I have given several friends a brochure so they can purchase their own. Again great weapon and customer service
My wife bought me the Back up model for my birthday. I had mentioned I wanted a pistol to slip in my pocket during the summer. Never had seen one before and not being a big fan of Derringer style guns I was a little skeptical. She got me the .45 acp with a 2.5 barrel and I must say after firing this "pocket cannon" at the range I was pleasantly surprised. It has been EDC ever since. I want to get a BAD holster for it now so that I can carry it during the winter too. Thanks to the guys at Bond Arms for working with my wife and making this easy for her!
I always wanted a deringer but was not liking what was out there due to being unsafe for the most part. Then when I was searching for one I ran accross the Bond Arms web site. I took a look see and started to compare other brands with Bond Arms products. Over all I think Bond Arms went the extra mile to produce a product that fits the needs and wants of a person looking for a deringer. You can't go wrong with Bond Arms and their customer service is the best to work with. When I bought mine in November 2014 and it came with the 3.0″ 38SPL/357MAG barrel but didn't shot it because I was awaiting the 4.25″ barrel of the same caliber to come in. When I swaped the barrels out and it was simple and fired it. Love the perfomance of it and couldn't ask for a better firearm in a small size. Also if you want to up/down grade to other calibers doesn't require a FFL dealer or a gun smith and their best thing is the load of accesseries that will fit your needs that others don't offer.
Finally fired my ranger 2 for the first time. shot both 410 an 45 wow what a punch love it. my son and i both fired off about 10m rds of each and we were both very impressed. I have ordered a 353/38 barrell waiting to get it. i am telling all my friends about this gun how well its made and the reliability. Just LOVE IT thanks Gordon for a great product.
I have wanted to own a Bond Arms Derringer since the first time I saw their ad in the Blue Press about 10 years ago. I wanted a derringer that could be used for SASS cowboy competitions and also serve as a back up CCW firearm. It could also be used while camping/fishing as a snake gun or protection gun. Unfortunately, I live in CA and they were not on the approved gun list. I was thrilled when the announcement came that a CA legal 45LC was available. I ordered it immediately and picked it up in mid November. The derringer is very well made and it has excellent safety features. The fit and finish are outstanding. I initially fired it using cowboy 45LC loads. Recoil is not severe with these loads and the gun shot well using the iron sights. I did not shoot past 7 yards since this gun is intended for close quarters. I did not have any trouble hitting center of mass at 7 yards or less. I then tried a Hornady Critical Defense 45LC with 185 grain FTX bullet at 900 fps. The recoil was heavier than a cowboy load but still manageable. The noise level is much greater than a cowboy load and would probably scare off an attacker whether or not the round hit the target. This is a great gun and can be carried safely in unconventional ways. Using a good quality hollow point bullet at moderate velocities, it is a potent defensive weapon. Versatile and fun to shoot. The only problem now is that I will probably need to buy a Brown Bear model also. Great job Bond Arms.
REPLACED MY SUPER COMMANCHE WITH THE TEXAS DEFENDER AND LOVE IT. I BELEIVE THE ACCURACY TO BE THE SAME OR BETTER AND WITH THE SIZE AND FUNCTIONALITY IS BEYOND COMPARISON. SAVING UP FOR THE EXTENDED GRIPS AND DRIVING HOLSTER. THANKS FOR A GREAT PRODUCT.
Bought a Snake Slayer .410/.45LC awhile back and ordered a .45 ACP barrel. Went to the range recently and fired 25 rounds of .410 000 buck, 25 rounds of .45 LC, then changed barrels and fired another 20 rounds of .45 ACP all from 7 yards at a silhouette target. Rounds were right where I wanted them and totally destroyed the head and upper chest area of the target. This is not a weapon that I'd want to be on the receiving side of as it is extremely effective. It handled well and the grip on the weapon was perfect. Recoil wasn't as bad as I had thought it would be. I highly recommend the Snake Slayer as a personal defense weapon.
This one of best if not the best pocket cannon that I have ever owned,my wife bought it for me as a gift to replace the one that was stolen. Very we'll made pistol and will highly recommend Bond Arms to all my friends.
The rain finally stopped long enough for me to get out and release the Snake Slayer. IT WAS AMAZING!!! It delivered what would be some devastating hit's. I highly recommend starting with some bird shot and work your way up. The PDX1 by Winchester is great. And the HPR HyperClean 45 long colt works very well too. I did not get a chance to change out the barrels and try the 357, 38. But hopefully next weekend. After shooting this, I think I will trade in or sell my 45 because the Snake Slayer would stop a bear in it's tracks.
Great pistol, fun to shoot. Thinking 'bout buying another.
Absolutely love this "little" sidearm! I have the 45/.410 barrel and it shot like a dream. Conceals/carries very well, barely notice it's there. The recoil wasn't much more (extremely manageable) than my Ruger SR9C and it shredded the target! Time to look for additional barrels.
I picked up my USA Defender just prior to the 4th of July. Some family , friends , and myself did some shooting on the 4th, and everyone loved my derringer. It is a blast to shoot ( no pun intended ). It looks awesome,it shoots great,and it's built like a tank. I find myself carrying it more often than my Glock 26 or my Glock 19. I absolutely love it. I plan on buying some more barrels and a Bond Arms Back-up in the future. Thanks for a great firearm. Keep up the good work.
I shot my backup for the first time today. The recoil was much easier than I expected. I was shooting at seven and ten yards and I was pleased with how accurate it was. I also put on the 9mm barrel and loved the way it shot. Definitely a top quality product from a top quality company. I also have a snake slayer and I love it. I enjoy shooting these guns more than any other gun I own.
I sent my older stye Snake Slayer IV off for the trigger upgrade. It arrived at the Bond Arms factory on 8/6/14. I just got the email today that my Snake Slayer will be delivered via UPS tomorrow , 8/13/14. What incredible service. Bond Arms only had it a total of seven days, counting the day it was received and the day it shipped back out. On top of that, I requested a couple extra of the hinge pin bolts in my note when I sent my Snake Slayer off. I just guesstimated $10.00 and hoped for the best. Kelly emailed me that $10.00 was fine, she took care of my request, and the bolts were already in with my gun to be shipped. Incredible service.
I had been unable to find a satisfactory way to carry my Texas Defender while riding my motorcycle until I purchased and used the BAD Driving Holster! The fit was perfect and the "usability" was just what I wanted. Thanks, Bond Arms, for providing this product quickly and at a good price!
Bought a mini .45 Colt on a whim. Amazing quality and construction. Now I'm looking for a .410 so I can shoot skeet with a derringer. The greatest backup for a Judge!
Fired my 45 Backup today…loved it…shot at 5 yds and 10 yds good hits on target…moderate recoil, nothing of note, would recommend this as a great backup gun…small, potent and accurate…also very easy to hide on your person….love it! Ron "OX" Ochse
Great pistol I own 2 the upgrade to the trigger and hammer was well worth the money. Thanks fo a wonderful pistol.
I bought the ssiv wit a 4.25″ barrel. The gun was able to shoot
45 colt and 410. shot gun shells. the 45 colt was not fun to shoot.
The gun kicked to much and the trigger pull is very difficult. I
purchased a357/38spl. barrel and I like that barrel very much. The
only problem I have is with the strong trigger pull.The gun is made
very well and I will enjoy shooting the 38spl. often.Your company produces a fine weapon.
Recently bought a Ranger II and also an extra barrel( 2.5 inches), haven't tried out the new barrel yet, but I am extremely pleased with the Ranger, took it to the range and shot several .45 and .410 rounds, it has a kick to be sure, but great gun and as you say "built like a tank", next up i will save for the Bond Backup.
Had originally received a 45, in 2.5 in barrel. I quickly bought a 3.5 in barrel in the same caliber. I finally went to the range today and I must say that the Bond is a nice weapon. I have been looking up videos online and tried the 2 hand pull trigger with the left index finger method. I picked it up quickly and allows the right hand to fully absorb guns' recoil. I finally remembered about aiming low after about 12 rnds and I consistently started hitting bullseye at 15 yds with it. The bad holster fits nicely and wears comfortably.
I must tell your company – I have 2 of your Derringers and I just have been blessed with both. A Short story- as i was taking a class for my ccw- when we got to the shooting part the instructor was so impressed with my Bond mini. That he asked to take it out to show the owner of the indoor shooting range. Needless to say they all were so impressed with the workmanship i had a hard time getting it back. Well everyone in the whole place was captivated by the quality and workmanship. I was the star of the show and had to tell everyone where i got this work of art. Thanks again.
I bought my bond on 11-18-14.
I fired it on 11-22-14
First shells fired were the 410's. I actually had to think twice before firing again. WOW what power.
I then fired the .45's, again wow.
I fired 20 total rounds through my usa defender. Then I fired my 9mm semi. Compared to the Bond the 9 was like shooting an air soft.
The Bond will be my first go to on carrying for ease of carry and shear power.
First time firing my new Texas Defender, .45ACP was a great experience and was amazed at the accuracy and ease of concealment. I also purchased the sticky holster which is extremely functional. My next decision is which caliber barrel should I purchase next.
recently recieved my 357/38 barrel for my new Texas Defender. I wanted a shortie barrel in case i wanted to drop it in a pocket instead of carring in holster.
Very pleased with the quality of the materials and finish. This provided exactly what I wanted without any sacrifice of appearance.
My 1st Bond Arms. BackUp Model, .45 acp, .45 Colt/.410 barrel ordered. I have fired 10 rounds of .45 acp 230 gr. FMJ. Trigger is heavy and tuff but Bond says will improve with use. Very satisfied for now and hope 2nd barrel will be here soon. Nice to have an American company making a quality product!
I shot 80 rounds out of BondArm and I love it;My grandson shot it ,he could not believe how well it shoots.He said when,he turns 21 he will have one too.
Great gun built like a tank very nice workmanship. Shoots way better than I thought possible for such a short barrel.
Recieved 4″+ bbls and driving holster makrs for easy concealed carry and lots of power in .410/45C!
I purchased my Defender about 1 year ago. Totally surprised how easy it is to shoot. I am a fan of the 45 LC due to it's stopping power. This gun is very easy to control. I originally purchased it with the BAD Driving Holster. Because of my size, 280 lbs.,( too short not too fat) this was the best choice for me.
To my surprise Bond was able to assist me in getting a BDS shoulder holster that fit like a glove. Hey big boys, they can adapt up to 4x possibly larger. Not only did I get a custom shoulder holster but they incorporated a BABS slide shell ammo holder for the opposite side. This is something that they do not advertise but should. I now carry my Defender with 6 rounds (2 x 410, 4 x 45) in my slide holster and to my amazement they attached it to the weak side of the holster. In essence I have a full custom shoulder holster with ammo holder.
Looking forward to my next purchase.
I finally was able to get to the range to try out my new Texas Defender using all of my 3 inch barrels in 22LR, 9mm, and 45 ACP. It shoots great. Once I got a feel for this gun my groupings were of about 11/2″ to 2″ at 15 yards.
The only issue I have is that I wish this gun came with a trigger pull of about 3.5 lbs. To my liking, I felt that the heavier trigger pull caused me at times to anticipate the shot as well as pull the weapon to the side.
Overall, this is a great gun. It is built solid and I love the fact that one can shoot different calibers by just removing one bolt.
I am retired from the US Navy after 30 years of service and a Certified Navy Range Master for 28 of those 30 years. In addition I am retired from the Department of Homeland Security, Customs & Boarder Protection. I have a conceal carry license from my state and carry 24/7. In fact I carry my Texas Defender in one of your pocket holsters as a backup weapon.
To me besides how great this gun is made is the fact that it is made in our USA.
Jorge
I finally was able to get to the range to try out my new Texas Defender using all of my 3 inch barrels in 22LR, 9mm, and 45 ACP. It shoots great. Once I got a feel for this gun my groupings were of about 11/2″ to 2″ at 15 yards.
The only issue I have is that I wish this gun came with a trigger pull of about 3.5 lbs. To my liking, I felt that the heavier trigger pull caused me at times to anticipate the shot as well as pull the weapon to the side.
Overall, this is a great gun. It is built solid and I love the fact that one can shoot different calibers by just removing one bolt.
I am retired from the US Navy after 30 years of service and a Certified Navy Range Master for 28 of those 30 years. In addition I am retired from the Department of Homeland Security, Customs & Boarder Protection. I have a conceal carry license from my state and carry 24/7. In fact I carry my Texas Defender in one of your pocket holsters as a backup weapon.
To me besides how great this gun is made is the fact that it is made in our USA.
Jorge
If you don't already own a Bond Arms weapon, and you happen to pick one up and hold it your hand, and see the quality of this piece, you'll buy one. I never met anyone who owns one who doesn't love it. The best on the market.
A view of the business end of this little beast makes it the smallest most intimidating firearm on the planet. I'm glad I will be on the other end. This will take care of any dangers that approach you pretty darn quick.
This gun is a blast to shoot. I was surprised how easy to control it was. You guys hit this one out of the park!
just bought your gun and I was amazed at the quality of it . built like a tank but easy to carry,and the ammo is nothing to sneeze at.
Love it out of the box
yes I did fire my bond arms ranger 11 45 colt/410 sure glad I was standing behind it
I am very pleased with the Texas Defender I just purchased. The workmanship on this gun is excellent and was everything I expected it to be after reading about in my American Rifleman magazine and researching it on the internet. My wife and I have been shooting it and we both love it. We are anxious to show it to our shooting friends and family and let them shoot it too. We look forward to getting the second barrel with your online 50% off coupon which was very easy to get and use. Thank you Bond Arms for an excellent American made product.
Broken arm and all I went out to shoot the Bond Arms Snake Slayer IV today, (left handed since my right is broken). Accurate little gun, that's 2 shots .45 Long Colt, both in the same hole but the second caught the edge of the first with no backing for the target so it tore it while passing through. The peppering was 2, 410 shotgun shots to see what it felt like. The 410 had a tad more spunk then the .45 but both surprisingly manageable with one hand (as the other is out of commission). I love this gun.
OH, the target was 13 yards, 200 grain bullet with 9 grains of Unique.
Little intimidating, but after the the 1 st shot,that disappeared! Very accurate also !! I'm impressed & that's saying something !!!.
I spend a great deal of time working for a sporting clays, shooting range here in my home state. Finding a firearm easily carried that does not restrict movement while working has been a long search. I believe that search has finally come to an end. My new 2000 with 2 1/2 410 6's fits in any pocket, coat pocket , or "bad" holster ,buggy dash, and has already dispatched numerous slithering or otherwise critters not welcome. Thanks for your engineering. Excellent product.
winter's here. need hoodie. i have a mini 45 & 357 barrel, two holsters & t-shirt. need hoodie!
I recently purchased and brought out to the range, my new Bond Backup in .45 caliber. This two shot beauty is quite a marvel of quality workmanship. I did find it somewhat difficult to hold and the trigger pull seemed heavy but I'm hopeful the extended grips I've ordered will help some. I have been working on a lap belt holster so I may have access while driving.
Got a texas denfender.Great gun well made and a joy to shoot. Fire it about 25 times so far. 410 holds a good pattern at 25 ft. I am carry it 24-7. Take a well to get use to a new gun.Havent got a holster yet but fits in my jacket pocket good. I want to add some personal custom to it,but all in all it was perfect for me as it came.
This gun really is a hand cannon but not so bad you can't control it. I have fired every 410 load that is out there. I have fired most of the 45 Long Colt as well which to my surprise does not kick as bad as some of the 410 loads?? I purchased several barrels since I got my bond arms back in 2011. I have the 22LR 22Mag, the 9X19, the 38sp357mag in longer barrel, and the 45/410 barrel which came w/the cowboy model. I got the 22LR/22Mag so I could practice the trigger pull since its different from any other gun I own. But it does not take long to learn how it shoots. I have ordered 5 different holsters and this gun goes everywhere I go. Sometimes its the only one I carry due to clothing issues but even when I have my main 45 this gun is along for the ride. Gordon Bonds and is staff are a great company to work with. Thanks for a great Texas/American product.
Finally had a chance to try out my new Snake Slayer 410/.45, 3.5 barrel and enjoyed every moment shooting it. Having never fired one before I was impressed with the accuracy it had with minimal recoil. This is truly a fine conceal carry weapon. I currently have and aftermarket holster for it, but I am going to purchase the driving holster as well. Bond Arms has definitely made a fine handgun.
After purchasing my snake slayer, I called a very big friend. He has a 44 magnum pistol, which is so big I have to hold it with 2 hands. I told him it used 45 or 410 shells. He said he had some 45 shells, he would bring them. Turn out the 45 shells he had were autos. Anyway they did't fit, so I said I have some 410 rounds. Even as big as he is he said I'm not shooting that thing with one of those. Anyway after some coaxing he did. Then I did, what an experience.
The bond arms derringer is by far the most fascinating gun I have ever shot sturdy beautiful easy to maintain and easy to conceal.I think it is the best value for the dollar I have ever spent on a firearm looking forward to my new barrel 38/357and many years of use!!
On the 7th of November I took my new brown bear for a spin in the deserts of California . Shooting at a 7×11″target at 48 ' I was impressed with the accuracy of this weapon , shooting, a long colt at 185 grain and hitting the mark the first three of four shots . Bond arms is on point when it comes to manufacturing a firearm .
I bought a Ranger II and a 45 ACP barrel.It is so refreshing to buy a high quality product mad in the great state of Texas!
My father whos ia a WW II Vet had his Snake Slayer IV engraved with his "CIB" and battle stars engraved on it and gave it to my son!
Having purchased the Ranger II with the 45 Colt / 3 inch 410 barrel I have never been more pleased with the total quality and solidness of this gun. Form, fit and finish is just superior. The balance of the gun is wonderful and it is pleasant to shoot even with the 45 or 410 shell. Overall I would challenge anyone to find a better defensive weapon.
I have two Bond Arms derringers,a Texas Defender and a Back Up as well as a host of extra barrels and accessories.
The guns are built like tanks and Swiss watches. The Back Up is with me 24/7 and in the inside waistband holster I hardly know it is there.
The Defender usually is in my fly fishing vest and usually has the 2.5 in 410 bbl loaded with #7 1/2 shot. Poisonous snakes are few and far between here but it is always prudent to be prepared.
I go to the nearby outdoor range frequently and shoot the Back Up. It is always right on target and thanks to the great grip configuration,the recoil is basically non-existant.
Thank you for excellent products and superb service and most of all……being USA made!!!!!!!!
Unequaled craftsmanship and unbeatable quality. Recoil is strong but manageable with a clean and crisp trigger break. Well worth the money to have the best. I will not leave home without my Snake Slayer. CHB 06 USA FA
After 43 years of Army and police service, I found a great gun to carry. It is the Bond Arms Texas Defender with two PDX-1 410 shotgun shells as a backup gun or as a primary weapon when off-duty because it is a reliable point and shoot weapon that can easily hit the target in a crisis situation. There is no worry about having feed or jam problems, and I know that it can be counted on even in the worse conditions. Some way argue that it only has two rounds, but it loads fast, and the shock and awe effect with 410 PDX-1 shotgun shells (6 disc and 24 pellets) makes up for that aspect and then some. It is easy to conceal and a powerful gun with changeable barrels in various calibers to match the primary carry weapon. Additionally, it is easy to shoot in the event that my wife must use it to protect our home and our family.
I own the Texas Defender and have taken it to the range twice. My brother, Grandson and Granddaughter loved it. It is my primary carry now. I also have ordered the 3-1/2″ barrel at 50% off. I will probably order the 4-1/4″ barrel next. These guns are absolutely the highest quality in the world. Beautiful. Solid. Dependable.
I have fired my snake slayer about 20 times with bullets and shot shells. As my gun was N.O. S. As it has a serial # in rhe 43000 range, the trigger is about 7 pounds, i purchased some snap caps to get used to the trigger really love it it is going to become my favorite pistol.
Shoots we'll very nice piece just would like a little lighter trigger pull do to my stiff hand joints
My new Bond Arms BackUp .45 ACP is my FAVORITE "TOY"…LOL. I, and everyone that I show it to is amazed at its beauty, simplicity, and awesome power (.45 ACP). When I tell them about the multiple barrels anyone can purchase, they're all even MORE amazed.
I finally shot it and I will be honest. It hurt a lot on the inside of my grip. I called and got some "inside" tips from Bond Arms on shooting it and reducing the recoil. Its just something I'm going to have to get used to. I measured the trigger pull (before break in) and it was 7 lbs. Bond Arms also gave me an inside tip to work the "action" 200 times (the more the better, but not dry fire it 200 times), and that this will ease it up. I did as they recommended and it worked. Its still a hard trigger to pull, and the kick still requires getting used to. Don't lock your elbow, and most importantly (advice from Bond Arms) use the "tip of your firing finger on the bottom part of the trigger to reduce the lbs it takes to pull the trigger). That DEFINITELY works!!
As you can see, three important points:
1. Use/call Bond Arms (GREAT customer/tech support to get help getting used to the weapon.
2. Use ALL the advice they give you to learn how to fire it while reducing recoil.
3. PRACTICE, PRACTICE, PRACTICE. THAT is the ONLY way you're going to get accustomed to firing it. This is especially important since this is a "last ditch line of defense" and you need to be accustomed to the special characteristics of firing this beauty.
I LOVE MY BOND ARMS!!! I've already ordered (50% rebate) another barrel..Snakeslayer II.
Oh, one more point. Bond Arms did the BEST job I've ever felt in building a grip on a weapon. It feels/fits like a glove when you hold it
I recently purchased a Century 3″ bbl .45 Colt / .410.
This is the ideal personal protection concealed carry weapon for me.
I also purchased the driver holster which is perfectly positioned when seated and driving. Very easy to reach, even with seat belts.
Firing the Century is a lot of fun, but noisey. Ya need to always wear ear protection & eye protection when practice firing.
This weapon is built very rugged and should last a couple of lifetimes ,if taken good care of. I intend to purchase several different barrels, as a matter of fact, I just ordered a .22 Magnum barrel. I am very satisfied with the quality and workmanship, and recommend it to anyone who is looking for a good PPW for the money.
recently purchased a ranger 2 410/45 love the craftsmanship and the feel of this gun. can not wait to go to range to fire this weapon. been researching and studying your firearms for over a year and it met all of my expectations. thank you for a wonderful american made hand gun. will let you know how my gun range experience goes. Gordon you are the man.
After seeing a Bond Arms magazine ad, I've admired their guns. I heard their .45 Colt derringers would be available in CA, and found one at Hook, Line, & Sinker in Oakley, CA. I didn't hesitate to get it, the quality is absolutely top-notch. Got some cowboy action ammo, and it was a pleasure to shoot at the range. Gordon Bond even left a voicemail to personally thank me for buying one of the 1st CA models. I'm getting a Brown Bear as soon as it's available, thanks again. God Bless TX!
I have been shooting for over 40 years and have fired thousands of guns. Some of them give you a special experience, your SS IV has done exactly that. It is a joy to shoot and the craftsmanship is magnificent. This is one of the finest firearms I have ever owned, please keep up the good work and show them American companies can compete!
I submitted a testimonial a little while ago about being dissatisfied. I "assumed" that this would be brushed aside or deleted. Shortly after hitting the submit tab I received an e-mail from Mr Gordon Bond telling me that my new / replacement barrel would be shipped tomorrow. For a company owner, the boss, the head person in charge to take the time to send an e-mail to a customer shows how much he cares about his customers. For his actions I say Thank You, and I will continue to be your unpaid advertiser and promoter here in the Abilene area.
Just bought a new Texas Defender a couple of weeks ago. I finally got to shoot it a week later. I had surgery on my strong side hand just over a year ago, so I was expecting some pain. I was surprised by the lack of recoil from a 2 1/2 inch barrel. I am very happy with my purchase and am currently waiting for my new 45lc/.410 barrel. Can't wait to try it. American by birth, Texan by the Grace of God.
I have looked at several derringers and not one suited me until I found the Snakeslayer. It had the smooth machined action that I was looking for. After firing the weapon I found the accuracy to be amazingly good. Then I showed it to my friends. All were quite favorably impressed. I never have nicknamed one of my weapons until now. I call it the BEAST. It is a fantastic weapon.
I bought the Texas Defender with the 45/410 barrel. Wow this is a hand full for sure. But this gun is 110% quality workmanship. I took up the half price offer for a second barrel in 9mm. Later I purchase the 22LR barrel. I have enjoyed firing all 3. This gun will be a family hand me down for generations to come. A welcome addition to my family.
Bought the Mini.45 and love it. It's my conceal carry gun now. I'm hoping to purchase a 9mm barrel once I receive my 50% specila code.
The gun and holster are extreme works of art. Fine fit and finish and very strong. I tried some 2 1/2 and 3 inch # 4 shot the first day and some 000 buck the next day. At 7 yards either would be lethal. The 3 inch shells are not something you have fun at the range with, or the 2 1/2 for that matter.
I've fired the gun a couple of times now. It is absolutely awesome. I'm shooting the .45LC / .410 and it takes a little practice to keep the 3 inch barrel on target. Excellent penetration / pattern at 21 feet. I can't wait to receive my .45ACP barrel as it will be the perfect back up for my 1911 sidearm. All around A+ rating to Bond Arms…love this gun.
Was on a mission to purchase the Ranger, but they're hard to come by. I picked up the Cowboy Defender and I'm slowly turning it into the Ranger. Awesome firearm and shoots real nice!
Backup is simple and fun!
A very long time ago, I use to hold an FFL. There were specific reasons that I held that License and not just to save a couple of dollars on gun purchases. I had tutored alongside a few machinists as well as a couple of them being gunsmiths. I was shown the ropes early on in my life. And that later turned into a "Pay for Itself" hobby of mine where I'd be asked by folks in my department to work on their personal guns. PPC was hot and heavy then and made up much of my work as well as shotgun bore and choke work (days prior to screw in chokes, think Poly-Choke). So with the FFL any new interesting gun that came along I wouldn't have to personally buy since a customer most likely would and it saved me thousands of dollars not buying every new gun introduction ever produced.
Those days are long gone and then there was a new gun introduction that I desperately did want to own by a new company called Bond Arms. Trouble was, the gun was not available in California. When Death Wish #? came out and Charles Bronson said "This gun fires a shotgun shell and will take a guy's head off" The CA legislature certainly didn't want guns that could take heads off in the State and made the 45/410 chambering a "Shotgun" even though the Federal Government had already said that it could stay a pistol if it had rifling. Then the Safety List Roster took even regular derringers off the list. During this time I started after seeing the very first ad, writing Bond Arms expressing my delight in their design and wanting one so bad I could taste it, but was in CA and I'd always get the same response "We'd absolutely love to be able to send your dealer one of our guns for you, but….." and then reference to the CA Government. Well that didn't stop me. I wrote my legislators so many times I lost count as well as the occasional reminder to Bond Arms that there is a market (if only me) in California.
Then much to my surprise I was in my local dealers shop signing up for and making a deposit on a semi-auto. As always I took a gander around and out of the corner of my eye I spied what looked like a derringer. Figuring it was a used American Derringer, I took a look anyway. Well I was taken aback when I realized that it was a Bond Arms and they had two of them. One was two toned and the other all stainless steel. It did not matter what caliber it was I was going to be it's new owner. I immediately discussed making it my third handgun or 90 days of wait to purchase all three guns. Well I figured that the Bond Arms Brown Bear (as I found out the model was) was most definitely worth the wait. It's lock up was tight and the fit and finish was better than the best American Derringer I'd ever owned. It also had a nice heft to it unlike the AD and immediately knew that recoil would be much more manageable. The fancy engraved, extended grips fit my hand perfectly and will also aid in recoil distribution. To top it all off, it was chambered in 45LC (my caliber for SASS shooting). I was a little short on the normal deposit required on layaway guns, but my dealer knew I was good for it so my name went on the gun that day. Being paid off, I'm only waiting on the 30 day periods to get my hands on it a fire off a few rounds. My wife even understood this purchase after having to hear my constant groaning about not being able to get one in the State, but now the Brown Bears are loose in the State once again for all of us Californian's to enjoy. Now we're just waiting on the next CA introduction to fill our safes with. Thank you Bond Arms for getting it worked out with this silly State so us residents can now enjoy what the rest of the country has been enjoying for a number of years.
Sincerely,
Kevin D Williams
I want to share this photo of my Snake Slayer with you
I posted this picture to my Flicker page and over a period of 3 days it has gotten over 20,000 views also I am incloseing the url for my page where you will fine more pictures of your fine guns mixed in with my other guns
I hope you enjoy
https://www.flickr.com/photos/onebilly43/
Just got my cowboy and love this gun. Its fun to shoot and I cant put it down.
Bought the snake slayer 45LC/410. Fired it the other day and it was awesome! Firing a 410 slug cartridge from a 4″ barrel was certainly invigorating to say the least. Love the weight and balance. Immediately ordered another barrel to fire 357/38 special.
I fired 2 rounds of .410, 2 3/4″, 000 Buck (3 pellets), into a 2×10, at a distance of about 20′. All 6 pellets (2 rounds) hit the 2×10. I then fired 2 rounds of .45 Long Colt. The first round hit the center of the 2×10. I then aimed at the hole of the first round and the second round cut the hole of the first round.
Love the interchangeable barrels easy to carry with short 9mm barrel or road trip with .410 / 45 longer barrel
Was not sure what to expect, was very happy after a few rounds. I'm excited to see what the 9mm is like. I'll keep you posted.
I have put about 25 rounds through it. very pleased with the quality and performance of the gun. I'm looking forward to receiving the 410 barrel I have ordered. will probably order a holster next but that may be a while due to limited funds.
Again, very happy with the purchase.
Thanks for making such a fine quality product.
I finally got to fire my new Bond Backup derringer. It is more powerful than I thought!! I was firing at a 12″ x 12″ target at 20′. I hit the target every time. I only fired about 10 rounds, but I hit close to the bulls eye a couple.of times. I'm not trying to be a crack shot, I was just getting the feel so I wouldn't be more surprised than the bad guy. There were so nice size holes in the target. I'm happy to say I was impressed and pleased. Keep doing what you are doing,Bond, because you are doing a good job!!! AL in Sweeny, Texas
First let me say that I've NEVER written a testimonial regarding any purchase I've ever made. Honestly I've just never felt strongly enough about anything to take the time to write one. With that being said, I bought my Snake Slayer almost a year ago. 3 1/2 barrel. 45LC/410. I've put it through it's paces…several times. I shoot Winchester PDX1 Defender 3 Inch Mag. 410 and 45 Colt (225 grain – bonded jacketed hollow point) only.
I'm not an "avid gun collector." I currently only own 3 handguns – 40 Cal, 9MM…and my Snake Slayer. However, I have, at one time or another owned almost every "high end" firearm made. Sig, Ruger, S&W, Beretta, Kimber, Glock, FNH, Browning, Springfield…you name it, I've owned it.
I'll not go on and on and gush about how much I've grown to appreciate this firearm as a primary carry (yes I said primary). Don't get me wrong, It'd be perfect for secondary…but, in my opinion would perform equally as well as a primary carry.
So here's my "testimonial." The Bond Arms Snake Slayer is the most quality crafted firearm I've ever owned. It's 22Oz of pure fury. A work of art. Functional, trustworthy, quick reload, easy to clean and accurate within PD range (I can consistently nail center mass with the 45LC at 10-12 feet, and the 410 holds a grouping the size of a standard dinner plate at the same distance). When you hold this pistol, you know you're holding something special and substantial.
When I was doing my research on the Snake Slayer before I bought it, there were several reviews similar to mine, but the gripe was the recoil. This gun kicks, but the bark is far worse than the bite. It's more than manageable. In fact my 23 year old daughter has shot it and she weighs 120lbs at 5'7. Best handgun I've ever owned. I'm getting ready to purchase a few more barrels just for fun. If you're thinking about buying this hand cannon…stop thinking about it and buy it now. You'll not regret it.
If I had to grab my 'only' firearms box it would be the one with the BONDARMS assortment inside.
actually ,i'd like to repeat what i wrote earlier-can't remember. what i remember is i bought the snake slayer at zia guns here in roswell nm,then bought the rosewood jumbo grips and shoulder rig directly from bond. I could not be happier with any purchase- as a matter of fact, my "favorite" has changed so much so that i intend to designate the bond(colt 45/3 inch.410) as my primary weapon of choice for concealed carry-and hope that i never have to use it in anger.Besides all that ,it's just plain fun to shoot bottles, and generally play around with it. (for home defense ,i have triple aught buck and pdx – 1's)- never wanna use those,either. gordon & staff , thanks-i salute you. ed
My Bond USA defender . Very very nice. The 45 colt tested well with very little kickback I was surprised. The 410 was sweet and what is spread at 5 yards. At the range people kept coming over and see what was making all the fuss for such a small thing. Very well-built. Thank you Mr. Bond for your effort .
When I first saw a Bond Derringer it was on TV imposable shots and I new I would have one some day well that day came and went I have a 45 colt 22LR and the sweet 45ACP the ACP being the best shooter so far it will if I do my part put 5 rounds in a paper plate at 25 yards now I know that a little far for some things but at 10 feet its one raged hole and the 22 won't do that I was wondering how often do most people shoot there gun I try to shoot one of the barrels every week end and ever afternoon if I can get time on the range how long will it be before the gun shoots loose so what do you all think………but for now man what a gun. Thanks Bond!
Went in the gun store just looking around and the Snake Slayer caught my eye. When I got it in my hand, I was surprised at how solid it felt and the fit and finish of the gun. I bought it and have shot .410 in it. It is now my first choice as a conceal carry. I really like this little gun
perfect fit for me, I noticed the difference the 4 1/4 in barrel makes first shot.
I must admit to being a little apprehensive about the recoil of a .410 shell in a gun as small as the Snake Slayer IV, but after shooting the gun, I think the felt recoil was less than that of a polymer-framed 40 S&W semi-auto I have fired. It must be because the gun is "built like a tank." And that is something I know about, having maintained M-60 tanks during my stint in the U. S. Army!
I shot my Bond handgun and was pleasantly surprised in that it did not kick near as hard as i thought it would. I shot my .327 mag and the bond arms gun was about the same.
Very nicely built and looks good.
Jim Addington
Gordon, I just wanted to let you know I fired my new Defender a few times at the pit to get a feel for it. Then brought it to a SASS meet and used it in the "side matches" for derringer accuracy and took the winning ribbon. I love the gun and look forward to eventually getting another barrel or 2 for other calibers.
Yes, fired it the next day, WOW! The 410 with #4 shot held a 18 inch pattern at 20 ft, PERFECT. As pamphlet had said top barrel shoots a little high, very easy to compensate for, especially with the 410.
The 45 colt in lower Barrel was right on target at the same range.
I did add the extended rose wood barrel, fits my large hands better, and really looks great.
Only problem my 115 lb wife loves it too. So it looks like I will be buying a second one.
Already own the Texas defender in 357/38 and just purchased the holster and extended grips. Cannot say enough about the quality of this gun and the accessories that go with it. The gun is my absolute favorite but I generally don't get to carry it because my grandson loves it so much. Just ordered the 45/410 barrell and really looking forward to shooting that barrel. I love the fact that one frame will host so many different calibers. I also need to add that Bond Arms customer service is second to none. What a great gun, fun to shoot and an extremely reliable carry weapon. Made in Texas by texans. Need I Say more. Excellent, dependable weapon.
Jim G in Jarrell Texas.
Just bought the Texas defender in 357/38. Love the gun. Amazing accuracy for a derringer. Couldn't be happier.
own both the .45 colt and the .357 minis. both shoot quite well at 15 feet. since I have added the oversize rubber grip , my doctor has quieted down about joint deterioration. he is a shooter also, so I can't really fool him about much. I'm not yet sure what I'm going to do when summer comes around again, but for nor things are in good shape. I have a backup for my .357 snubbie and my judge. Thank you.
Recently purchased the USA Defender and could not be happier. Took it to the range and it was everything I had hoped for. Well made, built like a tank and good looking are just a few of the accolades I can say. It handled well and I had no problems whatsoever. I would HIGHLY recommend this gun. I can truly say if I had my back to the wall this would be the firearm I would want to be holding.
Wow! I took my new Bond .45acp to the range today and tested it out – I was expecting massive recoil and a bruised palm – NADA! The recoil was less than the .410. However, what really impressed me was the accuracy! From 7 yards the round goes right where you aim it – to say I'm impressed would be a gross understatement!
Fantastic backup gun!
I am not one that cares for IWB holsters but this one is really very good for the comfort arena!! I have been using it exclusively while walking an area of wet lands near by,although not a problem at the moment,I do have the answer for the numerous baby rattlers I have seen on these walks!!
Great product!!
I fired my new Texas Defender .45/ .410 last week. A great piece! More accurate than I thought, even with the shotgun shells. I am carrying comfortably with an inside-the-pants holster. Very satisfied with the purchase!
I purchased the bond backup for concealed carry to fit in an armrest bag on my handicap scooter. This little gun is perfect for that use and the .45 ACP is a great caliber that I have been using since my early days (1956) in the USAF. The gun functions perfectly and is very accurate. I also own the Bond Ranger loaded with .410 ammo for "meet and Greet" at my front door. I also just ordered an additional barrel in .327 Federal Magnum and I am sure I will get the same results as with all Bond Arms.
Love that Texas Defender. Dealing with Bond Arms has been a pleasure, and the quality of the products I've purchased over the last 90 days have all exceeded my expectations. Even with the return of one barrel for a faulty ejector went like clockwork. Customer Service was excellent and the turn-around time was amazing. Thanks again. Rd
I have played with it and was highly impressed quality and handling!! .45LC feels like .22 and very accurate at defensive yardage!! .410 is really fun with a very stout report playing with several loads of bird shot,00 and 000 buck,how could that not be accurate!! It is a fine firearm!! Haven't put the .38/.357 barrel on yet,but I am sure that will be a real hoot!!
I just bought the Defender 2000 with the .45 Colt/.410 barrel and it shoots to point of aim, the trigger pull is much better than what was used to and the recoil is not a problem at all, very mild. Thanks for a great product!
Took my Texas Defender out to check the kick.
surprised me. not nearly as much as I anticipated.
20 feet with .410 guage 3 pellet double ought buck.
Great coverage on paper plate. very stable in hand, no waivering. Easy to cock and fire. Like the trigger guard.
Surprisingly accurate…..2 rounds from this little double barreled hand cannon shotgun more accurate than 6 rounds of the Ruger .380 I sold to get this. Very satisfied. easy carry. Going to try to sell my Taurus Judge .45/410 to get another Texas Defender. Size and firepower. 2 equals 4 shots.
I purchased a bond arms back up. It is a hoot to shoot! I found the trigger low for my smallish hands so I pull the trigger with my left hand (I am right handed) which I find is perfectly placed for the job. It also keeps my left hand well back of the business end of the gun. The back up is well built and I really like the rubber grips. Thanks bond arms.
Purchased my Snake Slayer two weeks ago and have about 200 rounds through it. I did purchase a second three inch .357/.38 barrel. The Snake Slayer is very manageable to shoot. This is my new EDC!
See photos, shooting at 20 feet.
My first shoot of my Snake Slayer was awesome. It is really a " hand cannon". I also fired my 40 S&W barrel. Very easy to change barrels.
The 410 defense ammo in the gun is devastating. Very happy with my purchase.
I waited a while longer to test my small cannon because I had wanted to enjoy my time with my friend who also had ordered the Snake Slayer IV. We both fully enjoyed firing our cannons even though we had to adjust to controling our aim because of 7 1/4 pound pull of the trigger and slighty downward pull. Firing both the 410 00 shot was a little heavier kick than the 45 colt . All in all, this is a perfect concealable weapon. Thank you Mr Bond for creating such a wonderful handling gun.
I just purchased a bond arms Texas Defender and Im in love , this is by far the best quality hand gun 45/410
have been back to them twice for new barrel ,holster ,extended grip. Im so sold ond this company Im going to get back my ffl . Try it feel it shoot it you will have that great experience like I did .be safe
I bought the Snakeslayer some time ago. It has been as reliable as it gets. Shooting the .410 OOO buck shot can be like hanging on to a handful of badger, after the first ten rounds…but what else can you expect from a one-handed shotgun. It is a much easier travel gun than my full size 1911. A big plus was the left hand barrel release conversion that Bond Arms makes available. The comments about the non-typical trigger pull are correct, but after some practice with snap caps, you won't have problems with it. All things considered, this gun has been worth every penny.
Bought Mini derringer 1-1/2 yrs ago . Have wanted a derringer for along time. Have been shooting since I was 6. Am now 59. The mini shoots great. Lower barrel using .38 Spl. Shoots 3″ below top barrel and hits target perfect at 12 yards. I love it! Made really well. Recommend to anyone for self defense or targets.
well I've bought 3 derringers from u the Ranger 2 was the first then I bought the backup in 45 acp then I bought the Texas Defender in 357 Mag an I bought a 10 MM barrell for my back up an I'm going to buy more barrells to so i think everyone can guess I'm very happy with everything I've bought from Bond they are built like tanks shoot great my Ranger 2 with the 4.250 barrell is a 45 long colt an 410 shotgun i don't shoot 45 or 410 since the day i bought it I've shot 454 in it its hard to hold on to but they will stop anything an i load my own
I want to say. I enjoy the Texas Defender 9mm. When I received the defender I was amazed of the size and quality of the product. I changed out rosewood standard grips for the black ash extended grips which work great. Shoots very good. Have receive lots of complaments. The Texas Defender is a great product and I use it for EDC. Thank you Bond Arms for a great product. Robert McDermott
I had been eyeing a Bond Arms Derringer ever since I first saw one on the internet. I thought "That is a sexy gun". I was not wrong. There were no no dealers in my area, but as luck would have it, I was out shopping for a "fun" gun, and there it was. From the second I got it in my hands and felt the craftsmanship and form factor I was sold. Have I shot it yet. Yes I have and it was the best time at the range I've had in a long time. People would stop shooting their precious firearms and ask me what I was shooting. No one does that with my Glock 19. The combination of style, and the bang you get from a 45 colt round drew people to me in droves. Makes me wish I lived in Texas so I could beg Gordon Bond for a job. I'd work for the guns he makes. Loved it so much that I ordered two new barrels and a holster so I can always have it at the ready. If you are questioning wether or not to buy a Bond Arms weapon, don't waste time thinking, go and put one in your hand and it will do all the convincing for you. An all around great range gun, concealed carry gun, and a fun gun to own. I haven't regretted a second with my new Texas Defender. I just look forward to more time at the range. Thanks for making guns in the USA, and thank you for giving me the fun of shooting back.
I just recently purchased a snake slayer 4 and a USA defender . I am really pleased. I like them and will be getting the 45 backup. Great guns
Last month I had an accident I'll never forget! One of my 5 sons needed a little help financially, so I bought a new rifle from him. I already owned the same make, model, and caliber, so I decided to list it in the local for sale listings (Yea for Arizona!). I was just looking to trade for something new and INTERESTING. I was contacted by a wonderful 73 years young man that wanted my rifle and scope combo and said that he recently purchased a little 2 shot stainless steel derringer with some accessories. It sounded different, and I had never heard of Bond Arms before, so we scheduled a meet. I fell in LOVE at first sight! He liked the rifle so we traded. By ACCIDENT, I ended up with a "Snake Slayer IV" with the .45Colt/410 4 1/4″ barrel, a 3″ 38/357 barrel, a 3″ .45ACP barrel, and a couple of boxes of ammo for each caliber. Best "ACCIDENT" I've ever had! On my way home I headed for my favorite shooting spot and had a BLAST (Pun Intended). I was sad when it started to get dark until I saw the FLAME come out of my new hand canon, then kept shooting a while longer. When I got home, I looked up BONDARMS.COM and ordered the driving holster. I'll be buying the Extended rubber grips this month, and a .40 S&W barrel, along with a .22 cal barrel. This now goes EVERYWHERE with me, either in the holster or in my pocket. Five of my shooting buddies have either purchased one or are looking for a deal on one. My 1911, or my G27 now ride in my computer bag for more sustained backup if needed. This is one of the finest quality handguns I now am proud to own.
My background: Retired US Navy & Dept. of Homeland Security. Certified Navy Small Arms Instructor & Range Master x 27 years. Gun owner/shooter/hunter all my 68 yr. life.
The guns from Bond Arms are extremely well made and feel great in one's hand. The fact that one can change the caliber of the gun by only removing one screw is an unbelievable innovation in guns and of which I have taken advantage.
When I ordered my extra barrel, extended grip, and Sticky Holster the order confirmation email I received stated that my order would be shipped in 2 to 4 weeks. The reality of this is that I actually received my order 1 day prior to the 2 weeks. One can not get any better service than this.
Unfortunately for me is that a couple of days after I purchased my Texas Defender I came down with unbearable pain due to Kidney Stones in both my right & my left Kidney. My doctor told me that I would need about 1 1/2 months to go before I am normal again due to complications during removal of the stone in my right Kidney. Bottom line is that I can't wait till I am able to shoot my gun in both 9mm & .45 ACP.
Thank you Bond Arms for a great gun made in the USA.
I purchased my Snake Slayer at my local gun shop, I love it mine i in the 45\410 and i have found the weight and balance is suprising at handling the recoil of the heavy calibers.. I carry mine every my choise off personal defense thank you Bond Arms
I purchased the Snake slayer over a month ago and am very pleased with the Gun.
I used the 50% offer and purchased a 9MM 3.5″ barrel which I will be shooting soon.
I may purchase another barrel soon of another caliber.
I purchased the Snake slayer over a month ago and am very pleased with the Gun.
I used the 50% offer and purchased a 9MM 3.5″ barrel which I will be shooting soon.
I may purchase another barrel soon of another caliber.
I recently purchased a snake slayer 4 and a USA defender . I love em my next purchase will be the back up 45 great guns
HAVE THE MINI IN 357 mag. Installed black grips and trigger job. Wear all day, no problem. Smooth little number! Highly recommend.
I retired from a 40 yr career in the mechanical and electronic engineering field so I consider myself quite knowledgeable, exacting and particular concerning the design, quality of materials, and manufacturing of mechanical things. In Dec. 2012 after considerable research, I decided that the Bond Arms Snake Slayer was the gun that I wanted for personal protection especially with the luxury of 45/.410 capability. I was very impressed by the detail and quality of the Snake Slayer, especially the unique features of the design for barrel and grip interchangeability and safety features of retracting firing pins, rebounding hammer and crossbolt safety with the key entry internal safety locking device. I ordered the BATB holster from Bond upon recommendation of their technical specialist as being the best for concealed carry. I am exceptionally pleased with this holster. It rides high on my belt and the SS derringer is tucked above my hip and his hard to notice with a shirt over it.
After 18 months of satisfaction with the SS, I recently purchased a MINI 45 and of course ordered the MINI holster from Bond Arms and the extra 2 1/2 in.357/38 barrel for it.
I am starting to have a preference for having NO trigger guard as on the MINI. The grip difference is a toss up except the SS is easier to cock with the thumb using only one hand with the extended grip.
I am very proud to own unique solid products that have precision engineered innovations and all done with the designers, machinists and assemblers personal pride of high quality craftsmanship. I appreciate the precision machine work in fine steel and the look and feel of the beautiful rosewood grips giving the Bond an exquisitely simple elegance to be admired.
Bond is to be commended for having the pride and taking the time to select the finest holsters for their products. They are made of the finest leather and made to fit the Bond SS and the Bond MINI perfectly. The holsters are made with the same pride and craftsmanship as the derringer.
It is important to read and understand everything in the Bond manual before going to the range to practice. Read every "news" article on the Bond site and click the links from those articles as well as watch the video links to better "Bond with your BOND".
Bond is designed, manufactured, warranted and serviced by a close knit "family" of our own American workers who really personally care about their product and their customers in Grandbury Texas USA which is important to me.
Bond Arms personal care and concern has been displayed in my communications with Gordon, Joe and the accessories group. They have all been genuinely accommodating, trustworthy and fair in providing the ultimate in total customer service and satisfaction.
Finally got to shoot the back up model and… Wow, that thing kicks like a mule. I'm missing a few fingers but she didn't get away from me and I was on target. She's my new CC piece, LOVE IT!
Love my Snake Slayer IV and Bad holster! They feel like a hand and glove. The quality of the gun and holster cannot be matched. Give them a try and you will not be disappointed! Five STARS for sure!
What a great addition to my collection. I purchased the Texas Defender model. It was a great shooter. It shot a little low but that is probably due to the fixedsights. I need to get use to the sights. I bought the 38/257 caliber. The 38 rounds were easily manageable. The 357 is a challenge. You better grip the pistol if you are going to shoot full loads 357's. I already ordered a 9mm barrel. Going to get a 410 shotgun barrel also.
Great day to you Mr Bond and family, well I tried to resist it but it was to strong. I bought one, a Bond Arms Century 2000′ sn #40387. Or I put one on lay-a-way owe $318.39 want to help me get it out of lay a way. I will tell you how it shoots as soon as I get it out of the store, hopefully at the end of the month. Bought it from Jays Guns, 850 682 4600. For some reason the gun stores around here don't seam to stock bond arms, but there seams to be a hell of a lot of cobras. I looked at cobras and I looked at yours and yours was hands down a hundred times better. You can just feel the quality. I plan on buying a 32 H&R magnum barrel from you all or a 327 Federal barrel because of the versitili. You can practice with 32 longs and get serious with 32 mag or 327 s I will keep you advised. Yours, George
When I first saw the Snake Slayer I thought to myself, "Wow." When I held the Snake Slayer I said to myself, "Oh Wow." And then when I shot my Snake Slayer with a 410 ga shotgun shell I experienced the "Wow" of a quality, safe, handheld, self defense shotgun. It was over the top, Wow, it was impressive!
This is the pinnacle of quality in both the Snake Slayer and the BAD Holster!
The holster truly makes you forget you are carrying a handgun.
The holster position is perfect for sitting draw or standing. No uncomfortable sitting problems.
Fired 2.5 inch #4 shot and 000 Buck. Recoil is very manageable with the #4 shot the 000 Buck is a little more recoil.
For carry I will use #4 shot.
The quality of this SOLID Stainless Steel handgun is unbelieveable!
I will add other barrels in the future.
Great job Bond Arms!
I'd like to address my experiences with my new RANGER II. First of all let me say I am completely satisfied with my RANGER, at first I was a little apprehensive as to its kick and accuracy of my BOND ARMS RAMGER II, rest assured its kick was as normal as a regular 45 cal pistol and the 410 was just about the same. This is my own opinion, but I highly recommend the purchase of either the 22 MAG Barrel or the 22 LONG Barrel for getting the most out of your firearm. I personally purchased both, my reason was that in order to become more proficient with the gun it is cheaper to fire those rounds to obtain accuracy than the 45/410 rounds. I also like the fact that the 22 MAG gives me another alternative for a defense weapon for my wife to carry where she feels more comfortable with the kick and accuracy. I'm proud to say I now own a BOND ARMS RANGER II.
A few months back my hand gun was stolen out of my truck and my wife went one day a month ago and surprised me by purchase me a snake slayer one of the finest firearms I have had the chance to carry. I thourghly enjoy the pistol easy to conceal and carry you make an awesome hand cannon keep up the good work
I just received my Century 2000 action back. Man is it slick the action is very smooth and trigger pull is much better. Thanks for the great service.
Ken B
Carry pistol load is .410-000 in lower barrel and .410-slug in upper. Great rapid fire accuracy at close range. Huge muzzle flash with minimal barrel lift when cued to fire lower round on first shot. Break, eject and reload is quick and easy. The Cowboy Defender has displaced a Ruger LC9 as primary due to lower weight and bulk.
I say a hand full, and that is because it fills your hand very well,
and also is a positive deterrent being it is the Colt 45 v/s the
smaller calibers. It definitely takes practice to return to target
fast after the first shot. I love it and wouldn't trade it or anything.
Glad the trigger requires a strong finger. Would not want it to
fire when not ready…….
Where we live in the foothills of NC we get a lot of copper heads…… well need I say more? Oh and by the way I had a small barrel fit problem when I bought this gun and Bond Arms shipped it back fixed it and got it back to me fast at no cost to me. Thanks, great product.
I took my Snake Slayer to the range. Much more pleasant to shoot than I expected with either 410 or .45 LC. Love the solid construction and feel of the gun. Now with my BAD driving holster, I will be carrying it everywhere! BTW…great customer service when I called with questions. Picked up an extra .38/.357 barrel which was very easy to install.
Overall, I could not be more satisfied with your products. Thanks!
From start to finish this gun is quality and is built like a tank. Smoothed edges, magnificent finish with it's Red Jacket grips. Packaged in hard case. Easy to use and handle. Amazingly surprised at 20 yards grouping was sub 4″. Thanks from Australia.
I own a Taurus 45/410 Circuit Judge Carbine and a Taurus 45/410 Public Defender Poly both are a blast, but my new baby, Bond arms Snake Slayer IV is a hoot it is also my new concealed carry.
I will admit that 15 to 20 3″ 000 buck is all my hand can handle before going back to 45 at one shooting. We shoot a lot up here. it is very accurate at 10 yds. If I can not defend myself in 2 shots with this gun then I do not need to own a gun. Thank you Bond Arms. A quality piece of craftsmanship. No fumbling for ammo in the dark, everything fits. "ONE GUN ONE AMMO"
I guess the best thing I like best about this gun is the fact I can carry it in my pocket and just about forget I'm carrying it. I bought my wife the 38/357 bond girl, but she's still nervous about carrying any gun just yet. So I'm overlooking the pink grips for now and carrying it myself. I'll be ordering more "mannly" grips soon. I did take advantage of the 50% off coupon on another barrel and purchased a 9mm to match the other handgun caliber I have. I must say that I was impressed when I shot it. At about 25 feet I shot two shots within a 4 inch group. Thats great in my book for such a small gun. I'm already hinting for my wife to get me a 45/410 snake slayer. Good job Bond Arms for making a top notch firearm.
Yes I received my gun and also the extra barrel later 357/38 special. I have fired the gun and like it, I found the trigger pull a little on the hard side and the video stating to use the tip rather than the first joint of the finger a little awkward. Over all I am satisfied with my purchases.
Charlie
Just want to thank Nathan Bond for the call…Was having a problem with my Snake Slayer…He took time from his schedule to call me…I believe they care of their customers after they sell an item..Feel like family thanks Nathan
Dan Kryger
I received the BAD holster and it was all that I could ask for. Very ease to put on and off. I use it every day on my morning 2 mile walk. I carry my C2K with 410 shoot shells the scare the varmits away.
I've owned and shot handguns all my life. The Texas Defender I recently purchased is a great weapon. I was looking for a Snake Slayer 4 when I found the Defender. I now have the best of both worlds as I purchased two 4 inch barrels in different calibers for my Defender. The barrels all shoot l true and this versatile weapon has quickly become my daily defensive carry. The craftsmanship is outstanding. I love my Bond Arms Texas Defender.
I saw an add in American Rifleman and started my negative research of the Bond Arms Texas Defender and simply couldn't find any reasonable detractions to prevent me from purchacing it. That said, I bought the Defender (with extended rosewood grip and driving holster) and finally got to practice with it at two ranges, one in Ohio and the other here in Texas. At each range when the first round was fired it got all the other shooters' attention! It is a very good shooting weopon. I fired it, my son fired it, and my 13 year old grandson fired it and all three of us were able to hit center everytime. I bought a 4.5″ barrel, practiced some more, and have found the weopon to be very accurate. Further, there was a problem with a purchace but the folks at Bond contacted me, by phone, within hours of my problem and all was resolved. That personnal touch says a great deal about Bond, in that, the product and service are excellant. In closing, my 83 year mother-in-law saw my hand cannon and now wants one. Jest sayin'
If you like walking your dog or walking in snake country,this is the gun to have ,the snake slayer 4.Light,accurate and devastating on snakes.Do not leave home with out it.
I am a salesman for one of the major gun stores and I have a choice of many guns but I really enjoy the style, simplicity and durability of the Bond guns. I am adding barrels for all the calibers of my other guns so I have the ultimate versatility. This is also a fun gun to sell.
I could not wait to try out my new Texas defender, I took it to a outdoor range. I was glad I did because the nick name hand cannon says it all. I 1st used 410 and thought not so bad, then loaded the 45 rounds, and I thought Mt Saint Helen blow her stack again. d## that's loud and not bad recoil. but I will say even if you missed the person invading your home the sound will let you follow the brown trail to where they went.
Every year my beautiful wife and wonderful family chip in and get me a gun for my birthday. This year I got a Bond Arms Backup. First I would like to thank the people at Bond Arms for making such a awesome gun. It is so much fun to shoot. It is surprisingly accurate and the recoil is very manageable for being 45 acp. I have wanted a Bond Arms for a long time and when I saw the new backup online I had to have one, it was worth the 2 hour drive to the only gun shop I could find that had one in stock. Anyone contemplating getting a Bond Arms I would highly recommend it . They are very well built guns and not a cheap toy like other brands out there. Thank you Gordon you and you crew rock !!!
Sincerely ,Todd
The Bond Arms Derringer is the best built handgun I have ever owned – and I have owned and used over 500 handguns. This is not a glowing brag, just facts based on trading/buying firearms for most of my adult life. The quality and genius design, plus REAL HUMAN TEXANS THAT ANSWER THE PHONE WITH COURTESY at the company are three super reasons to try one of their products. Ask for Wendy in Customer service and you will get great CUSTOMER SERVICE! This company reminds me of old school companies that really do want and keep your business. Thanks again for an excellent firearm and service!! Grannyhousefarms
Went to the Nation's Gun Show in Chantilly, Va a week or so back. First gun I picked up was the Backup. Saw thousands of guns, but went back to the one that caught my attention at first. Couldn't be happier with my choice.
At 50 feet with a 3.5 inch .357/.38 hitting a silhouette target was easy without a single miss. The recoil firing the .357 was acceptable with no sore palm after 50 rounds. An exceptional firearm. I use it as my main carry weapon. I choose accuracy over speed any day. The driving holster is exceptional for concealed carry and effortless draw.
I love my USA Defender. I carry it everywhere. Its dependable and very well made. I have bought 3a diff. Barrels that I can change out easily and in the blink of an eye. I simply cannot say enough about this weapon.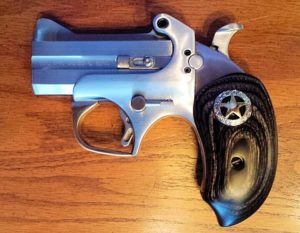 Licensed bail bondsman and PI in Virginia for many years. I have carried several pistols over the years and luckily have never had to use them but after receiving this Texas Defender in .357/.38 and a set of extended grips (beautiful) and ordering another barrel (.45 colt), I am extremely satisfied with this little "hand cannon"… yes, only two rounds, but it is very concealable and often times this is my main carry, especially when shopping with the wife or just out for a meal… yes, I still occasionally carry my .40 M&P Shield but I must tell you… this feels so perfect that I often just have this one IWB. I highly recommend this as either you main deal or a backup… it is built like a tank and after many years of looking at Derringer type pistols, this is absolutely… IMHO… the finest I have found… and I have been a gun collector/shooter since the early 60's… and that is a very long time!!
Purchased the concealed purse for my wife's birthday and she was so excited with the quality, size, and tooling. She does not leave home without it and it is loaded in two ways. Other women are always admiring the purse and asking where she purchased it; she gives the credit for finding her new accessory to her wardrobe. The quality of the purse speaks volumes about the quality of handgun that Bond Arms must sell according to my wife.
I have two derringers, a Cimeron with two barrels, .32 and .38 and later bought the Bond Arms .45/.410, what a difference. When you shoot either caliber of the Cimeron one time, you are ready to clean it and put it away. Either caliber seem so small but so violent on the hand to fire. My son had a Bond Arms .45/.410 that he let me try and I loved it. So I bought one and ordered a holster and ammo belt and black bull horn grips and it is beautiful. Really don't shoot much .45 colt in it, I prefer .410 buckshot in Federal with 5 discs, or Winchester xd with 4 discs and 16 BB's 3″ shells. Rips targets to shreds. What I love is you can put these in your pocket or holster for concealed carry without any detection. I have three different concealed carry guns depending where I go and what I wear but love carrying the Bond Arms when walking the dog around the lake early morning or at dusk. You feel like you don't even have it on you but you know that if you had to use it you have some serious fire power. Thanks Bond Arms for a well made and strong derringer with little felt recoil.
I recently purchased the Snake Slayer IV and have to say it is one of the most solid handguns I own. On top of that it is a fun gun to shoot.
Without getting into a lot of detail. It was almost 2 months before I had a chance to fire the derringer. My Daughter has been very sick and we spent a month at the Mayo Clinic in Minn. I could not wait to fir it. Even purchased a .22 barrel during the time at the hospital. (missed out on your current 50% off email) I am VERY happy with both barrel. Surprisingly the .410/45 Colt did not have as much kick as I thought. Now my little girl can shoot the .22 with me ;o) I have been interested in adding one of these to my collection and never considered any other manufacturer. I would like to ask, because it never hurts to ask. If you might consider a discount on the BAD Driving holster ;o)
I just took my new .45ACP BACK UP to the range. It is one good shooting firearm. This pistol will place the rounds where you aim.
The trigger does take some getting use to.
I purchased the Texas Defender derringer about a month or so ago that had the 38/357 caliber combination 3 inch barrel. This weekend was the first chance I have had to fire the pistol. It was awesome. I shot almost 50 rounds of 38 special ammo through the gun. Pretty accurate at about 25 -30 feet and little to no recoil. I also purchased the driving holster recently from Bond Arms and love it. I will definitely recommend this gun and will be making another purchase from Bond Arms soon for the extended grips and another barrel. GREAT GUN!!
Fired all ammo 45, .410 and 22LR and loved them all. Fun to
shoot, all my friends wanted in on the action. This is a
precision well made firearm.
I ordered the two tone star grips and love the look of them on my little viper. Nobody believes it shoots a 45 LC or 410. I love shooting it at the range and to watch people's reaction to the sight and sound of it. Thanks again for getting the grips to me so quickly.
I live the look and feel of the gun. The only problem is that it has a very hard trigger pull. It is way too tight and takes a lot of pressure to squeeze. Is thare ant adjustment I can make? Would really like to hear from you ASAP !! Thank you.
The Snake Slayer IV is my second Bond handgun….It is well balanced and solid…shot an old discarded car hood three times with 3 inch 410 000 buck shot..It looked like it had been hit with a bazooka! Fun fun fun!
Got the Snake Slayer for woods carry, for snakes and personal protection. it serves its purpose extremely well. Taken a whole lot of snakes and several rabbits. Decided on a 10mm barrel to back up my Glock 20. Wholly molly it is a BLAST to shoot, I've tried hot loads and regular loads, 180 gr in both. The recoil in not bad at all with either loading, its like a 3 inch 410 shot shell. It will see more action this hunting season due to trapping hogs now. Bond Arms makes the Best Derringer of all times in my book. The quality of other derringers does not even come close to Bond Arms. For example, I have a Cobra 38/357 that I have retired to become a safe queen. Having this 10mm barrel will encourage me to purchase other barrels in the future.
bought the gun last winter took it out to shoot it in the spring . found that 357 loads are very uncomfortable to shoot! tried 38sp much better but shot way to low at 7 yds. settled on 38+p they shot to point of aim and didn't try to break my wrists! very well made gun bought the driving holster for it nice work on that! overall I love the gun but should have got it in 45acp instead.great job on keeping americans making American firearms!
The quality of machine work & assembly is second to none . If you want old school workmanship , here it is.
We own a Farm in North Alabama, Pine Mountain. I have killed over 150 Rattlers with my Snake Slayer through the years. About a week ago my 10 yr old son was riding his motorcycle down our long driveway, he almost ran over this 5 foot rattler. He swore not to ride again until it was gone. well it took me a couple of days to locate the snake again but this time I had the Slayer on my side with 45 CCI shot shells loaded. One shot in the head and it was over. Now my son can enjoy his motorcycle again. Thank God for my Bond Arms Snake Slayer.
Bar none the Best gun I own.
David Farlow
I waited to send this until I had my order of barrels in other calibers. I purchased the Backup Matte .45ACP. I am a gun collector and I was thinking about adding a Derringer to my collection. But, they are usually always Stainless Steel and I assumed that the recoil would be a bit much so I waited. Well, the Backup was released in Matte color so I snatched it up to see what it could do. I like the fact that it is made here in the USA and I was interested in the option to shoot different calibers from one frame.
This gun is well made. It seems to be very durable and well finished. The rubber grips make it easy to position and I was surprised that the recoil was very manageable. This gun was a little of a challenge to shoot at first for me because I was not used to shooting a gun of this size. But I must admit, I had a BLAST shooting it and quickly figured out the trigger and a proper hold for me.
After shooting the .45ACP I went online and ordered a few more barrels to see what it can do. I got a .45LC/410, .38/.357, 22LR, 9MM, and 40 S&W. I just return from the range this evening and was pleasantly surprised. I had a great time shooting the different calibers. It was the only gun I took this evening and I had ammo in all different calibers to try. All of the calibers were manageable and I was surprised to see that out of all the calibers tested, the 40 S&W was the round with the most felt recoil (but still easy to shoot).
I closing, this is a great little gun and a blast to shoot. I can see this being in my range bag all the time. Especially since I can use all the different calibers on one frame. I am very satisfied with my purchase and look forward to a lot of fun with this gun.
Thank you Bond Arms, and keep up the great work. You produce an excellent product of high quality that is versatile and fun to shoot.
i read a lot of testimonials before buying this model especially in regards
to the .410/.45 Long Colt and everyone pretty much states its a mild to
moderately decent recoil.
went to the range today and tried 000 buck and 00 buckshot.
now you texas cowboys must be tougher than me because this beast
liked to kick harder than my ex wife.
now im 250 pounds and have a decent size hands but 4 rounds thru
this thing was all i wanted.
i hope if i get the rubber coated extended grip it will ease this somewhat.
i hate to gve it up because it is perfect for concealed carry.
p.s. dont forget to wear a belt because its heavy enough to pull your
shorts down.
any comments?
any suggestions?
sincerly
John Davis
I bought this holster In order to carry off duty without having to where a "cover" shirt. And this holster does the job. BUT as of now EVERY time I draw from this holster the holster comes Out with the pistol!
Maybe if the smooth side was on the inside it would help, for smoothness of the draw and the suede side out May help keep the holster in the pocket.
I like it. It works great for me, easy to cary, I use the 410 defense round and I like the patern
About 4 years ago I bought a new Snake Slayer (SS). I ended up selling it within 6 months because I allowed myself to be influenced by the semi auto stampede. I had also failed to properly educate myself on how to effectively carry, cock, hold and fire my SS. I continued to regret the day I sold my SS.
Fast forward to the redesign of the hammer and trigger and some subtle changes in my vision (getting older). My center fire handgun accuracy had always been average. Vision changes were resulting in fair to average accuracy. I began to think that in a life threatening emergency I might be more effective, at close personal defense range, with a tight buckshot spread versus hoping for pinpoint accuracy with my semi auto. This got me thinking about a .410 carry gun which launched an internet research effort. I went to the Bond Arms (BA) website, learned about the redesigned hammer and trigger and watched a number of excellent BA youtube videos on how to effectively carry, cock, hold, fire and reload the gun.
To make a long story longer – I am now the proud, committed and mega satisfied owner of a SS, Ranger II, Back Up (45acp) and SS-IV along with several additional barrels and holsters. I have a Utah CFP and I carry one of my BA's each day where ever I go. Along with occasional trips to the range I use snap caps and practice (drawing from concealed, cocking and firing) several times each week so I will be as prepared as one can be in the unlikely event that I will need to defend my life or the life of a loved one.
Finally, the engineering and build quality of my guns is outstanding. The customer service is excellent. I am glad that I finally figure it out – I am a totally satisfied BA customer!
Brother In-law asked why I bought a 2 shot pistol…"what good is it?" he asked while boasting about his nine that was stored and locked. I explained that when adrenaline kicks in he will have to unlock his weapon, then frantically spray 9mm rounds hoping to hit a target. My Snake Slayer, with self defense .410 rounds will be drawn from its holster and even with adrenaline rush, fire off two bursts of spinning plates that will likely disable any assailant. He had no response. Mother In-law rolled her eyes at him. Heh, heh…love the Slayer
I purchased a while ago, your BAD driving holster and i was amazed at how beautifully made it was. However it works just as good as it looks. Your BAD holster sits so comfortably on your belt you could easily forget you were wearing it. Drawing it from a seated position in your car is a breeze and totally straight forward, so what could be better? I know if your customers are use to carrying their bond hand cannon in their pocket, they should consider how could they draw it from behind the wheel of their vehicle. The Bad driving holster is perfectly positioned for this. Add to that the ease in which you can remove it if you need to, without contorting yourself like a Chinese acrobat and you have the perfect carry option while on the road you could have!
The design of this holster is fantastic and shows great forethought. A perfect fit for the incredibly engineered handguns Bond has made for us. I see where some say the Bond derringer is a simple design. IT IS NOT! I see how innovative these guns are, yet all the innovations make it's operation simple indeed. Now that is engineering with a purpose, and that is a rare thing too. Thank you Bond arms for helping keep us and our families safe. And as always God Bless Texas and all who are Bond Arms!
Bob K.
As a retired Marine and proud carrier of a Texas CHL, and owner of a few handguns, the one that I carry when I ride is my Ranger 410 / 45 LC. This one gun is designed to provide personal protection within seconds when no Law Enforcement Officer can be found.
Every good American needs to be able to defend themselves from those that want to hurt you and are not good Americans. Bond Arms provides this is one small but effective package.
Outstanding job Bond Arms!
Keep yourself safe, practice gun security and arm yourself from the bad guys with Bond Arms.
Yes I have shot my Bond with serverl loads of 45 colt from mild to a little wild 200gr to 255 lead and jacketed first thing this is no target gun but will suprise you how well it shoots with in its range as for full body hits ones you desided on a load and play with it body hits that kill can be made at 20 plus yards but i like 10 yards a lot betterkeep them in 2″ range with bouth barrels now for the 22lr its just plane fun to shoot i have one target that i shot were i cut the center out of the target at 8 yards my best to date but just plinking with it to see what you can and can't hit is a blast and you will go through more ammo that you think fo just two shots just plane fun and i am lookin to get a 45acp as soon as i can think it might do a little better than the 45colt will wait and see just always like the 45acp any way thats my spin on the Bond Derringer so far sure would be nice to win that 45acp thanks for letting me bend your ear John Williams……
Tried my Bond derringer out on a 3′ rattle snake that was too close to my house and dog. Snake is no longer an issue. #4 2 1/2″ 410 works very well. Whish the trigger pull was a tad lighter.
Bought a Texas Defender, love the feel and weight of it. Later I purchased a snake slayer barrel for it . AWSOME!!!! Have purchased the bad ass driving holster for it and is really comfortable to wear . Plan on buying new grips and more caliber barrels for it!!!!
I have fired one of my Century 2000 ( purchased three ) but not my new Ranger ll. Showed these guns to several friends and they were very impressed at the quality and the versatility of the firearm . Outstanding !!!
I own a small ranch in the Hill Country and my Snake Slayer is my constant companion. There are many potential wildlife threats here (venomous snakes, feral hogs and mountain lions, among others). I've used my gun several times to dispatch snakes (rattlers and a coral snake) that were threatening my dogs. I'm never without the gun and it's very comforting to know it can do the job if and when I need it. Thanks, Gordon and gang, for a well-made piece of American ingenuity!
I WAS ANXIOUS TO GET TO THE RANGE TO SHOOT THE NEW .38-.357 BARRELS I PURCHASED FROM YOU. I WAS IMPRESSED WITH THE ACCURACY THAT A 3″ LONG BARREL COULD PRODUCE AT 17 FEET! HOWEVER, AFTER SHOOTING 2-.357 ROUNDS I BEGAN TO EXPERIENCE SOME EXTRACTION PROBLEMS. I SHOT A FEW MORE .38'S AND THEY STARTING STICKING IN THE CHAMBER AS WELL. I FIGURED THE GUN JUST NEEDED TO BE CLEANED SO I CLEANED IT BEFORE GOING TO THE RANGE THE NEXT DAY BUT AFTER SHOOTING THE FIRST TWO SHOTS W/ .38 SPECIALS THE BOTTOM BARREL WOULD NOT RELEASE THE SPENT CASE. I BROUGHT THE GUN BACK HOME AND TAPPED THE CASE OUT WITH THE CLEANING ROD AND CLEANED IT UP REAL GOOD THIS TIME. I NOTICED THAT THERE FELT LIKE A RIDGE IN THE CHAMBER WHILE SLIDING THE SPENT CASINGS IN AND OUT IN THE BOTTOM BARREL. I HAVE NOT FIRED THE GUN SINCE YESTERDAYTO SEE IF THE PROBLEM PERSISTS. I WAS THINKING ABOUT CONTACTING YOUR OFFICE WHEN IAME ACROSS THIS E-MAIL. HOPE I AM ON THE RIGHT SITE! ANY INPUT ON THIS SUBJECT WOULD BE APRECIATED.
I ordered a new barrel for my husband's Backup as a 10 year anniversary gift. I noticed on the website that they ask to allow 2-3 weeks for delivery. Silly me didn't realize it would take that long and my husband was scheduled to go on an 8 month deployment in 2 weeks. When I called to place the order, I asked about expedited shipping. The extremely nice gentleman that I talked to said that unfortunately, they don't offer it,but he would see what he could do to get it there as fast as he could. 5 days later, my husband was able to open his new barrel and grips! I can not say enough good things about this company! I recommend Bond Arms to anyone who wants a great gun and great customer service!
Wonderfully made handgun. It's as much fun to hold and handle as it is to shoot. Definitely the quality of a fine time piece. An attention getter at the range.
Well done Bond Arms.
I had a Saturday afternoon with nothing in particular to do. The wife, the daughter, the granddaughter, and the great grand kids were going to some chick function. The other grandfather played golf and I went to the gun store. I walked in and there it was. I swear the Bond derringer said "pick me up" and I did. Then it said "buy me" and I did. I didn't know guns to talk except to say "bang." Best gun purchase I have made and according to my wife I've made way too many. Let's just not tell her. She doesn't like guns anyway. Our secret.
An observation and advice for ladies thinking this would be the perfect carry weapon (as I did). I called Bondarms to ask about the trigger pull since I had checked into the doubletap 45 derringer (the 1st one I heard of). Reviews had the trigger pull between 10 – 17 lb pull. After shooting various weapons during my lifetime and never having a problem shooting any I decided to check it out before buying. Good thing because I could not pull the trigger with one finger . I checked into Bondarms as soon as read about it in the American Rifleman. I called and was told it had a 5 lb pull. I got right on buying one. A few days later it came it. I was totally disappointed as it was such a struggle to fire with one finger. I could with great effort but sure wouldn't feel safe using it as my personal carry gun. My compact 45 fires easily along with the various other guns I have. I called Bondarms. Ended up sending it to them. They e'ed a prepaid postage label. After getting it back in a few days it was easier to fire but not ideal. Still is harder then all the others. But I feel I could fire in an emergency and will use it as my carry weapon. Hand canon is the perfect name for it. Clint Eastwood doesn't have the most powerful handgun. I do!!
I did not know what to expect when I purchased my "Backup" derringer. I had wanted a Bond Arm for a long time, but previously living in California, derringers were not allowed to be purchased. After moving to Texas, I thought why not get one now. I purchased the Backup simply to go in the car with me or to wear as a concealed carry. I finally got my derringer and purchased some ammo to try it out. With some hesitancy, I went to a firing range, loaded it up with .45 ACP rounds and fired it. There was a moderate amount of "kick" and hardly no recoil at all. I made a quick use of 25 rounds of ammo.
The only thing I can say is, I think for me I want to purchase the extended grips. Even though my hands would not be considered large, I feel that I would be more comfortable with a little more grip on the gun. I did notice that I banged my knuckle against the trigger guard. That is probably due to having never fired a derringer before, and never having fired that caliber of ammo either.
I love the gun and as a matter of fact, I have already purchased two additional barrels to fit ammo I currently have. You will not be disappointed if you buy one of these derringers. They are sturdy and extremely well made. The only thing I will say is: "if you don't buy one you won't know what you're missing."
My Bond Arms Texas Defender has a great feel and shoots well. Recoil is no more than one would feel from a 38spl or 357mag. I carry mine as a back up on my ankle. Thanks for the great product Bond Arms!
Yes I have fired my new Ranger II, it is a fun gun to
fire, thanks to Joe(Bond Arms) I did not hold it like I
was firing any other gun. He advised me to hold it with a slight bend in my arm due to straight back recoil. He
was right. Thanks Joe. Robert O Town
This weapon is truly a hand cannon. That does not mean it is uncontrollable 3 inch 410's were fun to shoot and 410 slugs were surprisingly accurate. Qualitiy in craftsmanship on this firearm is excellent. I am very pleased with my purchase.
OMG! I purchased a snake slayer IV to carry when I go for walks with my dog in a swampy area that is known to have rattle snakes and water moccasins. Yesterday it happened. My Brittany alerted me to a snake. I immediately knew it was a moccasin. I got about 10 ft from the snake, aimed and fired. Stopped him cold (410 4 shot 2.5 in), he laid his head back and showed his fangs. I moved closer and shot him again to be sure and that was all it took. I am a 62 yr old woman, not very strong, and have never killed anything. I shot this gun with COMPLETE EASE. It is the perfect size for me and engineered so precisely that there is NOT too much kick, even for me. Because I carry this gun holstered on my hip (your beautiful leather one), I can walk in the woods with my dog and be confident that I can protect us from whatever real danger we might encounter. Very liberating! didn't know I could LOVE a gun so much!
Thank you! Margaret
Highest quality: Company
People
Product
My American Defender is a self defense weapon that creates additional confidence for protecting my family.
It has only been used at the Range and I hope that it will never be used in a confronting self defense situation … which we are conscious to not put ourselves in as we move about our community and travels.
I received my new Bond Arms Ranger II this week. Since I am in a wheelchair I wanted something compact and do not like racking slides. The Ranger II with the PDX rounds works beautiful. I love the carry holster too. A great CCW weapon! Thank you Bond Arms. The Perfect Fit!
I had an opportunity to shoot my Texas defender at my local gun range. My derringer created quite a stir. Most of the guys were saying the the derringer was a bit underpowered considering I only had two rounds to use to defend myself. That was until I fired two rounds of Hornady Critical Defense .410. No one had too much to say after that.
I work in south florida around the everglades,with alligators and all kind of snakes around . My snake slayer, with one barrel with a 410 and the other with a 45 colt, is always with me, easy to carry and enough power to do the job if need be
Just to be clear, I have NOT (yet..heh, heh) shot anybody or any animals with this piece, but I would have no fear shooting any attacker with it! The stopping power of the .45 long colt OR the 3″ double ought .410 should be sufficient for threatening man or beast including mountain lions which frequent my neck of the woods. I don't think a reload and re-fire would be necessary, but you never know. I think I might be buying a .22 or .38 barrel for more relaxed shooting, and I've been very accurate with this heavy piece of American made metal out to 50 feet which is darn good for my 60+-year-old eyes, wouldn't you say?
I have fried my gun and love the way it handles.
I just love my BATD! It's small enough for my small hand the Rosewood grips are pretty and comfortable in my hand. It shots as well as any gun I own…very smooth. My husband bought this for me; and he says he is now confident that I have something I can easily carry.
Bought one for my wife, Damn thing was so neat, I bought one for myself, Strapped to my left ankle most every day. Love it just plain love it. I swap the carry duties with a 605 2 inch 357 mag Taurus. Both handguns fit m;y little stickey holster just fine
Great heavy duty pocket pistol.
I am very well pleased with the quality of my derringer. It lives up to its claims. Most definitely the best made derringer in the world. I am proud to have this company in Texas.
I ride b
my bicycle about 8000 miles a year, and bought a Snake Slayer after five of my cyclist friends suffered dog attacks. One day a large dog came out onto the road after me, and being in the winter, I was not able to outside him. I had decided ahead of time, that if this situation ever occurred, I would pull the trigger at five feet and closing. This incident happened in the country, where hunting dogs are common. At 8 feet away, I cocked the hammer…click. The dog immediately backed off, as if he knew that sound. I rode about a quarter mile, stopped, and docked my Snake Slayer. That was the only time I have ever drawn in self defense, and I didn't even have to shoot. My Bond Arms travels with my road bike now, whenever I ride.
Thank you bond arms for producing one well made american firearm. Keep up the good work.
– Josh Gardiner from RI
This is a great gun. Compact and very sound build. It is extremely accurate. I have had hand guns where the front and rear sights were hard to line up because they did not mate well. The Bond arms is not like that. It fits all the way around, even my big hands. This is just an amazing handgun.
I have shot a lot of rounds and it's fun to shoot. I bought other caliber barrels and grips for it, and it's not hard to shoot or hit what you're aiming at. Good backup carry gun.
Researched the Ranger II for 2 months prior to purchase, well made, solid gun, will be my concealed carry choice for now on
This weapon fits my hand perfectly and shoots like a dream.
I bought the Texas Defender with the 38/357 barrel but also purchased the 22 magnum barrel for my wife. The new barrel was a little sticky and after a while it seated and is doing real well. She shot 50 rounds through it yesterday and only had four
off the silhouette but still on paper. I think she likes it but for a small woman it is kind of heavy. I'm working on that. We are very satisfied. And, Joe, in the service center was a real help getting the second barrel seated. Thanks Joe.
This gun is beautiful. It is well made and solid. My wife thinks the recoil is about the same as her .38 auto when shooting this .45. This gun has stopping power and easy to conceal. Both my wife and I shoot 21 ft. a total of 16 times and missed the target just once.
The 1st night I owned this pistol I used it to Kill a Possum in our chicken house. We'd been loosing eggs. I thought it was a snake, I had Win. 2 1/2″ super X #4s in it. I shot it at only 4 or 5 ft. in the head & neck, but I was surprised that some of the shot went thru the head neck & shoulder. I didn't notice much recoil, but boy was it loud inside.
This gun is the most versatile gun I have. I can conceal easily with a smaller grip & 2.5″ barrel. I can convert it quickly for a great bed side gun with a longer .410/ 45 barrel and bigger rubber grip. I can't think of a more versatile gun. Plus it's made in the same country I live in: Texas!
I bought myself a birthday present of a Snake Slayer IV. I am extremely happy with the fit and finish and overall high quality for this handgun. I wasn't sure how much I'd really use it until I had it with me when I needed it to kill a snake. It can be a handful to shoot, but it is accurate, easily concealable and a lot of fun. Now I want the Bond Mini.
Dear Sirs,
Last year for our Anniversary I purchased a Girl Mini as a gift for my wife to replace a larger handgun she always carried but was too heavy. The Mini rarely left her side.
Unfortunately last February she passed away so the gun was passed to her best friend who absolutely treasures it and carries it all the time in a FlashBang holster on her bra.
I want to thank you for making such a quality firearm that made my wife extremely happy. Please know that it is well cared for and soldiering on with her friend.
Sincerely,
Randy Wertz
Beverly Hills, Fl.
I recently purchased this product and I am here to say, I love it.
I purchased my bond arms, Texas defender with 2 barrels 410/45 and 357/38 on 5/29/10. Sometime later I purchased the Snake Slayer IV barrel, the rosewood extended grip with silver star and display box from the factory. Of all my gun collection this has become one my favorite. I love the way it feels in my hand. Not to mention the way it shoots.
Last week I took it and the 2 barrels to the engraver. Got it back yesterday tuned this amazing piece into a work of art, this will be a family heirloom for generations to come.
I love my Bond Arms Derringer! It's not only a great gun but it's fun to shoot and made in Texas just like me. I ordered a
.357 barrel as well and can't wait. Only feedback I have is I wish the shipping of accessories wasn't 2-4 weeks. I probably would've purchased more by now if it was quicker.
I'm sending emails to both your company AND Versa Carry to suggest that you two Texas entrepreneurs consider supporting each other. Why? Because I recently purchased a Bond Arms derringer and was looking for a good IWB holster for it that was secure and not bulky. You guessed it! WOW, what a combination. The stainless steel of the derringers won't be bothered by skin oils and the Versa-carry fits it like a glove. Super comfortable, concealable and practical. Hope you guys at least consider talking about it or recommending each other's products.
Just picked up my USA Defender. I am super impressed with the quality of craftsmanship that is evident in this weapon. This is one rugged piece! The BAD holster that came with it is also exquisite. I could not be more pleased with this purchase. I highly recommend Bond Arms to anyone looking for an American made concealed carry weapon. Outstanding!
Over the years I have bought different guns for my wife to shoot & carry. She just was not comfortable with a pistol and/or a revolver. The Day I got her the Texas Defender 38/357, my search was over. If I go to pick it up now, she wants to know were I'm going with HER gun. Thank you for a great Gun!
Last week , I was fishing Stonecoal lake WV from my canoe w a 2.6 four stroke on the back, as I have many times before, Snakes all around but never bothered me in last 11 years,
I parked canoe along shore and grabbing my lunch, set two poles out and kicked back under a tree.. later, one boat was passing and they yelled out, "watch out for snake" I looked and a large 5 ft snake about 200 yards away, came out of the woods, stalked me as it came across the lake, and headed for me, it would stop , lift its head and look for me. I looked around , no rocks, so I grabbed an old tree trunk about 3 ft long and 2 ft wide and bounced it off the snake and my fishing pole, breaking it, as he approached my shoreline, This made the snake madder, so I took off and waited, later, carefully retrieving my canoe.
Snakes have NEVER bothered me, including cotton mouths etc, while I fished and they lay on the shor about 2 ft away, I have no idea why this snake was mad at me but I swore, I will NEVER, be afraid of a snake again, Thats when I looked up guns and "Snakeslayer couldnt fit the picture better..
I will go back and fish that same spot, but the odds wont be even this time.
Thank You
Rich Kuhn
Retired US ARMY
I went to NW Shooter indoor range last Thursday and fired my new Bond Arms that I got for my birthday/fathers' day present for the first time. First shot (.45lc) was high and to the left – I'm left-handed and flinched badly anticipating a large recoil but was not bad at all. I shot eleven more times and had all but one in a 5″ circle at 30 feet. Next I fired four .410 pdx defensive shells – the pattern was within 16″ radius at about 24 feet. The quality of this firearm is exceptional. I also like the driving holster that came with it; a great concealed carry firearm and home defense gun. It is so comfortable that sometimes I forget that I am carrying it. It is also AMERICAN MADE.
A friend told me about his Snake Slayer and how much he liked it so I shopped around and found my USA defender. I love this gun. I have 3 different barrels I can change out on it. Awesome look and construction.
It's always rewarding when you get that "money well spent" feeling.
After shooting my USA Defender for the first time, I learned that not only did I purchase a great looking and stout firearm, I now own a very concealment friendly and accurate weapon.
I fired 13 rounds of the 45 Colt and 1 round of the 000 buck from a distance of 15 to 18 feet. All hit between the shoulder line and chest X in a group 2.5″ wide, (windage- center mass)and 8″ long, (elevation) all in the interring zone.
Anyone who is serious about personal protection should own one of these derringers. When carrying it in my holster, it's like carrying a cell phone but 100X more reliable than a 911 call. It's a very quick draw when carried either in the holster or in my pocket. A great first response weapon carried with my regularly concealed handgun. The only negative I have is that I waited too long to buy one.
To everyone at Bond Arms, Inc., I thank you for making such a high quality and all around firearm. Great job!
Test fired my Texas Defender on the Saturday before Father's Day with my son. At 20 feet my first shot using 410 ammo surrounded the bull's-eye. This was more impressive than hitting the center of the target. For self protection I believe two 410 shells is the best way to go. One will not have the time to draw, aim, and shoot in most situations. One can't afford to miss on the first shot when one's life is on the line. Great Texas firearm!
Got my hands on a Snake Slayer IV at last. Superb quality and function. Locks up like a bank vault and patterns well with 00 buck and the PDX1. Fit and finish is outstanding. It feels like real gun in your hand. I also obtained a 3″ .357 magnum barrel. The .357 is very "accurate" given the limitations of any gun this size. Can place shots high center of mass with ease. My barrel liked the 145gr Winchester Silvertip. Will be a handy little gun for hiking and fishing.
I have the cowboy 410-.45 LC and all I can say is heck ya. After having shot it several times surprisingly accurate and effective at close range ( 10ft) and loud enough that if you don't hit em they will have a heart attack. The fit and finish impress even seasoned shooters. Good job guys you rock.
I bought my Bond Arms derringer as the Snake Slayer model in 2009. I enjoy carrying it around with me on a daily basis. I have recently upgraded it with a barrel change to a Century 2000. It is lightweight, very easy to carry concealed, and packs a punch like no other firearm its size. It is very stylish, and a great bargain for the price. The many ways it can be accessorized is also a plus, with a great selection of grips and barrels that are available through Bond Arms. I proudly carry it with me almost 24/7. I am very satisfied with it, and am proud to live in Texas and to carry a quality manufactured Texas made firearm!
A LOT OF DESCRIPTIVE WORDS HAVE BEEN USED TO DESCRIBE THE THE VARIOUS BOND DERRINGERS…BUT THE WORDS THAT COME TO MIND AFTER SHOOTING MY TEXAS DEFENDER FOR THE FIRST TIME IS "SEXY SOLID!!"
Hi bond guys and girls. I've got something to be heard. I had my bond firearm for a few weeks and it seemed to have a little glitch in it. I'm heading out to the Mark Twain National Forest here in missouri in the morning. I just wasn't sure about my bond and i was running out of time. I got with kelly, who got with russ the plant manager and sent my gun back to be looked at. Yesterday i got my gun back. Except it wasn't my gun, it was a brand new one. This all happened over the course of 6 days, two of them being the weekend. You are not going to find this kind of service anywhere. I just got back from some test shooting and love the bond company even more than i did. I was shooting 45 colt at 10 feet to target. All shots hit at point of aim with a spread of 3 to 5 inches. I was shooting fast because thats what i'll have to do if it comes down to it. Recoil? None, it was kind of like shooting my 38 special with a 4in barrel. If you're thinking about getting a bond just do it. Between the quality of the firearm and the exceptional service there's no way you can go wrong. Many thanks to kelly and russ for making the impossible happen for a broken up old cowboy.
Just holding this well built fire arm tells you this is not your ordinary gun! In a world where true quality, and pride in workmanship seem to be quickly disappearing, it is refreshing to find something that is so obviously well built. I would recommend this firearm to anyone who will settle for nothing but the best!
I just bought a mini (.45 colt) What a piece of workmanship. The machining is just wonderful. I have a couple other Derringers and none I mean not one compare. The quality is as high as possible. Can't say enough. Thank You . Dan C. Severin
No I didn't have any problems with my incredible Snake Slayer, but my problem was what came with my Gun. I will not say what the problem was here so others will not try to take advantage of such a fine company. Just suffice it to say, I had a problem and Bond arms and Terry from customer service took care of it immediately! You couldn't ask for more. Thank you again Terry, and God Bless Bond arms and Texas!
Bob
I own the Snake Slayer with 3 barrels…the 45/410, 45 Colt, and 45 acp. Your weapons are built America Strong!
As for your customer service, I recently inquired if I could exchange an unused BAD holster for the BATB model. I was informed that there would be no problem! I shipped the BAD and recieved the BATB a few days later. And this is the SECOND time I had made such a request, the first time being to exchange an unused clip on holster for the BAD holster! So I cannot say enough about your excellent customer service! In this day and age, most companies simply do not go the first mile, let alone beyond for customer service. So when a company like your's, not only makes a stellar product, but then goes above and beyond to make the customer happy, then KUDOS are definitely in order! I will probably be purchasing more barrels in the future, and it is precisely because of your company's business ethic, that I am, and will continue to be, a walking, talking ambassador for Bond Arms. Thank you so much.
David Green
Great Gun and fun to shoot. I enjoy switching between the 410 and the 45's.
I originally bought this gun for a back up and just a cool gun to have. It has a nostalgic look and just plain feels solid. The surprise came when I took it to the range. This gun is much more accurate than I ever thought it would be. Recoil is much milder than I thought it would be also. I ran 50 rounds through it with relative ease. I will definitely be a repeat customer
fired my usa defender with 410 , 38 sp, 38+P,357mag, the 410 was my favorite
Hello,
I have a like new extended set of wood handles apparently rosewood with no logo or star and a set of like new regular wood handles, not extended (no logo or star) that I would like to trade for two sets of rubber extended handles. These derringers are hard enough to hold onto without having slick wood handles, they are beautiful but not practical at all for what I have the handguns for. Wet or sweaty hands need rubber grips.
This might sound a little crazy but I would like to see you make a set of rubber handles with a lanyard hole so I could wear the derringer around my neck and shoulder the way the Canadian Mounted police carried their lanyards, placing the lanyard only around the neck is inviting a choking hazard. While fishing and berry picking having an easily accessible snake charming device is essential. A lanyard of paracord could be used without discomfort to the hand while firing, to prevent dropping the derringer while shooting and as a safety device against loss while wading, kayaking, etc. I do not prefer to use the trigger guard for this purpose because a lanyard in the trigger guard could actuate the trigger, prevent getting one's finger into the guard to fire the derringer in an emergency and the trigger guard could come off causing the loss of the derringer. A holster capable of preventing the loss of the derringer makes it difficult to deploy it in an emergency, pockets create a similar problem.
We do not have cotton mouths here in West Virginia but we have copper heads and rattle snakes with bad attitudes. Black bears can be a problem here too.
I owned a German made derringer in .357 magnum years ago for snake control and your derringer is far superior in quality and safety.
If the rubber grips can be drilled to facilitate a lanyard please indicate where and I will drill them.
If the quick strips can be drilled to put a paracord on them for use with the lanyard; I would like a set of them.
Thanks for making such a good product.
Take care and God Bless, Norris D. Dyer
Hi,
I just wanted to thank you for your excellent attention to customer relations! I recently asked if I could switch holsters. This is actually the 2nd time I've done this! The 1st time was to exchange a clip on holster for the BAD. This time, I wanted to switch for the BATF. Even though you had done this once before, you still allowed me to make the switch! I can think of no other company that is so willing to go the extra mile! Your willingness to please a customer is fantastic, as are your most excellent Derringers! I own the Snake Slayer with 3 barrels… 45/410, 45 Colt, and 45ACP. I will soon order a 9mm barrel, and probably 2 or 3 more!! Your company, fantastically great firearms, and customer service second to none, have made me a satisfied, lifelong customer! Thank you again, for your kindness in dealing with what many companies would consider an unreasonable request. I am, and will remain, a walking testimonial for your fine company!
David Green
I found out about Bond Arms on a gun forum, then started surfing Youtube and found Gordon's videos along with quite a few other reviews and recordings of people shooting Bond Arms products. A couple nights worth of viewing those made me click the link to see if anyone local carried them and they did. The only one they had in stock was the Cowboy Defender, which I hefted and purchased right away. Then the real fun started. I took it to the range and was completely impressed with the way it handles. Not to mention the quality. The other guys at the range were pretty impressed as well. Nice job, Bond Arms! I'll order another barrel or two soon, as well as some of the other swag you have. Thanks for making an incomparable gun that will outlast us all. Cliff
i haven't had the chance to shoot the gun yet. i do love the appearance of the gun, the design,the construction,the feel of it in my hand. i like the concept of being able to change the caliber just by swapping out the barrels. this will be one of my carries.i'm sure i will have more comments once i start shooting it. i showed this gun to both my sons and they fell in love with. kudos to a nice handgun.
Love this Gun. Conceals and carries easy. Has superb stopping power.
My SS is truly an insurance policy. Traveling from FL to New England, this gun was a constant companion. Even when there was another weapon, my Bond was within reach. Always dependable. I have never felt under gunned. Obviously, knowledgeable people like Michael Bane agree.
Inexpensive? No. But neither is any other insurance.
With 45 Colt, 410 000 buck, and 410 birdshot, it is an outstanding backup survival weapon. Real world insurance.
First of all, Thank You Kelly for everything you have done for me!
Now, I will tell you my story. I sold my new Thompson 45/70 Contenter because after seeing the Snake Slayer IV I knew I could finally have a weapon that I could carry around without having 2 belts to hold my pants up. Yes I was right! The Snake Slayer is the best! I carry it everywere. See I own a Ranch in Lake Havasu City Arizona and ride horses daily. I needed a weapon that would be my sidekick without the horse carrying it! lol
Let me tell you if you see a Snake and with this 410/45 colt within in seconds you will see meat flying in the air.
And yes the little weapon will still be in your hand. Best little friend I ever had!! Also, I purchased the two holsters for it as well. They are very well made even more than the highend holster I have owned in the past. Very, Very, Very, well made.
Please purchase these if you purchase a Snake Slayer or any other of their Weapons.
Darrell Long
Wagon Wheel Stables
Lake Havasu City AZ, 86404
We want to say thank you to Gordon Bond, Travis Moon, receptionist and the people who work at Bond Arms. Never before have I experienced such exceptional customer service that I received while my Bond Arms Cowboy 45/410 was in for repair. Our home burned to the ground and only this charred gun was found in the fire remains of our home. I had receive this gun as a present @ christmas in 2003 and boy was this a surprise. I have shot this gun thousands of times both 45 and 410 and its never failed once. The fire to our home was so intense that everything that we owned was lost. Some guns was burned beyond reconition and some were never found. The only thing that survived that fire was my Bond Arms Derringer. It was a skeleton when found but I hoped it could be repaired. I talked to Travis @ Bond Arms and he recommended that I send it to him for evaluation. after about 6wks Travis called me about the gun and was able to get all the old parts and melted springs out of the charred gun. He recommend that I reduce the caliber size if I was going to shoot the gun anymore for safety reasons. the next day the owner Gordon Bond contacted me about my gun and my intentions and we discussed the metal issues and safety after metal gets extremely hot.We came to the conclusion that we install a 22lr barrel on it instead of 45/410. They bead blasted and polished the frame installed new parts and grips. when I received the gun on Wed. I was so surprised and pleased with the quality of the work that they had done to a gun that I thought was a total loss.It may be a 22lr derringer but not a total loss. This derringer was very sentimental to me and was the only thing that survived the fire. Again thank you Gordon,Travis and everybody @ Bond Arms for saving this gun. Your commitment to your customers goes above and beyond any expectations. Sincerely Thank You.
just wanted to say that you don't need to be from texas ,don't know what this guy had in mind,but the TEXAS DEFENDER changed what ever he was planning on doing.Great firearm,glad I had with me that evening.TOP SHELF.Thanks Tom Gibson
I just received my BAD holster and I am amazed at the quality of the product, the fit of my gun and the comfort of wearing it. I wished I'd order the BAD holster when I first purchased my Bond derringer a couple of years ago. I know I will wearing my new holster every time I go out and will retire my old hip holster to my for sale box. Thanks Bond for another great product.
I recently purchased a Bond Ranger in the .45/.410 configuration and I must say, this is one solid little handgun. The satin/brushed stainless steel finish is esthetically beautiful, all edges smooth and tightly fitted. The photos you see of it do not do it justice.
Functionally, it works like a well-made machine, yet simple to operate. You can even adjust it so that the first barrel fired is either the top or the bottom, whichever you prefer.
In short, I love this weapon and have even ordered another barrel in .22 Magnum configuration for plinking. Yes, you heard me right; there are multiple barrels, all interchangeable, available as well.
Mr. Bond – Greetings! I sincerely hope your business is doing well. I recently purchased the Ranger II in .45/.410. What a dreamy weapon! I really appreciate the fact that it is made in the USA (made in Texas, just like me!).
I also really appreciate the craftsmanship and heft of this pistol. I shot it at the range the other day. I couldn't use any shot shells (range rules), and I was a little apprehensive about the .45 colt rounds, but I am pleased to say that the recoil (while apparent) was quite manageable. The sights were exactly as described and totally accurate. The gun felt luxurious in my hands, and functioned flawlessly. My 64 year old father also shot a few rounds with it, and he also said that the recoil was not that bad. I actually found the recoil pleasant. The driving holster that came with the pistol is very very nice, of very good quality, and is a great perk to buying such a weapon.
I am looking forward to putting some .410 defense rounds through it, and I am also looking forward to purchasing a 9mm barrel for it, so that my wife is a little more comfortable using it for home defense. I do feel that the .45/.410 barrel would be a little much for her slight frame. Then I will purchase a .22lr barrel for it for plinking, and to teach my young daughter the fundamentals of shooting.
I don't have a single complaint! I look forward to many years of service from this fine pistol, and I tip my hat to Bond Arms for reviving and elevating a difficult niche of firearms. All the best, and God's blessings, Ted
Snake Slayer – Great quality, but of coarse it is USA made!! Nice weight (22oz) and feels every good as it looks.
Great derringers guys – keep up the good work!!
Martin K. Gardner
I just purchased a Texas Defender. I was at the gun shop looking for a new handgun for my daily carry and the TD caught my eye..the second i picked it up i knew that I had found a keeper..I will never sell this one..more like a work of art..very cool..gonna load the pdx 1. headed to the range.
Feels like a well designed, precision weapon.
Waiting for the 50 GI barrel, or do I need to ream and chamber it my self?
I have carried for more than 20 years both in the service and as a civilian and I have multiple guns I carry at different times. I will admit I got a bond arms just for the novelty of it but have since found it is my favorite carry gun. I never go anywhere without my snake slayer and I am planning to own a few more of these wonderful little shooters. I could not recommend these little cannons enough. Whenever a friend or military buddy of mine go shooting I tell them to try it out and they usually laugh until they try it and their attitudes change quick. Well done and well made Bond Arms team.
Just received my holster for the Texas Defender. You folks are batting 1,000. The Defender is perfect and so is the holster. It looks better in person than in the picture. Thanks.
Bought some land about 8 months ago to eventually build on. It has a swampy area that I have been down to twice both times I have ran into some nasty snakes and both times my Bond Arms has been with me and dispatched them. Here is the latest.
I purchased a Bond Arms Snake Slayer with a .45 LC/.410 Shot Shell 3 1/2 inch barrel. A month later I purchased another SS. I shot over 50 rounds in the .45 LC. The recoil is much less then I could have imagined. I was unable to fire a .410 round yet because of the range rules with shot shells. I like the ability to carry and CONCEAL this little gem. So much that I purchased 2 driving holsters (1 blk 1 tan) and extra barrels in .22 mag and the .38 spl/.357 mag. I like the 4 1/4 barrel the best (more accurate than a shorter barrel) and still concealable. I want all of the barrels so I can shot any round I find in an emergency situation!
Quality and function of these little buggers exceeds my expectations.
Received my 4.25 inch barrel in matte finish to match my backup, chambered in 45 colt/410. Great barrel! Finish is great, locks up tight, shot 2.5 inch 410 shells out of it and the recoil is fine. Getting some buckshot loads and gonna put this in to my concealed carry rotation. Also got Bond Arms sticky holster, backup with 4.25 barrel goes in it and fits in my pocket great! Will be getting more barrels! Thanks Bond Arms!
I shot 3″, no. 6, 410 through it and found the round was no worse than a 45 ACP. I then shot a 45 lg colt through it and the recoil appeared to be less than the 410. I have one problem with the design of the gun and that is the grip. It's a little uncomfortable in its curve. This would not stop me from buying the gun.
The last few times I have gone shooting I spent a great deal of focus on my Snake Slayer. I have owned it for two years and carried it but I had done little more than shoot it a few times and figure that it could get the job done if needed. But when going shooting with my friends and seeing our varying choices for self protection guns, I felt a little competitiveness build up in me. Did I have a good gun? Was it comparable? I decided to go through 50 rounds of 45 long colt and a box of 410 #2 buckshot. The target range varied from 15 feet to 40 feet. The guns I was shooting against were a 45 Springfield semi single stack and a Smith and Wesson snub nose 38.
First, I will say that my hands are probably average for a male. And with the grip on the Snake slayer, albeit beautiful, it was a little small for me. When trying to grip the gun I had a tendency to let the grip slide down my hand a little making my shots go a little high. I had to mentally compensate for this…. not a good thing to have to do. Second, this gun has quite a strong trigger pull. So much so that it throws you off and makes you jerk a little bit. I have found that this was accentuated greatly by the position of the grip in the palm as well. I actually asked a gunsmith about this problem and asked if they could lighten the trigger pull for me. Their response was that they recommended not doing that. So I was stuck with this heavy pull. Also, to shoot this many rounds, I was using a glove. The kick from the rounds that repetitively wasn't something I wanted to contend with. And when you tried a few rounds of the Winchester handgun loads (the one with the discs and BB's) boy did they up the ante with the kick.
So on this day the Snake Slayer was comparable in accuracy with the 38, but the 45 had us. It was a bigger frame and definitely had a lesser trigger pull. And the site acquisition was miles better.
So I went on a hunt. I found your new extended rubberized grip. I thought I would give it a try. It does make the gun look a little less pretty and a little more like you are gonna use it and not display it. But OH MY GOD does it make it so much better to shoot. First, the sight picture is now much more dead on. The grip doesn't rotate down into my hand. When I cock the gun and pull it up, I am right on. Second, the trigger pull, because the grip is better aligned is improved, albeit a little firm, but better. and the shock absorption is miles better. I would say it now is comparable bare handed to shooting with gloves.
This one little product has changed my outlook on this weapon. My confidence is much greater with it. I thank you. My wandering mind of wanting to possibly change my carry gun to a semi was fixed for around fifty bucks with a new grip. Go figure.
In January I had the privilege of going to the shot show in Las Vegas, while there we came across the Bond Arms booth. Mr Bond is a very nice and outgoing gentleman and we got to visit for a little while. After handling the Snake Slayer 4 I knew I was going to have to have one. I have never handled a higher quality gun in my life. I carry a 4″ 45 pistol and in the summer I have a very hard time concealing it because it is very warm where I live and I don't wear an over shirt like in the winter. I finally got my SS4 and can carry it in my pocket and no one knows that I have it. I was out camping a while back and there were several people in the camp. I had not had a chance to shoot this gun yet so I went off to a safe place and shot some 410 rounds thru it. I was not surprised that this gun was very controllable with this round, just the feel of the gun lets you know that you are not handling a toy. Two other men and a woman took shots with this gun and they were all surprised by how good it handled. I am convinced that this is the finest gun in my collection and I am proud to own a Bond Arms handgun,
Next to my BAD Driving Holster, the gun magnet is the best accessory I have purchased. It's mounted in my truck under the steering wheel and handy as hell. I live in an area where there are 10 to 20 shootings per week so it's wise to arm and possibly defend yourself. Now I have a weapon within arms length all the time.
I bought this for my wife along with one of the purses. Its not as pink as it looks online, looks way better in person. She is not a gun person so the simplicity is a big plus. Shooting .38 is nothing, even for her. .357 mag…….just sneak those in after she gets used to .38
Great gun, very high quality.
Works as advertised. Simple and fast to swap out the original and replace with the 22LR. Using the 22 for firing familiarity saves me some money on ammo and sacrifices nothing. I am well pleased with the gun. It is, indeed, a very well made last ditch defense weapon.
I own a Bond Arms USA Defender. .45 colt/ .410 with 3″ and 4 1/4″ barrels. I have fired about one hundred rounds through it. .45 Colt and a variety of .410 loads. Powerful and built like a tank. Fun to shoot in the woods, range and a nice CC pistol. A very good self defense pistol and nice sidearm in the field. Picture below is my night table in Virginia.
I ready enjoy my texas bond arms I have the 45colt &410.I took it to the range.and have lots of fun.this was my first gun.and I love it thanks bond arms.I think y'all make some nice safety easy weapons.and I'm going to be a custom.for life.one more. Thing how do I clean my barrel after I leave the range.
you guys did great great gun lot of power for small gun and I can change barrels and handles an accurate
I thought the recoil was going to be next to real nasty, but it was very manageable. I fired 45 Colt and Winchester PDX1 and Winchester 000 buck. I prefer 000 buck as it has a velocity of 1300. With the short barrel you must wear hearing protection, even if you stand back of the shooter. I love it.
Loved it so much bought another one for my wife. Really doesn't require a warranty built to last lifetime's
After getting my Snake Slayer, I really wanted to shoot it. The 4th of July weekend was a perfect time while out in the country. I was able to put the 2 1/2 inch and 3 inch shotgun shells on a piece of cardboard to check how it would pattern as a snake killer. At a snake killing range there is "NO" drop on the top or bottom barrel as advertised. Put it on their head and squeeze the trigger and you will have a good snake (dead one).
I first ordered a snake slayer with a 45 Barrel and fired both 45 and 410 ammo out of it . I am 81 years old and found that that is to much gun for me . I have arthritis and it is ok for emergency use as a 45 or 410. So I now use a 22 barrel for target shooting so I can get a feel for the gun itself. I am very pleased with it and will use it as a great in house or backup weapon were one shot will do the job. Even with arthritis I still can get off the one or two shots if needed. I know I may be sore after but still standing.
Thank you for a excellent well crafted and easy to use gun.
Just moved to this lake thus realized a need for a shake gun, excuse me a "Snake Sayer". I have watched with delight all the youtube reviews about this gun and had to have one. I found a contestant right away. Absolutely love this this gun. Its not really a gun, its an extension of of ones self in an attempt to express to the reptile community exactly who is in charge. When Mr Bond says, you will really enjoy shooting this gun, he's right, it is a joy to shoot my Snake Slayer 4.
i have never shot a Bonds handgun before, I thought it would be a handfull but to my surprise it was very easy to handle a joy to shoot
Having been a passed USA DEFENDER, and living in Detroit I decided to purchase the USA Defender.
The mistake that I made was to put my baby in a pocket with a set of keys one day … the results were quite a few minor scuffs and scratches, I was Heart broken.
The saving grace of the situation was watching a YouTube video bY the Yankee Marshall
( he is funny as hell but very knowledgeable )
Of course Polishing Stainless steel Firearms with Flitz and Mothers polish presented a problem…
NOW MY USA DEFENDER which was Beautiful before is a Barbecue Gun… it thinks its a frigging SAFE QUEEN…
OH… NO…
I TOLD IT …. " AS LONG AS YOU LIVE IN MY HOUSE "
THE GUN WAS RIGHT !!

it is a safe queen
I am headed off to Cabela's to get a second Defender if possible ( heard that they only made 5000 )
I will polish up the second one just like the first so when they go out with me neither will be embarrassed by cat calls and pickup lines at the range.
BTW : I named the first one..
THE DETROIT PEOPLE MOVER
This firearm is a serious piece of ordinance. It is well made and easily concealable. I would not want to be on the receiving end from this piece. " The recoil is a little stout but manageable."
On firing my mini what a great experience next is new different barrels and new grips. Love firing it. Best Derringer and including all my guns not only Derringers. To me ranks number one over all my gun. If you are not number 1 in Derringers somethings wrong with the world. Perfecct concealed weapon. Love it. Dan
I originally felt skeptical about any type of derringer gun for anything other than cowboy shooting. I felt this way until I met my first Bond Texas Defender. The 45 colt alone was enough to frighten me in a small gun like this and the prospect of a 410 seemed even more intimidating. Toss into the equation that you only get two shots and the gun seemed overpowered with fewer rounds you would need in an actual self defense scenario. I say I originally felt this way, but that wouldn't last long once I handled the Bond Texas Defender and felt just how well built the little gun really is instead of the usual crap derringer that's flooded the market for decades.
Once I fired the Bond Texas Defender, I thought I'd crapped my pants. Four triple 0 buckshot flew out of my hand into a real estate sign making a pattern that has to be a nasty hit. Even if the hit isn't fatal, it definitely isn't anything to sneeze at. As a defensive shooter, I realize I don't have to kill my attacker. All I have to do is make him not want me to shoot him again, which this little gun will definitely do on the first shot. I felt so impressed, I went back to town and bought a second Bond in the Cowboy Defender model.
While I was at the gun shop, another customer made light of the fact I was ordering a derringer or a "belly gun" as he put it. I've been around guns all of my life and own many, but after I told him about my own experience with the little hand cannon, he wanted one too. I've never found anything that was comfortable enough to shoot, yet will literally knock the drawers off of an attacker the first shot, and still fit in your pocket until I found the Bond Texas Defender. The Judge can't do that and neither can the Governor. My Bond Texas Defender quickly became my favorite out of all of the guns I have next to my Glocks. For summer wear and most self defense scenarios, it simply can't be beat.
It's great to find an American made product right down the way in Texas. One of my other guns is a Henry. I purchased it for the same initial reason I purchased the Bond-it's American made by Americans for Americans. Bond proved once again that if you want the best, you need not look any further than your own front yard.
No! Can't get to it because grandkids have it at the range three or four time a week as part of their classes with a NRA instructor. I get to buy the ammo and watch as it is being cleaned which is a good thing that they respect the weapons and remembered that a weapon is not put up unless properly cleaned . But my time is coming, sending the grandkids off to summer camp. So my time to shoot is just around the corner. Great weapon and I'm glad that there are different barrel configurations so that everyone in the family can work their way into the shooting sport. Bought the .40 cal. barrel and will be adding more configurations over the next few month. Real great gun I'm told by the family. I will know for myself shortly how great it is.
If you carry and don't have a back up,you are putting yourself in danger. Sooner or later you will have a malfunction of your weapon. I carry a Glock 22. I used to carry a Glock 23 as my back up. That being said,most of the time these will function ok. If you ever have to go to the backup something has gone wrong. My Glock 23 was my backup. Not again. Try firing from inside your pocket. Very hard to do. If you carry a semi,the spent casing is going to burn you and your weapon can jam. The Ranger ll is my backup Cary now. I was surprised that the recoil wasn't to bad. You must practice shooting from concealed positions
People just don't read grip reviews…… lol
I have more nerve damage than the average knucklehead…even at 62.
Your hand cannon (Texas Defender) with the Jumbo Grip, is the perfect answer. It fits like it was made for my hand. One handed shooting with this beast? Are you kidding me?
30 + years in law enforcement now retired I pick this up the same time i pick up my keys.
I never plan to use it, but it's always where I need it.
Thanks folks
I have one of the short barrel Texas Defender. I found that the 45 Colt has a pretty strong recoil and I ordered a box of the 45 S&W Schofield rounds to try.
I shot it at a target at about 10 yards and found that the round recoil was not as bad as the Colt and that the accuracy was really acceptable.
best small gun on the market. enough words.
my second bonds , every thing went good on the trade , trade savage new model 1o , even got shells and side holster ,glad i did , like a bull in china shop lol jimmy thanks again bonds . still looking for more in some 38/357 , cal
Got the Ranger II love it. 45 colt it's my new carry gun.
After purchasing and test firing my Snake Slayer IV I sold my Colt .380 to a friend. My Snake Slayer is all I need for hidden carry self protection. Fellow members at my game club range are all very impressed by it. Another friend who is also a police detective commented on the intimidation factor the Snake Slayer would have on any potential assailant.
I bought my first Bond Arms pistol, a Century 2000 in January, 2004. Carrying it with me quickly became as natural as carrying my billfold, pocket knife, or even keys, and have dispatched numerous and different varmints over the years with it. In 2013, after Bond Arms offered a new hammer and trigger, I sent it in for the upgrade! You guys made it shoot even better than before! Since then, I had been thinking about getting another one but wanted something out of the ordinary. The derringer exactly 100,000 units after my C2K! I called Bond Arms and Gordon Bond, himself took my call. I told him of my wishes, and after some invoice checking and searching, he not only located that exact gun, but made my new acquisition a reality and shipped it to my FFL dealer. I am now the very proud owner of C2K, 13001 and Snake Slayer, 113001!! Now folks, how many other President/CEO's would take that much time out of their busy schedules to make such a special request a reality? I would venture to say, only a hand full!! Gordon Bond and his staff at Bond Arms still believe in the "old school" concept of unmatched customer service, and in producing a top-shelf, built like a tank personal protection weapon that is second to none!! So if you are reading my testimonial and are still on the fence about buying a Bond Arms pistol… my question is… what are you waiting for? These Texans will hook you up with something more than just another gun to put in the closet or safe! To Gordon Bond and the entire staff of Bond Arms, THANK YOU!! You guys are truly the best!!!
Love it, great truck gun…Thanks, B.A.
Bond Arms has without a doubt THE best customer service in the business! Charlie is great to work with and always has a positive way to help the customer out! Very rare these days…
I saw your derringer in a gun store a few months ago. I went on line and was able to see the many models they come in as well as their accessories. I told my brother the Snake Slayer was going to be my next gun. I began my search. He bought the Snake Slayer IV and I bought the Snake Slayer. Wow….what beautiful guns they are. For a concealed carry weapon that is easily carried concealed and offers a viable option for personal defense, I believe that these guns offer just that. I am a retired law enforcement officer and not unaccustomed to carrying a weapon both concealed and/or unconcealed. My highest recommendation to these weapons in performance, construction, and utmost safety.
I have a Century 2000,outstanding quality and craftsmanship will be adding several barrels soon.Beautiful workmanship on the holster as well keep up the great work GO U.S.A.
I was lucky enough to get the only Backup that was in stock. I had been researching them and knew I wanted this model for sure. Hadn't got a chance to shoot it yet but I am looking forward to it.
My Ranger ii showed up today……..what can I say I have several different handguns and I foresee this one getting the most use what a fun hard hitting little gun!!!!!
Thanks Bond Arms
I want to thank you folks for manufacturing a quality pistol that by far is vastly superior to any other gun manufacturer in the world to include Ruger, Colt, Smith & Wesson and other fine firms. It is the epitome of perfection that America once stood for. Truth be told I was not in a market for a new pistol especially a derringer as my safe is now full of safe queens. However upon inspection I just had to have this double barrel pocket cannon that is as sexy as they come and built like a tank with the perfection of a Swiss watch. I am proud of you guys, other gun manufacturers better take note, Bond is kicking tail and taking names as a result of your excellent product. All my friends will want one after I show this baby off! Thanks again! Bill Ramos
Just want to thank Gordon and the team at Bond Arms for a quality firearm. You are what makes America great, building a business from scratch. My Snake Slayer is now my favorite gun in the safe, and what can I say 3 in 000 buck packs a hell of a punch!
I bought your texas defender in 410 / 45lc it shoots great I carry it as a 2nd gun my next will be the snake slayer thanks for making great products Matt
great little gun lots of power
Bought the USA Defender yesterday and went to the range today with friends. I started out with a .45 colt and then a .410 handgun round. The .45 was pretty tame but the .410 was a lot of fun. I have a large home defense gun in .45/.410 and was surprised how well this smaller gun handled the .410 with a 3″ barrel. You will know that you shot something powerful but it is very manageable. Love this gun!
Over the years now I have actively collected and shot quite a variety of fire arms of just about every caliber, make, and model. As a matter of fact I own 28 different firearms. They are all special to me and are for various purposes from plinking to hunting to self defense. Suffice it to say THE LAST THING I NEEDED WAS ANOTHER GUN! Walking into my gun store for some ammo I spotted the Bond Arm pistols. Upon handling it I literally became enthralled. The fit, the finish, the look, as well as the way it felt was the epitome of perfection akin to almost Godliness. It spoke to me like no other gun has before and I had to have it. I live in Arizona where we often get 115 degree days in the summer and as such we need a small pocket pistol for concealment because it's just too hot to wear much clothing. In short I was desperate for something small that packs the punch of a sledgehammer on steroids and can be carried comfortably and concealed. The Bond Arms Derringer was it period! It is a pocket howitzer on steroids that is built like a tank and has the finesse of a fine Swiss watch. This is American made quality that unfortunately is hard to come by anymore since the Chinese invasion of pure junk we have come to rely on. I am proud of The Bond company for giving us what I consider the finest pistol in my opinion ever made. I ordered the Bond 2000 in 3 1/2″ shooting a .410 and .45 LC, and I will also pick up the 3″ in .357/.38 and go from there. With this kind of concealable fire power I truly feel very, very, safe and that confidence translates into positive body language which in my opinion is enough to deter any attack, and in that regard it fulfills its mission. Thanks Bond Arms
I purchased this incredable, beautiful, little piece of up close and personal protection brand new, a number of years ago. It has only been fired 6 times. Serial #1560. Everybody that I show it to wants it. The really great thing that I like about it(beside the fact that it is a 44Mag) is so easy to conceal with a billfold holster.
So far so good… Only had it for a day and have not had a chance to shot it yet. I like how it feels in my hand… I well get a chance to shoot it in the next week or two…
I was fortunate enough to get my hands on BA00012…not easy to find, but worth the look! This is my 3rd Bond Arms handgun; I already had the Snake Slayer and the Texas Defender. I have a CHL in Texas and I am carrying almost 100% of the time. The weight of the Backup is noticeably less than my other two, and it "fits" in my pocket better. No printing and no extra bulk. You DO feel more recoil than even the Tx Defender with .45 Long Colt or .410, but the size is worth the tradeoff. It is hard to argue with the ballistics of the .45 ACP…but I will tell you, like ANY CCW firearm there are tradeoffs. The shorter barrel takes some distance of the efficacy, but let's face it, for personal protection you will likely be within 10 yards anyway. I fired 75 rounds this weekend from 3 to 15 yards…accuracy was great in close, and a little looser at longer distance. If this is your primary carry gun, then you will need to be aware of the distance limitation. 8 out of 10 stars. If it is a secondary or truly a backup, then I give it 12 out of 10 stars. But for people like me who need to dress business casual or in a more professional setting it is by FAR the most comfortable and strongest package I've found. I have a larger frame in my off-the-body backpack, but the Backup is ALWAYS within reach. I strongly recommend continuous practice with your CCW, because I can say from first hand experience that under stress in a "social" (served in 3 different conflicts while active duty military) situation your aim may suffer a little….so this is an absolutely fine CCW, just practice enough knowing your aim will suffer under stress. As for ammo? I found Hornady and Remington to be the easiest to eject after firing…there is no ejection help like my other two, so select ammo knowing you need to manually pull them out. SO! Carry this with no fear! Practice with it and select your defensive carry ammo based on stopping power AND ease of ejection. Carry six additional rounds with the speed-strip that Bond Arms sells and there is NO reason you can't confidently depend on this comfortable, but extremely powerful handgun for your primary personal protection when you need it!
I've been wanting a Bond Derringer for years now and decided it was time to order one, Ordered it through my local dealer, it took four months to come due to some lack of communication between my dealer and his distributor, but no big deal. I am very happy to have it and love the quality and workmanship that goes into making such a fine gun, also like the fact that an array of different barrels and grips are available for whatever model one happens to purchase, I personally got the Texas Defender in 45 Coly "ONLY", and quickly after that bought a set of Texas Star Grips and the BAD Holster in black, overall a really nice combination. Excellent Customer Service is alive and well at Bond as well, had several occasions the communicate with Kelly and Gordon himself, they bend over backwards to make their customers happy. Great job guys, I will be back for more soon.
Last Year one of my ranger bros. told me he bought one of those real cool cowboy style handguns, and asked if I would like to meet at the range, and give it a try, so I said sure.  I liked it so much, I bought one.  Another ranger buddy had one he was selling, and I got that one also, now I have a Texas Defender First Gen. and a Ranger.  Now I would like to add more barrels to them, and a BAD Driving Holster. COOL YA THINK?
Good Stuff.Love my Bond Arms.
Well built, glad to see something like this
can still be made. A treasure to own and use.
The 4 1/2 barrel 410/45 Snake Slayer takes
away the recoil. Only thing the gun is
stain proof not stainless. It should be
stated as stain proof and not stainless.
Loved it so well, I bought two.
I rencently bought a Snake Slayer for personal and home defense and have enjoyed shooting it recreationaly as well. One day while shooting I noticed two cracks in the upper portions of the wooden grip on the pistol handle. I called and spoke with the nice people at Bond Arms which where very apologetic and understanding and offered to send me some replacement grips in the mail to replace my cracked ones. A couple of days later I recieved them in the mail and put them on. Presto! problem solved!! I just wanted to leave a review telling other people about the great customer service and good people at Bond and that I very highly reccomend their product and their customer service is second to none. Thanks Bond Arms!
Really like my snake slayer and bad driving holster 45 and 410 best of both worlds and easy to conceal recoil is not bad at all In my opinion and it goes where I go thank ya much bond arms for a great little big gun
The gun is made with great American steel and its my best investment
I haven't shot it yet but the fit and finish looks great. It feels great in my hand and will try the rubber grips later. Maybe I'll find them on sale. Thanks for a great product.
I have been looking for a couple years for that right shooting, good handling, hard hitting with an attitude of making no apologizes. I found the perfect piece at a local gun show. I didn't hesitate purchasing what I believe to be the perfect weapon that fit every detail that I had been looking for. Thank you Bond Arms for the beauty, the workmanship, and quality that I have found in my 45/410 derringer.
Edward Lockwood
BEAUTTIFUL GUN ……….. I CAN CARRY ANYWHERE … JUST NEED TO GET A LONGER GRIP . I AM 67 YEARS OLD AND CARRY EVERY DAY . TO OLD TO FIGHT .
u have made my would lot safer , now that i carry a bonds , i hade my cgp 24 years , never had use a gun on anyone thank ,god , i use carry amercain derringer , now know i can change barrels , thats a + in my book , thank u for your time
This is ONE BAD little gun, It just screams COOL…especially when you pull that trigger!!!
This may not get posted as a testimonial but I think that there are many Bond arms owners that would like to know this. First off I love my Snake/Slayer. Quality is terrific! I have read about many owners complained about the hard trigger pull. I am only 5'8′ tall and weigh 140lbs. I needed an advantage over my compact cannon. I first bought the over sized rubber grips for more control with my smaller hands. Because of the 6.5lb trigger pull, this was also an issue for me. Not anymore! Took my Snake/Slayer to my gun smith and ask him if he could help me out. Sure he said. Picked up my gun two weeks later with a now 3.50lb trigger pull! Could not believe the difference dry firing this gun with snap caps. The bad thing is, I had shoulder surgery Thursday and it will be months before I can actually fire my gun. Just watching my sight while squeezing the trigger, this hand gun site now does not move. As Clint Eastwood would say: YOU NEED TO IMPROVISE. Love the gun!
Very nice made top notch!!! Very happy. Hope to see more holsters for the Bond backup
I've been wanting this gun since i've seen it. I wanted one So bad i even emailed the company asking for a free on a few months ago. NO need to tell you what their responce was lol! But i saved my nickles & dimes And by the time i was able to buy one, the Backup just came out so thats what i wanted and GOT. Thanks for such a great product that i enjoy looking at as much as carrying it! Now can i have a free driving holster? LOL….Andre
few years back me and grandson ,where on way home when we seen deers standing about 50 yards , i told him to stop , i too my 45/410 derringer ,shot one , was wild ride ,i hit , him , this been the best hand i have carry and always will , me and my wife are disable , she in wheel chair , i know i fill alot safe thanks too all on job we done , like buy all cup of cofffee
Mr Gordon Bond
Bond Arms Inc.
Granbury, Texas
Dear Mr. Bond
I wanted to take a moment to compliment you on manufacturing a excellent derringer as well as having one of the best spokespersons I have ever run across, Amy Graves "The Bond Arms Girl" Last year my youngest son having celebrated his first five years in business wanted to add on a firearms store (Hellbent Firearms). We have a small family private investment company and since our business is to fund and start new ventures we decided to plow ahead. To be honest while I've owned guns nearly my whole life I wasn't an enthusiast and certainly didn't know enough about firearms to open a new retail outlet, regardless on we moved.
The bottom line is that we had to learn the business from others and learn fast, lots of folks from retailers to wholesalers and manufacturers gave us a quick 10 years of experience in a few short months. We repeatedly ran into Amy and Bond Arms, she was professional, helpful and most of all she made us want to sell your guns. Every time we had a question every time we needed help she was there for us, always representing Bond Arms as the premier manufacturer of derringers.
Lastly, our companies and our family believes in giving back to those who through no fault of their own find themselves in need and especially those who have served our country with honor. There she was Amy Graves, time after time volunteering to help organizations and individuals who needed a hand. Amy represents Bond Arms with grace and enthusiasm and in doing so turns thousands into customers and spokespersons for your product as well as your company, we have all been more than impressed and just thought you should know.
We wish you and Bond Arms continued success.
Best Regards,
Tom Loggia
Principal
TRL Holdings Company
I have judges and really like them but there is nothing like the same power of the .410 and the .45 which happen to be my favorite two rounds in a derringer It is built like a tank and even though i usually make my own leather holsters I ended up ordering a bad driving holster which will be here in a few days kinda high priced on the holsters but i really think it is comfortable. The bond arms derringers i just don't think you can go wrong with them.
when i first seen the cowboy defender in the local gun shop in kingsport TN i fell in love with it and knew that the cowboy defender would be my backup weapon just as fast as i could get it paid for. came straight home and set me up a target, which was a plastic gallon milk jug full of water. 15 yards away i shot and the jug blew up and water flew everywhere. the power, the force i like. it is now my back up weapon carried along with my colt 45 1911. the strange thing is that i don't no now which weapon is the back up and which one is the primary weapon. because the cowboy could most definitely be the primary weapon. thanks for a great weapon
I purchased My Texas Defender in .410/45 w/2 1/2″ barrel about a month ago from Williams Gun Sight in Davison, Michigan, as a Back-Up to My full size 9mm. I was very impressed with the quality of workmanship and materials used in manufacture. Have only shot .410 shells in it and dont anticipate needing any other ammo. I truly like it and am very happy that I purchased it. Very easy to conceal. Anyone wanna buy My .22 LR Auto? This Bond Arms Derringer is so much better in all respects.
I have had your Texas Ranger in 45LC/410 3″ since about 1998 (now I have 6 additional barrels for it) and have nothing but the finest praise for it. I retired as a Police Sergeant in 2008 after 40 yrs on the job and can say that this derringer is with me all the time.
Whether I am in the field hunting or fishing,I always carry the Texas Defender in the 45 LC/410 configuration.
Anytime I had to deal with the customer service folks at Bond Arms,the service has been absolutely the best.
Over the years,several of my friends have also purchased Bond Arms Derringers after checking mine out and firing it at the range.
Right now,I am trying to decide if I should purchase the new "Back Up" that has been brought out or if to just purchase a 2 1/2″ barrel in 45LC.
Superb firearm and an excellent company. Thank you for being USA made!!!!
Top Dog
very happy with such a well made firearm, i have the snake slayer 4 and i love it!
I loved this piece since I first saw it, I have purchased the 38/357 barrel for it and have had the 410/45 barrel engraved in a Celtic knot. I have a decent sized handgun collection and this is my favorite. It always gets attention at the range when I take it. Quantity is unbelievable!
It was so refreshing to do business with a Company that still has integrity, and stands by their word. I recently had the privilege of of dealing with Joe and Charlie in Customer Service at Bond Arms. This company not only produces the finest firearms, but they stand behind their product 100% and that's a rarity in today's business world. Thank you Bond Arms Inc.
Bought my first "pocket cannon" a few years back while living in Texas it's a Snake Slayer. When I wanted something a bit more compact I got the mini. I like having the option to change out the barrels to try different rounds. I'm a collector of sorts but I never leave the house without one.
I just bought my wife the Texas Defender for Valentines day and gave it to her early because I am going out of town. It doesn't get any better in such a small package!!!! I have a Taurus judge magnum and love these two calibers together. I am super impressed on the accuracy of this lil gun and will soon be getting one to carry myself to keep on my person at all times!!! Thanks Bond Arms for such a great gun!
I will start off by saying that I am disabled. I am only able to shoot with one hand. I was taught to shoot in this manner as a young lad. I recently purchased a 31/2″ .45-.410 barrel. I fired the 21/2″ .410 rounds out of it today. I was most impressed by it's accuracy, and ease of control. At 10 yards, the group was tight and in center of mass. The shot was not spread out as I expected, but rather in a straight line top to bottom. Even more impressive was the wound channel the wad made on the target. I would not expect the wad to have much if any effect on a live target, but on paper it made a very ragged hole.
I compared the holes made by the .410 to my .32 magnum. Very little difference in size. The .410 was perhaps a 10th larger. This is a firearm and round that I am comfortable in carrying, and feel as though I am under gunned. To quote Mr. T, " I pity the poor fool that comes up against it!"
I am impressed by the craftsmanship! I love this gun. It has been exactly what I thought it would be.
Bought Bond Arms Snake Slayer and loved it . Then Bond Arms out did themselves with mini .45 . But I went step further and it is not so mini no more . Bought .45 LC / .410 3.5″ barrel and extended black rubber grips made it the perfect HAND CANNON for me . Thanks again for another quality gun from you . Love the anodized blacked out look of frame , galvanized look of trigger guard , trigger , and hammer . THANX BOND ARMS
i opened the box and my eyes popped out….wow what a quality piece….cannot wait to shoot this bad boy!!
I like the idea of a small but powerful self defense weapon, checked your website, very informative. Bond arms products look well made and solid compared to other derringers, made my purchase and looks like everything you say it is, can't wait to do some field testing. Thanks .Stan
The Ranger II shoots good and on target. This was my first time ever using a derringer; hit target kill zone at 16 yards w/45LC & 410 Win PDX1 Defender 3" 750 Velocity what a kick. Thought you might like this; gun's name is Howitzer Jumbo Jet. Based on the serial number 105747 = 105mm Howitzer and 747 Jumbo Jets.-Bert
I love my ranger 2. I love the quality put out by the people of the Bond Arms Company. I am going to buy one for my son. Thank you for the best derringer ever made. PS tell the bond girl Amy Graves I think shes smoking Hot. GOD BLESS AMERICA Your friend Timothy
I had not seen an advertisement on Bond Arms. My cousin near Weatherford, Texas, showed me his Defender and the quality of workmanship encouraged me to buy your gun. The store only had one gun, the USA Defender with 45/410 barrel. I would be interested in any recommendations for barrels, etc.
Thank you. Gary
I purchased the weapon on December 14, 2013. I am sorry for the late notice but I could not find the card to send in, luckily when I was on your website I saw that I did not need the gun. So far the weapon always places a smile on my face; I have a lot of experience with firearms as I am a recently retired US Ranger but I wish I would have had this weapon in my kit.—Miguel C.
Gordon and Company,
I read all the reviews online, but nothing written can explain the feeling you get when you hold one in your hand. I read review on all my purchases; I have never seen so many positive testimonies on any product I have ever purchased. Your website says it all.—Charles H.
I liked your Snake Slayer the first time that I had ever seen the gun and being a Journeyman Tool and Diemaker and Mechanical engineer and a lot of experience on NC & CNC machining an Awesome solid Stainless steel billet and Made in US of A sold me TY Terry Heatherly—Terry D.
I picked up my weapon this afternoon. Haven't had an opportunity to fire it yet but my trigger finger is having fits!! I am impressed by the craftsmanship! This pistol is built like a Sherman tank! Feels kinda like an extension of my hand. My chosen caliber is .357 Mag/.38 Special. In the near future I will most likely get a .410/.45LC barrel.
Thanks for a great concealed carry weapon!—Rod K
Perfect for what I was looking for. It shoots very well – comfortable and accurate. Even at 15 yards I could hit an 18" x 30" target.—Gary B.
This is a beautifully made gun. I've been interested in purchasing a Bond Derringer since I first saw a magazine ad over ten years ago. I finally decided to take the plunge when I saw a brand new Texas Defender in 45/410 at my local shop at a great price. I haven't had a chance to shoot it yet, but so far I love the way it feels, handles and carries. I also love the modular aspect of the gun, I intend to purchase several different barrel configurations and different grips to play around with and with two young kids the safety features of this gun are VERY important to me. The bottom line is that no one else makes a gun that carries such effective ammo AND can fit in your pocket.—Jared P
Very, Very nice Firearm. Truly built like a Tank, and needs to be. Already purchasing accessories, grips and holster, and looking forward to getting a couple of different Caliber Barrels, for more utility. Proud to make a Bond Arms Snake Slayer, Made in America, mine.—James L.
Love it! Love it!! Feel very safe and comfortable while carrying. Awesome performance at range. Great accuracy. I can find no downsides to this weapon. Again I say, Love it!!!!I'm a Happy..Happy…Happy customer. Thank You Steve Raymor from Michigan
I love this gun. It has been exactly what I thought it would be. It even patterns better than I thought it would with 410 birdshot. It kicks like a mule with 3″ shells but is very comfortable with 2.5″. I have carried it in my hip pocket almost daily even without the available pocket holster and it is hardly noticeable. I'll probably carry it from now on as a concealed carry and when I'm hunting and fishing. I have a 9mm S&W that I carry on trips and due to 9mm ammo being cheaper and easier to find than some, I may order a 9mm barrel for it later on. Even though the barrel on my gun moves from side to side a little, it is made with a high degree of craftsmanship. It's probably the toughest built gun I have ever seen.
I believe it was Bat Masterson of the late fifties TV series by the same name; that put the bug in my ear. I was seven at the time. I couldn't wait for Bat to pull that hidden derringer and bring one of those no good sidewinders to justice. I made a promise to myself that I just had to get one of those some day.
Well, it was a long time coming, but last year I spotted a Bond Arms Snake Slayer IV in a local gun shop. What a beauty! That boyhood dream was rekindled and I kept that promise I made so long ago.
The Bond Arms Snake Slayer is a fine handgun and I am proud to own it. I'll pass it on to my son one day and he to his daughter (she will be a Bond Arms Girl I'm sure).
Thanks Bond, and you too Bat.
Well about one year ago i was searching for a snake slayer. In my area could not find one. Even email Girdon to help. I finally found one and yea the place was asking to much . But i wanted it so bad. What a artful created. Gun. But i was fighting cancer at the time of purchase this little gun gave me a lot of joy to clean and shoot and just hold. But with cancer comes many bills and i had to sell. Not one of my favorite. Days. Now every time i see a bond arm ad facebook or eestern i think about my little friend. Maybe soon i can get it back or one similar. Cancer sucks.
Thanks Rob
Hi Gordon,
I visited with you at the SHOT show and NRA shows regarding your fine firearms. I was telling you about my father-in-law killing a coyote with his SnakeSlayer. He was in his house looking out the window when he spotted a coyote in the field in front of the house. He stepped outside and the coyote approached him and he shot it at just a few yards. It appeared unhealthy and in bad condition. Anyway the Snake Slayer did the job as coyote slayer. J I just have to get me one again! I gave mine to my father for protection working at his convenience store late at night. Thank you Gordon!
I can't be more pleased with this firearm, I saw it sitting in a display case and it caught my eye. It was pulled out of the case for me to look at and I was sold, the engineering and the simple mechanics of this gun are bar none. It's a beautiful piece and fun to shoot, some of the other things I love about this gun and Bond Arms is all the different options their are aviliable, and most important it's made in U.S.A. right here in TEXAS!!!!! Hands down it's the best defender gun for men or women at a reasonable price, I will purchase more Bond Arms
Late last year I stumbled upon Bond Arms. I've always had a lot of curiosity about thses guns, just never paid much attention. I decided to purchase a Snake Slayer and after going to the range with it was hooked. I liked it so much that I ordered a holster and jumbo grips. After all that fun I found the "retro" version on the website. I really liked the look (two tone) so I bought one. With this model I also added new extened grips and a holster. I've since bought additional barrels and can say that these guns are a hoot to shoot. As if these we not enough, after meeting Gordon and Amy at the SHOT show, I had to have the new powder coated Back up model. It's so compact I can't seem to put it down. If you haven't tried one of these guns, you should. In addtion to having a solid back up weapon, they are a lot of fun to shoot!
Hello, I often carry my Mini chambered in .38/.357. I think a great round for this gun is JHP .38+P ammo. It has plenty of energy but is much more manageable than .357 which is a challenge to shoot accurately and can lead to a serious flinch.
I really like my USA Defender, very easy to carry with the holster that came with it. The gun looks very nice and I get many good comments about it. Others have told me that they did purchase a Bone Arms product after seeing mine. I do carry the Defender with me when I go out. A very nice gun. I will purchase other caliber barrels later. Thanks Jimmy Foster
Dear Bond Arms, I'm not new to your company. My wife and son bought me a new Snakeslayer several years ago for Christmas. I also bought a Bond Arms IWB holster and super cool coffee mug. I just wanted to tell you I love my Snakeslayer just as much now (maybe even more) than I did that exciting Christmas morning. Living in the Appalachian Mountains, we not only have copperheads and rattlesnakes but other dangerous critters, including those standing on two feet. My Snakeslayer with 000 buckshot is my carry pistol (I have a carry permit) and I never leave home without it. My Snakeslayer is like my cell phone, I just don't feel right not having it with me. Bond Arms Snakeslayer quality is museum quality…lovely to look at, hold and shoot. I have never had to pull my pistol to protect myself or family and hope I never will BUT, I have total confidence in my Snakeslayer. Thank you for producing such a fine pistol and sharing it at a reasonable price. Respectfully, Charles Miller
Made in the USA still means quality at Bond Arms! Cannot believe the fit and finish of this gun. PERFECT! It's good to see fine craftsmanship still exist in the USA!
I am almost 70 years old and it's a shame we live in a country where we have to be on the defense every waking hour. To many times in my later years I have felt insecure with my surroundings so I purchased two Bond Arms for myself and wife. Being ex-military and knowing the value of training and practice we have fired the Bond Arms 357/38 and 45/410 and found them to be a very good defensive firearm. Since the price of ammo and recoil was a little to much for my wife I purchased the 22LR barrel and the 22 MAG to practice. They allowed us to get to know the guns very well. We both got self defense permits and carry them when we feel it's necessary. The Bond Arms guns are made very strong with just the right amount of safety features.
I purchased a 410/45 Derringer Bond Arms.I collect derringers,however I will now collect barrels.The 4 derringers I have do not compare.From now on nothing but Bond for me. I also ordered the holster and cannot believe the quality.Awaiting Bond to come out with a revolver .Live Bond!!!!!