Here at Bond Arms we really care what you think and we love to hear from you!  Below are a bunch of recent testimonials from our customers.
If you would like to share your story click here to submit it to us.
I currently have five Bond Arms derringers. One in each barrel length and one for carry. I love these guns and would recommend them to anyone. They are not as difficult to shoot as one might think and they conceal very easily. Get one, you will not be sorry.
With the present state of affairs in America, my husband urged me to get a gun for personal protection. I admit that I was looking elsewhere than Bond Arms. Mark advised me that most encounters are "up close and personal," and who better to listen to than an Airborne Ranger combat veteran. He told me to take a look at your derringers. I looked. I was put off at first, only two shots and too small. I then read the testimonials, watched YouTube videos and the factory tour, and I was impressed. Quality and superior craftsmanship from design to finished product. I liked less recoil and greater accuracy that the Ranger II offered, but settled on the USA Defender for better concealment, the BAD driving holster and limited production of only 5,000 units. Finding one still available was an effort. I found one on line but had to wait till the end of the month to buy it. When I was ready it was gone. I searched everywhere and finally found ONE on auction. It was already becoming a collectible. I placed a bid and won it! Of course I had to have the matching Buck knife, which again is well made and beautiful. I then wrote the Bond Arms sales dept. to make sure I got in on the 50% off barrel opportunity; I was surprised when I was emailed by a Bond family member and told to call him directly to order my extra barrel and he would take care of me. I call that excellent customer service. I love the fact that Bond Arms is family run, a business that helps keep America strong. I plan to have a lot of fun with the .327 Fed Mag barrel, but I keep my gun at the ready with my .410 Flechettes. I'm reminded of my husband's old army jargon: "This is my weapon, this is my gun! This one's for killing and this one's for fun!" Thanks, Bond for the peace of mind!
– Barbara
I have had my eye on Bond Arms and their "little guns" for a long time. I recently purchased a Ranger2 . I immediately needed to get to the range and check out my new purchase. My Ranger2 came with the 410/45 barrel so I loaded up on some 410 shells in both bird shot and some defensive rounds ammo. I figured the 410 would have the heftiest "kick" over the 45. I wanted to see the very worse kick the little gun had! I'm not a sadist but I wanted to be prepared and know what the worst kick would feel like … if the time would come to have to draw the little gun for protection I didn't want there to be any hesitation or anticipation over how hard it would kick in my hand.
So I get to the range with 3 boxes of shells. To be honest I was a little bit concerned that I would squeeze the trigger and the Ranger would go flying out of my hand OR hurt so bad that it would be delegated to spend it's life in the back corner of my safe … I only purchase firearms, I don't sell them! To my surprise it is VERY manageable recoil!!!!! I am sure I pulled the first few loads expecting a nasty recoil which was never there. What an awesome "little" gun. I am/was so happy with my newest addition that I ordered two new barrels as soon as I got home. The hardest decision I had was deciding on which barrels to order. I ended up sending for the 357/38 in in the 4.25″ (match my holster that came with the gun) and the 22lr in 3″
I could go on and on about Bond Arms. I talked with at least a half dozen people at the range. I have talked to all my family members … I intend to send as many people as possible to be part of the Bond Family! I am so convinced on Bond's products that I will be replacing my wife's EDC with a Bond. I was so excited when I ordered my new barrels I forgot to order a T-shirt! The t-shirts biggest size is 2XL but I think I'd try and squeeze unto one UNLESS Bond would be good enough to order me a couple 3XL!!!
Thank you Bond Arms for manf such a sweet and USEFUL self protection items. The fit and finish is top shelf and customer service actually answers the phone with a human without a million telephone prompts. The lady that answered the phone for me, I called twice with questions, had immediate answers. I can't say enough about this American made firearm and American company. I wish Bond all the best and hope they are around for a very very long time!
Don C
PS
I'm now itching to get out and fire the .357 and .22lr
I am environmental geologist (that means I study and clean up polluted sites) . My work takes me into nasty places like abandon factories, meth labs, distressed urban sites and mobile home parks. The threats range from gang members to charging pit bulls to lunatics. I have been at this kind of work for a very long time. I have been shot at and had armed stand-offs. I have traditionally carried a Colt M1991A 45 in a New York City rig. However this was not enough. Firing 45 rounds at a charging pit bull is not likely to have a good outcome. Rounds bouncing off the street are likely to hit someone and the dog is likely to not get hit at all. My 45 is also a large gun to conceal.
I bought a USA Defender and it fills the gap well. In very bad situations, I carry both – the USA Defender with buck shot for pit bulls – and my Colt 45 for the pit bulls owner who likely will come charging in after I drop his dog. More often than not, I carry my USA Defender by its self in a shoulder holster.
Most of all, I like the size and power of the USA Defender. The use of buckshot increases the likelihood of hitting your assailant but not harming others due to the limited range. Its good for both humans and animals. Its size makes it easy to conceal. The sound is more than intimidating.
I call it my "Noisy Cricket".
A real key advantage of the gun is that it appears to be a weapon of minimal force. So if you are ever in front of a judge having to defend your use of lethal force, the prosecutor is gonna have a hard time painting you as a bad guy with a 2-shot derringer. Its not what Gang-Bangers carry. Hood Rats also don't like the double barrel – its not what they are used to and it unnerves them.
The size is perfect – as its not tiny but its big enough that you can get a good grip on it – and it will be noticed when you draw. I had to go into a particularly nasty trailer park recently in Craig Colorado. As I pulled up, a large male pit bull crossed in front of my car, with balls the sizes of oranges. He stopped, turned and looked at me. It was a territorial glare. I slipped on my holster with my Bond Arms USA Defender loaded with buck shot. I wore that gun on my right hip in the open with the retaining strap off – and the safety off. Turns out, there were a number of pit bulls in the park. Although I didnt have to shoot any, I am sure having my USA Defender at the ready, made me so confident, that the dogs chose not to push it. It was also big enough that the locals noticed it. If a cop would have rolled up on me, its likely he would not have gone ballistic seeing that I was packing only a Derringer.
I have also found that the TSA is less concerned about Bond Arms guns when they come thru in the luggage. I get far fewer questions etc when I am traveling with my Bond Arms gun than any other type of sidearm
As a geologist who spends a lot of time in rough conditions, I appreciate its durability and tolerance for dirt. Also, single action makes it safer to carry and – being an SA guy…I just love cocking the hammer. I have to confess that I have also fanned it. Not a good idea, but you can do it.
This is an excellent weapon – I depend upon my USA Defender with great confidence.
Its a very fine weapon.
It was a long wait, but worth every milisecond once my Ranger II arrived. My wife thought I lost it because I was giggling like a little school girl. I won't get a chance to try it out until I get to the range this weekend though. When I first saw your line of derringers, they reminded me old westerns, I used to watch and knew I had to get one. This pistol is more than what I'd hoped for as far as construction goes. When you use the word "TANK", it is obvious right away. This feels so solid and is so flawless with it's actions, I am truly impressed. Thank you for taking the pride you do in manufacturing one of the best built anything, I've ever purchased.
I've been wanting a Bond Derringer for years now and decided it was time to order one, Ordered it through my local dealer, it took four months to come due to some lack of communication between my dealer and his distributor, but no big deal. I am very happy to have it and love the quality and workmanship that goes into making such a fine gun, also like the fact that an array of different barrels and grips are available for whatever model one happens to purchase, I personally got the Texas Defender in 45 Coly "ONLY", and quickly after that bought a set of Texas Star Grips and the BAD Holster in black, overall a really nice combination. Excellent Customer Service is alive and well at Bond as well, had several occasions the communicate with Kelly and Gordon himself, they bend over backwards to make their customers happy. Great job guys, I will be back for more soon.
I had been looking at getting a Ranger 2 for quite a long time. I just purchased one at a local outdoors store. I bought several different loads of .410 shells and one box of 45 long colt cowboy loads to practice with. This pistol has lived up to all my expectations. I will carry it daily here on our Ranch to dispense the varmits I come across and I am looking forward to getting my CWP so I can carry it everywhere I go. Thank y'all so much for producing such a superior firearm !
Hello Bond Arms;
A friend of mine ( Jack Hitt) purchased a Snake Slayer a few years ago and he allowed me to shoot it. I couldn't believe how manageable the recoil was firing 410 loads. He asked me to go on line and buy him a 357 barrel set for his derringer, and when I received it and took it to him, it went right together as you advertised it would. What made me purchase one was what happened when we fired the Snake Slayer at a target. Aiming to the same spot both shots hit the same hole at around 30 feet! Accuracy with a derringer? I never thought it possible, and the recoil was a joy. I have one of those derringers that copied the old Remington. It is a 38 special and it's recoil is terribly punishing and after a few shots you are happy to stop shooting it. This Snake Slayer is a Joy to shoot!!! Your design is brutally handsome in looks and function and such a quality firearm, I know you all are proud to be a part of Bond Arms. Thank you for helping keep people safe with your quality products. I will be singing your praises to all who will listen! God Bless Texas!!!
Bob Koesel
I like the thought that went into making the pistol and that it's made of quality materials. Your YouTube Videos were the deciding factor in buying this pistol. When the owner takes the time to make a video and talks about all the features it means a lot to me.
Thanks!-Fred
Amazing Quality, simple Design, great styling, superb ergonomics and kind/courteous customer service! I like most guns. This is one of my favorites. I own more than one, and have multiple barrels. Both my parents own one as well. Thank You
I wanted to drop note with my registration cards. In response to your question how did you hear about our product? My husband works for Sig Sauer as a gunsmith and he leaves for work rather early in the morning. One morning after he left I could not get back to sleep, so I turned on the television. Scanning the channels, I stop on what appeared to be a mini-info-mercial regarding this American made gun, made in Texas. It turned out to be a program about "truly American made" products featuring Bond Arms as one of the companies. I got to work, went online, to your website and sent it along to my husband at work. From that point on I was hooked. I told him I wanted one. He went in search of one at the several gun shops in our area with no luck. We found a gun show 10/13/13 in Manchester NH where I was able to hold one. On the Christmas list it-goes, Ranger is my choice. I find a gentleman that makes custom grips out of black walnut and he shows it in a custom box. Oh no, now what to do, decisions decisions.
I had researched this gun thoroughly before I bought it. It did meet all of my expectations. Very well made. shoots good & I like the ease of changing barrels, I would definetely buy another
I have just recently purchased this weapon and I feel no regret in any form. The weapon lives up to its Texas pride without any hesitation, a true example that in the US we make our weapons correctly. As for function the weapon does not disappoint, we are basically dealing with a "show stopper" weapon and when it is loaded with 410 ammo you get that service in seconds. I have recently retired form the military and I only wish we had something like this in our kits. I would gladly take this weapon into combat with my sniper rifle. As for the weapon itself the Cowboy Defender is perfectly made; from the polish to the handles I have no complaints. In regards to accuracy the weapon does it's job but remember you will not be engaging targets at 100+ meters this is a area weapon for those "oh s**t" moments. So to conclude….I am in love.
Submitted by Miguel Carretero
Buying gas recently I was approached by 2 men demanding money. Thanks Bond arms for changing their minds. NO SHOTS FIRED. COWBOY DEFENDER 45 colt.
I just got my Bond Arms derringer back from you last week week week and and I am very pleased with the retro-fit done by Travis. The trigger pull is much lighter and alot more easier to pull than the old version. Also the wider hammer spur gives more purchase for cocking than the old one. All in all, a very good experience, the turnaround time was a little less than I previously thought at first and Travis even called me to make sure of the return address. I have bought two extra barrels, an extra grip, a Buck knife with a matching black ash handle and a holster since I first bought my derringer and couldn't be happier. Thanks for such a great product and great customer service. You guys rock!
Submitted by Glenn Bordeaux
I just bought a Bond Ranger. It sounds dumb, but is seems to me to be a cross between a Swiss Watch and a Sherman Tank. I could not be more pleased with fit and finish and sheer strength. Yes I will buy another one for my wife and all the barrels for me… It will be a collection to be proud of…
Rob
I am female, 5'3, 120lbs and had no problem shooting the Texas defender with 45 LC. The recoil was nothing I couldn't handle and I must say I have fairly scrawny wrists and hands. It did pack a punch but there was no pain from the recoil. I did change out my grip to the rubber extended one which may have helped. I also followed the tips given by bond arms when shooting. Love my new gun. For all the boys complaining about the recoil.. Omg really?? If I can do it you better be able to.
AJ
I finally had the opportunity to see your products in person.
I must say that it only took 5 seconds and I was hooked.
I went home from the gun store, cleaned my Glock 27 with Crimson Trace laser,
sold it and bought a Bond Arms Snake Slayer an hour later.
I can not express how pleased I am with the firearms you build at Bond Arms.
My wife now wants to sell her Glock 26 and purchase a Texas Defender.
You have certainly raised the bar and I will definitely tell everyone I know about your products.
God Bless America!!!
Thank you!!!
PS. Just got back from the range after taken my Snake Slayer out for our first real date!!!
At 15 feet, only "1" pellet missed the mark and even that lone pellet was close.
I was surprised at how tight the pattern was being such a short barrel.
I am absolutely amazed and completely in love.
No way I'll ever give up this little lady!!!
Thank you Gordon and thank you Bond Arms!!! Still smiling,
Kevin Scott.
Just picked up my Brown Bear yesterday loved it first time I saw it. Went to the range today and just loved it very acceptable groups.
Great handgun handles itself really nice enjoy it very much !!
So far I love it is it a lot easier to conceal than my Taurus Judge was if you follow the directions provided with a gun on how to shoot it it's a piece of cake if you just pick it up and try to shoot it like my friends did it's not so easy actually it was pretty hilarious watching him try to pull the trigger and the gun not going off so if anybody was to get this gun away from me I don't think they could shoot me with it right away which would give me time to react you can consider that a safety feature if you would like to think of it that way as I do
I just got a Defender II in .45 colt, 410 (3″) and it is a HOSS! This pistol is outstanding in every respect. The first shot was a definite thumper but easy to handle when you know it is coming. I have fired 100 rounds of both caliber sand the pistol has performed excellently. So I have ordered another barrel in a different caliber and will be getting more.
I LOVE THIS PISTOL!!!
Just bought this gun and love it shot a box of shells already. The recoil was not bad at all. Great little gun!
I received my order sooner than I thought it would arrive. Everything arrived in great shape.
I Purchased a .45acp Back-Up and went to the range and put 25rds down range After 4 day's and 100rds. I Have already ordered another barrel, new Grips, and a Holster from your Great Company. Mr. Bond, Being a Gunsmith myself, I know what it is like to be a Master Craftsman, Your Materials, Tooling, and attention to Detail are of the finest Quality. A True Work of Art! With 100% American material, American Manufactured, and LIFETIME Warranty, Nothing more needs to be said.
You are a True Artist, and Craftsman!!!
GOD BLESS TEXAS, and the USA, Sincerely,
Keith J.
I was approached at work … by a friend … said he knew of someone with a firearm to sell … necessity for cash being the motivator . He did not know what the sale item would be … semi-auto, revolver, or what … Oh , Happy Day !!! A"Bond Arms" firearm !!! My father was a Gunnery instructor in the service … He knew his stuff … He said if ever a situation arises … you want a "BOND" in your pocket !!! … and I will very soon … have fired them over the years … and now I'll have my own … This is serious stoping power … !!!
It is great gun to pocket carry. Love it.
David.
I did fire my gun the other day and I was shocked at how well it performed. The .410 2.5 inch round was easy to handle in this pistol. I am a disabled person and I am pleased with my purchase. Thank you.
Purchased the Snake Slayer with 3in. barrel,45/410. Liked the
feel of the gun in hand and packs a powerful shot. Liked the 45 cal. so much also purchased another 4.25 in. barrel in same caliber.
Wife and nineteen year old grandson also shot the gun. They also liked the gun's performance and recoil. Gun Dealer also told us at time of purchase what a nice gun Bond Arms made as compared to others on the market.
Bought this a couple of weeks ago. Took it to the range and fired a box of 124gr ball rounds and some Hornady Custom 124gr HP. I was very pleasantly surprised with the accuracy, for a three inch barrel it was hitting point of aim at 15 yards. The trigger does take a few shots to get used to, especially after using a polymer frame 9mm.
This little guy is definitely a keeper, fits my jeans pocket with no problem. I love the quality & heft of this little pistol & plan to order some accessories for it as soon as I am able.
Great for self defense, for backup & for just plinking. Fine workmanship. I would recommend to anyone, worth every penny.
The Derringer is a well built fire arm built by Bond Arms and would recommend it to anyone. I shot it the other day with the 410 bird shot and the 2 1/2 in. 410 buck shot and now I know why gamblers used it at the card table and not at long range. I stepped off 20 ft. and fired at a half silhouette. With the bird shot, I got a few in the target. With the buck shot-nothing. I know I'm not that bad with a hand gun, so my conclusion is that you need to make sure the subject, if you need to use it, isn't more than 10 ft. away. I haven't tried the 45 cal. in it yet but I expect the same results. Like I said, it's a beautiful built gun and would recommend it to anyone but remember it is a short range pistol- very short range.
I am very pleased with my new Bond gun and have shot it quite a bit with the .38/.357 barrel it came with. I am waiting for an ammo order delivery to try out the .45/.410 barrel I received on your special offer. Thank you for that.
We are ranchers in NM where we have prairie rattlers and big diamondbacks. I have been wanting a discreet gun to carry horseback for that purpose and for personal defense, which I wish wasn't needed but is.
I am impressed with your gun, people, service and what you stand for.
Well, after going through a few 45ACP, 38spl+p, and some 2&1/2″ .410 rounds, I can say these little dudes are a hoot. Even took the .410 on a quick rabbit hunt; one shot, one rabbit. As the much better half and I each have one, I'm going to try one in each hand this weekend
If I had a complaint, it would be the triggers are a bit stiff. Got better over time (getting broken in??) and with some experience on my part. Really not bad and I understand why a "pocket pistol" would need (for safety) a relevantly stiff trigger so it's all good!
I was clear the minute I saw the line of Bond Arms I would be getting one!
I luv the fact it's an old school derringer that is so high tech ! Well made doesn't even begin to describe it ! So easy to carry with my BAD holster!
It is a great shooter, very low recoil and a sound piece. I am glad to get it. Now just to get different bbls
Q: What has faced down a Pit-bull, confidently passed known gang members, and after 3 calls "show yourself" stopped the slithering sound in the brush. I sometimes use a power-chair. Depending on the situation, I carry "BONDINETTA" in a shoulder holster (strong right) or under a hand towel on my lap locked &. If I had tracks we're talkin Tank. ( I did put run-flats on it.) She's 10 this summer, an meaner than ever. "Cuttin PENNYE" Big M town, TN
My wife just purchased a Bond Arms Century 2000 derringer in .38 spcl/.357 mag and absolutely loves it. It is our family's 2nd Bond Arms gun following my purchase some years back of a Snake Slayer IV. In our experience, these are the finest quality derringers available and some of the best made firearms in the world. Each one is a masterpiece of engineering and solid construction, every piece made of solid, machined stainless steel. We have ordered spare barrels for our 2 Bond Arms and thoroughly enjoy shooting these improved versions of a timeless firearms design from the days of the "Old West". We cannot overstate the great quality built into Bond Arms products and heartily endorse them to anyone seeking a strong, reliable defense gun.
I recently purchased the Texas Defender and am very impressed with this gun. Although my intention is to use it primarily as a snake gun, it is so easy to carry that it may well be my concealed carry pistol. The recoil with 410 shells is very manageable, and it is fun to shoot. Just ordered the 9 mm barrel and am looking forward to that caliber too! The staff at your office are very helpful. Thanks for an excellent firearm.
This gun not only looks good, it feels good in my hand and I love shooting it. I've taken my .410 shotgun with me for years, but you have to leave in the vehicle when you get out to check on something or do your job. I may be very far from it when I would see a snake, then by the time I got back with my shotgun he would be out of site. Cannot tell you how nice it is to have a "Double-Barrel" .410 in my pocket or on my belt. Very nice to carry!
I recently had an incident with my Bond Texas Defender. It was dropped on a concrete floor, possibly damaging it. I contacted Bond Arms and they asked me to send my firearm to them for inspection and repair of any damage. Having concerns about the shipping and return of my weapon across state lines (I don't trust federal laws), I showed up at Bond Arms unannounced on Friday, November 6th and was greeted by Bob and treated as a highly valued customer. I was given a tour of the plant and introduced to several employees. The plant is very impressive due to the state-of-the-art machinery and methods in use. At the final assembly and inspection station I was introduced to Nathan Bond who was asked if he could fit my weapon into his schedule for the day, to which he promptly agreed. I left the firearm with Bond Arms and went to lunch. One hour latter I received a phone call informing me my firearm was ready. When I arrived to pick up my firearm, it was returned to me in like new condition. The only way I could tell it from new was by the serial number. All of this attention was given to a weapon that is almost fifteen years old , and that I have carried almost everyday. To me this is a very good demonstration of commitment to customer service. To everyone at Bond Arms I'd like to say thank you for your prompt and friendly service.
Larry L. Graham
my bond arms .45 backup is 10 times better then the doubletap .45 i got rid of i wish i would have bought this gun from the start
I don't normally fill these out, but had had to mention the excellent treatment I received from Amy when I purchased the Sturgis 75th model. She was knowledgable and thorough when explaining the features of the gun. I spoke with her 3 times before purchasing it. She was very easy to do business with every time! The gun itself his of the highest quality and is perfect for conceal carry. I ended up purchasing and additional barrel and 2 additional holsters. Thank You!
On a recent hunting trip to Colo I took along my new Bond Arms Papa Bear model handgun. It is in 45 Colt cal. I was concerned that it would have a tremendous recoil. However, when I fired the Papa, it was surprisingly very controllable. I let another hunter shoot it and he loved it. In fact he when to a local ranch supply business in town and wanted to buy one. Everyone who handled the gun was surprised at the quality of construction.
Living in Cali I couldn't purchase the Snake Slayer model so I am now looking for some 45 cal shot cartridges.
Although I've written before , I just had to thank you at Bond Arms for such a fine firearm. If you understand , I got this in mid-summer , and like this Snake Slayer better now even more than the day I got it. Thank all of you for keeping us safe , and yes , I just got my conceil carry license. N M Hvarre ,WI.
This is a great pistol, I am a former and retired Law enforcement officer. I wish I had this derringer to carry, back in the day. I am 68 hrs old, I have had it for 2 mo., and I carry it every where, spoke to Joe, at bonds arms, and ordered A 4.25 inch barrel. It shoots great. Thanks for a great gun. Love the 38/357 barrel..and we are ordering a twent two, pistol for my wife.. Call me if you are not sure.. I will help, I believe and seen the quality of this pistol, I will buy more for my family and friends.
Eddie Fischer, jr
Retired law officer.
Packs a hell of a punch!!!! Love it
I am a man of few words, but the Bond Arms mini is worthy of mention. Please see the attached photo. Two things I never travel without.
Made my day ! Awesome hand cannon, got me a Partriot 45/410, out last night to shoot for the first time. Very strong and very comfortable in the hand. 45 LC and the 410 shotgun shell at 30 ft. Very accurate. Just love it.
Bond Strong ! Thank You Bond Arms keep up your high standards !!
God Bless America !
I love the way both of my bond arms .410/.45lc handle. Only thing I wish I could change is my pocket book to get a .45 or .38 barrel for each!
bought the gun at cabela's ,holsters from you the stickey is great , the other two are great in the car, hope I never have to use the firearm but in times like we are living it is best to be prepared.
Hi
Yes I am very happy and impressed with everything about my Bond CK2, shoots great makes me want too try other barrels also. This is one stout lil handgun that conceals very easy with a good holster like the Bond IWB holster.
Thank You
Greg Pennington
I was at the ranch a couple weeks after getting my Bond Arms Defender for my birthday. It came in .22 mag and I got the .45/.410 3 1/2 in. barrel on the half off deal. In Texas, as a kid, you learn to scan the ground constantly as you walk in the country looking for movement, i.e., snakes. I was walking from a fence repair I had just made when my movement detector went into auto pilot. It was a rattler. I was able to get my Defender with the Snake Slayer barrel out and fired probably within a second or two. I had not changed my round from the 3 pellet buckshot round so I did not know if I had hit it. I circled into the brush area he had crawled into trying to get a sight on him while changing the cartridges into #4 shot I had in my pocket. I could not see anything in the direction he was going. I looked back at the brush area he first crawled into and sure enough there he was all coiled up without moving. I gave him two .410 #4 shot shells just for good measure. He just squirmed around a little. I pulled him out with a shovel and cut his head off for further good measure. I must admit I feel pretty confident in my pistol after that encounter. I had been practicing getting a hand on it and out of my pocket quick. It works. I plan on getting some stag grips and several more barrels to give me the ability to shoot any round I reload. Good Job Bond Arms.
As a manager of a gun club in Canada. .my Slayer was 4 and 1/8 to be legal. We had a charity shoot where I brought out the 410. Generated over 10g for charity shooting 5 stand sporting clays. Then I shot 16 of 25 on the reg skeet range. Had to sell do to a divorce but commend Mark Bond of a new piece of history.
I miss my Snake Slayer.
Buy one and hold on to it !
What quality, this is exactly the firearm I wanted for those occasions I don't want to carry a full size pistol. there were no problems with becoming familiar with it or shooting it – but you do know when you pull the trigger.
I am pleasantly Surprised at the accuracy and the ease of handling such a small gun. The recoil is not as severe as I expected. This will be my carry gun when trail riding and hiking in the back country. A powerful enough weapon for sure.
Kuddo's to the Folks at Bond Arms ! First time out with my Patriot 3″ barrel – shooting 45LC & PDX 410 gauge
defender @ 30 ft. Target 10″x 14″ metal sign on a post.
Started out with the 45LC on target-very accutate ! then the PDX 410 defender ! Blasted it to shreds. Fine craftmansship ! Built "USA" strong. Already ordered the .357mag/38 special barrel. A great made and sharp looking (BAD) driving hoister. If your thinking about buying it ! You will not regret ! Thank You Bond Arms- God Bless the USA
Have shot the 410 perrsonal defense shells and am impressed with no muzzle flip and very tame recoil. I like the way the gun pushes back rather than up in the air after firing. A great product!
Shot my Century 2000 the other day..wow..love it. I thought it would kick more than it did. Well made and a joy to have. I will order another barrel soon.
As I am disabled, I look for easy items, and use the kiss system. The Bond Arms pistol, fits this requirement. Easy to shoot, easy to load, easy to unload. It is without a doubt one of the safest firearms to carry. I use mine as a backup piece. I am wanting to send it back in, to get the new trigger,Hammer, and springs.
I would and have recommended these little pieces of security, to personnel I have met that are in units such as the Navy SEALS, S.F. and police officers. They have all been impressed with what these pistols are capable of at close range.
I bought a Backup in 45ACP so I could be more flexible with my clothing choices and still carry. The backup fits in the pocket of all my jeans and only looks like a wad of keys. I have no excuse now not to carry, except when going to no carry zones.
Being left handed, I have found operating the barrel release lever easy with my left index finger. Extracting spent cartridges with my right hand and reloading with same hand is a breeze.
For me, recoil is stout but not painful. My wife fired one barrel, said ouch, and handed it back to me. I plan on buying a second barrel in 357/38 so she can try 38's in it and also for cheap practice since I reload for 38. When I showed the Backup to my dad, who is a Vietnam Vet, his exact words were "Holy Sh-t!" He fired two rounds and said, "That will take some getting used to."
It is comforting to know that I can carry the Backup in any attire, except for maybe a Speedo. (God didn't bless me that well!) If I ever need to use my Backup, I hope that seeing the business end of two 45 barrels will persuade attackers to move on with no shots fired.
I have to admit I was surprised when I shot my new California Bear for the first time. Expecting a harsh recoil for a 45 colt round it was anything but that. To me it felt more like a 9mm. In fact I also bought the 9mm and 38/357 interchangeable barrels and will be trying them out soon. Obviously the comfortable handling is due to the nice large grip and superior machined quality of the firearm. I have been around firearms most of my life and I have to say this is by far one of the best guns in my collection. As a veteran, retired cop and firearms instructor I feel confident in recommending this product to anyone interested in self protection.
I took the derringer to the gun range and it was pleasant to shoot and is accurate. I highly recordmend this derringer.
Great video, answers newbe and experienced gun owner questions. Especially like ability for new shooter to start with a smaller caliber to develop good habits, then gradually graduate to 410 self defense, building confidence along the way.
I have a Texas Defender and a Snake Slayer 1V
Both these weapons are constructed perfectly
they are flawless and a pleasure to fire.
As a concealed carry weapon they are both ideal.
Purchased snake-slayer 4-1/4 inch barrel, completely satisfied with this gun, excellent craftsmanship and fun gun to shoot I would highly recommend this gun for home defense and personal protection plenty of firepower with 410 number 6 bird-shot, point and fire its awesome.
I found your website thru the NRA, and first off I need to say thank God for them. I accessed your site and learned so much from your instructional videos, they helped with making sure I chose the right gun, and especially enjoyed the walk thru showing each type of gun and how they would apply to me. Actually learn d more from your site than the NRA, once again, thank you! Dave-Indiana
I received my Snake Slayer went to the local gun range last weekend. Tacked up a 12″ paper plate on the 25 foot target board. Loaded both barrels with .410 rounds. Fired. These two rounds were both at the top of the target. Two more rounds made a nice pattern. Then for the .45 rounds. These were at the bottom of the plate, center. Very minimal recoil. I was very surprised. Fired 8 more rounds (.45) and got a nice 3″ pattern about 2″ to the right of center (most likely me pulling to the right). Very happy with the results. So happy, I ordered the .357/.38 barrel. It will be here before the weekend. So guess where I'm going Saturday? Very nice weapon.
Recently received my first firearm from Bond Arms (BATD 45LC/410 w TG) for my gun collection. This is truly an outstandingly high quality and magnificently designed derringer in every aspect. Terrific eye appeal and functionality. Well Done! Bond Arms.
As a retired L/E officer I carried many different buns off duty, now, I carry as my conceal weapon of choice my bonds, 4.25″ barrel 38. This gun shoots great, and it is fun to shoot. My 11 year old Granddaughter shoots it with snake shot, and loves it. Thanks guys, great guns you make, and I also have the 45/410 snake slayer.
I fired it today using, 45 LC, 410 slugs, number five, and triple buck, it handles very well. Loves to twist in your hand. Holding tight helps this somewhat. I destroyed three targets completely by the time I had finished. I have no problem with accuracy especially with the 45 LC and 410 triple buck. Most impressive, I will cherish his Bond Derringle. Thanks for making it.
I recently fired my brand new Patriot for the first time at 20 feet with both .45 and .410's and was very happy with the performance of the gun but not of the shooter. Looking forward to shooting this gun often when I'm in my rural travels here in Michigan!
I have snake slayer 410 3.5in. Also have 357 and 22long rifle barrels. Shot the 410 and wow, this thing is bad news at 7 yards. Will use 3in 5 000 buckshot load for personal protection. Thanks Bond Ar
I recently had an issue with the trigger guard on my Snake Slayer. I was unable to successfully send pictures of the issue. Joe Woodard in CS called/e-mailed me for some information as to the nature of the issue. After a short,pleasant and very professional conversation the concern was readily and easily resolved. I was not the original owner of the firearm,but this made no difference to Bond Arms or Joe. A new part has been sent at no cost. Joe went above and beyond trying to contact me and support the product. Well Done Joe and Bond Arms!! That one interaction prompted me to purchase another barrel in 10mm and possibly another firearm in the future. Thank You.
I bought a Snake Slayer. Loved the design (yeah, I'm nostalgic; still use a blade razor and carry a pocket watch). Built like a dump truck, machined like a watch? You bet!! Have a .22 barrel for plinking and for drills. Keep .410 000 shot shells for carry. And I do carry it. Small, unobtrusive, always available. Exceptional value. Bought my wife one, the Texas Ranger edition. She loves it too. Would recommend it with no qualifications to anybody.
My wife and I are involved with an Old West re-enactment group out of Fort Smith, Arkansas. I had been looking for a Derringer type piece to be used in our performances as I enjoy portraying different characters in the 1870's to 1890's time period. We are sticklers for authenticity and it is difficult to find actual Derringers from the period that don't cost thousands of dollars, or are so cheaply made that it would be what I would call a "holster hanger" for looking at and not firing.
I chose the .45 LC for my wife to use as her character is that of a Madam and we found the pistol to be very close in appearance to the older models, but the Bond Arms piece is extremely well made and dependable. It is not exactly like the older models, but it is safe and fits into our skits very well.
I appreciate the craftsmanship of the pistol and know that I do not have to be concerned whether we are using it in our portrails or as a concealed carry piece should we ever decide to use it as such.
Very Respectfully,
Bill Rooth
Thank-you for providing a great piece for our re-enactments!
Fired the hollow point, ball shot gun shell and regular 45 . Easy and fits perfect in palm of my hand .
When I first opened the box, I remarked how beautiful it is. I've taken it to the range twice. The first time left my hand sore, but I was not deterred. The second time I adjusted my grip slightly and everything was splendid. It is the perfect size for concealment, being able to put it anywhere on my person, so it has become my primary choice for carry. I love my Defender 2000!
Thank you does not begin to say what I feel for this man, and his company. Mr. Bond did an upgrade on my Cowboy Defender. The action is so much better. But more than that he did this at his expense. Being disabled from an attack by a Moslem, I carry this as a backup. After telling my story, Mr. Bond offered to do this up grade at his expense.
I received this firearm yesterday, 12-24-15. I am going to take it out this Saturday to shoot it. Mr. Bond I am willing to do a publicity shoot for you. Showing the ease of use, etc. I am your debt sir. Merry Christmas to you, your family, and your employees. God Bless America!
My Patriot is one fine weapon. I love the quality in the design and operation. I have fired this hand cannon and it truly lives up to its reputation. I also recently received a 9mm barrel and can't wait to fire it. I know what to tell my family when my birthday comes around! More Bond Arms please!
Loads of fun to shoot. Shooting the Winchester PDX1 Defenders is amazing. Rides nicely in the Bond Arms holsters also.
I'm ashamed to say that the weather turned foul before I had a chance to try out the derringer. I sure do like it though.
45 Acp Back Up.From the first touch you know you have quality in your hand.45
Auto is no problem in this little cannon.Got the 3 inch barrel for 45/410 at half price(Blazebond.com),weather sucks,still waiting to try.Everybody at the company Christmas party loved shooting it,and wanted to know where to get one.2 1/2 " 45 barrel is amazingly accurate.So far I love it and will definitely buy more of your products.Driving holster is great,still waiting for my shirt and hat(status processing).Five Stars,Two thumbs up,etc.
I am pleasantly surprised at the accuracy, handling, and safety of this little gun. I have a couple of carry guns but now the Bond Arms is my favorite, it is small rugged, dependable, and the safety of it is the best, still it is quick and easy to use.
I bought a Patriot a few weeks ago and loved it so much I purchased a Snake Slayer IV. I've owned a few firearms but these are incredible. They're fun at the range and trust worthy to protect your life. Thank you Bond Arms!!!
I just went to the shooting range and was quite impressed with my new purchase–TheTexas Defender. I bought the 9 mm model with a 2.5 inch barrel. It shot quite accurately and the recoil was smooth. It made a loud noise and showed a distinct flash, which is great to distract and cause fear to a would be perpetrator.I shot it with one hand as well as two and I was accurate at what I was aiming to on my target. Felt more comfortable shooting with both hands since it is a little heavy and well made gun. I am quite satisfied with my purchase and recommend the gun to Derringer enthusiasts.
Finally went ahead and bought my SnakeSlayer. Been wanting one for years. Picked it up New Year's Eve and got to shoot it New Year's Day. Very impressed with the spread at 5 yards, using Federal Handgun 000 buck. Picture enclosed of 2 shots.
Recoil with the 45colt very manageable, the 410/rounds are "stout", about like a 357. I am sure it would ruin the bad guy's day! Very pleased with the weapon. Looking forward to some more backyard range time. Next up is a holster and maybe a 2 1/2″ 45 acp barrel. A great weapon for carry around my little mini-farm!
I was surprised to find the recoil easy to handle. I love the options for this gun and can make different "guns" for different uses. Great job guys!
I ordered a 2.5in 357/38special and a 9mm barrel for my husband as a Christmas present. He has the Century 2000 and loves it! Bond arms way exceeded my expectations by getting it to me early. My husband took them out yesterday and both shoot straight as an arrow!! You guys are tops on everything! !!!
I received a Snake Slayer for Christmas and had a chance to fire it not long afterward. I bought some 45 colt range loads and used some 410 3″ animal load rounds that I keep. Expecting to have some serious "kick", I was prepared. The surprise was that neither the 45 or 410 rounds had any greater kick that my XDS 45. Love the gun and have now found a second carry weapon for those times I need a smaller weapon.
I am very pleased with my .45 ACP "Backup" derringer! I was surprised how accurate the gun was out to 7 yards, no problem hitting a target at that range. Deadly. Recoil totally manageable too! Quality craftsmanship makes this pistol the perfect "back up"!
I was able to take my mini to my in laws and do some target shooting. I went through 50 rounds before I even knew it! I love the .38 barrel, but I am really excited to get my 410 barrel, that should be here today or tomorrow!!! I absolutely love my mini!!
I am a first time customer of Bond Arms and I could not be happier with my purchase my Backup 45 functioned flawlessly and with a little practice it has become my carry choice. I purchased an additional barrel and extended grip and Joe was excellent to work with answering all of my questions and helping me make an informed decision as to what caliber would best serve me as a secondary set up. It is a pleasure to do business with a company who supports Emergency Services and Law Enforcement. Thanks for a great product Keep up the super work.
Gun was very capable. handling took some getting used to, IE keeping hand web away from hammer. ergonomically with my hand, I wanted to grasp trigger up high which won't pull the trigger. I thought it was jammed but realized I needed to pull/squeeze down near the bottom by trigger guard. Shoots very well, can't wait to try out my .38 barrel when it comes. A load i'm more in tune with.
I had the best experience with your company, any one could have. I wrote to you regarding an up grade on my cowboy defender. What you did was over and above what was expected.
I will not go to a lt of detail. Suffice it to say that a THANK YOU is not enough. I am in deed in your debt. I plan on making a trip to Texas this spring. I will be looking for an area to move to. I will make it a priority to visit you, and say THANK YOU n person. Of course I will have my pistol with me.
If I can be of service to you, please DO NOT hesitate to call upon me. If you are going to be at the Shot Show, I would deem it an honor if called me and allowed me to buy you a drink, or better yet, to grace my home with your presence.
I enjoy my Bond Arms Snake Slayer IV. It is a lot of fun shooting 3″ .410 shells. The gun is very well built. I have already bought another barrel (.40 s&w) and other accessories for it. I would like to get all of the caliber barrels my friends and family have, so when they go shooting I can easily join in. The barrels are very easy to change and you even get an allen wrench with your new barrel. It makes the perfect personal defense item.
I just got back from a two day hiking/camping trip in the North Georgia Mountains on the appalachian trail. I carried the Texas Defender in the Bond Arms sticky pocket holster in my front hip pocket while hiking for 12 miles over strenuous mountain terrain. I did not find the 20oz weight of this gun to be difficult to carry in the pocket at all, most of the time I didn't notice the weight at all. I also think since this pistol is stainless steel and has less moving parts than other compact handguns that it will have a fewer malfunctions when exposed to rain and dirt in a outdoor environment. I have never had a problem with bears while hiking in the mountains, but the large caliber options for this handgun I think would appeal to people who like to carry some protection against bear attacks. It doesnt matter if you carry it in the city or the woods, Bond arms makes the best handgun on the market.
Lots of bang and kick especially the 45LColt and can't wait to get my 38/357 barrel to try those calibers. Well built and fired well.
We are in our mid to late eighties and purchased this hand gun strickly for personel protection. A couple of years ago I purchased a Mosberg 12 ga shotgun also for this purpose. My wife however, wanted a more accessable fire arm, hence this purchase. I'm a little disappointed that where I purchased your gun was not that knowledgeable. I would have preferred having the barrel options explained to me and I would then have purchased the barrel that accommodated 410 as well as 45 which we have. Be that as it may, we are looking forward to making it to a shooting range one day soon to try this little weapon out or maybe we will just go out behind the house and fire it into the high bank like I did the shotgun. In the meantime I have really enjoyed handling and admiring this weapon and it's wonderful workmanship.
Thanks
PBMcF
Very impressed with this hand cannon. Holds a fairly tight pattern of pellet placement at 15 yrds, and pretty accurate with the .45 loads as well. This is currently my "carry", as I like the idea of having 5 pellets of 00 buck shot (X2) going "downrange" at 1150fps (Muzzle Vel. w/ 3″ shells). I think this makes a great self-defense pistol
Gordon:
Finally got a chance to shoot my new Snake Slayer 3-1/2″ using 000 buc (4 round pellets) and #4 shot shells because I am not near a shotgun range. I used Federal and Remington defensive rounds.
You have to hang on to the gun. Kicks pretty good but manageable. Got perfect round holes about the size of a .38 in the target when using the 000 buc.
Shot 16 rounds. You would not want to shoot 50 rounds at one time. Your hand will hurt.
From a defensive view, after the first shot, your target will drop from either the 4 pellets or a heart attack. It is a scary gun from the target's view. Lots of fun to shoot.
I shot about 30′ from the target and still managed a ten inch spread. Normally, you would be closer to your attacker.
This is my new carry gun. It conceals nicely. It will replace my Glock 36 which imprints.
I also own a Ruger Blackhawk Convertible 45acp/45lc. I will try
the 45lc bullets at a later time. Am thinking about ordering your 45acp barrel and selling my Glock.
Thanks for making such a great gun. I should have bought it sooner.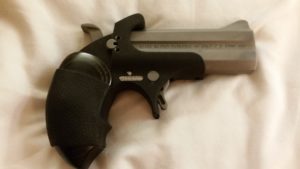 I bought the new 45acp as a backup to my Glock 19. I got a Snake Slayer 3 "barrel, black stag grip and rubber hogue grip to add more control and comfort. It has replaced the glock as my main carry, and I now use the glock as backup. Love the power and " built like a tank" statement is no joke. Thanks Bond for my new favorite pistol!
My wife had a stroke years ago and lost a lot of her strength in her right side. She wanted protection to carry so we went looking to get her a gun . We purchased a Glock 42 for her but she had a hard time cocking the gun so i looked into the Bond Girls Mini 38/357 for her at Christmas she loves it, wore it all day Christmas even though i wouldn't give her a bullet till she shoots it at the range. She now carrys with ammo and can hit targets.She loves it and can shoot it accurately .
I purchased a Bond arms snake slayer in Dec. 2015. Then I ordered holsters and other items from the web site. I was amazed at the ease of ordering and the way bonds arms followed up via email to insure I received and was satisfied with my purchase.The holsters were way more than I had hoped for. The quality was awesome. As for the Snake Slayer it is an idea carry for me,when it barks people notice. I love it
Thank you does not begin to say what I feel for this man, and his company. Mr. Bond did an upgrade on my Cowboy Defender. The action is so much better. But more than that he did this at his expense. Being disabled from an attack by a Moslem, I carry this as a backup. After telling my story, Mr. Bond offered to do this up grade at his expense.
I received this firearm yesterday, 12-24-15. I am going to take it out this Saturday to shoot it. Mr. Bond I am willing to do a publicity shoot for you. Showing the ease of use, etc. I am your debt sir. Merry Christmas to you, your family, and your employees. God Bless America!
I can't speak high enough of Bond. I recently did some unintended disassembly to one of my Bond derringers. Rather embarrassed I called them. Joe was not only gracious, he was funny and had my sweet USA Defender repaired and back to me with plenty of time left to go partridge hunting. Yes, I use mine to hunt the thick woods up here in Vermont. Love these guns.
Fired the 357/38 barrel but not the 22LR as yet. The weight of the derringer handles the recoil very well so able to have good accuracy.
I have wanted a Bond Arms Derringer since you folks have opened your doors for business. I even considered moving to Texas just so I could buy one. Then I happen to see DOJ's new list with California on it. I think I own number 38 made for CA. It's everything I thought it would be and more. For firing a 45 long colt the recoil is not bad at all. I recommend a Bond Arms Derringer to anyone who wants up close personnel protection. You'll sleep well at night.
Went shooting my Bond Arms Ranger II last week I was apprehensive about shooting 410 shells from a small barrel. I was pleasantly surprised by the recoil of the Sellier and Bellott 2 and 1/4 000 3 pellet buck shot. The recoil was very moderate, and performed well at 10′ I also shot the Winchester PDX defensive disc 12 pellets combo. The recoil was stout in comparison to the other brand. I did upgrade to the Jumbo rosewood grips and will give another range report. Overall very pleased with my Ranger II it rides with me everyday as my primary weapon. Thanks Bond for a winner.
Gun was fun to shoot and accurate. Great gun!!!!!!
This gun the Century 2000 is everything as advertised. I have fired 5 different types of ammo with it. Started with 410 defense, 410 00 buck, 410 3 inch bird shot, a 410 21/2 inch bird shot, plus the 45 colt bullet. All were easy to load, unload and were right on target. Cleaning the gun afterwards was almost effortless. It is a great solid defense weapon, very durable.
Not just American made, Texas made! Great product, great service really went above and beyond for my project. Two tone stainless, action job and memory relief on the grip. Thanks again everyone keep up the good work its something y'all can be very proud of!
It took me about a year of looking, hefting, and research but I finally settled on a Rustic Ranger from our nearest Cabela's. I can not add anything to what has already been said about the build quality, fit and finish. It is superb! I was a little skeptical about the claims Gordon Bond made, on various videos, about how the BAD holster fits so well that you will forget you are wearing it. He was correct, it works that well. I am a CHL holder in this state and carry every day in an area that may present two legged as well as four legged "concerns". After I tested the Ranger with 3″/000 buckshot loads and .45 Colt Self defense loads I am confident the Ranger will handle both concerns.
these are great guns. mine is .357mag. I have shot about 100 rounds so far all .357mags. I have had know problems.
After a small problem with my Bond Arms Defender I contacted the service department via email. Their reply was quick and personal. I was contacted via phone personally and each subsequent time by the same person.
I was kept up to date on each step of the process and no call was ended before I assured them I understood and was satisfied with what was going on.
Thank you for all your help.
My new Snake Slayer IV is now one of my favorite guns. We finally had a day above 15 deg. F, so I was able to test the gun. I tried Federal Personal Defense 410 Handgun 3″ 000 Buck, 3″ 4 Buck and some 45 Colt ammo. The 000 Buck is fairly stout, so I probably won't be practicing with this shell until I get my Jumbo grips and am wearing my PAST glove. The other rounds were fine with my very large hands and the extended grips. I have also ordered a 357/38 4.25″ barrel, a 45 ACP 3″ barrel and some holsters.
The controls and safety features on the gun are superior to any other derringer I found. Every enthusiast should handle a Bond Arms gun. But be forewarned. You may end up re-thinking your handgun choices and have to buy one of them.
I just picked up my Snake Slayer last Friday and I can't put it down. The design of the pistol is a work of art. I have wanted one for a long time so this has been a great couple of days. This is by far my favorite gun and I have a few.
I added the Snake Slayer IV to my collection last week. I just got a chance to fire it this past weekend. All I can say is "WOW!". When firing .45 LC's it has no more kick than my Colt 1911, a much heavier handgun. I was totally surprised. I expected it to kick like a mule. It is smooth and well balanced. Then I loaded it up with .410 6 shot. Let me tell you, you had better be ready! It has a substantial recoil but, what do you expect from a hand cannon? I love this weapon! It is my new conceal piece. I like the fact that I can build on this platform and change it to a .38/.357 or a 9 mm or a .22. What an awesome all around gun.
Thank you so much for the speedy handling of my exchange. The side holster works so much better for me. Bless you Kelly and your fine organization. I'm a big fan and turn everyone I know interested about your products. I shared your great service with my brother and he is a huge fan too.
I was going through my NRA magazine looking for a small but powerful hand gun. I came across an ad for Bond Arms, went to the web and and decided on The
"USA Defender". I called one of several gun stores in the area asking if they have the DEFENDER. They said they have a Bond Arms coming in but until it gets here they don't know what model it would be. I got a call the next Friday saying a Bond Arms gun came in and it was the Defender with a holster. Put a hold on it and said I would be in Monday. Went to the store Monday checked out the Defender and went to the front of the store to fill out paper work. As the women was filling out the papers she asked me to read off the serial number. To my great surprise the serial number just happened to be my star number that I had for 25 yrs. on a police dept. Just outside of Chicago. I love the USA DEFENDER and it was meant to be. Richard Boyce
A couple of weeks ago,the rubber grips that came with my Back Up had fallen off the gun. The screws had pulled through the grips. I sent the grips to Bond Arms and the next week a new set of rubber grips arrived in the mail. No Charge!!!!
Service like this probably explains why I have two Bond Derringers (Texas Defender,Back-Up) and 9 extra barrels!!
Top Dog
I carry it in the Recreation areas I walk, where it is like jungle. I feel better at ease knowing I can protect myself from all sorts of creatures.
I have a snake slayer iv and wanted a better feeling grip
it is perfect takes away a little from concealment, but
that's ok
the main point is what ever is on the other end "will"
be hurting if not worse
thank you,
Gorden and Bond Arms
I own a few handguns and the SS4 is the one I always grab to carry. I added the extra long rosewood grip and it is the best feeling grip / gun in my hands. Fun to shoot the 45lc. I added the 38 /357 barrel to the collection just for plinking. I wish everything I owned had the fit and finish that this gun has. If Bond Arms builds anything else I would buy it in a heart beat.
Gun is solid. Just looks and feels like high quality. The holster I ordered is perfect. I have never seen a leather holster with such quality and craftsmanship. I couldn't be happier. This gun will provide concealed protection for years. I don't ever see being able to ware these out. Great solid quality products. Thank you.
Just got my Snake Slayer 45/410 , wow what a weapon of mass destruction. Put 40 rounds thru it 20 rounds 410 and 20 rounds 45. Recoil not as bad as I thought it would be would have shot more but ran out of time. It does take a little time to get use to but it is an awesome well built pistol. Waiting for driving holster so if you can hurry up the back order it would be awesome.
Dear Sirs;
I have one of you Bond Guns and i would like to say it is the best investments i have ever made. all thou i didn't get it from you i bought it from grab-a-gun. it is a 357 Mag./ 38. barrel.
I just sent for your Free Book and Register for your Bond Arm Prize. But I did want too say what a great gun you have on the Market. Proud to own one.
thank you
Richard McMurtrie in Pa.
Perfect pocket gun. Could not believe how easy and fun this gun is to shoot. Very accurate.
I have the snake slayer 11 and bought the jumbo rosewood grips
it is like night and day feels so much better and more control
especially with the 410/45 long colt
so nice to carry too and feel well protected
I have never shot anyone , but if I do they will definitely be
hurting and doubt they will be in any hurry to try again,,,,
thank you for helping me out
I like this gun, only fired it 4 times. recoil is stiff, added extended
rubber grips. should help with felt recoil. haven't tried 357 barrel yet.
I recently purchased a Texas Defender 45 LC/.410 as a purse gun for my wife. The fit for her was perfect, she was able to group well with it, and felt confortable carrying it as a self defense tool.
More recentIy I went on a big boar bow hunt were I had to carry a lot of equipment (bow, lights, and film gear) to accesses my hunting area. Given that space was limited to my right leg pocket I chose to take my wifes Bond with me laoded with Wichester PDX rounds. I had been charged once before on this property and was not going to be unarmed again. In the middle of the night I shot a huge boar with my bow and after a 2 hour wait decided to track it. After tracking for several hours I ran across a second big boar at 30 yards. He bluff charged me the first time giving me just enought time to cock the hamer back. On the second charge he met the shock wave and boom of the Bond! Needles to say he wanted nothing more to do with it!!!! My wife and I thank you for designing such a great product and for the free Bond Girl shirt at the 2015 SHOT show! Attached is an image of the boar.
As beautiful as the Texas Ranger Commemorative derringer looks on your website, pictures just can't do it justice. It is an absolute work of art!! And it handles just as fantastically!!
Purchased a Snake Slayer IV last month, shot 50 rounds of 45 colt through it on Friday the 13th…could not believe how low the recoil was…was expecting a lot bigger kick, would have shot more but was all the ammo I had! Anxious to try some 410 in her. The grip to trigger configuration feels a little awkward, but with such low recoil should be able to adapt my hold. Extremely satisfied, can't wait to shoot again.
I have cleaned my new gun. But have been to busy to take it out and shoot it. I'm excited to try it out.
I have owned a Texas Defender in 45LC and do not go on any road trips without it ! I purchased the car holster along with new grips the rosewood and star. The holster is comfortable to wear for long periods of time and is great when you are carrying concealed it's like it's not even there ! There are only two derringers allowed to be sold in Maryland and Bond Arms is the one I choose great quality and a beautiful handgun . Who could ask for more ! Well worth the money, so get your own this one is mine and I'm not giving it up !!!
I only had a chance to shoot 2 bullets just to see which chamber fired first. It didn't have as much kick as i thought it would Love it so far. I carry it in my pocket while in my drive way cleaning snow. for that "just in case" time Dave B.
I've owned a Texas defender since 2013 and now a snake slayer 1V. I really love the Bond arms. My ext stag grips are awesome!!
"Hand Canon" is the perfect description, built like a tank. Workmanship is first class and shows pride in manufacturing. I ordered a Mini 45 and am not disappointed…everything works perfectly and the gun goes Bang every time. I have also ordered the 3″ 45lc/410, perfect for in the car. Two thumbs up, you can't go wrong!
Glenn, after purchasing my Snake Layer from Cabellas, my son and I took it to the range and put 30 rounds of 45 Long Colt and 20 rounds of 3″ 410 rounds through the gun at 10 yards. It took us a few rounds to get used to the recoil and just the fact that we were shooting a derringer, but we eventually were able to hit our target. And we're very impressed with the overall quality of the gun. I purchased the BA-Driving Holster and really like it. My friends just love it and you'll be getting more orders from this area. Thanks for making a quality carry gun. Ted from St. Louis.
Purchased snake slayer year ago it worked very good. Got the extra 357 mag barrel worked great. Awesome gun highly recommended!
I purchased the Snake Slayer IV 357/.38, then added the driving holster and a 3″ 9mm barrel. Having the option to change caliber allows me to make better use of the ammo I have on hand. Thought I would mostly be shooting the 9mm, but the 4.25″ .38 is so solid I am getting excellent accuracy with it. This is a really fun gun to shoot and you'll definitely get some looks at the range.
I bought my Texas Defender about 3 years ago because I travel a lot on the road and wanted some extra security. I requested your brochure because I needed a way carry it safely while driving. I ended up buying the velcro attached horizontal leather holster and it is great. Easy access to your weapon when seated and seat belted in your vehicle. Just attach it to the right or left side of your belt buckle (I attach mine to the right side because I am left handed) and you can draw and fire by only moving your arm while seated in your vehicle. Best design I have ever seen. Heck I can keep one hand on the wheel and cap an aggressor before he could know what happened. I also got the 4 round belt clip ammo holder that gives me 6 rounds to take care of business. Now it's only gun that I carry on the road for security. Next I'm getting a 4 inch barrel so I can fire 3 inch magnum 410 rounds. I don't leave home without my Bond Arms "Texas Defender". Accurate, quick reload, and easy access. I'm a 25 year military veteran with 8 combat tours and this by far one of the simplest well thought out guns I have ever fired.
I just purchased my Snake Slayer IV. I have been wanting this particular gun for some time and have been putting my pennies away and now that I have it I cannot wait to fire it. That comes next weekend when Dad and I head up to the cabin. Several of my buddies have purchased Bonds Arms handguns and cant stop bragging about theirs. I'll report back after next weekend. I feel like a kid with a new toy!
About a year ago I ran across Bond Arms on YouTube. I've been hunting for the smallest and lightest shotgun I can find for personal perfection. Ideally for snakes while out hunting or fishing. I been carrying a 38 snub nose but the accuracy wasn't there for me. That's why I started looking at these little 410. Then I learned that not only Bond Arms is American Made but better yet from right here in Texas. Had to get one. Best little gun I've bought. I'll grant you 410 coming out of a gun the size of a pack of cigarettes has a little kick. Not anything I can't handle, but I've had friends loose control of it. (it's comical) But with the high selection of ammo you can get in 410 it's turned into my everyday passenger. It's just too light to really want to carry anything else. Plus heaven forbidden I ever need it for self defense there are few things that does the damage that a shotgun does up close and personal. Thank you Bond Arms I feel safe in the field and the big cities.
love my snakeslayer 4 and the nice leather holster. very nice
Glenn, after purchasing my Snake Layer from Cabellas, my son and I took it to the range and put 30 rounds of 45 Long Colt and 20 rounds of 3″ 410 rounds through the gun at 10 yards. It took us a few rounds to get used to the recoil and just the fact that we were shooting a derringer, but we eventually were able to hit our target. And we're very impressed with the overall quality of the gun. I purchased the BA-Driving Holster and really like it. My friends just love it and you'll be getting more orders from this area. Thanks for making a quality carry gun. Ted from St. Louis.
Just want to thank you for the great customer service and a really outstanding handgun. The fit and function is superb….I purchased a Texas Defender with 3 " barrel chambered for 38SPL/.357 w/ B.A.D. driving holster and was amazed at how well these products were made. This little holster is one of the most comfortable I own. I then ordered the 3.5 " barrel chambered for 45Colt/410 and a set of Pearlite extended grips and love this transformation. Best part was that the grips came in on my birthday and timing couldn't have been better. I've shot about 20 rounds of each caliber thru it and must say that recoil is no problem at all. This is now my everyday carry. Thank you all at Bond Arms for such a well made weapon. A true work of art!!!
Vic Rivera
Retired Army
Army Contractor (current)
Fort Gordon, Ga.
Love my new SnakeSlayer. Right size, right weight, well-built. And what a 410 slug or buckshot does to a piece of 1/2 inch pressboard is really impressive. My wife even likes shooting it.
OK. Here goes, I removed my new Band Arms 45LC Mini from the box, loaded it and fired it at paper plate from about 6 feet. The first round struck just off from the plate high and left. I re-cocked and took aim again. This time taking into consideration the strike of my first round. I struck the plate just a little left and above center. During the next set of two rounds, I was quite pleased with my ability to group rounds very near or in the center of my target. I now carry the little goomer everywhere I go. Yes I have a CPL. It is a great little backup gun. I am looking forward to owning several different configurations of Bond Arm products.
ran an assortment 410 and 45lc through my new texas defender recently, great results, will buy another. thanks,leo
I have I few cc pieces that work wonderfully when I dress around them. Which means the way I carry (outside the waist band) means an extra shirt which gets pretty warm from time to time. I tried to pocket carry my j frame but even with a pocket holster prints and you know have something more than keys in my pocket. So I picked up a Texas Defender and it works perfectly. Slip it into my front pocket and no one can tell due to the slim size and no bulge of a cylinder and an added plus it is chambered in .357 so no need to break into a new caliber yet.
This grip makes a great difference for people with large hands. It helps when using 358 ammo. The fit to the gun is right on Didn't have to do anything only remove one grip and put the other on. Very happy with grip and service.
What a beautiful hand gun that just emits a quality that everyone recognizes the moment they hold it. In shooting, it is definitely not a pea shooter, but a barker with a bite.
I recently purchased a Bond Arms Texas Defender with 3″ 38 spl/.357Mag with B.A.D. Holster and this has become one of my favorite handguns. Having a Taurus Judge I ordered the 3.5 inch 45LC/410 shotgun load. Having the ability to change barrels and ability to shoot various calibers has made me a Bond Arms fan. Am patiently awaiting the extended Pearlite grips that were ordered in December. This has now become my everyday carry. Small, powerful, wellbuilt, easy to conceal and carry. Thank you Bond Arms for an excellant product!!
This is the first derringer I've ever owned. Wanted a weapon that would accommodate the .410 shot shell. Researched the internet. Settled on Bond Arms. Called the factory. All my questions were answered and then some. Chose the Texas Defender with Trigger Guard. Made a mistake by ordering from a BIG BOX sporting goods store. Item was shipped wrong. I didn't check it completely when I took it out of the store. When I tried to return it they refused. They told me that I might have took it out of the store and shot someone. I thought I was done. Called Bond Arms again. They explained that this sometimes happens with BIG BOX stores because most of their items come from other distributors instead of BOND ARMS. BOND ARMS offered to help me any way they could. After several days of phone calls, Emails, and hassles The BIG BOX store came through with a refund. I re-ordered through my local FFL dealer direct to BOND ARMS. Item was received correctly within two days. Small fee was charged by dealer which was no problem. Highly satisfied with everything BOND ARMS did for me. It is the best manufactured weapon in it's class. I would recommend this weapon above all the rest in it's class. BOND ARMS cannot be beat for manufacturing and customer service. Try not to make the mistake that I did on my first order. When you order your new BOND ARMS DERRINGER, I hope you enjoy it as much as I do. Thanks.
I purchased a sticky holster for my Bond Arms Cowboy Defender, and I love it.
Great small carry gun fun to shoot wish could the barrels ,might have to buy snake slayer to add to my collection highly recommend these great guns
Just returned from my first range trip with my new Snake Slayer IV. I ordered a 22 LR 3″ to get used to the trigger and feel of the gun at my first shoot. Ran about 50 rounds of 22 LR through and it was a blast. I then changed to the 410/45 LC. It was a pleasant surprise after reading and watching videos about how much recoil it has that there was no more kick than my 45 auto. I shot 20 Federal 000 buck 2-1/2″ and ten 45 LC and I had the trigger guard on and had no problem pulling the trigger. Thanks Bond Arms for my new MOST FAVORITE GUN. Would like to see you make a video on proper cleaning and oil locations for you guns.
At first I thought it be a bit of a handful,but after about 10 rounds it was fine .
Gonna be perfect for my intended use
Finally had a chance to fire my Christmas present – wow! Here are some thoughts….
First of all, this thing is a work of art in stainless steel. The craftsmanship and engineering, put simply, are outstanding. I also bought an additional 9mm barrel when the 50 percent off sale was underway, and a Bond mini holster. Again, both are extremely high quality – the holster is beautiful, and darn functional.
Now to the range – first, I fired 10 Hornady .45 Colt 185s – hand cannon is right! The power was flat out fun to experience. The recoil was certainly manageable, and really pretty comfortable. I switched to the 9mm barrel – which took all of 30 seconds – and fired 100 rounds through it…… flawlessly.
I am not the best shot on the planet, but from 5 and 7 yards and after settling in a little I did as well with my new mini as I do with my Ruger LCP and Kahr 9mm. This little gun quickly became one of my carry options.
Nicely done Bond Arms. It is great to see a homegrown product line that lives up to and exceeds expectations. I am a fan – and will keep firing Bond in the future. Thanks!
Built so ruggedly with such a satisfying feel in the hand that if Granbury, Texas wasn't stamped on the barrel, I'd have sworn it was made in Maine.
Great gun very accurate and very
Easy to shoot. I have an lbw holsters and my hand cannon is
Very comfortable. Still waiting for
My 38 357 barrel. I thoughlly love
My 410 45 4.5 inch barrel and wish the 38 357 came in a 4.5.
I purchased this holster to keep my Snake Slayer secure between the seats of the truck while driving. It works great for that purpose. It also allows me to take the gun with me when I leave the truck by placing the whole unit in my waistband.
Received the great looking jumbo grip, and installed it. Would have liked to received brief instructions with it. The fit was so good, that I had trouble seeing how too take off the original and install the new. Big improvement for my hand. Had issues with the rather sharp corners of the trigger guard and my knuckles with the stock grip. The jumbo grip took care of the issue. Feels great in my palm, but think a little too smooth, may need some checkering to help control the kick.
If you can't hit what your shooting at at with a 410 or 45 colt long you shouldn't carry a gun I love it and it goes with me were ever I go especially the city.
I have big hands so wasn't sure what to expect from a derringer. I purchased the Snake Slayer and was surprised at how good it felt in my hand. I shot both 410 and 45 and the gun performed well and was very controllable. One-handed, I shot a little high, two-handed I was right on target with the 45. Trigger pull was a bit stiff, but I got used to it quickly. They say dynamite comes in small packages and this gun is dynamite. Also purchased a driving holster which is very well made and makes one forget they're carrying a gun.
You don't even know you have it on I where it all the time.
Ordered my boyfriend parts off amazon for his 22 shot gun.
the shipping was quick, and the parts were exactly as I expected.
thank you so much!
-Jessica
It is well known that Bond Arms derringers are the best derringers made, and that the craftsmanship is top notch on their products. What many may not know is that their customer service is also top notch. If you are lucky enough to get Kelly Kelley as your customer service rep, you will be very happy. Great products and great service.
What can I say other than I am really very happy with my Snakeslayer. It's built to last a life time. And it's hard to believe how well it shoots.
On the Bad ASS scale of 1 to 10 It's a solid 12
I took my Bond Arms USA Defender out for the first time last weekend.
Shot regular 410 shells out of it.
Recoil was not as bad as expected. Easy to control.
But wear ear protection. It was loud.
I recently Bought a USA Defender and took advantage of the 1/2 price barrel deal. The USA Defender was sweet right from the start, I loved it and everything I read and saw about Bond Arms. However, the true test of a company is how it does when things go wrong. When I test fired it with the 2nd barrel, it locked up repeatedly and quite honestly shook my faith a little. Then I talked to Bob in customer service who worked with me, quickly took the piece back, had it repaired and then next day aired it back to me. I just test fired it and it is sweet again just as before. Bond Arms stood behind their product and took care of business. (I'm thinking no one with a brain would stand in front of a Bond!) Your guns sell themselves but your customers sell you. I will talk you up whenever I get a chance, in fact a buddy just bought a Ranger II after seeing and talking about mine. God Bless America.
Tony C.
YES I WENT TO A IN DOOR RANGE TO FIRE MY NEW BROWN BEAR, HAND CANNON. IT WAS A HOOT TO FIRE, LOTS OF FUN TO USE, I WANT TO THANK YOU FOR GETTING IT TO CALIFORNIA, I HAVE WAITED A LONG TIME TO OWN A BOND. AGAIN THANK YOU
I am the proud owner of a Brown Bear (California) in 45 Colt. During the un-boxing, I was very pleased with the high quality of the firearm as well as the attention to detail in the manufacture of the firearm.
I've been to the range several times and have worked my way up from lighter cowboy action loads to standard defensive rounds in 45 Colt. The recoil have been very manageable. For practice and fun, the lighter loads will work just fine.
For defensive purposes (close in), this is a great point and shoot gun. I did have to work on sighting at 15 yards in order to pass CCW requirements.
The Brown Bear also came with a "BAD" holster which I must admit is growing on me.
By design, this firearm is simple to operate and very reliable. I would definitely recommend this gun as it will fill a niche in many collections. Oh, and it looks cool.
I've just been able to shoot my Bond Mini twice due to winter weather. Great little pistol. Recoil was less than expected.
I'm left-handed, so I also ordered a LH conversion for the barrel release. This should be easier to operate safely.
So far I own a Bond Arms Mini (.45), .357/.38 barrel, oversize rubber grips, Mini holster, .45/.410 barrel, nylon holster, and a driving holster. Not sure what's next. As I've said before, your courtesy matches your quality, which is outstanding!!! Maybe a .22 long rifle.
I purchased the Snake Slayer IV along with the 2.5″ .45 ACP extra barrel. Either set-up, 4.25″ barrel, .410 ga. or the .45 ACP barrel is without question the most fun you can have with a weapon of this type. Everyone wants to shoot it and all commend the craftsmanship and design. When I tell them there are even more barrel options available that will fit the same frame, you can see the gears turning in their brain.
Either barrel and ammo combination has no more recoil or "kick" than my 1911 .45 or either magnum pistol and lever rifle I currently use.
The Snake Slayer does seem much louder, but I haven't fired it with a decibel meter at hand. Regardless, it is extremely well made and great fun to shoot. You don't need to think twice about buying a Bond Arms derringer, just do it.
One thing you guys do need to make is a sew on patch. I know I'll buy 'em.
Thanks for designing a great weapon.
Just bought the Bond Defender, 45LC from academy a couple of weeks ago. Finally got it the range today and the Bond Defender exceeded my expectations! The recoil was very manageable, and the accuracy was dead on. Feels like it is an extension of my hand!
This has to be the very best Derringer that I have ever had the pleasure of shooting and owning and it won't be the last one.
I have a three inch barrel for the 2 1/2″ 410 / 45 Long colt, 38 / 357caliber 3 inch barrel and a 4 1/4″ barrel for 3″ 410 / 45 Long colt.
You really can change these barrels in 30 seconds or less, absolutely wonderful.
The driving holster has allowed me to Carry this "Hand Cannon" comfortably concealed every day.
I got my new barrel and I shot about 30 rounds of 357 and 38 out of my new barrel;I really like this barrel.I was shooting about 15yds I could not believe how accurate it was.
hi guys, just wanted to drop you a note about my snake Slayer that I recently purchased. Went to the range couple days ago and got to shoot for the first time and it is absolutely awesome. I really was worried that it would have a very strong kickback, however it is extremely easy to shoot and so much fun! You guys have done an absolutely incredible job on this weapon I love it it's easy to carry and so much fun Thanks for absolutely phenomenal product!
Russ Mann
Would like to thank you for producing such a well made and powerful "Hand Cannon". I purchased the Texas Defender in a 3″ 38 SP/.357 Mag with B.A.D Holster. Have enjoyed that combo. Had to order the 410/45 colt in 3.5″ as I own a Taurus Judge and like that round for home defense. What I really like about your product is the the combination of barrels and calibers available, and the ease and fit of changing barrels. Thank you again for a very well made product. (my everyday companion)
I just purchase the gun magnet that was on your web site. I have never seen any thing like it before. I have mounted it underneath a lamp stand next to my easy chair. out of sight and very handy to reach in case I need it. my wife like it too. easy for her also.
I will be purchasing I few more for my home.
the price is a little high, but that is okay.
keep up the good work on your products.
Couldn't wait to try out this incredible firearm. At the first opportunity to fire it, I loaded two 3 inch Winchester PDX1 Defender shells. I wanted to discover how manageable the recoil would be with a hot load. I have to say in all honesty, the kick was intense, but this thing is so powerful that it is addictive. The ground shakes. I LOVE this gun! I used to typically carry a .357 magnum and 9mm, but I now carry my Snake Slayer IV everywhere. While I now shoot 2 1/2 inch #6 shot for fun, I carry with the PDX1 Defenders loaded and a couple of 3″ 000 buckshot spares. BTW, the DeSantis stealth IWB holster works great, and I can carry extra shells in the magazine holder. Can carry virtually unnoticeable even with a tee shirt and shorts. Very happy with this gun and it is built as everyone says, "like a tank". And built in the USA. Thank you for making such a great product Gordon. John D.
I just shot my gun the 410 kicks like a mule and the 45 is a nice round but the 410 is my carry round, The wife also shot both rounds and like the gun, the gun just looks Bad Ass! very well made easy to carry,Nice Job .I also ordered the 357 barrel cant wait to shoot that one!
This is the best for what I want to use the weapon for,protection while driving across the country. I have range and target guns so pin point accuracy is not that important. It also is not a gun for extended range use as you Will notice bit of recoil,however accepable, and when I get my second barrel I will shoot more for the fun of it. All and all you can't go wrong this thing will surely be used by my greatgrandchildren.
It's been several months since I purchased my Bond Arms "Texas Defender" and I couldn't be more satisfied. It is better than I expected it to be.
It came with a 3″ 410/45 Colt barrel and I have since purchased at 3.5″ 357 Magnum/38 SP barrel. I have fired several different loads of each caliber of ammo appropriate to the different barrels with 100% success; it worked the first time, everytime.
With a little practice, it was easy to get proficient with this gun up to 7 yards and with some ammo even further.
If you look beyond the excellent quality of design and workmanship, you will see a "KOOL" factor that is unlike most other guns out there. I have owned and shot firearms for more than fifty years and when it comes to quality and shooting enjoyment, this is as good as it gets. Yancy Derringer, where are you?
My sister and myself run a handmade jewelry booth at a local flea market. It is a cubical with an walkway between us and the booth on the other side. I wanted something to defend us, but not harm customers walking the walkway. The 410 with no# 4 shot, not buckshot, is just what the doctor ordered. At about 2 yards, the pattern is about 18 inches, just wide enough for one person. It is plenty to correct a bad attitude, but not enough to wipe out the neighbors.
The recoil is stiff, but not serious, and I am sure in a panic moment unnoticeable, as is the recoil on a rifle when you are shooting at the trophy Buck you have been waiting a lifetime to see.
I am happy with my choice of firearm for the situation, and have no problem recommending it to others.
After 3 weeks of have my Snake Slayer 3″ and Snake Slayer IV I finally got to shoot them this past weekend . The 4 is mine so I took that, shot a whole bunch of loads out of it, 45colt, WInchester .410- 3″ #6 shot WInchester PDX1 in both .45 and .410 ….. All I can Say is " HOLY CRAP " !!!! Shot the .45 Colt at 3 yds, 7 yds, and 15 yds and all shots were in the black on a 50 foot size target … I am VERY IMPRESSED and cant wait for my .9mm barrel and Jumbo Rosewood grips to come will be carrying this Hand Cannon for CCW with the 9mm barrel I highly recommend Bond Arms to anybody looking for a high quality firearm
I just finished engraving a Mini Girl with Roses and set with a few Pink Sapphires. Hoping some girl wants it at the Firearms Engraving Show in Las Vegas. Such a fun little gun!
Great gun! Well made and a perfect surprise for a carjacker. I suggest u fire it a few times to get use to the recoil but not as bad as u may think. Very easy to hide by your side in the car.
I was excited to fire my Ranger II. Did not know what to expect. The second round I was more comfortable. Once I was comfortable with the trigger pull, which is tighter than I am used to, it was fun to shoot. Cannot wait to receive my other barrel and fire that one. I know it will be just as enjoyable to fire the 410 barrel as it is firing the 357 barrel.
To me the rubber grip is the best, don't get me wrong the wood grips are nice but for practical use the rubber is better. The BAD driving hoster is a good hoster for carry in or out of the car. Thanks again. now need a 6″ barrel As always may God bless u and yours, Earl
you guys make a great, fun to shoot gun, it makes a real good carry gun, when i'm out in my wheel chair
Well built hand cannon shoots very accurate and can change barrels quick.I am very happy with my tough mean hand cannon, thanks for making a top quality handsome but very mean handgun I'm one happy shooter!!!
Proud owner of the Snake Slayer IV and BAD Holster.
Both products are of high quality.
Great fit for the gun, stays wherever you put it, wish I got it earlier.
As a resident of Maryland, the so-called "Free State," I am not allowed to carry concealed. But, I bought a Bond Arms Ranger II anyway, because it is a stellar work of industrial art, Made in America.
A member of the only indoor handgun range in Montgomery County, Maryland, I have spent some time putting 22 LR, 38/357, and 45 ACP's down the range, consistently getting most rounds within a 12-inch diameter "shoot-n-c" target at 15 feet (there are better marksmen out there than me). The trigger needs a quick, smooth pull, I have found, to release the hammer well. A slow squeeze to release isn't the way to do it. Recoil with the bigger chambers is acceptable. This gun takes practice, but we like that part.
I have several "range guns," hand guns, that nail dimes at 50 feet. Don't expect the same from short barrels, but to shoot a Bond Arms is just a lot of fun. And, the good folks at Bond Arms do answer your email questions. A good company to patronize.
Best Regards,
Cary
I bought a USA Defender and I like it. I reload my own 45LC. MY son reload's 9mm. My 9mm barrel will be here soon. As long as I have the ability to protect the good, I will … Dan
Gordon,
I truly enjoyed getting to experience my Ranger II for the first time. Its ease of use and safety features made it the most enjoyable part of the family outing and favorite among all guns fired that day. The salesman told me that he had one and it didn't kick nearly as hard as people make it seem and he was right. I was amazed at how tight the patterns were even beyond the 10 ft. range in the tests you sent me. I sent the link to the store I bought it from to increase their knowledge of Bond Arms and they appreciated it. This is now my favorite gun…. hopefully next time I will try the .357/38 barrel I purchased.
Thanks again,
Eric
p.s. Here is the link you sent in case it could help interested enthusiasts select their own Bond or its ammo.
http://www.410handguns.com/410_bond_results.html
My awesome wife bought me a Cowboy Defender for my birthday a couple of months ago. I have wanted a Derringer for the better part of my 30 year life. Originally chambered in .357/.38 special, I went straight online and ordered the 3″ .44 special barrel for more lead. This pistol is my every day pocket gun and I sing its praises to anyone who will listen. The customer support at Bond Arms is very prompt and friendly. Could not be happier with this firearm. Hats off to you Mr. Bond!
I owned a cowboy defender .38/.357 and was impressed with what it was capable of. I enjoyed going to the desert and playing with it and really liked the way it handled as well as it's accuracy even at long range. Unfortunately I had to sell off my western collection due to the economic crash in 2009 just to survive. I'm getting to a position to where I can replace it soon. My plans are for another .38/.357 and perhaps later the .45 LC.
I bought my bond arms derringer at buds gun shop used in may for 339.00 took it home clean it up took it to the range put 25 rounds of 410 through it I was like wow definitely a hand cannon.love this gun i even bought 3 more barrels and the cross drawl holster.
I have my testimonial on you web site already and have had mine since 2011, and my Grandson-in law always loved my Texas Defender 45 LC/410 so for his 24th Birthday I took him to Academy and bought him is very own. I can't tell you how thrilled he was to get his very own Bond Arms like Paw Paw's. Got him a nice holster and ammo belt clip as well. Another satisfied BOND ARMS fan.. Thanks
Shoots great, wonderful pistol
I even ordered a sholder holster 9mm burrow and bullet holder (holds four bullets) for it which I think will be great.
Just picked up my Brown Bear yesterday loved it first time I saw it. Went to the range today and just loved it very acceptable groups.
Love the gun !
I've owned other derringers before but this one is the best! A real cannon. I used both the Colt 45 Long / 410 and the .38 / 357 Magnum. Both were awesome.
disc jockey cruisin dave here in denver co. i bought one of the special edition 75th anniversary sturgis derringers while at the buffalo chip campground in sturgis s.d. just this summer and i must say it is one of the coolest guns a collector could own. everyon wants to buy it from me, but this one will never be for sale. it is awesome. craftmanship at the finest level. i cant wait to see what the next super cool gun from these fine folks will be. high five to all at bond arms.
As a concealed carry gun I have had a Beretta 90-2 and a nano. But changing jobs where my boss is watching and having to wear a uniform that may reveal one of my silent partners was an issue as he says no carry. I work with police, state patrol and sheriffs's departments in my area dealing with traffic… sometimes its nothing more than a tire change… sometimes I have to deal with accidents and the uninsured drug dealers or even violent people before the officers do…. while in past years of towing and such I have pulled my 90-2 out because things got ugly, not being able to keep it in uniform I was worried but as I looked to remain able to return home nightly being without fire power is no option.
I found the bond arms Texas defender 410/45. Kinda wish it had come with a holster some guys at other gun shops got… 45 is nice but I like 000 buck because around 20 feet I get a chest size group… 3 projectiles 1 shot kinda helps keep odds in my favor. Most of my encounters are arms length to other people at some point so 20 feet is good to know it will do but not optimal. I love the fact I can carry it and 4 extra shots and stand toe to toe with my boss and him have no clue its there.
The law enforcement officers in my area have asked about it as some have seen me on the road for a while and knew I carried but shocked not to see even a holster, I just drop in my pocket and go… I have had some even ask when we are going shooting and where they can find it.
I'd like to say to all members at bond arms, you make a great product, and I look forward to some "upgrades and extras" as some time progresses. I am glad that when I tow a drug dealers car and his friends show up or I go "into the ghetto wastelands" its there and ready, for me or even an officer if neccessary with the current situations.
I wrote to Gordon Bond a few weeks back. This is a true rendition of an experience that I'd only a short few weeks back. This is basic letter sent to Mr. Bond. I have had my Snake Slayer now a little over a month. I was on my way to the store … a few blocks from home … I had stuck the pistol in my belt … and had forgoten to remove same before going to store … since having to go into grocery … I simply just fastened jacket over pistol … I had driven motorcycle to the store …Upon leaving store … noticed a pick-up truck parked a bit too close to my bike … right next to my Harley were two guys paying way too much attention to my ride … they were also looking around a bit to much a their surroundings and seemed nervious. I was carying a bag of grocerys to throw into a milk crate on back of bike … As I approached my machine , I let my jacket gape open a bit … one or both off the guys saw my pistol & and the both of them got away from my bike in a hurry and got into the pick-up quick. Safe I was … Confident I was … Still have
MY BIKE … Had I not had the pistol or come out of the grocery when I did … the outcome would have been diffdrent … by the way …. the two guys got the heck outta there. Thanks to Bond Arm … Safe . Since I've been practicing I put my second shots a lot of the time (a about 25-30 ft. within about 1/2 in. of the first shot. It has happened enough to be clear , that this is one very special firearm , or I'm getting better … Hornedy 45 long colt ammo. Thank You cor a remarkable product & for keeping me safe !!!!!
I agree with the other reviews that your handguns are precision machined with quality materials and workmanship. The trigger pull and hammer spring are heavy, but it is manageable. I'm very pleased with my purchase. The holster is a perfect fit and is very comfortable.
I have been wanting one of your derringer for a while and I finally had to bite the bullet and get one. I own a lot of pistols and this one is just as well built (if not better) than my colt king cobra. One of the best weapons I own in my opinion. I normally carry a Springfield xds .45 but carry this as about ad much now. Great pistol can't say that enough will buy another.
I wanted to let you at Bond Arms know I absolutely love my Bond Arms USA Defender, I carry it all day everyday since I purchased it about a month ago and shoot it daily on my home range, what a joy to shoot and breeze to clean, I'm not sure why people complain about the recoil? I've had hand and wrist surgery in the past and find this handgun smooth as butter with zero discomfort and very minimal recoil with full power standard pressure loads, it also shoots easily one handed, if I could afford to I'd shoot 200+ rounds a day with it, it is a really fun gun to shoot, it is easy to hit your target, but with practice and adjusting sight picture with the two barrels it can be shot extremely accurate at various ranges, you don't have to settle for just hitting you can achieve accurate shot placement. I live on and own 6 acres in the woods attached to another 100+ acres of forest and have coyote, fox, bobcats and occasionally black bears and countless other wild animals, I also have two small children 3 and under I no longer lump my 12 gauge around with me for a "just in case", we spend most of our time outside and in the woods, I feel perfectly capable with my Bond Arms matched with the right ammo, the Bond perfectly fits my handgun needs. I've put a fair amount of rounds through it since getting it and have tried various loads and find that for a everyday carry 45 Colt round Hornady Critical Defense 185 grain shoot very, very accurate out of this gun, for 000 buck I find the Federal 410 handgun performs consistently well, for just plinking 180 grain 45 Scolfield are good, the 250 grain cowboy loads tend to keyhole. For the woods, as a predator defense Underwood and Buffalo Bore standard pressure 225 grain hard cast wadcutters and 225 grain lead Keith type semi wadcutters shoot well and are accurate and hit hard, but find Underwood to make a more consistent round and better price. Some say 2 rounds is not enough, the way I look at it any justification for having to fire defensively be it two or four legged would be well inside of 20′, even without getting a sight picture you will hit a threat as this gun is an extension of your hand, because of the way this gun is sighted the bottom barrel is the most accurate, so I keep mine loaded with Federal 000 buck in the top chamber set to fire first as a draw quick panic shot, and if that doesn't stop or discourage the threat, my bottom barrel is loaded with a 45 Colt round that can be delivered with great accuracy and will most definitely put a stop to anything using the appropriate ammo. I would love to see Bond Arms do a ballistics test with various 45 Colt ammo, and 000 buck, I think it would be beneficial. I also have a 3.5″ 38 special/357 mag barrel that just arrived and have fired about 200 rounds of different ammo through it, again the Hornady 38 special critical defense preformed best, I need to pick up some 357mag rounds to tryout. My Bond Arms is by far my favorite firearm.
Thanks for a really solid and great firearm,
Pete
Bond Arms,
I love pretty, nice lines as my Harley. Not over done, well this is one time "all that glitters is not gold" well this Bond Arms is beautiful design and glitters with a powerful punch.And just feels so good in my hands. The wood handle, machining, safety drop feature. I love a good tradesman, I was a master refrigeration mechanic and did superfluous workman ship. Thank you for your skills and people who appreciate fine workmanship.
John Lehner
While visiting my local indoor range I saw they had a Texas Defender in their display. I was somewhat familiar with some of the competing derringers but never thought enough to even pick one up. I bought the gun on an impulse without doing any research or knowing anything about the company. Happily I can tell you it's the best impulse buying decision I ever made. I love the quality and workmanship of the gun. It's a very well made product. Once I found out I could switch barrels, will that only confirmed the fact that It was a great gun. It's also a very suitable daily carry gun. It fits perfectly in my pockets without requiring the IWB holsters, etc. Perfect I take it with me just about everywhere I go.
Thanks for a great product and much continued success for your company. I will be buying a Ranger II very soon.
Thanks again
I currently own two models produced by your company, the USA Defender being the first one that I bought. AMERICA! I loved firing it at the range so much I went ahead and purchased the 4.25 inch barrel for .45 caliber only. I get a kick out of each time I pull the trigger because, like I tell my wife, it feels like I am firing a mini hand cannon. Because I loved your product so much, I went out and bought a second model. I was having a hard time deciding until I saw your CA legal models. I don't live in CA but I needed to have it for one reason and one reason only other then it being a very reliable handgun. As the title suggests, it's cause it has a bear stamped into the handle.
was out at the store and two guys come up to me and started to say things about the flag on my arm and when the biggest one said look on his side and turned around and took off. Another customer ask what happened, so I told him the look of my little cannon just saved a couple of lives. Thanks you for building a very fine pistol. Make Jesus always bless u and yours.
Finally shot my new Century 2000, used the extended rubber grips I just received, MAN what a gun. When thru 50 rounds of 45LC, not one problem. Eyes were on me at the range and one young man even asked if he could shot it, my answer was YES. Bond Arms sure makes one good product. I am so impressed as was the young man who shot my new gun.Waiting on my extra barrels in 38/357 and 380. Please keep up the good work. All made in the good USA. Thanks
Bill Cape Coral FL.
I shot my Snake Slayer with .45 LC hand loads and factory ammo in my .327 magnum barrel. Both were manageable and comfortable to shoot. The .327 is literally a "blast" and make sure you hearing protection is in place.
The barrel change is easy and quick. The quality, fit, and finish of the Bond Arms is excellent. I am looking forward to my next time at the range.
I have fired several different 410 rounds number 6 shot in 2 1/2 in is best at snakes out to ten feet for 2 legged snakes double oo buckshot in 3 in shell is great out to 35 feet. Will keep all 5 pellets in torso of man sized target. With 45colt fired 12 rounds at 6 in steel plates on dueling tree from 40 feet got hits on all shots. WITH A DERRINGER. THAT IS MY NEW GO TO GUN
this is the second one I have home the first one was a 357it was a gift but I liked it very well unfortunately I lost it but now I have this one I think the first one was made by American I'm not sure but I do like that you can change the barrels on theseguns I want to order the 4.25 as soon as I can get enough money up I like my gun very well thank you
Ordered the 9mm barrel for my bond arms backup, Joe at bond arms was very helpful and informative, I received it sooner than I expected. Like the gun, it's very well made, have shot it twice, very accurate, looking forward to ordering other caliber barrels in the near future. Thank You, W.K.
I have had my Bond Arms piece for almost 5 years now. I have three barrels all 3″. The .45/.410 barrel is fine when I am walking the brush – I like the 410 for critters. .45 – I can't seem to hit much unless at close range. I also have the -357 mag barrel and I hit better with it, but it stings pretty hard. I just received the 10MM barrel a couple of weeks ago – I love it! The kick is pretty substantial but I put two bullets within 1 inch of each other and almost the Center of the bullseye at 5 yards! I also purchased the black rubber extended grips. I am sure they helped the kick and the accuracy. I carried it a lot before, now it is almost a constant companion with me! Thanks Bond Arms! I do wish for one thing. I am sure you already tried this – the casings are pretty hard to eject without the built in ejector. Anyway I still love it now!
I have fires about half a box of .38 Spl. and half a box of .357 and was surprised at how manageable the recoil was. Enjoyed firing the gun very much. The trigger is still very stiff with a lot of drag but I think it will work in very soon. I have already ordered a .45 LC and .410 barrel for it.
I fired my Cowboy Defender with all 3 barrels(.38-.357, .44 Spl, and .45 Colt. All I can say is "WOW", easy to handle, smooth operation…. fun!!
Thanks, y'all done good, real good!
Fired her the other day and at 25 yards she was dead on and had very little recoil. She's a sweet carry weapon. Thank yall for making such a fantastic pistol. May God always be with u and urs
TOOK IT OUT TO THE GUN RANGE AND FIRED SEVERAL ROUNDS OF 22MG. WHAT A FUN GUN. I TRULY LOVE IT AND ANTICIPATE GETTING A 9MM BARREL.
I recently purchased a Bond Ranger from a dealer and truly love it. It is an Abrams Tank built in a derringer. The current barrel is for the 410 and 45 colt and does have some umph. I went ahead and purchased a pull on Hogue grip from Bond slip in and also put on some electrical tape around it as well. Now the recoil is not nearly as bad and I can take off the grip and tape at any time. The added Bad driving holster also adds to this fine weapon. This is great for working in the woods and having protection from copperheads. Love it!
when I bought a bond arms Back up before I shot the gun I was concerned about the recoil. I was amazed how manageable the recoil was shooting .45 acp and .410 2.5inch shells out of such a little gun. If you can handle the recoil of a 1911 .45 you can handle one of these. Bond Arms guns are well built and built to last thats the first thing people say when they pick it up. I do suggest when you buy one though you practice alot because the trigger pull takes a while to get use to. One can certainly say I'm a bond arms man now!!
Took the new 2000 to the range and fired about 25 rds of 45 cowboy rounds thru it. WOW! quite a report from that little "son of a gun". It is fun to shoot and can't wait to try the 410's outdoors. I carry it in my new BAD driving holster. Easy to conceal and quick and easy accessibility. Love it.
Yes,I have shot my new gun! Shoots great very nice and easy to conceal like it very much !!
I have been carrying the Ranger II on a daily basis since purchase, was concerned about the size and weight being I am 5'6″ 122lb. Most pistols don't hide well for me. The weight isn't bad and hides pretty well. It fits my hand and is easy to function. As for shooting, targets or personal defense it is outstanding. Even the 3″ 410 shells from the top barrel are easily returned to aiming on target. The holster is top quality! ( I have made a 2″ band so I can use it vertical carry on my belt also). I have 2 friends that have fired it and now will soon be purchasing their own!
I went to the (indoor) range a few days ago & fired a few .45LC "get acquainted" rounds through my new Snakeslayer.
Recoil is milder than I thought it would be and accuracy is good – although with more practice I'll improve…
Took it to the range on the idea my wife would have her first weapon.
I was surprised at the power, this gun have, to much for my wife so I carry it as a back weapon. I like power in a hand gun. I had to change grips for softer impact for my hand. Feels good now.
I am very pleased with the Texas defender- great quality, great feel, easy to shoot. I replaced the grip with extended rubber and it is much easier to hold. I like the 45 LC or 410 000 buck loads for versatility and power.
I am very pleased with my new Ranger II. Very well built with quality materials. The holster is also well made.
Customer service is the best in the business.
A lot of people talk about their customer service being the best in the business and when you experience it, you find out it was all just lip service given with the hope you would never call their bluff. Let's face it, when you buy a new gun, the last thing you want to have is any customer service experience, but hey, sometimes, things just happen. Please take the time to read my review, you'll be glad you did.
I purchased my Bond Arms California Big Bear 45 Long Colt knowing there was a flaw in the grip area (split rubber seam) and decided to take a gamble and rather than have my dealer order a new one, purchase the one he had in stock and ask Bond arms to replace it.
I sent an email on a Monday, and by Tuesday a new grip was in the mail along with an envelope to return the old one. I don't think I could have even asked for better customer service than that, and while customers usually expect that kind of service, Kelly from Customer Service delivered it in spades, but it didn't stop there.
Before I go on about my experience with customer service however, I would like to take a few minutes to tell you about the product, the California Big Bear Derringer in 45 Long Colt. Anyone that follows 2A issues and California knows about "the list," but for those that don't, the list is a list of weapons that can be purchased in California. With ever stricter controls and requirements mandated by California, more and more small gun makers are just calling it quits because it's too expensive to keep up with ever more stringent regulation. Derringers in particular were all but extinct until Bond Arms stepped up to the plate and decided that California gun enthusiasts deserved better and set upon redesigning an existing product to meet those regulations and now give us two offerings, the Big Bear and Brown Bear. As an owner of multiple Derringers, I can tell you that the Big Bear is a well thought out and very functional and task oriented weapon.
From the moment you palm it, it immediately feels right in your hand (in your whole hand actually) and it shoots surprisingly well despite its size. Recoil is very manageable and hits on torso sized targets at 15 meters were consistent and lethal. These are not only my own comments, but that of two smaller middle aged females, and one 14 year old girl. Granted, none of them were first time shooters, but to be fair, they also don't describe this weapon as mild either – one commented that felt recoil was about equal to her 38 snubbie and I would tend to agree with that. Another surprising thing about this were the consistent groupings considering the short barrel.
My own personal thoughts on this weapon is that it is a solid, high quality, easily concealable, and fun, yes I said fun, weapon to shoot – instantly a regular for my range bag right alongside my GP100 .357, and Glock 20 SF (strange bedfellows indeed). In that company, the Big Bear is usually the first one others want to "try out."
Now, back to my customer service experience. In spite of the quality of the rest of the weapon, the 2nd set of grips that arrived came with the same defect. I cringed at the idea of calling customer service and telling them this because I feared they would say that it was my fault, or that I was too picky and that they would not provide any additional grips, but they didn't. Instead they said that the rest of the grips in inventory also had that problem, and that sending any more would be a waste of time and instead offered me another rubber grip found on one of their other models which they checked and found to not have the defect. Because it did not have the Bear on it as found on the California model, they offered to let me keep the original grip and send back the 2nd replacement OR select any other grip they sold and simply pay the difference.
The back and fourth, the checking of inventory, the follow ups (via email and yes, an actual personal phone call!) the absolute level of respect I received as a customer, was above and beyond, and what I've come to expect from a Texas owned and operated business.
Bond arms has quickly become one of my favorite manufacturers, and Kelly in particular, one of my favorite representatives I have ever come across within the industry. She's helpful, polite, and handles difficult situations with grace. Be it because they recruit the right people, provide the right training, or take a genuine interest in product issues, Bond Arms does it right, and because of that, I will continue to add to my collection and spread the word.
Thanks Bond!
Took the Snakeslayer IV out last weekend for the first time. Was very impressed with its powerful authority. My lady who had never fired anything or even been to a shooting range, after watching your videos and with some coaching and dry fire, fired 6 rounds with no problem. Thank you for a well designed and quite impressive firearm.
just purchased the bond arms holster for my c2k. I already have the driving holster, and wanted one with the metal clip so it could used with out a belt. love the holster! well made, and the metal clip holds the gun tight even with out a belt on. great product. LOVE MY BOND ARM!
Dear Sir : I have not had a chance to fire my Ranger in the 410/45 mode as I purchased a 22mag barrel and decided to try it first. When I tried to fire it only the bottom barrel would fire. I called customer service your people were very helpful and I have been very pleased with the response to my problem. I am waiting for my gun to be returned to me with the problem resolved . I cannot be happier with the response to my problem . I thank you for your inquiry and look forward to receiving my gun to really test it out . Sincerely , Lawrence Smart
Can't say enough about the quality of my 4.25″ Rustic Ranger in 45LC/.410 which I purchased through Cabela's. I also purchased some 3″ #000 Buck shells for personal protection and some 2.5″ 9 shot field loads for practice. The fit and finish of this firearm is 10/10! At the range, the #000 Buck is a handful, with a very respectable recoil (similar to my .44 mag 5″ revolver) but due to the superior design of this incredible firearm and the addition of the extended grip, there is NO muzzle flip. The derringer pushes straight back into the palm of your hand. Shoots exactly where I aimed, both at 5 yards and 10 yards. The 5 BBs shot groups of 4-6″. Devastating personal defense protection!
The 2.5″ 9 shot had less than 1/2 of the recoil of the 3″ 000 Buck and was very pleasant to shoot. I also purchased a 9mm 3″ barrel which had virtually NO noticeable recoil. 1″ groups for the two shots at 10 feet. So fun to shoot!
Be warned! Unless you're more disciplined than me, you'll have frequent charges to Bond Arms. I've already ordered my third barrel.
A 3″ 45LC/.410 to use as my CCW. The 3″ barrel fits great in the pocket holster (also purchased from Bond Arms) and my other "inside-the-pants" holster. What a great carry weapon, two shots of the 2.5″ #000 Buck equals 8x 9mm size projectiles into your advasary. What a game changer!
Another satisfied Bond Arms customer? Obviously!
I recently shot my Bond Deer Slayer for the first time and I have to tell you, I was nervous about the recoil from two guns that are of a gauge and caliber that I have shied away from. my "go to" pistols are a .380 Bersa and .22 LR Walther. I traded in a Taurus "break-barrel" .22 for credit for my Deer Slayer. My shotguns are all 20 gauge. I'm an old, little guy but, despite my concerns, I could control the recoil from the .45 and 410 very easily. The gun feels great in my hand, is easy to shoot with and clean, and my shooting friends have been impressed.
I have enjoyed the snake slayer. I ordered the 22 long rifle barrel to use for target practice. Works great and I am well pleased with both barrels.
I found a used century for a fantastic price and snapped it up. The 45/410 really shot well and was easy to use. I liked it so much I bought a pair of snakeslayer 4s in both calibers. The utility is amazing and the quality unreal.Best choice for real world small gun carry.
I have the Cowboy model and it is an awesome pistol. Nothing else out there can compare to the quality and workmanship. Perfect conceal carry.
The Bond Arms derringer with a 2.5 inch barrel, standard grips, and no trigger guard (or trigger guard removed) will fit into places that no other quality pistol in a major caliber (9mm and up) will fit. For some of us, concealed carry needs to be undetectable concealed carry so that even an observant person will see no telltale signs of a concealed pistol. With a little imagination, a person can find various ways to conceal a Bond Arms Mini such that it appear to be only a wallet in a pocket or a camera case on belt. The various hide-in-plain-sight cases that are made for small pistols all cry "gun in here" to a knowledgable person. But the Bond Arms Mini fits into cases, containers and pockets that are not gun specific, and that instead say "wallet" or "camera" or "phone" even to someone looking for an indication of a concealed pistol. Thanks, Gordon, for making a quality firearms that meets the need of those of us who want an "undetectable concealed carry" option.
With the 45 Colt being a hand cannon, practice becomes tiring after a few rounds. I purchased the .327 Barrel to get more trigger time. Because of the way the trigger needs to be pulled in a downward motion on derringers, it takes more range time to get the grip and pull correct. I have found that after a couple of hundred rounds that the trigger fees much better. It may be a combination of break-in and trigger time. With the .327 mag i can shoot mild .32 S&W (like a BB gun), .32 S&W Long ( like a .22), .32 H&R mag (like a .38) and .327Mag (wicked).
The .327 mag is more punishing than the .45 Colt. This is surprising because the bullet is half the weight. I have not chronographed the velocities, but I expect higher performance from the .327 since it has longer rifling and should be able to develop better potential. Another reason that the .45 perceives to have less recoil is because of the tendency to grip tighter for the larger caliber.
Because the .327 has 4 different bullets to use for practice, it makes range time a pleasant time. I prefer to use .2 S&W long for trigger time, but when I put in .327 mag, it draws attention.
Love my Texas Defender! It fits perfectly in my hand. Very satisfied with the overal quality. Would highly recommend to anyone.
It amazes me that you don't advertise the fact that this firearm is fail safe. First of all there are no possible feed faults. Even if you got a squib , due to redundant alternating barrels you could fire the other shot. The only consequence of a hang fire might be that both barrels might fire at the same time. A bad primer on the initial shot doesn't take time to clear the bad round before firing the next shot.. By the way , with a squib fire with any other gun requires you to disassemble the gun and look in the barrel for the stuck bullet.. Look how easy it is with this gun.. If you were in a dire situation you could possibly load up the good barrel and cycle to it. Just saying.. Redundant , alternating barrels.. Makes for a fail safe gun.
Where I point, that's where the round goes…straight, and that's no bull. Truly, the Snake Slayer's thoughtful design makes it feel like an extension of my hand which transmits to stability and trust in this firearm. I fired 4 rounds, two .45 Colt, two .410 and at six paces all four hit the black. The close grouping surprised, the recoil was definite, reassuring, and the telltale holes–the .410 as big as a quarter–told me I had hit home. A finely designed, crafted and performing derringer cannon.
The USA DEFENDER is first among all guns I have owned in my lifetime.
I have a CCW permit and have always carried a 1911 45 ACP, but there have been times it is just not practical or comfortable to carry a 1911. The form, fit and finish of the Snake Slayer is nothing short of perfect. I love the feel of the gun, the trigger action is very smooth with just the right amount of weight. The recoil with 45 Colt and 3″.410 is very comfortable and accuracy shot group is impressive for this short barrel gun. The BAD holster is so comfortable for every day carry my Snake Slayer is now my preferred carry. I still carry my 1911 when practical but the Snake Slayer is always on my hip.
I purchased a Bond Arms backup around 2 years ago on a whim, never being much of a gun person (maybe have shot 1 or 2 handguns in the last 20 years). My neighbor had a small derringer in .38 special and I thought that would be a nice pistol for self defense. After consulting the handgun folks at Cabelas, they recommended a Bond Arms derringer. The guy behind the counter said they had no equal when it came to craftsmanship. After purchasing the extended grip later on, and then picking up the .357 barrel and also the .45 colt barrel, I have burned through over 3000 rounds of ammo practicing with this gun.
I have heard several comments about how the Backup only holds two rounds, but the recoil is very manageable and the gun is enjoyable to shoot (even with hot loads). I would challenge anyone to shoot 25 rounds of .357 through an airweight, J frame revolver! Shooting 100 rounds of the same ammo through the Backup is a fun day. The reload on this weapon is quick and simple, these guys have turned the derringer into a functional, reliable combat weapon. I know that the 45/.410 combo is really popular, but this gun is not a bad range gun. If you are going to do a lot of target shooting like I do, consider the .45 colt only barrel. It is more accurate and the barrel has a little more rifling. I plan to eventually purchase more barrels but the 3.5 inch .357 is my favorite (I also have the .357 in a 4.25 inch barrel to optimize velocity and energy of the round)
Last of all, this company's customer service is really good. These guys are all about their products and will not hesitate to help you get exactly what you need. I talked to 2 people from Bond Arms on the phone and can't say enough good things. I wouldn't mind seeing the .41 mag in a 3.5 inch barrel, but I cannot complain about their great current selection. If you want a pistol that fires magnum calibers and fits easily into a pants pocket, Bond derringers are the way to go.
I purchased the bond Texas Defender 410 with 3 inch barrel for a summer carry pistol.
It fits nicely in my shorts front pocket.
The 410 shoots 4 pellet nicely, with out any big recoil.
Frankly I think my Beretta 45 snaps more.
I have also ordered the 357\38 barrel. I cant wait to try it.
The gun has excellent fit and finish is easy to hold and shoot.
I highly recommend this pistol for those times when you want to
defend yourself but not carry a huge pistol. the 410 will get it done and then some.
Thanks Bond Arms
H. Joy
You guys did a great job on design and function + not to mention your attention and customer care to me. Still waiting for my .357/38 California barrel to arrive before my trip to the range.
Have been training to draw, release safety and fire with either hand and to brake in the trigger and sear as directed by you. Get back to you soon on the shooting.
This little derringer is a perfect for a close quarters protection, I prefer the 45lc. Real happy that I got the 4.25 inch barrel !
Great 2 barrel.I have a 40sw&22mag&45lc410.They are the best built of of any l have ever owned.Very accurate at10 or so yards.Everybody should have one for self-defense or as a backup.
The bond arms backup, is truly one of the best manufactured weapons I own. Was a little Leary about the recoil at first, but it was no where near what I expected. I use this as my main ccw weapon, with no worries, I have nine other handguns, this is more than enough protection. Thank you.
Need the ultimate defensive weapon against a car jacking? After test firing my Century 2000 w/3.5″ barrel, using 3″, 5 pellet 000 buck, you'll have great peace of mind. With practice, you can launch 10 "can't miss" projectiles in the time it takes you get a few rounds off in a conventional handgun. I researched the terminal ballistics of that round in this gun, and it is a stopper.
Just bought this gun and love it shot a box of shells already. The recoil was not bad at all. Great little gun!
I bought a Bond. Arms Bushwacker here in Australia for Cowboy Action ,It's 357/38 with the 4 and quarter inch barrel,but I have plenty of fun just plinkin with it,more accurate than I thought it would be,can put most shots in a 12 circle at 25 yards,,A very well built firearm
I'm a 64 yr. old kid that has wanted a "Bond Arms" derringer for several yrs., it was hard to decide which one. I chose the "Snake Slayer" because of the length of the grip. I can not express how much I like this gun. Love the way it feels in my hand, the way it shoots, the look, the quality of the way it is made. I truly like everything about this handgun.
always toated my 357 mag. in the woods for snakes, but then I purchased my Snake Slayer IV. It has already taken its place on my side in a BAD Driving holster, not only for those poisonous snake that crawl but those on two legs also. So to me its the best carry pistol made. May God Bless Bond Arms and Their Families
I first bought my snake slayer IV simply because it was a powerful combination in a small packag. I have always been taught that derringers had to short of a range, and usually not powerful enough to be a viable defense gun. However, I've taken it to the range and gone toe to toe with other concield permit holders and their autos. On competitor said "I wouldn't want to meet you in a dark alley, I want to have an open casket." As all my shots were head shots. Now only to get my hands on a 45 colt only barrel. The 4 1/2 " one
Bought the gun with a 3″ .38/.357 barrel. Ordered the 3.5″ .45/.410 barrel, also.
This double-barrel handgun shoots like a dream! Built to last and shoots to POA well at 15 yards.
I carry it as a back-up to my #1 gun. Bought the BADD holster, the Premium holster, and the Western holster.
All of Bonds products are top notch! Best of all, they are madein TEXAS, By God!
i recently added 3.5″ 45lc/410, 3″ 9mm and 2.5″ 45lc barrels to my collection, along with a short wood-gripped frame. i also have a 3″ 357/38 and a 3″ 22lr barrel. 9mm, like 38, is a piece of cake, i didnt feel a thing after shooting up a box of 9mm range ammo. at 15′ i was hitting center mass with a 2-3″ up and down spread, as expected. 45lc 185 grain hornady defense and 230 grain cowboy loads in the various barrel lengths and grips were manageable and accurate. a simple rule of thumb for me is any caliber with a 4 is easiest shot out of the extended grip. i should add a rubber short grip or at least a rubber sleeve to the mix. im adding a 3″ 45acp barrel soon. the only caliber i that i find is un-fun is 357mag, way too stout for me, as is any 410 ammo that is not handgun specific. im very happy with my bond arms products. my only suggestion is to add a lanyard to the frame.
Having pinned on a badge and strapped on a gun belt for 27 years. I wanted something I could stick in my pocket and still feel comfortable . Found exactly the right firearm at Bond Arms. Great small firearm that will do what has to be done, should the occasion arise. Great support from the company, purchased the extended grip and extremely pleased with it. Keep up the good work and quality of the guns!!!!!!
Sorry about the pun,got my ranger 2 for my birthday it is so much fun to shoot 3.5 410 shells are pretty accurate at 25 yards it's a great little gun thanks
I have the Snake Slayer IV in 45Colt and 410. The power is fantastic and within 21 feet it is pretty easy to control as long as you don't forget the power. At the range I wear a glove since I'm shooting several times. At 21 feet I can keep a 45 colt within 6″ of center. My favorite round is the 410 defense round with the 3 plated discs. It's hard to miss with this round. Love the gun and thrilled with the quality. I'll definately spread the word.
A very well made piece that's comfortable to wear. Nice job!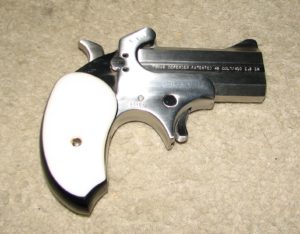 I own one Derringer , soon to have two . One of the finest built guns on the market . I have purchased a few different ways to carry it , all Bonds Arms leather . The ultimate carry for me . I recently purchased the faux ivory extended grips . AWESOME !
I just recently purchased the Bond Arms snake slayer and two holsters, it's the perfect firearm for concealed carry because you don't have to dress to conceal it with all of the holster options, plus it's a lot of fun to fire, and there's videos to help you get familiar with it.
Bond Arms makes you feel welcome like a part of there family the customer service is great the owner Gordon deals with you one on one via email and is quick to answer any questions you may have, that's something that big businesses don't do thank you Bond Arms for your great service and quality American made product.
Mr. Bond,
enclosed is a photo of my Back-Up with a 3″ .45/.410 brushed barrel and Black two tone star grips.
Words can't describe how much I love this little package.
230gr .45acp HP in a 2.5
Built with the precision like a Swiss timepiece and tough as an army tank. Don't take my word for this – go to YouTube.com and see Bond Arms Torture Test. (https://www.youtube.com/watch?v=4YrGnbSPvGE)
I am a 73 year old senior citizen and a newbie to handguns.
I have completed my Concealed Carry course and 2 NRA
beginner courses. My first gun purchase was a Springfield
Armory XDS 9MM 4.0. I have now purchased the USA Defender
firearm. It has the kick of a mule for recoil. I am confident that with additional training and practice that whatever situation arise I will be able to defend myself and my family.
You owe it to yourself to consider Bond Arms pistols.
Different calibers and barrel lengths make this
a fun pistol to own and enjoy. So much so that I
am about to order an additional barrel.
I was approached at work … by a friend … said he knew of someone with a firearm to sell … necessity for cash being the motivator . He did not know what the sale item would be … semi-auto, revolver, or what … Oh , Happy Day !!! A"Bond Arms" firearm !!! My father was a Gunnery instructor in the service … He knew his stuff … He said if ever a situation arises … you want a "BOND" in your pocket !!! … and I will very soon … have fired them over the years … and now I'll have my own … This is serious stoping power … !!!
Enjoying carrying this little pocket canon and have fired it at the range a few times. Those who try it are surprised that the recoil is not worse. I find it very well balanced and manageable in .410 or .45 LC, using the stock grips.
Picked up a "Snake Slayer" on 7/13 /2015 , Wow !!! What a firearm , I've had qulte a few , Dad was a gunnery instructor in the service , we grew up firearm familiar . Have ennoyed skeet , target shooting , and gun ownership since pre-teen years , This is already my no. 1 PRIZED FAVORATE !!! This Snake Slayer , Mighty Fantastic , What. A Hoot !!!
I do like my Snake Slayer, it carries in my pocket in it's holster, I've already taken out a few snakes.
I could use a .410 barrel with a little more choke. Have you considered a smooth bore, if you do let me know, I'll order the same day.
Thank You
Ed
I HAVE LOOKED AT THE RANGER 2 FOR A LONG TIME FINALLY GOT TO Hold one after having in my hand I thought hard for a week then went back and bought it-beautiful well made gun.It is a blast to shoot firing 2.5 000 buck in have also shot45 long colt recoil is a little bit less than shots shells.I ordered a 357 mag/ 38 split 4.25 in barrel for it also it came ups really fast and is also lot of fun to shoot.I guess you might say I went whole hog I ordered a set of jumbo grips also I have big hands and thought this might add a little more to hold onto when shooting.I'm trying to decide what barrel to order next.I own several guns but this is my pick to grab and go with when outside working and trips to town.
I have the Ranger II. I took it to the range last Sunday to shoot it for the first time. I was surprise that there wasn't much of a kickback shooting the 410 shell and the 45 cal. This gun is so sweet to shoot and to carry. I really like the Driving Holster.
I recently shot my Bond Arms USA Defender .410/45LC with 3″ barrel. I was initially a little apprehensive about the kick-back, having shot 410's out of my 3″ Barrel Taurus Judge. Boy was I surprised. The kick was much less than I expected and I hit the target at 15 yards within the rings each of my first two shots, one-handed.
What a great gun.
From now on it's my "Little Judge."
First time I shot my SS4 today, WOW! Less recoil than a Judge I have and less barrel rise too!!! Beautiful craftsmanship, detail, fit and finish is Bentley class! Thanks guy's and probably girls too. Respectfully Submitted, Robin M Thrash
Wendy,
It was a real pleasure doing business with you and Bond Arms. My barrel and holster arrived today only a few days after I placed the order. The fit and finish is perfect and I can hardly wait to go out this weekend to try everything out. I was pleasantly surprised to see that even the little Allen wrench was made in the USA. Thank you again Wendy for your friendly and courteous service. Your state might be a lone star but your company is a five star.
Have a great day,
Ward (Florida)
I recently purchased a Snake Slayer IV on impulse.
I wasn't sure what I had in my hand but I knew it was high quality, looked pretty and sure felt good. With a couple of trips to the range to master the trigger and point of aim with the ammo that patterns best I've got myself a keeper! Complete confidence in this firearm.
This is now my personal protection vehicle gun. It is
holstered on my side when I hunt and fish too. A real blast to shoot. Bond also posts some very good videos on the operation and safe handling of this fine piece of craftsmanship.
Billy in Illinois.
I recently bought an (early) California Big Bear model handgun. On my initial inspection, I found that the Bond Arms gun was very well made. I have bought other brands of Derringers previously and found the Bond arms gun somewhat larger and sturdier with great lockup and ease of operation. The .45 LC is a favorite cartridge and I found the gun much more controllable than other big-bore Derringers. The Bond gun actually shoots to point of aim! You don't have to aim at the crotch of a silhouette to hit in the chest like other Derringers. IF I had a CCW, I would have no problem trusting my safety to the Bond Arms Big Bear. Thanks for a quality firearm!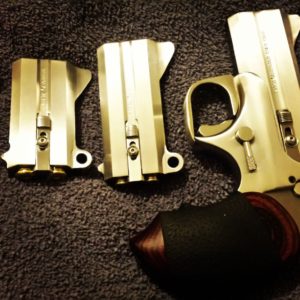 Bought this gun used at buds gun shop took it home clean it up took it to the range bought some 410 ammo 3 Inches little brutal 2 half inch not bad definitely a hand cannon 1 gun fun.
just got done shooting my texas defender. i feel sorry for what ever is in the receiving end of that!! the federal ooo buck four ball shot the best and the most accurate at twentyone feet. what a blast to shot!!!!
The holster fits my 31/2 inch barrel Snake Slayer perfectly.
The tan color goes with the color of the grip.
Superb quality.
I purchased my USA Defender back in January, 2015, and just now made time to shoot it at a local gun range. I am so pleased with the performance. It's definitely a two handed gun and it delivers. I read all the testimonials on the various models and watched the videos before I chose the USA Defender. Pure quality in a firearm. In addition to the standard 410/45 Colt , I purchased the 38/357 barrel and 22 mag barrel. I fired the gun today and tried all the barrels. I am very pleased and can't say enough about this firearm. I would highly recommend it. Thanks To Gordon at Bond Arms for making such a quality firearm to allow us to defend ourselves and family from those that would bring harm,as well as, for sport shooting.
Yes, I have fired it. I was surprised at the recoil. It was not as bad as I thought it would be for the 45 colt. I didn't think that it kicked as bad as my 1873 Colt revolver. The 3″ shot shell was a little more but still not bad. Very well made and very satisfied.
Waiting for a chance to get out again and do some target shooting.
There without a doubt best looking and best made self defense weapon that anyone can carry if you have a wife or any family member for that matter they should have one and with that comes piece of mind as a father it lets me sleep knowing she has something to keep the low life's at bay in short great fire arm period
Great gun even for a lefty. So versatile for Americans but us Canadians are stuck with only 1 barrel option. Unfair I'd say! Speak up you Canuks. Start asking for options such as 9mm and 22lr and 44spl. in Canadian legal length. Stop settling for just a 38/357. Your requests make all the difference. Bond is willing to listen and respond, but it's got to be more than just me asking! I'm sure each of you who owns a Bond would happily buy a 22lr at least. And all you who reload 9mm, what a fun inexpensive range gun it could be. You could afford to become proficient at the over and under barrels at all sorts of distances. Come on Canada get some of that American spirit in you and become a voice to be reckoned with! For the love of shooting SPEAK UP!
It is a fun gun to shoot and seems to be fairly accurate. I also ordered a 357 mag barrel ,different holster and bullet holder.
Love the gun shoots good .
Am thinking of purchasing the jumbo grips
I have had my gun for 4 years now . I love it and will carry it . The craftmenship is by far the best . I have 2 barrels , want more !
so I started with the usa defender, fun,fun,fun, wanted more. got the 3.5 barrel, able to knock pesky black birds outta the air with #6 shot, wanted more. got terry to make me up some black stag grips, they are awesome!, wanted more. got the iwb holster, wanted more. got the side holster, wanted more.. got the sticky holster, still want more!!! barrels and grips and holsters oh my!!! im sleeping in the garage now with all my stuff but I sleep good.. sure wish she would let me use the shower though..
Considering the majority of self-defense actions are over in seconds and in life threatening circumstances the defender may get off one maybe two rounds this gun should seriously be considered as a prime weapon of choice for defense and concealed carry. The .45 Colt/.410 barrel at close range will stop an aggressor in their tracks. The .357mag/.38spc barrel is no slouch either with a similar kick. An added benefit of my new Bond Arms Texas Defender comes into play when I am working on my farm in PA, looking up and finding one eye to eye with a black bear is becoming more and more frequent. Firing off a couple of rounds of bird shot will assuredly send them off to your neighbor. Should he return a reloaded .45LC aimed at his vitals should bring him down. The weapon is unobtrusive the wearer can perform most labor tasks as if it was a buck knife on their belt. Perfect gift for your significant other. The weapon far exceeds the mfg representations as to quality and utility. The holster leather work is superior quality, thank you Mr. Bond and your workers, job well done.
Over-size rubber grip, 4.25″ barrel in stainless (410 Cal.). Accurate, well-made, and it does go "BOOM." Need I say more. GODZILLA BEWARE!
I bought the BAD Driving holster for my snake slayer and I have to say it was a great choice! I have had no trouble driving with this holster attached to my belt and it keeps my snake slayer handy should the need arise to protect myself or my family. The holster is made well and fits the gun like a glove.
I just purchased a snake slayer 45/410. Wow ! This little gun packs a real punch! Not hard to shoot, does not kick back, but man really is what you say. Glad I got mine. I like interesting pieces and this really adds to my collection. I have wanted one of these for a long time. You will definitely like this gun. Bond Arms really makes a great gun here in the USA. Thanks to all of you at Bond Arms.
hello, I"ve had this gun about 3 months now and I really love the feel also how it performs! the 45colt ammo is fun to shoot ,I like the 410 shot gun loads the best! very accurate weapon, I now use it for my ccw /w driving holster!!! hell of a rig, if I ever need it I"ll just need one shot, hope I never have to but its good to know I can protect myself and others with this hand cannon!!! thanks bond arms for a great gun!!
I took my little CA Backup to the range, the 9mm is fun to shoot, the 357 mag is a different ball game when shooting the Backup with a small grip the 357 mag carries a good punch, I will be looking into the extended grip. No one else at the range would shoot the 357 mag. but they loved the 9mm.
Hello at Bond Arms,
Summer in Kentucky plays host to slithery encounters which are less frightful when accompanied by my newly acquired Bond Arms Snake Slayer IV loaded with 2.5″ Remington #4 shot!
Attached is a photo of a 6 foot rat snake quickly dispatched with the first round, although given its size, some serious adrenaline, and second shot availability, I felt another round appropriate.
American craftmanship is important to me and the overall workmanship and finish of my Bond is excellent. Now I can rest assured knowing this firearm not only looks good, but performs as well. My new Bond is a keeper!
Cliff Shumate
Paris, KY
Test fired my new Bond Backup in .45ACP. Fired 230 gr FC factory ball at a 25 yd target. 20 shots without a glove. Stout but not painful. Also tried some 200 gr practice ammo with a little less recoil. Was able to keep almost all the shots on paper. I would call that reasonable accuracy from a 2.5″ barrel. Shooting from lower barrel results in lower felt recoil (for me).
Pistol is well made. Solid, reliable feel. I would be willing to use it as a backup gun. I like the non glare finish too.
I just received the BAD Driving holster. Very well made and a practical, adjustable holster for carrying in an auto. Purchased received another barrel .38/.357 3.5″ and ordered a 2.5″ 9mm too with a backup holster. Will probably buy another Bond Arms derringer for my wife.
This my 2nd barrel I've purchased. The one I just bought fits and works perfect. Love my Snake Slayer.
Bought my Bond Mini .45 LC a few weeks ago. I took it to the range the next day. It is a lot of power in a small package. It is very pleasant to shoot even though it throws a world of hurt down range.
purchased a snakeslayer 4 and thus far i am super pleased. i have fire it 10 times with 3 inch 2 1/2 inch and 45 longs and it was friggen fun. i'm retired military so i love all kinds of firearms, but have never owned a damn pocket cannon, i have a concealed carry permit and this is the gun i mostly carry i hope if i ever need it just the sheer intimidation of lookng down the barrel of this thing will send em running. this gun is a work of art and being only 5′ 6″ i still felt comfortable shooting it, go TEXAS, you hit a home run with these firearms.
I love my Snake Slayer IV. It was the first hand gun that I purchased. Very well made and safety features are great. Bond Arms has a great product line and it's accessories are just as good. Could not be happier.
I had a snake problem in my pond in the first 10 days of ownership I've killed 7 snakes . Two the first day wow!! One bad gun ! It will be my new open carry provide Texas passes a new law. 99.9% that's going to happen this year . Well worth the money spent
I truly be leave it is some of the best craftmenship I've seen, the costume fit for my snake slayer is perfect. Couldn't ask for a better pease of leather.
You ask if I'd fired my Bond Backup yet. I took ammo with me to Cabella's to purchase it. On the way home, I stopped at my range, borrowed their ear protection and shot several rounds. As your site mentions, I had to get used to the trigger. Not sure how I did it, but after one or two tries, I had it down. No problem. Of course, shooting .45 from a 2.5″ barrel isn't like my full size 1911 style. There is a kick, but I had no misgivings about repeated firing and I'm old and weak!! In other words, I love it. Plan on getting a 45/410 barrel as soon as I am available to take delivery. Can't wait.
And bond arms delivers. I bought an old bond arms barrel online and the bottom barrel would not function. I sent it back to them and they made me a new barrel at no cost. Real honest people to deal with.
As a retired Peace Officer, there is a need to carry concealed.
My "Snake Slayer" with a 2 1/2 in .45APC barrel is the ideal
weapon for the purpose.
Got mine the other day. Took is out for practice. At 15 yds it is
a very accurate piece.
This is the one I will carry.
Thanks Bond Arms.
Bill Gibson
Dubuque Ia
I purchased a ranger. loaded it with 45 colt when I was at the range. not snappy recoil that causes your wrist to sway upwards. more of the recoil going back straight into the web of your hand. nice piece of machinery. tough, sturdy, yet beautiful. quality is really here! looking for my next bond arms. backup or slayer. cant go wrong either way!
Went to the range with my Texas Defender and shot a few 410 shells thru it. This pistol is awesome. With a pdx self defense rounds in it cant be compared to any other concealed weapon in its class for conceal ability and power. Bravo Mr. Bond Bravo.
I have the Ranger II with the 45/410, 4 1/4″ barrel. I have been shooting this for some time. I just got a 9mm and a 22LR short barrels for it. Shooting the 22LR after the 45 is like shooting a cap gun! Its fun, less expensive for bullets, and easier on the hand. It's so easy to change the barrels. I still use the 45 for my conceal carry but like shooting the 22LR for targets. I love my Ranger II.
Shot 2 rounds, incredible, it's going into a frame, never to be shot again. It's too pretty. Not to worry, I'm going out for a Bond Arms Backup today. I've already ordered multiple barrels. There is a gun range behind my store and got a lot of looks today with a resounding boom. Wait 'til they get an handful of the Backup. Oh yeah, I'll also order Rosewood Buck knife today to match.
Yes I received my barrel, thanks for checking. First trip to the range I shot paper, 20 feet. As I expected it shot two groups, both very tight, a high group about 6 inches above point of aim from the top barrel & a low group about 3 inches below point of aim.
Next time I had it at the range, I shot it at the 135 yard gong. The top barrel hit the gong once & kicked dust up inside the frame the gong hangs from 5 out of 6 shots, shots from the bottom barrel fell in the dirt between the gong & the 100 yard target stands.
More than good enough considering it was only designed for shooting across a poker table.
410/ 45 3″ barrel -a easy to handle with the 410 or 45 cal. Would recommend to anyone as a backup or your main CCW-firearm you just can't get better than BOND ARMS ! STAN-Heflin,AL.
Being from Corpus Christi, Texas, I purchased the Texas Defender with 9MM barrel (the dealer was out of the 357/38 and 45/410 barrels). I didn't really mind because these barrels are available from Bond Arms, and will be purchased in the near future. After viewing Gordon's online videos, my first time firing turned out to be everything I had come to expect, (also very noisy)! For my second firing I purchased a set of extended rosewood grips for better control and accuracy and was very pleased with the target results. I foresee a Bond Arms Lady Bond for my wife in the very near future. The quality, build, and performance of this gun is like having a combination of a Rolls-Royce and a Corvette rolled into one. Rated on a Scale of 1 to 10 this gun is a solid 20!
I recently purchased a Bond Arm Texas Defender I have rheumatoid arthritis and I love this gun it is a 45colt/410. It is a great gun with exceptional workmanship, I am retired military with over 21 years of service and 16 of those in special operations so I've carried a few guns and this one is one that is one of the best. Shooting it is not as bad as I thought it would be and its accuracy is better than I expected. Some of my buddies have fired it and are also impressed and they are all 1911 snobs. Yes you are limited to the amount of ammunition you have but its a 410 and 45 Colt, if you can't be safe with that you really need not carry. Like all weapons it takes practice and preparation to really be proficient I go to the range about 3 times a month and I shoot about 25 rounds each time I go and that allows me to learn the gun and gives you the time you need to be able to feel safe with it. I really am impressed with the workmanship and the size it fits in my front pocket and allows you to draw without it being hung up. I trust the safety of myself and most important that of my family. With two combat tours I've learned if your not comfortable with your weapon you'll never feel safe thanks for showing American makers can put out the best weapon in the world.
I took my .45/.410 to my first Pistol class. It is easy and fun too shoot. The instructor was amazed at my ability to hit the Bulls Eye. Could you please do a video on how to clean it? I have read the instructions in the Manuel.
shot my gun today with 45 and 410, is a handful but manageable, I was surprised at how accurate it was,well made piece,would like a little lighter trigger.
I bought my Snake Slayer IV primarily to carry on the tractor when I am out bush hogging the fields. Smaller and easier to carry than a revolver, particularly the large 45 Colt/.410 revolvers from Taurus and Smith and Wesson.
I've only shot at soda cans and bottles out to 10 feet or so with .410×2-1/2″. None of the targets of opportunity survived.
With the 45 Colt, I could easily hit a reduced size silhouette target at 15 or 20 feet.
Recoil with both was very managable for a short barreled gun. I fired a couple self defense .410. Recoil of these rounds was more intense than standard .410 shells.
Recently, we have been going through our annual carpenter bee onslaught. I loaded some 45 Colt cases and brass .410 hulls with a load of ground walnut shells for some aerial target practice. effective range is pretty short but you have to be quick to get on the intended target while it is hovering. The Snake Slayer IV was nice for this activity and we dispatched a fair number of bees.
I haven't had a chance to fire my new Texas Defender yet. I am too busy just touching and holding it in my hand.
This weapon is the first firearm that I can accually feel the quality when I touch it. I shutter to think how close I came to not even seeing it. I stumbled upon it while viewing the display case at my local firearms dealer.I am eyeballing the 357/38 special barrel for my next purchase. Won't have to buy the whole gun, just the barrel. What a deal!
Literally. It was a good time. First time out shot two boxes of win PDX loads. Gun is large enough to handle recoil, but may need extended grips later. Ordered a set of 45 ACP barrels, waiting for them. Plan to use it mainly in the desert for snakes. Should work fine for that!
The most versatile hand gun I own is in mine! I carry my Century 2000 everyday. With a quick ammo swap I am ready for self defense or Mr. No Shoulders. The best money I have ever spent on a hand gun. Thank you for a fine firearm.
I am very pleased with my little canon, USA Defender. Thought the recoil would be hard to handle. Not so. Very manageable. If shooting no. 6 bird shot at a target mounted on hard wood, stand at least 8 to 10 yards back. Shot will bounce back on you. Good ad for eye protection. No you can't have little gun back. 9mm barrel being delivered tomorrow. Jim Williams
Finally got a chance to shoot my backup 45 cal. Although the gun was a little heavier then I was hoping it shot great. Since it does shoot a 45 cal bullet I see the need for its weight. Must say though it is comfortable to shoot for a compact gun. Can not wait to get other barrels for it. Thanks to Bond Arms for making another great gun.
I cannot find one thing I dislike about this weapon! The Texas craftsmanship on this firearm is nothing short of amazing. Shooting with the PDX1 .410 shot loads is almost a spiritual experience! Woe be unto the bad guy on the receiving end of this. Love it!
Just wanted to say, I am so happy I sent my bond arms in for the action upgrade what a big difference I can finally hit bulls eyes at 15 feet now. Also I have the older dull looking model and asked if they could polish the whole gun it looks factory new, bond arms has a fantastic customer service thanks so much Travis it looks awesome and now the trigger is perfect!
I have fired my RANGERII and I really love it. It is well balanced and well made and just a beautiful gun.
I am 72 years old and I love GUNS. The old saying is I can not run, because I am old but with my new friend the Ranger II Derringer made by BOND ARMS I feel safe now. I love the safe things that this Derringer has to keep it from firing by accident. I have a 22 Interchangeable Barrel on order from BOND ARMS, love the way you can change the Barrel from one size caliber to another size.
Excellent weapon for my concealed purpose. My 2 inch previously owned as was not as effective as this one.
Hello Bond Arms,
I saw one of your derringers at a local gun shop last month and was immediately smitten with it. Henry Deringer himself would be proud to own one of your firearms. Your quality and craftsmanship exceeds all standards in today's gun-craft and at least equals the standards of fine American arms of times gone by. I did some research on your derringers and heard many good things and praise from owners. And then I read some testimonials from those who have a dislike for a 2 round gun that doesn't shoot like the guns they are accustomed to…. "It's too heavy"…."Only two rounds"…"Can't hit the mark like my favorite gun"….etc. To them I say, it's a derringer, not a target gun. Today I bought a Texas Defender .38/.357. I am a 63 year old female and former LEO. I weigh 124 pounds and am not burdened by the weight of this gun – I like it. Familiarization with this derringer took a little getting used to but a derringer has its own characteristics and dynamics, it makes no claim to be anything more than its style, design and function. I am looking forward to going to the range with this little beauty and I have the confidence that with a little practice, we will do one-other great justice. In the near future, it will be my primary carry weapon.
Laurel In Oregon
I bought the two tone gold and silver Texas star rosewood derringer grips. Very sharp looking. Excellent fit. I used them to replace the original snakeslayer grips. Nothing wrong with the original grips it's just that the new ones are so damn classic looking! I plan to keep the small derringer handel look. It makes the gun look like something a very wealthy riverboat gambler would carry!. Excellent all around. Nothing else can compare!
I bought a Texas Defender 2nd hand from a gun store. The durability of this small pistol is unsurpassed. It is very well made (like a tank but stronger) and the quality is 100% better than most of the pistols manufactured today. This pistol is a bargain and the customer service is the best. The people at Bond arms are very friendly and listen. They told me even though I was the second owner, my pistol was warrantied for life. Cannot get any better than this. I ordered another barrel which was also very reasonable in price.
If I could only own one pistol this one would be my choice. I know about guns as I carried one for 3 years in the U.S Army as a Military Policeman during Vietnam.
I've took it out two time in the month I've had it and couldn't believe how well it shoots and how accurate it is I love this gun
I have been in the military my whole life and have fired all kinds of guns and weapon systems. I have to say that my Ranger 2 has got to be the most enjoyable gun I have ever fired and had the pleasure of owning. The attention to detail on the gun is second to none. You can't and won't go wrong with this masterpiece. Thanks to Bond Arms for superb craftsmenship and reliability.
I bought the Texas Defender as backup to my Smith & Wesson Governor. They share the same calibers so they make a good bug out hurricane combination. Both of them shoot Federal Buckshot in tight patterns. I feel completely safe carrying the Texas Defender in my pocket loaded. The Smith & Wesson Governor functions as a main bedside gun. I carry my Bond working out in the yard while driving or just watching television. Now if I could just get a 3 1/2 inch 410 barrel so I could shoot 3 inch shells.
Before sending you a testimonial I wanted to put a fair amount of rounds through the gun first. I have fired about 200 rounds of 45 long colt and 100 rounds of 2 1/2 and 3 inch 410 shells through the gun, so here is my testimonial.
I own a large number of hand guns and riffles and do a fair amount of shooting them. I wasn't to excited about buying another derringer, I bought a 38 caliber Cobra derringer 10 years ago for my late wife and wasn't very imprest with it. At about 10 yards the barrels crossed each other, the top barrel was high and the bottom barrel was low. So at 20 yards the top barrel was about 12 inches low and the bottom barrel was about 12 inches high. After experiencing this I didn't think I would ever want another derringer.
Let me describe what I think of the Bond Snake Slayer itself, it is a very well made fire arm. No matter what any one else says, the trigger guard is great, it gives you a place to put your trigger finger until you are ready to shoot. The only thing I would like to see different is the trigger pull, mine is 6 1/2 pounds, I wish it was only about 4, other than that it has turned out to be a very nice fire arm.
For shooting, I have been shooting heavy 45 long colt loads, for a 3 1/2 inch barreled derringer the felt recoil is not bad at all. At 10 yards it is dead on, at 20 yards it is about 4 inches low, 20 yards is about as far as I would count on a gun like this although it can cover longer range. The 410 shells fire great in it, felt recoil is not bad to me at all.
I would not use this derringer for a carry gun, my carry gun is a Kimber compact ultra carry 45 ACP, but I think it would be a good home defense fire arm.
Thank you for letting me tell you how I feel about your derringer.
Ron Swanson
I got it about 3 weeks ago, and finally had an opportunity to fire the Ranger11. Very nice. Ithought the recoil would be way heavier than what it was more like my para slim hawg in .45 acp. Very nice workmanship. Fit and finish was impressive. The driving holster is sweet.
I purchased a Texas Defender and finally took it to the range and WOW what a lot of fun! It's truly a hand cannon when shooting 410 cartridges. Total quality gun and now I'm thinking about adding another barrel to it.
Mark Johnston
Mckinney, TX
Kickes like a mule, in 45 and 410.
I would like a 22mag barrel, but with the dif in money there is no way I can afford, so in the meantime the Ranger remains in the cabinet……..shiiiish!
Fired a few rounds thru my new Snake Slayer,was very impressed,exactly what I expected,the feel, the sound, the recoil, can't wait to spend some more time getting the "feel' of the gun.
Yes, I was anxious to shoot my new Snake Slayer IV. Cold and snowy, but couldn't wait. I fired the 4-10 defense loads and game loads. Quite a wallop, but manageable. I fired from 15 and 20 foot. The shot cluster was on target, and my first shot showed a disc hole dead center in the bulls eye ! If winter ever goes away, and there is a promise of Spring, right ?, I'm looking forward to shooting a lot more, including the 45's. Footnote; When I told my wife I bought the gun, and after she told me, " We don't need anymore guns," she looked at it and said, " That's gonna be my gun !" Does that mean I'm going to have to buy another one for myself ?
Smooth, Slick, fun to shoot have not bought a pistol in a long time good choice, but a little expensive, but you get what you pay for happy with the gun.
Best snake gun I have ever owned
Haven't seen a snake sense I've bought it !
This is a well crafted gun! I bought the 2.5″ 410/45, and I think I'll be getting another (because I bought this one for my mom, and I obviously need one too). The leather holster was excellent quality as well. Shooting heavier loads can be a little stiff for mom, but I'm going to get her a couple extra barrels (.22 and 9mm) so she can have practice time that is a little lighter, and all will be well. Thank you for such a fun gun!
Handles far better than I thought it would for such a small handgun,mine has the .410/45 colt 4.25 barrel-I am very Pleased with My Purchase.
This is one fine well built weapon. It shoots and handles remarkable well. My hat off to you Bond Arms for your quality work.
Thanks
Both work great. Very easy to shoot and accurate.
I ordered a .45 Colt/.410 4.25″ barrel from Wendy on 03-12-15. She was extremely patient and polite while answering all of my questions. As your site said, I expected up to a 4 week delay in receiving the barrel. It arrived two weeks to the day. I was surprised because I know this type barrel sells fast and I'm pleased to have received it so quickly. (Same amount of time it took for my 9 mm barrel!) The barrel is flawless and at self defense distances, accurate. I like that the barrel is a bit longer so the powder has more time to increase the velocity on both the .45 and .410. Any chance at a trial 5″ or 6″ novelty barrel?! You have a customer for life! Keep up the excellent work!
For months I've been clamoring every nook and cranny to get my hands on a .380 ACP barrel to match up with my Texas Defender. And lo and behold, Bond Arms decided to re-introduce their barrel for 2015. I don't know if I was first in line, but I had to be awfully close to the front. Received it in record time and made my way to the range, probably with a foolish grin on my face. I had a ball! And, as one would expect, the barrel was manufactured to Bond's exacting specifications. Can't thank you guys enough.
I bought the Century 2000 to be used as a pocket pistol as it is smaller than my subcompact semi-auto. It carries quite comfortably. After shooting it with different loads I am quite happy to carry it loaded with the Hornady defense 2 1/2″ rounds. The three pellets pattern nicely at self-defense ranges of around 10 to 15 feet and the recoil is hardly noticeable with the weight of the solid stainless steel pistol. The hammer falls right to the thumb after firing for a quick follow up shot, the same as a cowboy single action revolver. I am quite pleased with this pistol.
Took my new Brown Bear 45 Colt out the other day.
A nice gun to fire.
I was expecting the gun to "sting" when fired due to its short barrel. But it didn't. Must have fired 30 rounds with no problems.
I think my friend is going to buy one for himself after firing mine.
Shot my mini 45 today for the first time absolutely love it. Solid as a rock. It's my ccw. Would love to have the bondarms backup. Thanks bondarms for such a great piece. Keep up the good work.
One of the best investments I have ever made when it comes to firearms. This pistol is very well made and I love everything about it, and I also love how there is almost every holster and accessory for it. I also love how all the barrels are universal so you can have three guns in one! I bought the USA Defender 45 colt and I'm very happy with this purchase. I love buying things that are made in America and this pistol is one of them.
I have carried 12 different pocket pistols since I have had a firearms license and the Bond arms Texas defender is definitely the highest quality one I have ever carried. I have carried Colt, Beretta, ruger, North American arms and other fine firearm brands, Bond arms beats them all as far as quality, versatility and dependability. I have tried .410 #4 shot against a cotton mouth at about 7 feet which did not kill the snake, the shot pattern was too large at this distance I guess. I will carry 000 buckshot for snakes in the future. I also carry this pistol for self defense purposes when a pocket pistol is all I can carry. I love this pistol and look forward to buying some accessories from Bond arms.
My dad, Bud Burris just got his new Ranger II the other day. My mom however has already nicknamed it "the lil chubby". I've yet to figure out if she was referring to the gun or my dad…..
My dad has been an over the road truck driver for going on 40 years now. He has a huge passion for guns also!!!!! A week or so ago he gets his monthly gun magazine and comes across an ad for your Derringer. That was all she wrote!
Dad gets home late Saturday and he was shaking his tail feather, he was so excited to show it off!! So i did the appropriate oohs and ahhs. To which satisfied him and plastered a bigger smile on his face. Surely his cheeks hurt by now.
Anyhow he makes a few phone calls to see who would like to go with him to see this gun in action. Spite the rain.
An hour or so later he comes dripping in. Literally. But he still had that school boy look on his face, so it apparently went great. He has been nothing but happy with his new Derringer!!! I believe as of today he has already gotten three buddies on the band wagon and they are ordering their very own. Im thinking of having shirts
made for them….. "The Lil Chubby Crew".
"The Lil Chubby Crew". HA!!!!
I recently purchased a USA Defender in 357. Shooting 38 specials was comfortable and is a good round for anyone who is recoil or muzzle blast sensitive. However, if you want to fully appreciate 400 lbs of muzzle energy in a 22 ounce package, try full house 357 rounds! No 1″ groups at 21 feet, but plenty of 6″ patterns at that range. Unless you anticipate being attacked by rabbits, 3″ plus or minus of aim point is not a problem.
I recently purchased a Bond Arms "Snake Slayer" along with two extra barrels (9mm, 38 spl/357). I was a little hesitant to fire the 410 so I started out with the 9mm, then the 38 spl, and then the 45 Colt, and finally the 410. I was amazed as to how manageable the 410 was. I fired #4 shot, #6 shot, and 000 buck. This is one of the finest manufactured firearm in my collection.
Bought a Ranger 2 just a few weeks ago and loved it so much, I went back and bought a Snake Slayer. These are treasures already and I'm already looking to by a third Bond Arms piece – a Girl Mini for my wife. I can't say enough good about them – handsome, safe, powerful, affordable. I can hardly wait for "open carry" to pass in Texas to wear these with pride.
I have a bond arms derringer and I think it is a well made gun. I also like the fact that you can switch barrels for different applications. I like the 4-1/4″ 45-410 combo for around the farm loaded with 410 8 shot but I like the 3″ 45-410 for concealed carry with 000 or 0000 buck. I also like the 3″ 45 acp for concealed carry as well. The 3″ .357 mag is a powerhouse and the recoil with all of the rounds is very manageable, especially with the extended grips.
Last month I picked up a Texas Defender in 45 colt. I'm retired military with combat tours I've been carrying a gun for the last 35 years or so. I have R.A. so I walk with a cane and sometimes that can make you a target. So I wanted a back up to my model 26 Glock and I wanted something with stopping power and small enough that I could fit it in my pocket. This gun fit the bill after shooting it so I could get used to the kick I've found it not areal fun gun to shoot but I never leave home with out it. The quality is outstanding the fit and finish is what you would expect from an American gun. The 45 colt and 410 combination will stop any thing and the accuracy is good for such a short barrel with practice I've become secure that if I had to use it I would be safe. I still have my Glock but I carry the Texas Defender every where I go it is right there with my Old Timer knife, I'd feel naked with out them.
Thank you
Ricardo Cartagena
I have ordered several item for my Bond arms and have received them in a timely matter. They are excellent quality and am very pleased with them. I plan to order more in the near future.
PURCHASED B/U HOLSTER ,FITS TIGHT ,GAVE IT A LITTLE STRETCH BY WRAPPING B/U IN AN OLD SOCK LET IT SIT FOR A COUPLE OF DAYS AND ITS PERFECT.
I received my Texas Defender for Valentines. Great Gift! We have made it our concealed weapon for home defense. Because of its steal barrel and frame with flat surfaces, it's perfect with the magnetic mounts. Also, the 2.5″ 410 000 Buck shot shel (roughly equivalent to a 9mm or .38) putts 4 shots on target with every trigger pull.
Wow, the Bond Arms Backup looked good from afar; it felt right in my hand; put some rounds in it and took it for a walk… barks like a big dawg (A BIG DAWG); I was pleasantly surprised at how little the recoil actually was (like catching an easy throw from second base on a sunny day)… not at all what I expected from a .45 caliber Long Colt; 'deadly accurate' too (oh baby, acquiring a perfect sight picture is as easy as pointing your finger); the trigger pull is dreamy smooth with a short squeeze (more down than back, wink); changing barrels is easier than getting a prom dress off. I LOVE THIS FIREARM, thank you. ((Backup with extended rubber grips 2.5″ .45 ACP and 3.5″ .45 Long Colt barrels, sweet))
It's funny, I own 7 other pistols but when I head out the door to go the the store or wherever, I always snatch this one up and stick it in my pants under my waist band sans-holster. It rides there very well and after a few minutes I hardly notice it. I can wear extremely tite t-shirts and you still can't see it because it's almost flat against my waist/stomach. I mean there's hardly any bulge at all. I have the Texas defender with .45/.410 and I have a .38/.357 on order the .45/.410 for fun and the .357 for protection. I know the .45 will stop and aggressor but with only 2 shots I want more than stop, I want drop and with the muzzle velocity of the .357 I will get drop. I am in love with my Bond derringer, I wouldn't trade it for any other firearm unless it was an AR-15 then I would go buy another Texas Defender.

You simply can't go wrong with owning this pint sized Multi Caliber sensation, it's handy dandy.
Got my Bond Arms Snakeslayer 410/45 a while back and love it. It is small but packs a big bang not only with the 45 long Colt ammo but with the 410 shells with the defender round of combo of discs and pellets. The quality and workmanship of this gun is excellent and would recommend them to anyone who wants a nice piece of protection and self defense.
I received my Texas Defender for Valentines. Great Gift! We have made it our concealed weapon for home defense. Because of its steal barrel and frame with flat surfaces, it's perfect with the magnetic mounts. Also, the 2.5″ 410 000 Buck shot shel (roughly equivalent to a 9mm or .38) putts 4 shots on target with every trigger pull.
I have a logistical problem due to the sale of my home in Buckeye AZ. I placed an order for an additional barrel and holster for my Bond Backup before my house sold unexpectedly quick.
I'm moving to another state and it is apparent that I won't have a forwarding address at this time. I called Bond Arms and spoke with Joe in sales and explained my problem. He was able to take advantage an internal situation in production and help with my problem. He went "above and beyond" to help. Thanks Joe. very much. Also, I love my Backup. Plan to carry it for personal protection. Don
I have wanted a small pocket gun to back up my carry gun for a while. So I tried the Texas Defender and love it. I carry it where ever I go, I loaded 45 colt to the minimum loads and find the recoil less than my 1911. I have rheumatoid Arthritis so the recoil was a concern. But with lite loads it is comfortable to shoot. Accuracy is good for a gun of this size but the quality is what sold me. I'm retired military I served in special operations so I've carried all types of guns and the Bond is as good as any of the guns that I've had I'll never leave home with out it.
I am a former active duty Spec Ops professional and bought the original Texas Defender .45acp back in the 90s. It has worked flawlessly since then and has never once failed me. Over a decade after I bought this weapon I upgraded to a longer .410 barrell and the fit and function are still impeccable. This weapon is not meant for every situation, but, if used properly is a fantastic investment. Lastly, I will always try to spend my hard earned dollars on well made, American made, products where the company stands by what they sell…ALWAYS. And, Bond Arms does just that. The team there is top notch. I unequivocally recommend this product.
Just got my mini 45 and I couldn't be happier. The craftsmanship is unbelievable I collect derringers and this one is the crown of my collection you have a customer for life . Stephen Maultsby high point north carolina
A friend of mine Had bought the Snake Slayer. I liked the 410/45lc barrel. I didn't have the money at the time and was wanting one after watching the YouTube video's. I have a S&W PD360 357 titanium 1.25″ revolver for personal protection when I worked in Hartford at night fixing Boilers. I hated shooting it, it was like smacking a metal bat against a metal pole and if you don't have crimped rounds they vibrate out of the casing and jam. So I traded it in for a USA Defender. WOW Nice gun. Yeah it doesn't have 5-6 rounds but in close quarters and buck shot who cares. It's close quarters defense. I have other guns for a shoot out which will never happen it only takes one to do the job. If you practice reloading is pretty quick. Small can't tell if you are wearing it like larger firearms. TRY IT YOU'LL LIKE IT.
Just got my mini 45 and I couldn't be happier. The craftsmanship is unbelievable I collect derringers and this one is the crown of my collection you have a customer for life . Stephen Maultsby high point north carolina
Love the gun. Exactly what I expected, small gun big bang a real blast. Especially with the self defense 410 rounds with the discs & buckshot badass. Will be getting more barrels and accessories. I also have a NAA 22MAG big bang very small gun, cool stuff. Also have a 50BMG AR that only weighs about 14lbs w/22in barrel another small gun big bang. For zombies only right ? HAHA Love this stuff. Be responsible and secure your weapons & Support your 2ND Amendment!!
I looked at a number of small caliber personnel protection hand guns, before I settled on the Snake Slayer 4″ 410 long 45 caliber. I really made the best choice and I now can say it is the best engineered, accurate and designed small hand gun in all of America!
I BOUGHT MY COWBOY IN 357, THEN BEFORE WE SHOT IT BOUGHT THE 22 MAG BARREL AND EXTENDED GRIP. SHOT THE 22 FIRST NO KICK, SHOT 38 FIRST NOT BAD VERY CONTROLABLE , 357 MAG. MORE KICK BACK INTO THE HAND BUT NOT AS MUCH RISE AS I THOUGHT IT WOULD BE. I'M COMPARING THIS TO A COUPLE OF ruger sp101 , one with a 3 1/16 inch and a new 4 inch model. Liked these that's why the cal.
Great gun, like the interchangeable barrels 22 for target, 357 or 38 for defense.
These rubber grips are so much better than those that came with the gun. I can handle the recoil so much better. I think you should sell all your guns with rubber grips!
My wife can't handle the 410/45 long colt, so I ordered her the .22 barrel. Problem solved, and she loves it.
I recently purchased a C2K and have found it to fill the niche between my full size 1911 and my air weight .38 spc S&W as a great concealed carry. I usually carry it with one barrel loaded with 2 1/2 inch .410 triple ot buck and one loaded with Winchester critical defence hollow point .45 Colt as both to me have very controllable recoil and produce a very large primary wound channel as tested in ballistic gell the .410 pellets landing approximately 2 inchs apart at 50 feet. I wish to say you make one heck of a nice back up whose power I would rely on to defend me in just about any situation. Thanks Bond Arms
I have had my Snake slayer derringer for about a week. I just got back from the gun range. I first tried it loaded with Hornady .410 21/2 triple defense rounds shells, with one 41 Cal FTX Slug and tow 35 Cal round Balls. At 20ft., 15ft., and 10ft. I hit the target in the kill zone with all of the shots several times. Then I tried Winchester 410 3," rifled slug hollow point. Again at the distances
mentioned above i was in the kill zone again and again. I am sure if I was using this derringer for self defence It would have stopped the person that was my attacker.
I love the bond derringers so much that I own several of them,mostly the 45/410 calibers as I feel they are the best defensive caliber, also have the backup.
I do have a request about the shoulder holster. I wish you would redesign it more like a Miami Classic type with a bigger thumb release as I have trouble hitting it during fast draw. Also that the gun would sit closer to the body instead of leaning away. And with the possibility of two guns, one on each side. I believe in carrying a backup.
The other holsters are very good and do the job well. Great gun!
Just got my Ranger II. If is as much fun to shoot as it is to look at, It should be a "BLAST"
Can't wait!!!
Picked up the Ranger II the other day. Took it and my son to the range this afternoon. They were both a big hit with all the other shooters.
Shot life size silhouettes at 6-12 feet. Had a great spread with 3″ 00 buck. We have short hallways and rooms so THIS will be my "who goes there" inside the house gun.
We were consistently hitting at and around center mass on the silhouettes from 25 feet with 45lc. Did not expect that good of accuracy with such a short barrel.
The driving holster is so easy to draw from with the seat belt on. THIS is my new driving rig.
This may not replace my conceal EDC, but it sure will be used where my EDC has its limits.
Overall this was a blast to shoot. I found no flaws to mention, and everyone at the range wanted a turn trying it out.
Great job Bond Arms!
I purchased a Sticky Holster for my Bond Arms Backup pistol. The holster works very well as a pocket holster as well as a IWB holster. It is very comfortable to wear and is very easily concealed.
i JUST GOT MY DRIVING HOLSTER FOR MY COWBOY. I COULDN'T WAIT TO GET IT AFTER 10 DAYS SHIPPING. WELL WORTH THE WAIT. "SWEET" FITS LIKE A GLOVE
My experience with my new firearm " The Texas Defender " was fantastic. It fires very smooth and the firearm itself feels great when fired. The size was a little to get use to but overall very pleased.
VERY WELL MADE,HANDLES PERFECTLY .SHOOTS VERY WELL,I DO HAVE TO GET MORE COMFORTABLE WITH THE SIGHT PICTURE . I MAY NEED TO LOOK INTO THE LARGER GRIPS (LARGER HANDS) . OVER ALL NICE ,COMFORTABLE ,NOT MUCH RECOIL FOR 45ACP.AS COMPARED TO A 38SPEC. FUN TO SHOOT, KEEPS ME GOING ,I NEED TO GET OUT AT MY AGE ,60+. THANK YOU FOR A WELL MADE AMERICAN PRODUCT. GEORGE McE.
Bought the Ranger 2 at Bud's Gun Shop in Sevierville, TN a couple of weeks ago and last weekend got to fire a few rounds through it. tried 3″ 000 buckshot at 7 yards and covered the target very nicely with 10 big holes! I then sent the target out to 10 yards and the pattern spread a little but not that much…all on the target. I ended up shooting some 45 long colt and it was very accurate at 7 yards. I have not shot any bird shot yet but plan to get some #4 to take care of any copperheads I come across. The gun is a handful to shoot with powerful loads but I love it. Beautifully made and the "BAD " holster makes it easy to carry… already took it fishing a couple of times. I highly recommend this firearm. Great power, easy to carry and very high quality
I tried the gun and I love it. It does a real good job. I tried 5 loads Hornady critical defense winchester pax .I like the Hornady ammo the best. it is a great gun. Thank you for everything.
I purchased the "Snake Slayer IV" and have since ordered and received the 3 inch barrel in .45 APC. The simplest and most direct way to describe the experience of shooting this weapon is to say, "It has been a real hoot to fire. It's a fun gun." So far I prefer the balance the weapon takes on with the
.45 APC barrel attached. However, firing .410 shotgun shells through the 4.25 inch barrel that came on the "Snake Slayer" is it's own kind of fun.
I have ordered other barrels, (the 3.5 inch .38/.357 and the 3 inch 22LR. I am especially looking forward to the .22LR barrel since I have enjoyed the .45APC 3 inch barrel so much.
I have also ordered a Bond Arms "Back Up" from my local firearms dealer and look forward to its delivery.
Thank you Bond Arms for a unique quality product.
I've been carrying for several years and have tried several guns and holster combinations. Either the gun wasn't powerful enough or the holster for the gun was uncomfortable. I've thought about the Bond Arms Derringers for about a year before buying one. It's perfect for me. The Texas Defender with a .410 shotshell and .45 is more than powerful enough. I added an extended grip and it's comfortable to shoot. I also purchased the cross-draw holster and I'm set. Easy to access, concealable, powerful, and comfortable. I ride a motorcycle and I never notice its there.
I ordered a Bad Driving Holster and got it faster then I thought. It fits great and comfortable to wear. Easy on and off with hook and loop. It is under my shirt and can't be seen. Told friends and a buddy of mine is going to get one for his self.
I purchased the Bond Ranger II recently and am thoroughly amazed. It seems like EVERY reviewer said that "It's built like a tank…" What a handsome tank. It IS built like a tank, solid in the hand, but comfortable, fits and functions just as described, and worth every dollar. A sure inclusion into the Art of Manliness Hall of Fame.
I was looking for a handgun that my wife could operate. I don't mean shoot….operate. She wanted small and sleek.
I bought her a Desert Eagle Micro 380 2 years ago. She couldn't operate the pistol. She couldn't operate the slide, she couldn't take it apart….but liked the way it looked. Thank goodness she never needed it. Good looks don't protect. On my search to replace, I came across the Bond Arms Pink Lady. Perfect! Easy to operate, no slide…and it looks good (important to her)my wish come true! She loves it! I love that she can operate and shoot the Pink Lady. I was so impressed with the Derringer, the weight, the machine work, the design (I'm a design engineer) and the overall craftsmanship. So impressed that I sold my XDS's and Governor and bought the Snake Slayer and The Defender. That was the Switch-A-Roo! Absolutely the best pistols I've ever owned and shot. I feel much more protected with a "shotgun" in my pocket. Thank you Bond Arms! So glad I found your products. Get ready to see a lot of my money.
Scott
I just acquired a Bond Arms Snake Slayer IV and couldn't be happier. You know that feeling when you pick something up and you can just feel the quality? This is one of those times. Once you place it in your hand you know immediately it's a gun you can trust.
Sure they could have made these a little bit smaller, or a bit lighter, but then it would be just like all the rest. This double barrelled package of insurance is the perfect size to carry all day with total comfort.
If you're looking for a gun that you can trust your life to, you can't find better than the Bond Arms group of handguns. They are top quality from one end to the other.
Thanks Bond Arms for a terrific product.
got a holster for my. cowboy defender.the holster was a perfect fit.had to get the extended rubber grips to fit my big hands.i shoot the gun every two weeks. I am starting to get some.very good groupings at 7 to 10 yrds.
My Bond Arms derringer the Rustic Ranger with a 4.25 in 45 Colt/ 3 inch 410. I was very amazed; quite simply a wonderfully quality made derringer. It is perfect for home defense and also for personal protection.
have always wanted a Derringer but I could never justify it as one of my first gun purchases as it seemed fun, but impractical. I have a few firearms now, including a Ruger LC9 that was supposed to be my conceal carry gun. I've owned that gun for 18 months and carried it 3 times. I've owned the Cowboy Defender for 3 months and I have carried it countless times.
I like its simplicity, its size and its weight. I also like its power and versatility of loads, and that's why I am carrying it more often, especially to the cabin, hiking etc..
The first time I shot it, I could not believe how it felt. I really thought it was going to go flying out of my hands since I can only comfortably grab the handle with my middle finger. It stayed solidly in my hand with honestly very little kick with .45 or .410, to the point where I would say it was actually a lot of fun to shoot.
Learning to hold the gun was a small challenge. If I use my middle and ring finger on the grip, my pointer finger does not line up with the trigger at all. I thought I would be doing something wrong by only using my middle finger and thumb to hold it, but it worked perfectly fine and the thickness of the grip ensured I had a very good hold on it.
The sighting also took a little getting used to but I am very impressed at the spread on the .410 (000 Buck 4 pellet) at 15-20 feet.
This appears to be the most solid gun I own. In all fairness my others are either semi auto or lever action leading to more moving parts and complexity. The trigger, hammer and even the release have this "I'm not going to fail" robustness to them. The extractor is also well designed and functional.
The gun is beautifully crafted and the Rosewood grips look and feel great. It is appealing to simply look at and every time I show it to a friend, it is met with a "wow that's really cool".
Thanks for making such a reliable and fun product.
Bought this to shoot in the SASS Cowboy Matches, came with the .45/.410 Barrel, also bought the .38 barrel off of you. Having a ball shooting this, basically plinking and practicing on plates for a match, also brought it out during small game season to let my other club members shoot my new "shotgun", everyone got a big kick out of it.
I did have the .38 barrel dressed up a bit, eventually get the rest of it done, going to be my "purtty" plinker. Thanks for making a gun that I'm having a good ol time with
Dan
(shame I can only post one pic with this, can't show off the top or the other side of the barrel)
Took my new Bond Arms 3″ 357 to the range. Fired some 38 special lead loads to get a feel for the little monster. No problems. Loaded up some full house 125 gr JHP 357 ammo. Very dramatic experiance for me and the other folks nearby. I think somebody yelled "incoming" because folks started backing off. i fire about 20 rounds of the 357 and was very pleased. kept them all in a 12 circle at 21 feet. Good enough for social work and if the bullet misses, the fireball and the shock wave will definately disorient anything on the wrong end of this mini cannon. i love it.
As with everything, it is best to read the read instructions first. My first outing at the range was frustrating because I had not read the instructions. The trigger pull was very hard. When I got back home I decided to read the instructions and look at the FAQ online. Bond Arms explains well how the trigger mechanism works. The second time I went to the range was a pleasure. It will take a little practice for me to get used to but I will be ready for the next Cowboy Shoot.
I've had my Ranger II for about a month, and I do absolutely love it. The fit and finish of the gun is just about perfect. The look of the stainless steel combined with the black ash star grip and the black BAD driving/concealed holster are second to none. The little bugger will also certainly do some damage to whatever you shoot at when paired with .410 000 Buck. I'm not gonna lie… it does have quite some kick to it. But, if I ever need it to help me out of a bad situation, I don't think I'll even feel it. I now have a 3″ .45ACP barrel on the way, and I can't wait. Thanks, Bond Arms, for one of my new prized possessions!
This firearm is all it is cracked up to be. It a great investment and fun to shoot.
I recently ordered a BAD Holster from you and I just want to thank you for such a fast delivery, and also for such a fine quality holster. Fits like a glove, and made to last. Thank you Bond for your fine products and your service.
As I know, automatic handguns have come a long way. But I'm still not convinced on their reliability. That's why I'm stuck on revolvers. But even revolvers have a drawback…they're heavy and bulky for the most part. So I decided I wanted something lighter, reliable, and more concealable. The Bond Arms Texas Defender .45/.410 matched all my needs. You only have 2 shots, but with a couple buckshot rounds 2 shots is all you need. At 10 feet I had a tight group with both barrels with a .45 Long Colt. For such a short barrel, I was pretty accurate for up to 20 feet. It has a great grip even with the punch of a .45 Long Colt. I recommend this gun. Very solid, well made, and durable. 2 thumbs up!
Bought a Snake Slayer IV plus a 3″ .357/.38s barrel. Haven't fired it yet 'cause it's COLD here in PA. I am excited at the prospect tho. In my opinion this has to be the safest firearm I have ever handled!! I have been using firearms since I was 10 yrs old (now 71) and can see no way to injure someone or oneself "accidentally" with the Bond Arms derringer. I am exstatic just to hold this piece of quality craftsmanship much less own it!! I am now in the problematic condition of having two barrels and only one frame. I guess I'll have to buy another BADerringer!!
I have been packin for 40 plus years and have carried the best. There something about my new Bond Arms that just feels right. I don't go looking for trouble and have never had to fire a shot in self defense. This weapon gives me the confidence to be able to protect my personal space without excessive fire power. Good job!
I put about 20 rounds of .45 Colt through my Big Bear last weekend. This gun had less recoil than my Uberti Cattleman. I love the way the gun fills my hand. From the first time I saw the Bond line of Derringers, I have craved one. Unfortunately I live in California where these were not "approved". I love that Bond Arms did what it took to get these guns to us. I'm very happy with my new Big Bear.
Just fired my new Texas Defender. I was concerned about the recoil for the 410, but it was comfortable. I was then able to fire the second round quickly. It is a great conceal carry gun.
I recently purchased a 38special / 357 mag barrel for my snake slayer. Not only was it very easy to switch out the barrel, it was a pleasure to shoot. I tried both 38 special and 357 loads. I was surprised at how little recoil I felt, and even more surprised how accurate the 3 1/2″barrel was. I take off my hat and bow to Bond Arms for making such a great product. Thanks Bond Arms.
Just fired my Brown Bear yesterday for the first time! What an outstanding weapon! Once you get your grip adjusted, and realize that the front sight needs to ride real low in the rear sight, this pistol is VERY deadly. Two back-to-back head shots at 7 yards on a black silhouette target.
So this mean machine isn't just a "belly gun!" The craftsmanship of this piece is second to NONE!
Many thanks Bond Arms… I didn't want to leave the range!
Just shot it twice, but just had to here her shoot. Lots of noise but the recoil isn't bad at all. Can't wait for some warm weather to shoot some more.Wisconsin is a little cold right now.
Enjoyed shooting my new toy. Shoot both 410 and 45 caliber. The gun has a nice feel and very impressed with it quality.
I recently purchased a Texas Defender. This is the highest quality handgun that I have ever had the pleasure of handling in my 67 years. The fit and finish couldn't be better in my estimation. I ordered another barrel from my dealer when I picked the gun up as I live in NJ and couldn't order it from Bond directly. Today I ordered the wallet type holster from Bond Arms directly and can't wait to receive it. I plan on ordering the imitation ivory grips in the near future once I save a little $$$. Thank you very much for such a grand product!
Love my Texas defender in 38/
357. Great shooting gun and very well build.
As a long time shooter,hobbyist and gunsmith I finally was able to get my hands on a new Ranger 2 (Canada) and well… let me tell you it is a winner .You can feel the craftsmanship and quality as soon as you hold it in your hands.This gun is a great shooter handling all sorts of .410 and 45 colt loads that I could feed it and it never missed a beat .The holster ,the grips the whole package is down rite awesome .Perfect package for carrying around the back forty acres.Definately wont be my last Bond Arms purchase.Keep up the good work and keep them hand cannons coming.
Very good handling, no problems what so ever with 3″ 410 load. Shoots just as easy as my Taurus Public Defender. Smooth as butter with substantially lest bulk and weight. Great product, will definitely be a repeat customer.
I have nerve damage to right hand which makes depressing safety button with left a little difficult. Any chance of an ambidextrous open and safety in the future?
Love my Texas defender in 38/
357. Great shooting gun and very well build. I am sill looking for my brochure, it's been over a month.
Yes I have fired this handgun 26/30 times with reloads ,, 200grn lead hollow points using 13.5 grns of weighed Blue Dot,, did not chronograph them but accuracy was surprising,, was able to keep them in a 10 inch circle from 15 yds , fired 2 2.5 in. Rem shot shells , shot gallon milk jug from 15 feet ,, recoil was just a little uncomfortable , could have ended threat from a Cotton mouth tho , plan to use IMR Trail Boss powder when it is available for future reloading , I can already tell that this will be a companion while making short trips locally .. Have ordered one of your 4.25 in barrels in .45 LC only ,, and expect accuracy to improve over the 3.5 in. dual chambered barrel , plan on shooting this enough to get used to it . May need to purchase the jumbo Rose wood grip to help with the shot shell recoil if the rubber ones do not tame enough .. Thank you att ::: Bob
I submitted my testimony over a month ago but you never posted it. It included a picture of a target with a one hole tow shot group at more than ten yards. still waiting to see it.
The Stag Antler grips with my new media blasted barrel are outstanding. Went for the contrasting look. I like it so thats all that matters.
Went out and finally had a chance to shoot. Well I am amazed kicks like a mule but the damage down range was great. It's nice to carry a double barrel shotgun on my hip.
Just received my new Texas defender 45 caliber.Went out to shoot it with a couple of friends. Even though we had a variety of other guns to use, we wound up shooting 4 boxes of ammo, 45's & 410's between us. The gun was a big hit and everyone enjoyed firing it. Kudos to Bond arms!
I have owned a davis derringer, American and a Bond derringer and the Bond is by far a much better derringer.
I received my USA Defender for Christmas and could not be happier, Bond Arms Quality and Service is unsurpassed.
This very nice CC hand gun exceeded my expectations.
The quality and fit of the holster matched the gun perfectly.
I already ordered a 3.5 inch 357/38spl barrel and matching Buck knife and look forward to firing both barrels at the range.
Thank You Bond Arms for a great experience.
Much nicer now; worth it.
My Texas defender shot really well recoil wasn't bad feels good when firing fits the hand really well a well built gun
I have owned a Snake Slayer IV for several years and it is one of my favorite guns to shoot at the range and is one of two that I use for concealed carry. The quality and workmanship of these guns is unsurpassed. My friends always ooh and aah the first time they see it. I've also ordered barrels and holsters from Bond Arms and have found their customer service to be equal in quality to their handguns.
Merry Christmas Bond Arms Folks,
Thanks to you for making these firearms. My new CCW Snake Slayer IV. HAPPY NEW YEAR.
I have the century 2000 derringer and love shooting the 410 it has a kick but I am use to it because I also shoot a 44mag revolver. I also carry concealed I have permit to carry. I use a bond bad-driving holster fantastic gun and holster.
I finally took my Texas Defender to the range with the additional .357 barrel I bought from Bond Arms. I fired 410, 45 LC and 38 cal out of it. It was flawless. I liked the 410 the best. It tore some pretty significant holes in the target I was using. I would recommend this side arm to anyone!
THE BOD DERRINGER IS AN EYE OPENER FOR ANYONE SEEING IT FOR THE FIRST TIME, ESPECIALLY WHEN YOU SEE THE DIAMETER OF THE BARREL OPENING. I CARRY ON INSIDE MY TACTICAL VEST AND KNOW THAT ITS ALWAYS THERE IF I NEED IT AND THAT I CAN HIT A TARGET UP TO 50 FEET AWAY
SGT. DALE ALLEN
I live in California and am old enough to remember the other makes of derringers available at the time and now after picking up my CA Brown Bear derringer from Bond Arms I know that there is no comparison. I was amazed at the improvements over the American Derringer (which I would consider a far second place). Looks and feel alone. The trigger guard looks like it should be there and not an afterthought. The safety works like it should and does not rely upon a spring to deactivate. The barrel release is positive and almost automatic as it lifts up the barrels after firing. The extractor as well automatically presents the shells for removal. No digging or knife use required. I now have a new collection goal and that is to purchase every gun Bond Arms makes available to California residents.
Fired my pistol using American Eagle 45 Colt 225 Grain soft point,
Federal Premium 410 2 1/2in 4 shot 950fps, and Winchester PDX1 410 Defender 3in. 750fps. Overall performed well, good feel for me, good accuracy at 15ft (5 meters), even though the C2K can take a 3in .410 I found that teh PDX1 was a bit much and could feel each shot, needed a glove for those. I prefer the 2 1/2in no vibration, good shot pattern, the .45 Colt ammo was good little drop at the 15ft, slight drop at 20ft, at 10ft on target. Had a lot of fun with it, others at the outdoor range thought it was a larger pistol (very noisy).
I just received my extended pearl grips and my bad-driving holster (black). the grips fit tight with no open seams. an excellent made grip. the holster is well made the black is real sharp.
I now strongly suspect that "My Gun" is nicely wrapped under the Christmas tree. Until now, it was just a suspicion, but now, with
your E-mail, I am more sure than ever. Normally, I would be upset at knowing my present ahead of time, but now, I can't wait until Christmas morning to open up my "SURPRISE"….
What an outstanding piece of stainless steel, Thank You Bond Arms and Merry Christmas to you and yours. Terry
I got my Bond Arms Backup in 45lc two weeks ago and I can honestly say this is one of the neatest, coolest guns I own…and I own a few!!! It takes a few draws from the holster to get a feel for it because it is so different from traditional handguns. Once you get that "feel", it draws very smoothly. Shooting a small handgun like this in 45lc was intimidating but the recoil was minimal and it was fun!! I did get the extended grip which was also nice. Buy one!
I took my wife shopping for a CCW gun and we looked at a wide variety of pistols. We quickly realized that she doesn't have the hand strength to operate a semi-auto so we were looking for other options. We ended up getting her a Snake Slayer 3.5 because she doesn't have to run a slide to load the gun. She LOVES it! The option of loading .410 shells or .45 Colt is great. She is thrilled that with PDX ammo she can fire one shot and send multiple projectiles downrange. She couldn't be happier. Bond SS3.5 is going to be her EDC and I feel comfortable that she has the best tool to protect herself. Thank you Bond Arms!
My cowboy defender and holster I just got there both extremely well-made couldn't be happier thank you
I bought a Backup from a local dealer. After I placed an order for the 50% of barrel deal I got a call from Bond Arms asking if I was aware the Backup I had was a California Compliant which I did not I just thought it was the model that you could change the barrel. I live in New York and would like to be able to use other calibers. Thanks to Bonds great service and attention to detail I was able to avoid a mistake. They even sent a pickup for the model I had and replaced it with the correct model at no charge to me. Now in this day and age if that dose not speak for itself I don't know what dose. Over the top service, Thank very much.
At night when I'm snug in my bed I can afford to dream of sugar plums dancing in my head!! Why?? Because I've got my BOND RANGER with self defence 410 ready under my bed. Great product to put you and yours at peace and confedent when your at rest. JERSEY JACK
Wow…what a fine piece of machinery, with some kick, Now my friends want one. Thoes 410 shells are scary cool to shoot, wouldn't want to be on the receiver side of that buckshot…. Merry Christmas to me, and Merry Christmas to you people at Bond Arms.
Great little pistol and what a joy to shoot! The rubber grips help keeping the snap manageable and the grip firm. I find myself carrying it as my CC choice when I don't have the option to go with something larger.
Took the California approved Big Bear to the range. I was pleasantly surprised with how well it handled the 200 grain 45 colt cartridge with a very manageable recoil. The Big Bear is accurate at self defense distances (5 yards and less) with no problem putting both rounds in either center mass or head areas. I have waited a long time for Bond Arms to come to California. It was worth the wait.
Hello,
I recently got a New Bond Arms Backup 45ACP Hand Gun. This isn't my first Bond Arms Hand Gun,, I purchased a Snake Slayer about four or five years ago after seeing an ad in the Blue Press. I ALWAYS loved the look and style of the old Remmington Derringers but had never owned one. The first time I saw and held the Snake Slayer, I had to have one!! So I bought it. Needless to say the gun was AWSOME!! It was built like a tank, looked fantasic and was a BLAST to shoot!! Fast forward to 2014,,, Bond Arms comes out with the New Backup. When I saw the first pictures of this little beauty, it was love at first sight again!! Besides its great looks, it also had Bond Arms new hammer and trigger design, which my old Snake Slayer didn't have. After seeing and holding a Backup at Cabala's I ended up trading my old Snake Slayer (they gave me a very decent trade in value on it) for the Backup. Do I miss my Snake Slayer?? Yes and no.. The Snake Slayer was, and is a BEAUTIFUL, well made gun and mine worked and shot flawlessly, but as much as I loved the Snake Slayer, the look of the Backup with its two tone finish just blew me away, plus the new hammer and trigger design is definately a big inprovement over the older design. Shooting the Backup is a Blast just as my Snake Slayer was,, but shooting the Backup is much easier because of the new hammer/trigger design. The gun is DEFINATELY easier to cock and the trigger pull is a HUGE improvement over the older style. Best of all I can still put my 3″ barrel on the gun and shoot my .410 and 45 colt rounds out of the Backup. I also put on my set of Bond Arms Rosewood grips which took an already amazing looking gun and made it even better!! Long story short… If you're thinking about getting a Bond Arms Hand Gun just pick out the model you like and get it!!! You WILL NOT be disappointed!!!
TODAY WAS THE FIRST CHANCE I HAD TO FIRE MY SNAKE SLAYER IV, VERY IMPRESSIVE, WELL MADE AND A GREAT CARRY GUN.
i put about 20 38special rounds through my new bond arms derringer today in a short indoor range session. i also shot new-to-me/used s&w 38spec airweight snubbie and ruger bearcat 22lr. i have a 410/45lc barrel too but today's range forbids shotgun shells, so that test will come later outdoors. the bond in 38spec is a dream to shoot, as fun and easy as the bearcat, but more oomph of course, and totally rock-solid. i really like it. by contrast i did not enjoy the s&w airweight. today's fun makes me eager to practice more with the bond, and not with the s&w. i thought once i had a misfire but when loading it the rounds fell out before i snapped the chamber shut. i will have to practice a loading technique safely. minimum distance at this range is 21 feet, i would have preferred to shoot at 5-10 feet to judge realistic self defense accuracy, will do later. the b.a.d. holster is well made and comfy but not fully concealed on me. i may try a strong side inside the waist holster next. if you are on the fence about getting a bond, worried about its two round count and relatively high cost, please do yourself a favor, save up and jump at it. i am very happy that i did. the bond is both a shooter and a future heirloom. i look forward to trying out the 410 outdoors soon, since loaded with buckshot i will have six shells instead of two, even one more than a snubbie.
It didn't take me long before I took it out on the rang and shot it a couple of times. I also carry a 1911-45 commander and the Ranger does not any more reqoil then it. I really enjoy carring it as my primary CC for its impact with the 410 multiple choice shells and the 45 colt.
I just recently purchased a Snake Slayer IV and I have to say that it is absolutely amazing. The size, weight, quality, appearance, and every other aspect of this firearm is just perfect. I was a little nervous of shooting it at first as I have read reviews where people say these can be painful to shoot. However, these people must have never fired one, much less owned one as I found it very pleasant and a ton of fun to shoot even with the 3 inch 000 Buck .410 shells I was shooting. I now carry this gun every time I drive with the Bond Arms driving holster I purchased which is also awesome. I also carry this gun when fishing and out and about in the yard to Ward off the snakes. This is just an amazing firearm and I would recommend it for anyone. Bond Arms may just be my new favorite firearms manufacturer.
These grips are truly a work of art! The are very well made and fit like a glove on my Ranger2.
I know for sure I will order at least another pair in the near future.
I just bought this a few weeks ago and just got to use it at the range. Oh my, this shot great and was right on the money at 5 and 15yrds. The 357mag barrel was great. I also have the 9mm, again right on the money!! Great job!!
I took my Snake Slayer to one of our local indoor ranges and fired it for the first time and was surprised at it's excellent accuracy. The recoil was much lower than I expected. Truly a powerful package. I plan on purchasing one of the BAD holsters for carry. Totally pleased with this firearm.
I shot various 410s and 45s through my new Ranger…wow!
45's: I had some old cowboy loads, and patterns were ok at 11 yards. However, the Winchester self defense loads shot much tighter. Funny, the kick really wasn't that bad.
410's: Shot various stuff, but the Winchester PDX are really impressive. The 3 disks stay very tight at 11 yards. I like them the best, but they do kick. But, if you want power, you get kick.
My Ranger seems to like Winchester. However, I didn't try Feds yet, another favorite brand.
I just ordered a 9mm barrel and really look forward to see how that one shoots! I will definitely put Feds through that barrel and see how it goes.
Esthetically, the Ranger II is a work of art. I can't put the thing down. The feel is just incredible.
I'm now going to save up for my 22 long barrel next!
Chris
.45 Colt in a 3 inch barrel is surprisingly controllable. I find the grip-to-trigger juxtaposition a bit awkward compared to more traditional handguns but that is the essence of a derringer and I'm having a great time acclimating to it.
I have fired the weapon a couple of times and am very impressed. Might need to buy another one just because. The only bad thing was when changing barrels the hinge pin got stuck and broke off, and I didn't help matters by trying to get it out on my own and just broke the pin even more. However I spoke with "Joe" at your store and he was great and sent me return shippingng label so I could get it repaired the correct way. Great customer service and I have given several friends a brochure so they can purchase their own. Again great weapon and customer service
My wife bought me the Back up model for my birthday. I had mentioned I wanted a pistol to slip in my pocket during the summer. Never had seen one before and not being a big fan of Derringer style guns I was a little skeptical. She got me the .45 acp with a 2.5 barrel and I must say after firing this "pocket cannon" at the range I was pleasantly surprised. It has been EDC ever since. I want to get a BAD holster for it now so that I can carry it during the winter too. Thanks to the guys at Bond Arms for working with my wife and making this easy for her!
I always wanted a deringer but was not liking what was out there due to being unsafe for the most part. Then when I was searching for one I ran accross the Bond Arms web site. I took a look see and started to compare other brands with Bond Arms products. Over all I think Bond Arms went the extra mile to produce a product that fits the needs and wants of a person looking for a deringer. You can't go wrong with Bond Arms and their customer service is the best to work with. When I bought mine in November 2014 and it came with the 3.0″ 38SPL/357MAG barrel but didn't shot it because I was awaiting the 4.25″ barrel of the same caliber to come in. When I swaped the barrels out and it was simple and fired it. Love the perfomance of it and couldn't ask for a better firearm in a small size. Also if you want to up/down grade to other calibers doesn't require a FFL dealer or a gun smith and their best thing is the load of accesseries that will fit your needs that others don't offer.
Finally fired my ranger 2 for the first time. shot both 410 an 45 wow what a punch love it. my son and i both fired off about 10m rds of each and we were both very impressed. I have ordered a 353/38 barrell waiting to get it. i am telling all my friends about this gun how well its made and the reliability. Just LOVE IT thanks Gordon for a great product.
I have wanted to own a Bond Arms Derringer since the first time I saw their ad in the Blue Press about 10 years ago. I wanted a derringer that could be used for SASS cowboy competitions and also serve as a back up CCW firearm. It could also be used while camping/fishing as a snake gun or protection gun. Unfortunately, I live in CA and they were not on the approved gun list. I was thrilled when the announcement came that a CA legal 45LC was available. I ordered it immediately and picked it up in mid November. The derringer is very well made and it has excellent safety features. The fit and finish are outstanding. I initially fired it using cowboy 45LC loads. Recoil is not severe with these loads and the gun shot well using the iron sights. I did not shoot past 7 yards since this gun is intended for close quarters. I did not have any trouble hitting center of mass at 7 yards or less. I then tried a Hornady Critical Defense 45LC with 185 grain FTX bullet at 900 fps. The recoil was heavier than a cowboy load but still manageable. The noise level is much greater than a cowboy load and would probably scare off an attacker whether or not the round hit the target. This is a great gun and can be carried safely in unconventional ways. Using a good quality hollow point bullet at moderate velocities, it is a potent defensive weapon. Versatile and fun to shoot. The only problem now is that I will probably need to buy a Brown Bear model also. Great job Bond Arms.
REPLACED MY SUPER COMMANCHE WITH THE TEXAS DEFENDER AND LOVE IT. I BELEIVE THE ACCURACY TO BE THE SAME OR BETTER AND WITH THE SIZE AND FUNCTIONALITY IS BEYOND COMPARISON. SAVING UP FOR THE EXTENDED GRIPS AND DRIVING HOLSTER. THANKS FOR A GREAT PRODUCT.
Bought a Snake Slayer .410/.45LC awhile back and ordered a .45 ACP barrel. Went to the range recently and fired 25 rounds of .410 000 buck, 25 rounds of .45 LC, then changed barrels and fired another 20 rounds of .45 ACP all from 7 yards at a silhouette target. Rounds were right where I wanted them and totally destroyed the head and upper chest area of the target. This is not a weapon that I'd want to be on the receiving side of as it is extremely effective. It handled well and the grip on the weapon was perfect. Recoil wasn't as bad as I had thought it would be. I highly recommend the Snake Slayer as a personal defense weapon.
This one of best if not the best pocket cannon that I have ever owned,my wife bought it for me as a gift to replace the one that was stolen. Very we'll made pistol and will highly recommend Bond Arms to all my friends.
The rain finally stopped long enough for me to get out and release the Snake Slayer. IT WAS AMAZING!!! It delivered what would be some devastating hit's. I highly recommend starting with some bird shot and work your way up. The PDX1 by Winchester is great. And the HPR HyperClean 45 long colt works very well too. I did not get a chance to change out the barrels and try the 357, 38. But hopefully next weekend. After shooting this, I think I will trade in or sell my 45 because the Snake Slayer would stop a bear in it's tracks.
Great pistol, fun to shoot. Thinking 'bout buying another.
Absolutely love this "little" sidearm! I have the 45/.410 barrel and it shot like a dream. Conceals/carries very well, barely notice it's there. The recoil wasn't much more (extremely manageable) than my Ruger SR9C and it shredded the target! Time to look for additional barrels.
I picked up my USA Defender just prior to the 4th of July. Some family , friends , and myself did some shooting on the 4th, and everyone loved my derringer. It is a blast to shoot ( no pun intended ). It looks awesome,it shoots great,and it's built like a tank. I find myself carrying it more often than my Glock 26 or my Glock 19. I absolutely love it. I plan on buying some more barrels and a Bond Arms Back-up in the future. Thanks for a great firearm. Keep up the good work.
I shot my backup for the first time today. The recoil was much easier than I expected. I was shooting at seven and ten yards and I was pleased with how accurate it was. I also put on the 9mm barrel and loved the way it shot. Definitely a top quality product from a top quality company. I also have a snake slayer and I love it. I enjoy shooting these guns more than any other gun I own.
I sent my older stye Snake Slayer IV off for the trigger upgrade. It arrived at the Bond Arms factory on 8/6/14. I just got the email today that my Snake Slayer will be delivered via UPS tomorrow , 8/13/14. What incredible service. Bond Arms only had it a total of seven days, counting the day it was received and the day it shipped back out. On top of that, I requested a couple extra of the hinge pin bolts in my note when I sent my Snake Slayer off. I just guesstimated $10.00 and hoped for the best. Kelly emailed me that $10.00 was fine, she took care of my request, and the bolts were already in with my gun to be shipped. Incredible service.
I had been unable to find a satisfactory way to carry my Texas Defender while riding my motorcycle until I purchased and used the BAD Driving Holster! The fit was perfect and the "usability" was just what I wanted. Thanks, Bond Arms, for providing this product quickly and at a good price!
Bought a mini .45 Colt on a whim. Amazing quality and construction. Now I'm looking for a .410 so I can shoot skeet with a derringer. The greatest backup for a Judge!
Fired my 45 Backup today…loved it…shot at 5 yds and 10 yds good hits on target…moderate recoil, nothing of note, would recommend this as a great backup gun…small, potent and accurate…also very easy to hide on your person….love it! Ron "OX" Ochse
Great pistol I own 2 the upgrade to the trigger and hammer was well worth the money. Thanks fo a wonderful pistol.
I bought the ssiv wit a 4.25″ barrel. The gun was able to shoot
45 colt and 410. shot gun shells. the 45 colt was not fun to shoot.
The gun kicked to much and the trigger pull is very difficult. I
purchased a357/38spl. barrel and I like that barrel very much. The
only problem I have is with the strong trigger pull.The gun is made
very well and I will enjoy shooting the 38spl. often.Your company produces a fine weapon.
Recently bought a Ranger II and also an extra barrel( 2.5 inches), haven't tried out the new barrel yet, but I am extremely pleased with the Ranger, took it to the range and shot several .45 and .410 rounds, it has a kick to be sure, but great gun and as you say "built like a tank", next up i will save for the Bond Backup.
Had originally received a 45, in 2.5 in barrel. I quickly bought a 3.5 in barrel in the same caliber. I finally went to the range today and I must say that the Bond is a nice weapon. I have been looking up videos online and tried the 2 hand pull trigger with the left index finger method. I picked it up quickly and allows the right hand to fully absorb guns' recoil. I finally remembered about aiming low after about 12 rnds and I consistently started hitting bullseye at 15 yds with it. The bad holster fits nicely and wears comfortably.
I must tell your company – I have 2 of your Derringers and I just have been blessed with both. A Short story- as i was taking a class for my ccw- when we got to the shooting part the instructor was so impressed with my Bond mini. That he asked to take it out to show the owner of the indoor shooting range. Needless to say they all were so impressed with the workmanship i had a hard time getting it back. Well everyone in the whole place was captivated by the quality and workmanship. I was the star of the show and had to tell everyone where i got this work of art. Thanks again.
I bought my bond on 11-18-14.
I fired it on 11-22-14
First shells fired were the 410's. I actually had to think twice before firing again. WOW what power.
I then fired the .45's, again wow.
I fired 20 total rounds through my usa defender. Then I fired my 9mm semi. Compared to the Bond the 9 was like shooting an air soft.
The Bond will be my first go to on carrying for ease of carry and shear power.
First time firing my new Texas Defender, .45ACP was a great experience and was amazed at the accuracy and ease of concealment. I also purchased the sticky holster which is extremely functional. My next decision is which caliber barrel should I purchase next.
recently recieved my 357/38 barrel for my new Texas Defender. I wanted a shortie barrel in case i wanted to drop it in a pocket instead of carring in holster.
Very pleased with the quality of the materials and finish. This provided exactly what I wanted without any sacrifice of appearance.
My 1st Bond Arms. BackUp Model, .45 acp, .45 Colt/.410 barrel ordered. I have fired 10 rounds of .45 acp 230 gr. FMJ. Trigger is heavy and tuff but Bond says will improve with use. Very satisfied for now and hope 2nd barrel will be here soon. Nice to have an American company making a quality product!
I shot 80 rounds out of BondArm and I love it;My grandson shot it ,he could not believe how well it shoots.He said when,he turns 21 he will have one too.
Great gun built like a tank very nice workmanship. Shoots way better than I thought possible for such a short barrel.
Recieved 4″+ bbls and driving holster makrs for easy concealed carry and lots of power in .410/45C!
I purchased my Defender about 1 year ago. Totally surprised how easy it is to shoot. I am a fan of the 45 LC due to it's stopping power. This gun is very easy to control. I originally purchased it with the BAD Driving Holster. Because of my size, 280 lbs.,( too short not too fat) this was the best choice for me.
To my surprise Bond was able to assist me in getting a BDS shoulder holster that fit like a glove. Hey big boys, they can adapt up to 4x possibly larger. Not only did I get a custom shoulder holster but they incorporated a BABS slide shell ammo holder for the opposite side. This is something that they do not advertise but should. I now carry my Defender with 6 rounds (2 x 410, 4 x 45) in my slide holster and to my amazement they attached it to the weak side of the holster. In essence I have a full custom shoulder holster with ammo holder.
Looking forward to my next purchase.
I finally was able to get to the range to try out my new Texas Defender using all of my 3 inch barrels in 22LR, 9mm, and 45 ACP. It shoots great. Once I got a feel for this gun my groupings were of about 11/2″ to 2″ at 15 yards.
The only issue I have is that I wish this gun came with a trigger pull of about 3.5 lbs. To my liking, I felt that the heavier trigger pull caused me at times to anticipate the shot as well as pull the weapon to the side.
Overall, this is a great gun. It is built solid and I love the fact that one can shoot different calibers by just removing one bolt.
I am retired from the US Navy after 30 years of service and a Certified Navy Range Master for 28 of those 30 years. In addition I am retired from the Department of Homeland Security, Customs & Boarder Protection. I have a conceal carry license from my state and carry 24/7. In fact I carry my Texas Defender in one of your pocket holsters as a backup weapon.
To me besides how great this gun is made is the fact that it is made in our USA.
Jorge
I finally was able to get to the range to try out my new Texas Defender using all of my 3 inch barrels in 22LR, 9mm, and 45 ACP. It shoots great. Once I got a feel for this gun my groupings were of about 11/2″ to 2″ at 15 yards.
The only issue I have is that I wish this gun came with a trigger pull of about 3.5 lbs. To my liking, I felt that the heavier trigger pull caused me at times to anticipate the shot as well as pull the weapon to the side.
Overall, this is a great gun. It is built solid and I love the fact that one can shoot different calibers by just removing one bolt.
I am retired from the US Navy after 30 years of service and a Certified Navy Range Master for 28 of those 30 years. In addition I am retired from the Department of Homeland Security, Customs & Boarder Protection. I have a conceal carry license from my state and carry 24/7. In fact I carry my Texas Defender in one of your pocket holsters as a backup weapon.
To me besides how great this gun is made is the fact that it is made in our USA.
Jorge
If you don't already own a Bond Arms weapon, and you happen to pick one up and hold it your hand, and see the quality of this piece, you'll buy one. I never met anyone who owns one who doesn't love it. The best on the market.
A view of the business end of this little beast makes it the smallest most intimidating firearm on the planet. I'm glad I will be on the other end. This will take care of any dangers that approach you pretty darn quick.
This gun is a blast to shoot. I was surprised how easy to control it was. You guys hit this one out of the park!
just bought your gun and I was amazed at the quality of it . built like a tank but easy to carry,and the ammo is nothing to sneeze at.
Love it out of the box
yes I did fire my bond arms ranger 11 45 colt/410 sure glad I was standing behind it
I am very pleased with the Texas Defender I just purchased. The workmanship on this gun is excellent and was everything I expected it to be after reading about in my American Rifleman magazine and researching it on the internet. My wife and I have been shooting it and we both love it. We are anxious to show it to our shooting friends and family and let them shoot it too. We look forward to getting the second barrel with your online 50% off coupon which was very easy to get and use. Thank you Bond Arms for an excellent American made product.
Broken arm and all I went out to shoot the Bond Arms Snake Slayer IV today, (left handed since my right is broken). Accurate little gun, that's 2 shots .45 Long Colt, both in the same hole but the second caught the edge of the first with no backing for the target so it tore it while passing through. The peppering was 2, 410 shotgun shots to see what it felt like. The 410 had a tad more spunk then the .45 but both surprisingly manageable with one hand (as the other is out of commission). I love this gun.
OH, the target was 13 yards, 200 grain bullet with 9 grains of Unique.
Little intimidating, but after the the 1 st shot,that disappeared! Very accurate also !! I'm impressed & that's saying something !!!.
I spend a great deal of time working for a sporting clays, shooting range here in my home state. Finding a firearm easily carried that does not restrict movement while working has been a long search. I believe that search has finally come to an end. My new 2000 with 2 1/2 410 6's fits in any pocket, coat pocket , or "bad" holster ,buggy dash, and has already dispatched numerous slithering or otherwise critters not welcome. Thanks for your engineering. Excellent product.
winter's here. need hoodie. i have a mini 45 & 357 barrel, two holsters & t-shirt. need hoodie!
I recently purchased and brought out to the range, my new Bond Backup in .45 caliber. This two shot beauty is quite a marvel of quality workmanship. I did find it somewhat difficult to hold and the trigger pull seemed heavy but I'm hopeful the extended grips I've ordered will help some. I have been working on a lap belt holster so I may have access while driving.
Got a texas denfender.Great gun well made and a joy to shoot. Fire it about 25 times so far. 410 holds a good pattern at 25 ft. I am carry it 24-7. Take a well to get use to a new gun.Havent got a holster yet but fits in my jacket pocket good. I want to add some personal custom to it,but all in all it was perfect for me as it came.
This gun really is a hand cannon but not so bad you can't control it. I have fired every 410 load that is out there. I have fired most of the 45 Long Colt as well which to my surprise does not kick as bad as some of the 410 loads?? I purchased several barrels since I got my bond arms back in 2011. I have the 22LR 22Mag, the 9X19, the 38sp357mag in longer barrel, and the 45/410 barrel which came w/the cowboy model. I got the 22LR/22Mag so I could practice the trigger pull since its different from any other gun I own. But it does not take long to learn how it shoots. I have ordered 5 different holsters and this gun goes everywhere I go. Sometimes its the only one I carry due to clothing issues but even when I have my main 45 this gun is along for the ride. Gordon Bonds and is staff are a great company to work with. Thanks for a great Texas/American product.
Finally had a chance to try out my new Snake Slayer 410/.45, 3.5 barrel and enjoyed every moment shooting it. Having never fired one before I was impressed with the accuracy it had with minimal recoil. This is truly a fine conceal carry weapon. I currently have and aftermarket holster for it, but I am going to purchase the driving holster as well. Bond Arms has definitely made a fine handgun.
After purchasing my snake slayer, I called a very big friend. He has a 44 magnum pistol, which is so big I have to hold it with 2 hands. I told him it used 45 or 410 shells. He said he had some 45 shells, he would bring them. Turn out the 45 shells he had were autos. Anyway they did't fit, so I said I have some 410 rounds. Even as big as he is he said I'm not shooting that thing with one of those. Anyway after some coaxing he did. Then I did, what an experience.
The bond arms derringer is by far the most fascinating gun I have ever shot sturdy beautiful easy to maintain and easy to conceal.I think it is the best value for the dollar I have ever spent on a firearm looking forward to my new barrel 38/357and many years of use!!
On the 7th of November I took my new brown bear for a spin in the deserts of California . Shooting at a 7×11″target at 48 ' I was impressed with the accuracy of this weapon , shooting, a long colt at 185 grain and hitting the mark the first three of four shots . Bond arms is on point when it comes to manufacturing a firearm .
I bought a Ranger II and a 45 ACP barrel.It is so refreshing to buy a high quality product mad in the great state of Texas!
My father whos ia a WW II Vet had his Snake Slayer IV engraved with his "CIB" and battle stars engraved on it and gave it to my son!
Having purchased the Ranger II with the 45 Colt / 3 inch 410 barrel I have never been more pleased with the total quality and solidness of this gun. Form, fit and finish is just superior. The balance of the gun is wonderful and it is pleasant to shoot even with the 45 or 410 shell. Overall I would challenge anyone to find a better defensive weapon.
I have two Bond Arms derringers,a Texas Defender and a Back Up as well as a host of extra barrels and accessories.
The guns are built like tanks and Swiss watches. The Back Up is with me 24/7 and in the inside waistband holster I hardly know it is there.
The Defender usually is in my fly fishing vest and usually has the 2.5 in 410 bbl loaded with #7 1/2 shot. Poisonous snakes are few and far between here but it is always prudent to be prepared.
I go to the nearby outdoor range frequently and shoot the Back Up. It is always right on target and thanks to the great grip configuration,the recoil is basically non-existant.
Thank you for excellent products and superb service and most of all……being USA made!!!!!!!!
Unequaled craftsmanship and unbeatable quality. Recoil is strong but manageable with a clean and crisp trigger break. Well worth the money to have the best. I will not leave home without my Snake Slayer. CHB 06 USA FA
After 43 years of Army and police service, I found a great gun to carry. It is the Bond Arms Texas Defender with two PDX-1 410 shotgun shells as a backup gun or as a primary weapon when off-duty because it is a reliable point and shoot weapon that can easily hit the target in a crisis situation. There is no worry about having feed or jam problems, and I know that it can be counted on even in the worse conditions. Some way argue that it only has two rounds, but it loads fast, and the shock and awe effect with 410 PDX-1 shotgun shells (6 disc and 24 pellets) makes up for that aspect and then some. It is easy to conceal and a powerful gun with changeable barrels in various calibers to match the primary carry weapon. Additionally, it is easy to shoot in the event that my wife must use it to protect our home and our family.